Dan Brunn Architecture Rocks Las Vegas with RtA Boutique at Wynn Plaza
It's been more than two years since Dan Brunn's first retail project—the West Hollywood flagship for RtA, the edgy clothing line co-founded by his long-time friend David Rimokh—helped interpret and brand the men's and women's fashion label. That space on Melrose is chock full of memorable eye-catching elements: sliding, blackened-steel hang racks; rotating wood totems for displaying accessories; a dressing room-as-catwalk solution where friends can watch friends model potential purchases. And perhaps most memorable of all, a Zen-like olive tree at center. They recur in RtA's second iteration at the Wynn Plaza in Las Vegas—and yet Brunn managed to give the compact 500-square-foot setting character of its own with specially created effects.
There's mystery for starters. Brunn limited the storefront's see-through glass in favor of an arched entryway protruding from the dark concrete facade. As a nod to some of the clothing, the architect used shearling to line the vault, which ends up framing a work by multi-discipline artist Peter Gronquist: an infinity mirror filled with roses. Also singular to the Vegas setting is full-height, backlit floating glass shelving.
Similar to its predecessor, the Zen garden's tree, turf, and circular bench sit beneath a mirrored skylight that not only amplifies their presence but also reflects the surrounding palette of porcelain terrazzo used for flooring, solid surfacing for counters, and blackened steel for beams. Meanwhile, the rear fitting room, with its mirror-backed door, is completely clad in ash. Once again, the brand (RtA is short for Road to Awe) is reinforced via an artsy treatment that slashes wood surfaces with a backlit lower-case t. Why argue with success? Especially when the next stop is New York.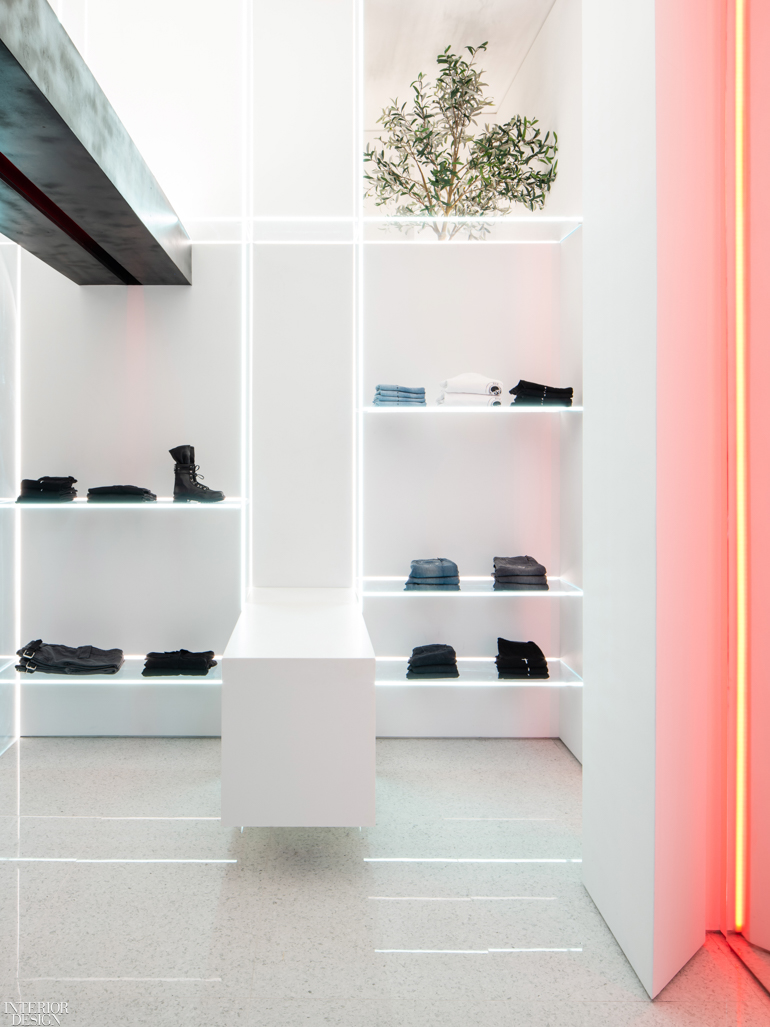 Read more: 10 Questions With Dan Brunn