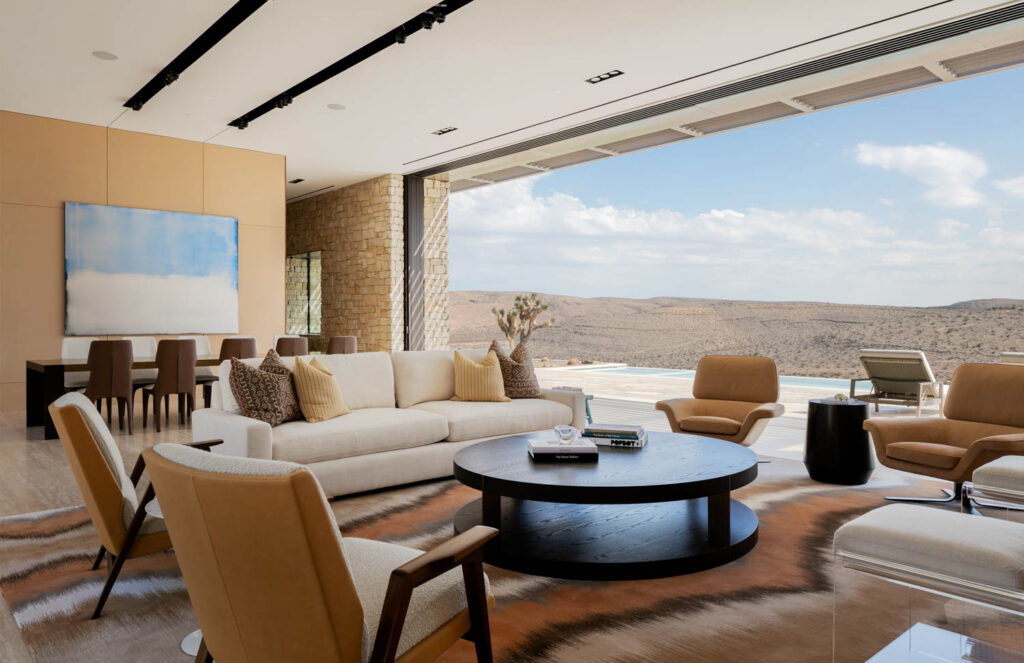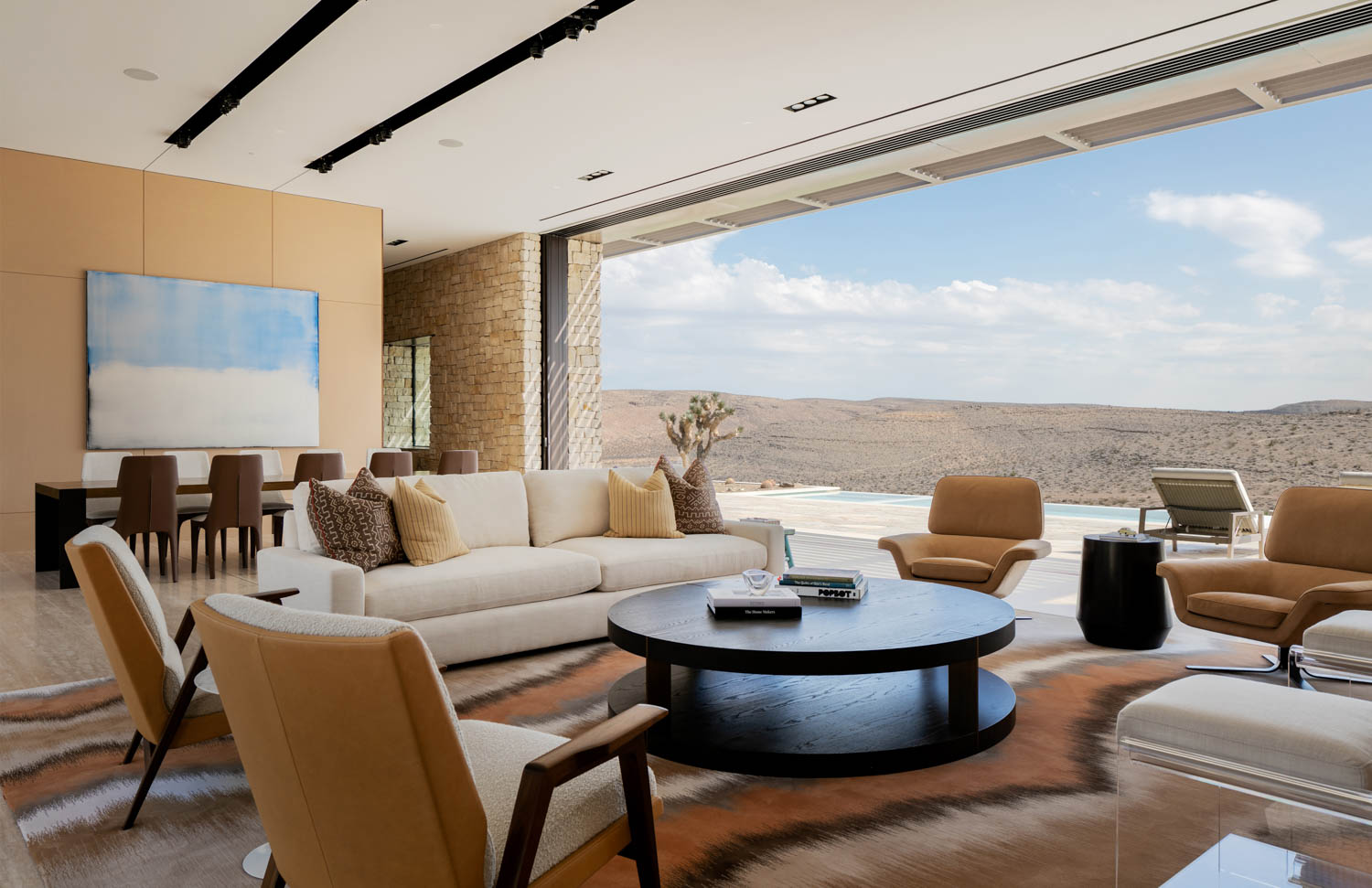 Daniel Joseph Chenin Crafts a Cinematic Desert Dwelling
Daniel Joseph Chenin's artistic process begins with a storyboard—sketching scenography and drafting plot points in a narrative informed by time, space, and nature. Chenin's architectural choreography makes his eponymous firm as singular as its projects, among them, a residential oasis the Mojave Desert called Fort 137.
Chenin sets the scene: "Las Vegas is a very young city compared to New York or Los Angeles. It's a watering hole evolved from a spring." The project, he continues, pays homage to the isolated frontier of nascent Vegas, its vernacular inspired by early settlements of stacked rock structures and the adobe-clad outpost known as the "Old Mormon Fort," Vegas's first permanent dwelling. The fort typology coupled with the site parcel number 137 inspired the name.
A Desert Home Designed to Ignite the Senses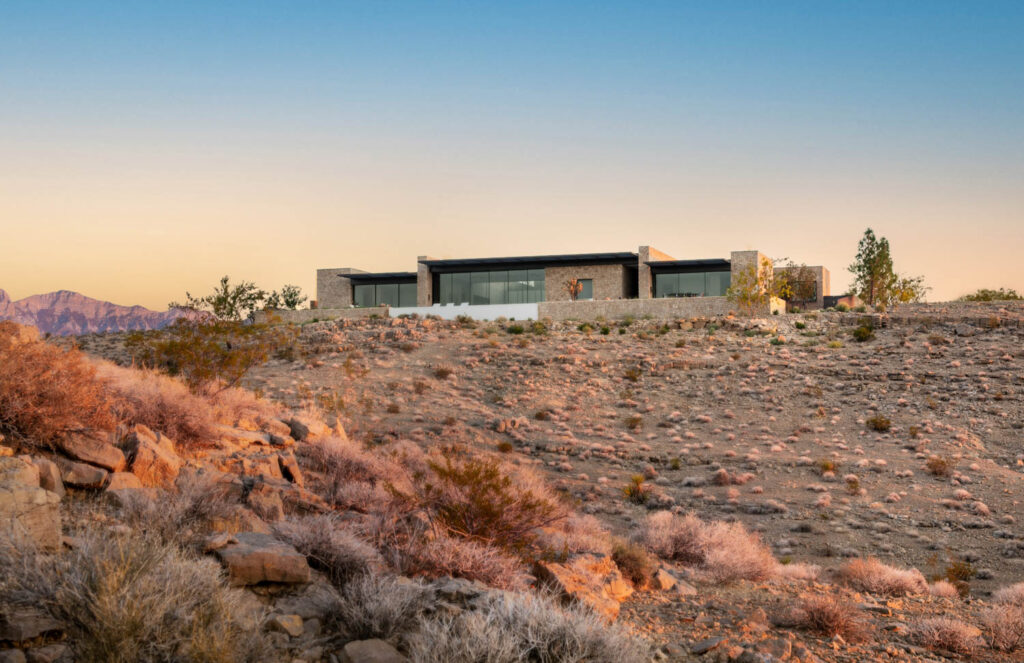 Emerging from the desert steppes like an ancient rock formation, Fort 137 is a force of nature, a geological form rendered in steel and travertine. "This was not our first new build in the desert," explains Chenin, "But it was our first project in such a rural setting." The client, a family of nature enthusiasts seeking a base camp for their active lifestyle, tapped Chenin's Las Vegas-based studio to conceive a complete, turnkey project. Despite living out of state, "the owners had total faith in our process," recalls Chenin. "They didn't want to limit our creativity with a list of parameters, other than an environmentally conscious home with views of the Red Rock Canyon and surrounding foothills."
At first, topography posed a challenge; its barren plot situated in a crest that partially obscured canyon views. In response, Chenin graded the area to elevate portions of the home by four feet, granting extensive sightlines of the canyon and mountains, much to his clients' delight.
The Design Incorporates Natural Light and Passive Cooling
Composed of three layers radiating from a central nucleus, each volume serves a calculated purpose, with a primary and secondary suite, three additional bedrooms, vast living and dining spaces, and terraces blurring the line between the desert and the dwelling. Panoramic glass doors on the north and south facades swath the home in natural light and provide cross-ventilation, while louvered roof overhangs allow passive cooling.
The residence offers a multi-sensorial experience, notes Chenin, through internal notes and external vistas framed like vignettes from an old Western. "Moving through the space is like walking through a movie," says Chenin. It's equipped with a natural soundtrack, too: water trickling from a fountain on the lower level is reminiscent of a mirage, and desert winds whooshing through corridors.
The Home's Materials Palette Reflects the Natural Landscape
A rotunda serves as the focal point, which Chenin calls the Kiva—a term stemming from ceremonial buildings used by Puebloan natives in the American southwest. The conical feature rises 28 feet, and acts as a palate cleanser from the barren exterior, ushering residents into their cool, tranquil retreat.
With a materials palette of weathered and hot-rolled steel, travertine, salvaged rock, reconstituted wood veneer, the architects wove the landscape into Fort 137's storyboard. Furnishings carefully selected to complement the biophilic surroundings are minimal yet striking. Gregorius Pineo's distressed chestnut oak dining table with antiqued iron legs and hand-casted, bronze composite table lamps, elegant Minotti lounge chairs mix with many of Chenin's custom pieces. The living room features one such design, a massive area rug with soft bands of orange, gray, and sandy hues. Custom millwork in the kitchen and bathrooms carry thematic textures of bronze, onyx, and rift-cut, white oak finishes throughout the home.
Chenin's favorite space? The living room, which extends to the rear vista and courtyard. "The play of light and shadows is constantly evolving," says Chenin. "The space is oriented to capture both the sunrise and sunset, so for 10 to 15 minutes in the morning, and again in the evening, the colors of the sky are so rich and vibrant that the views become cinematic."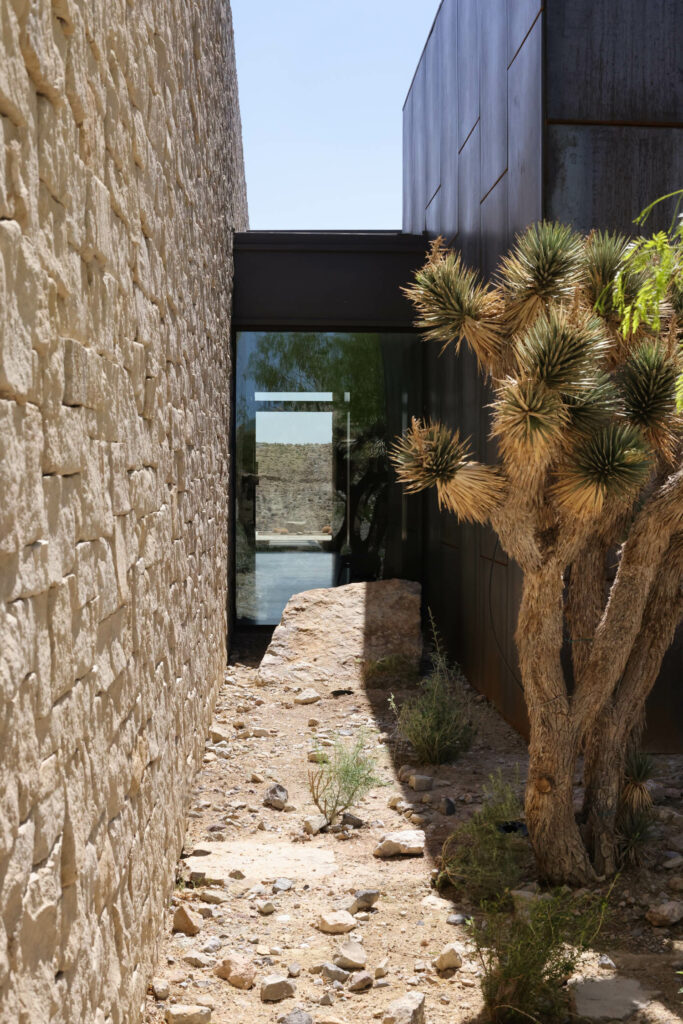 Walk Through the Desert Home Designed by Daniel Joseph Chenin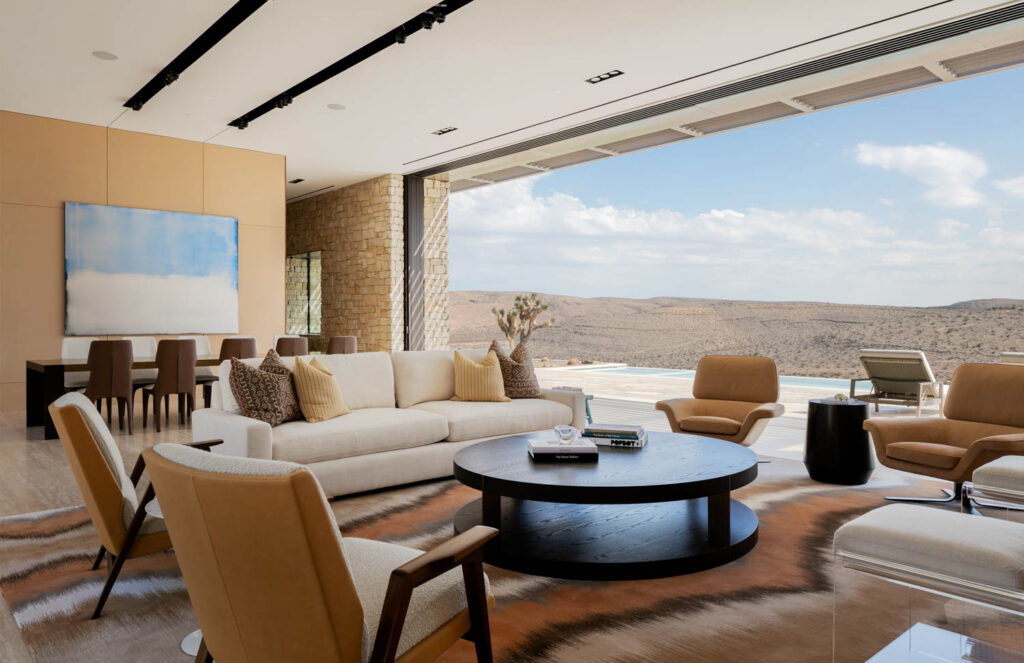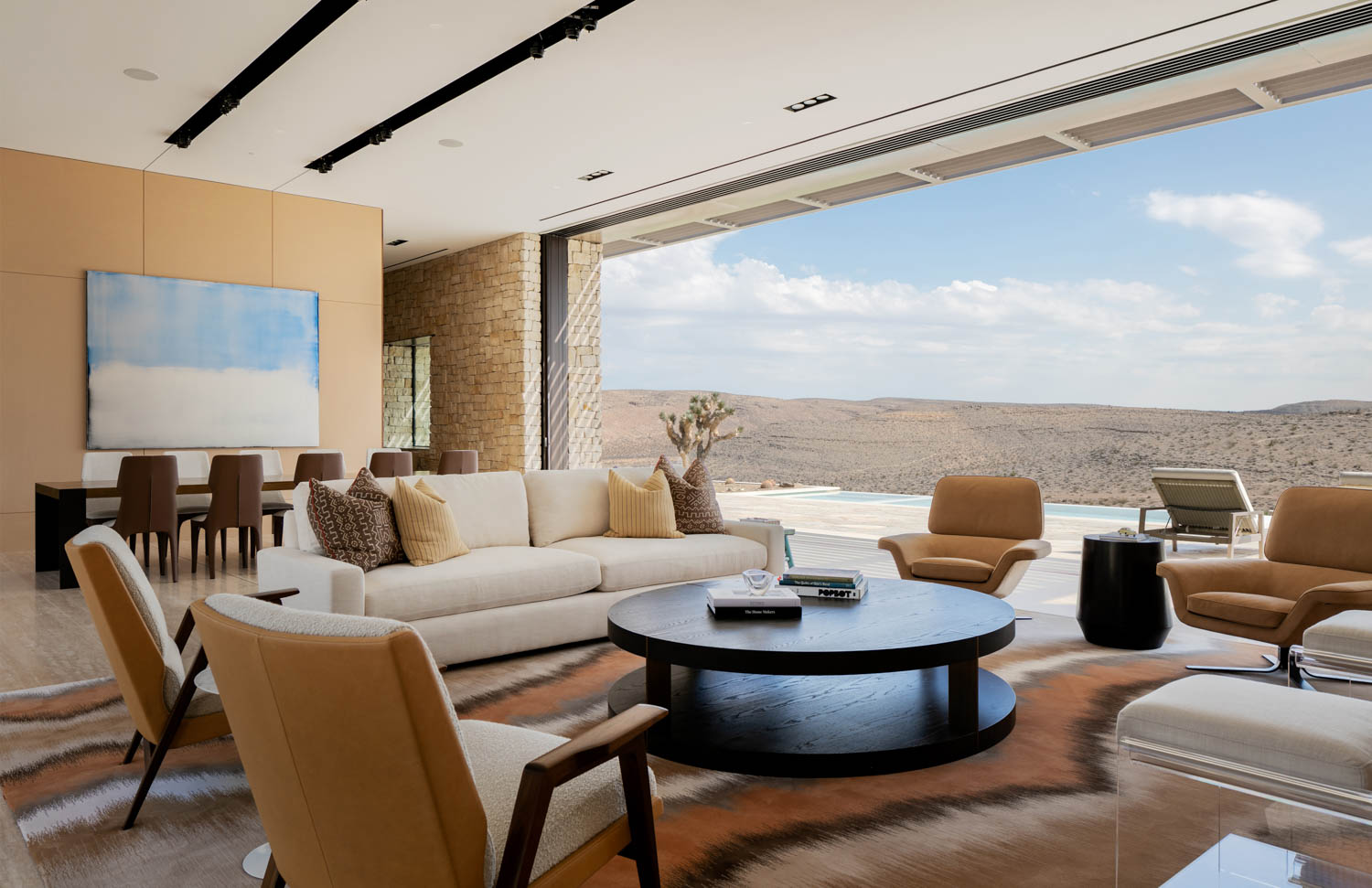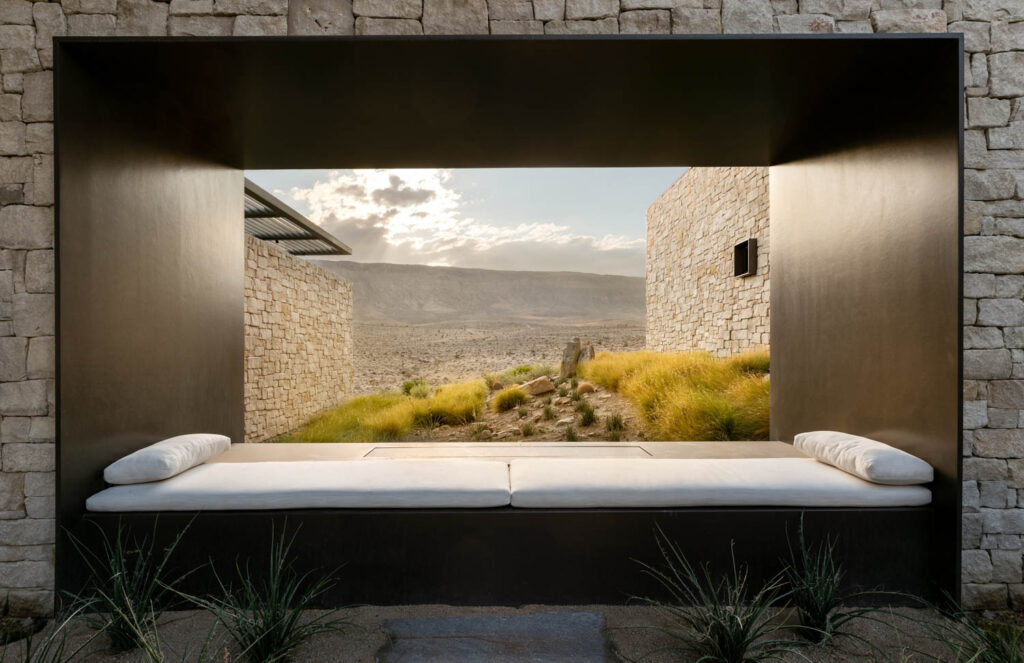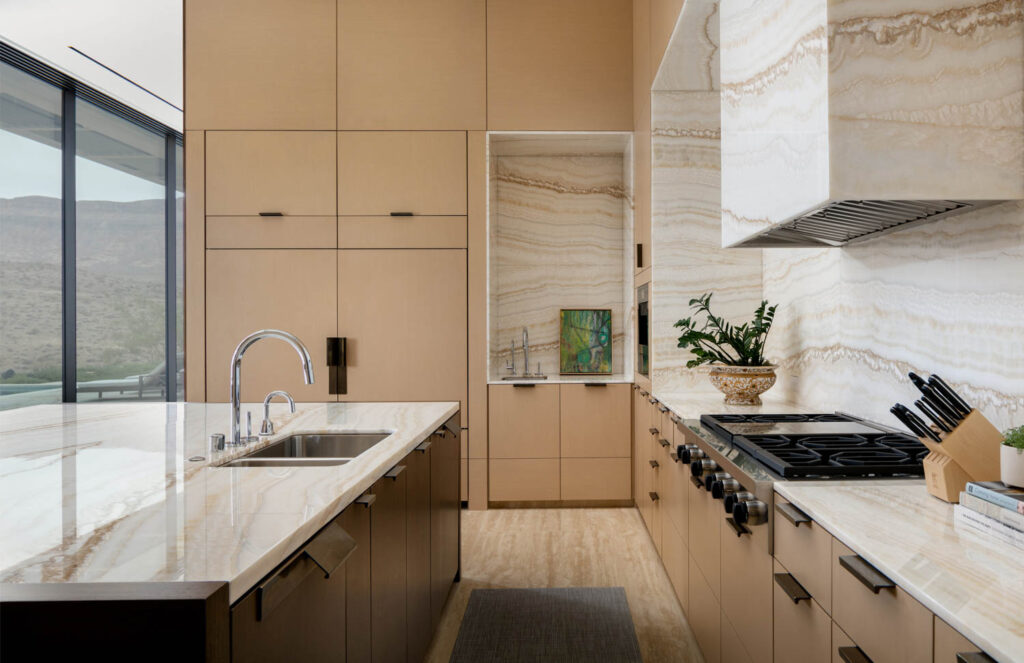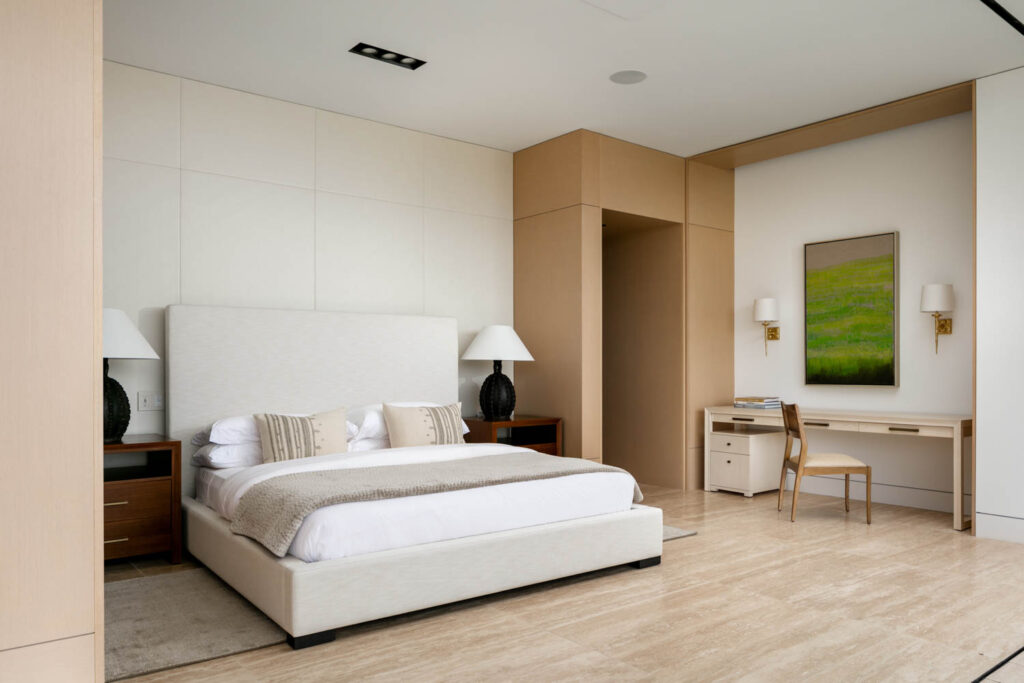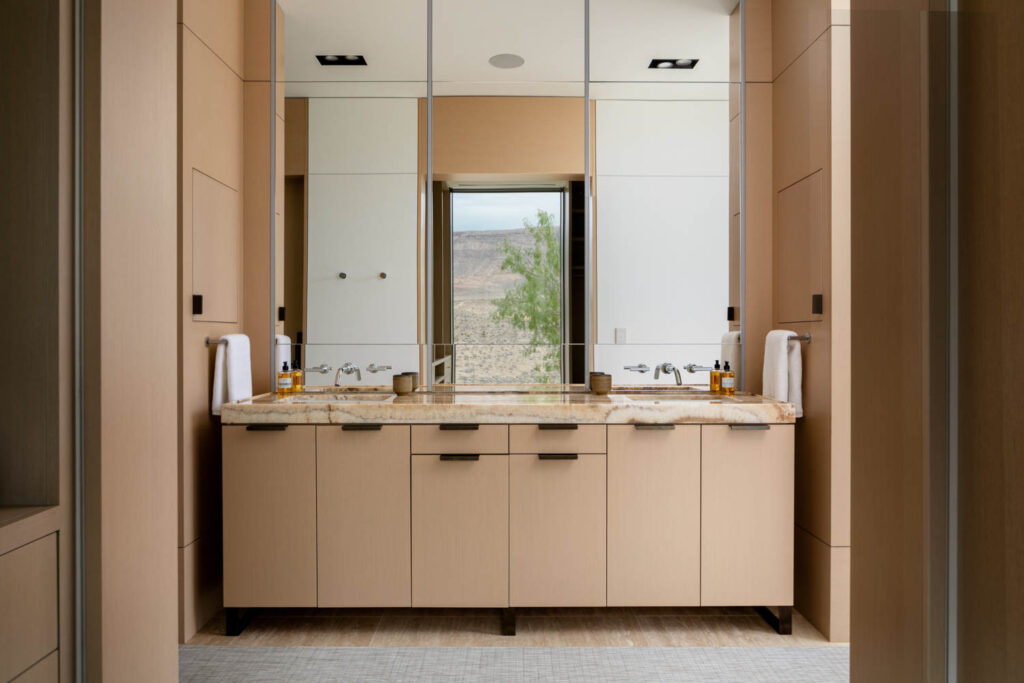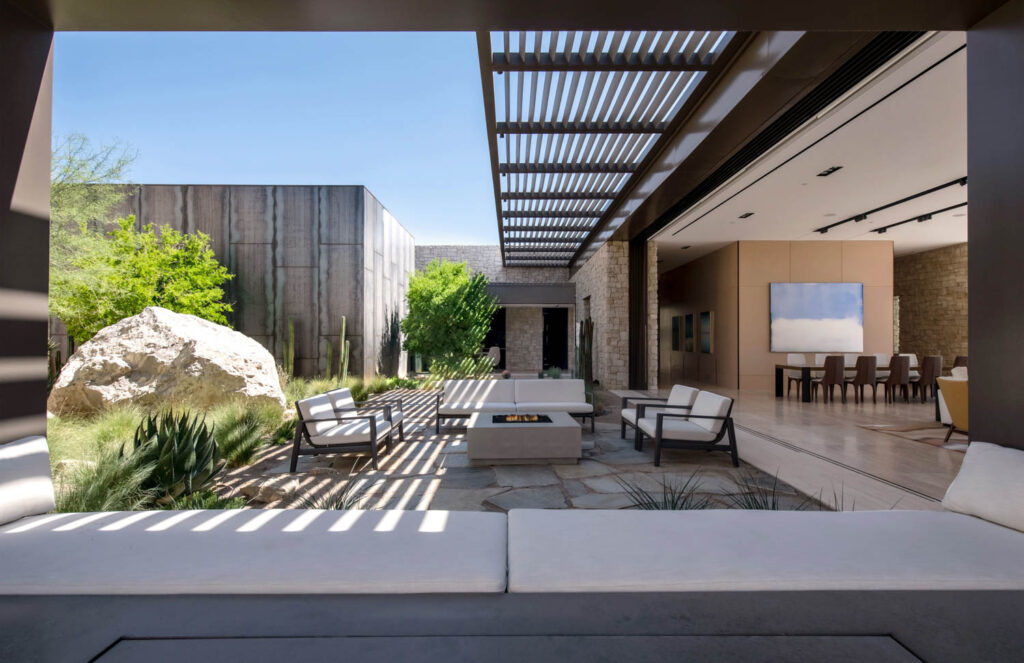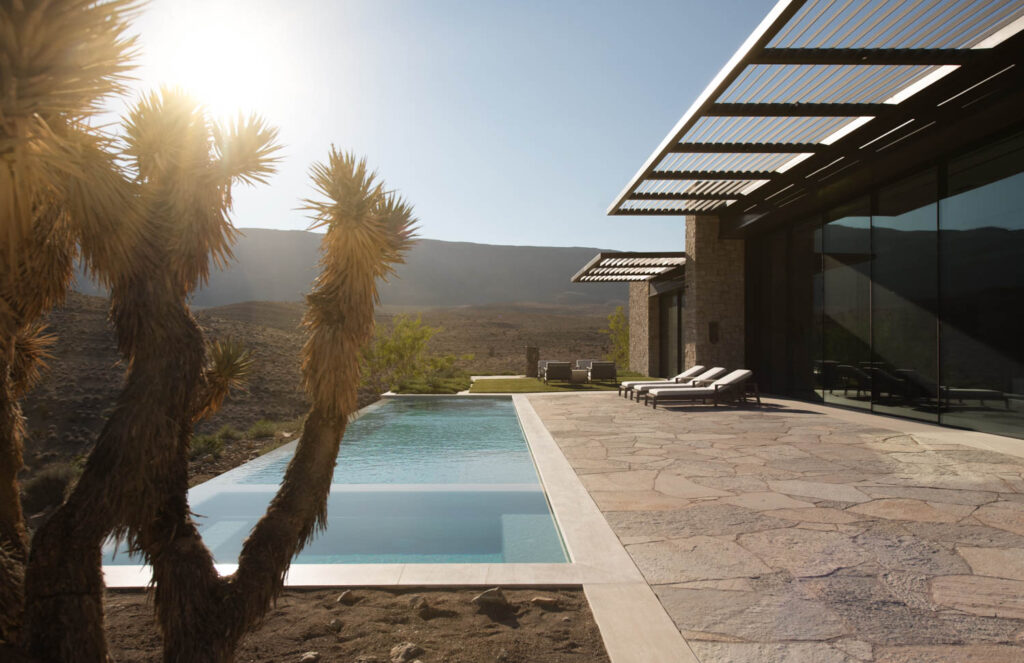 read more