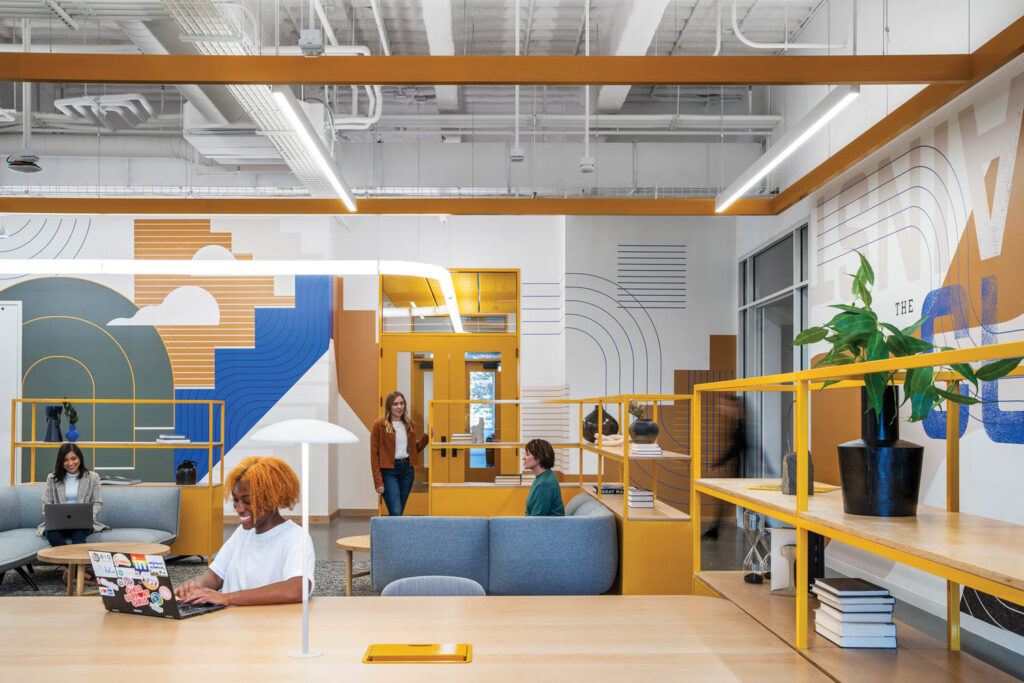 Gensler Captures the Spirit of the Midwest for the LinkedIn Office in Omaha, Nebraska
2022 Best of Year Winner for Large Tech Office
Nebraska is not necessarily known as a destination for cutting-edge design and culture. However, the new Omaha office of LinkedIn, the professional networking giant with nearly a billion users, tapped into the deep-seated tradition of innovation and dynamism that has historically defined the Midwestern metropolis. "From the beginning, there was an emphasis on making sure the decisions were an honest reflection of the city," LinkedIn senior design manager Virginia Alexander recalls. Longtime partner Gensler was a natural choice for the project, as LinkedIn has worked with the firm on interiors and branding for more than a dozen of the company's offices around the globe.
LinkedIn Omaha had been located in smaller, desperate-need-of-a-refresh quarters for 15 years. This project rep­resents a major reboot not just for this outpost but also for the company's larger approach to workplace design. "The Omaha office was designed with the future in mind," begins Gensler design director and principal Kelly Dubisar, who led the project's interiors, along with fellow design director and principal Janice Cavaliere, who took charge of graphics and branding; both are from Gensler's San Francisco office. "Omaha actually means to go against the current, according to local indigenous tribes," Cavaliere chimes in. It's this pioneering spirit that informed the firm's strategy across the new LinkedIn Omaha workplace, a pair of adjacent LEED Gold–certified buildings that are five stories each and total 200,000 square feet.
As is becoming a common tale for companies keeping pace with the realities of work today, where flexibility is the new watchword, LinkedIn swapped the traditional assigned-workstation approach for one that's 100 percent free address. "We had piloted a neighborhood-based, open office model on single floors in previous properties," Dubisar explains. "The pandemic pushed LinkedIn to adopt that model as the starting point for all new sites." Teams from the Omaha staff of 1,000 are directed to 20- to 30-person neighborhoods containing a range of seating options supporting private individual work as well as small- and large-group collaboration. Instead of permanent desk space, daily-use lockers, phone booths, and deep-focus nooks help anchor people in their team areas. Typical floor plates, each defined by color, contain four neighborhoods; "rail cars," Dubisar notes, at junctions funnel employees into their dedicated zones, where custom shelves display mementos that express team identities.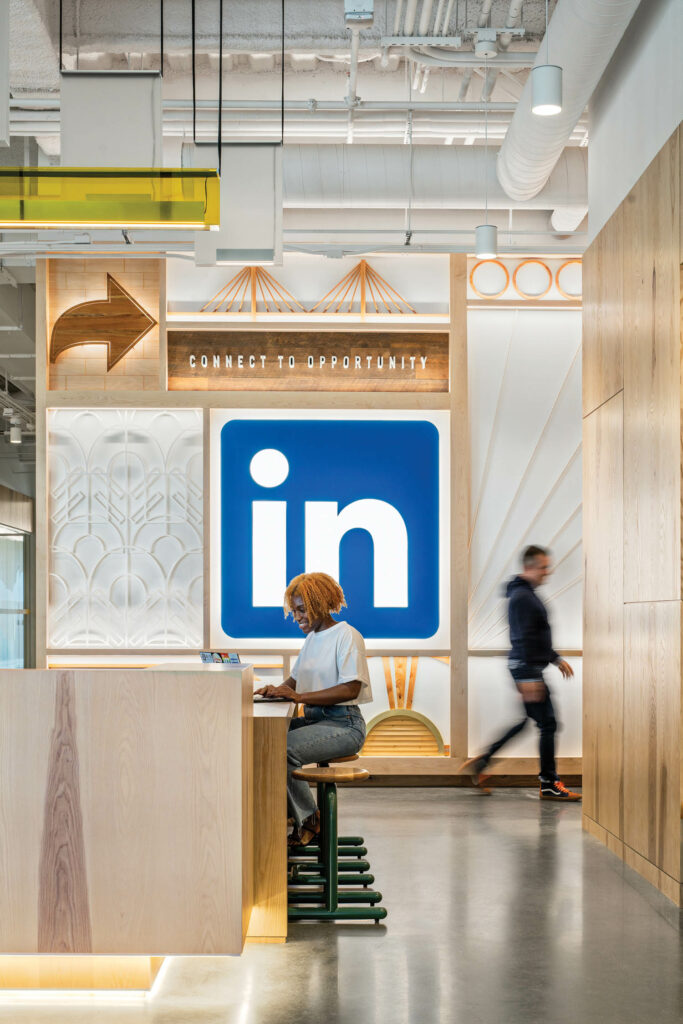 How Employee Research Informed the LinkedIn Office Design
Concepting for the hybrid work experience was both a technical and a cultural challenge, so Gensler and LinkedIn conducted research, surveys, and workshops with staffers to understand what made them tick, both professionally and personally. "We were challenged to consider how our designs and technology could make working more engaging and equi­table," Alexander says. Out of the discovery process came a host of amenities including a dynamic tech-ready team space for hybrid collaboration called the Lab, two libraries for heads-down focus work, recreation rooms with a golf simulator and rotating arcade games, music rooms, terraces, and a cafeteria called the Almanac, with revolving food kiosks and LinkedIn's first all-electric kitchen.
Health, wellness, and resilience emer­ged as key themes, so in addition to an on-site fitness center and an outdoor roof deck, as well as incorporating no- or low-VOC materials and finishes and only reclaimed or FSC–certified timber, the campus contains four respite rooms sprinkled throughout. Ranging in size and design, the tech-free spaces have ambient light to support a variety of ways to re-energize mind and body. "Everyone resets their brains differently," Dubisar says. "Some need calming spaces, others something more tactile and hands-on. Rather than a generic 'wellness room,' we have different spaces so people can choose the one that fits them best." They also should help the project achieve its pending Fitwel 2 Star certification, along with a fire stair surrounded by bold graphics and with motivational phrases integrated into treads to encourage staff to take them instead of the elevator.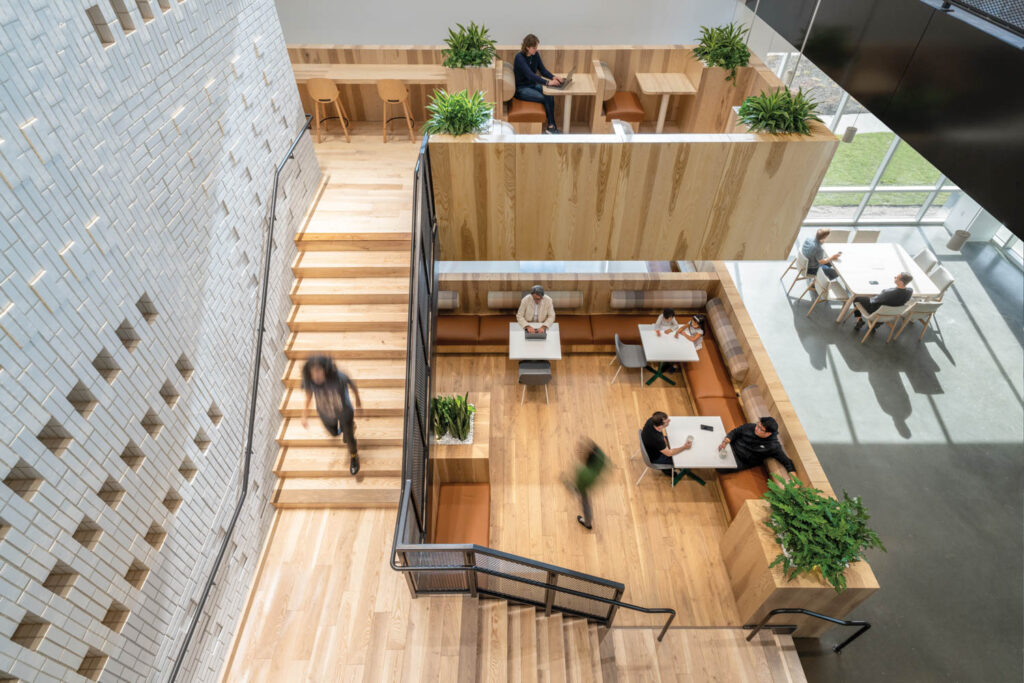 ---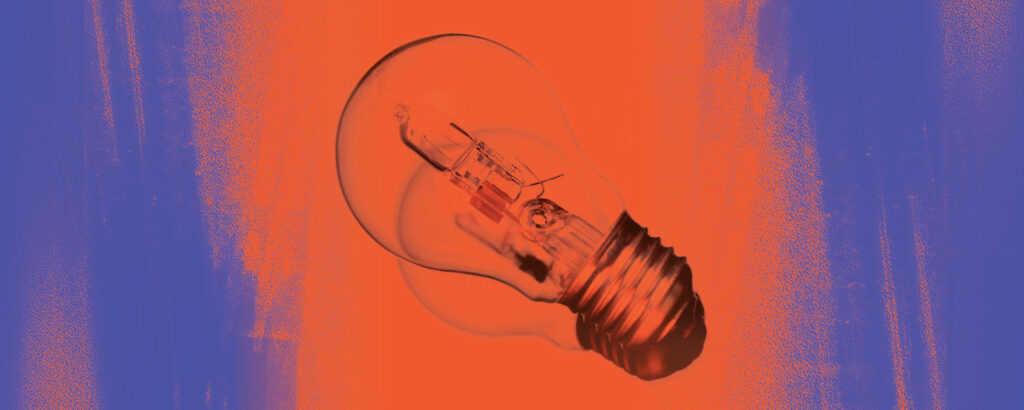 See Interior Design's Best of Year Winners and Honorees
Explore must-see projects and products that took home high honors.
---
Office Culture Meets Local Culture
The final theme to emerge was expressing Omaha's particularities of place. "We looked to the historical significance of craft in Omaha and the overall notion of going against the current," Cavaliere says. Civic storytelling begins in the two-story atrium lobby with a stair backed by a double-height wall of whitewashed brick, a traditional building material in Nebraska. Sculptures by Japan-born Omaha artist Jun Kaneko animate the welcome experience on the ground level, as do Gensler's integrated wall graphics and site-specific art installations that nod to Omaha's agrarian roots and contemporary culture. Conference-room graphics referencing the Max, a longstanding Omaha LGBTQIA+ nightclub, quickly became a LinkedIn staff favorite. "It's incredibly meaningful for people to feel represented not just in their city but also their workplace," Cavaliere states.
Ultimately, this place-based narrative could be a stronger draw for employees to return to the office than more traditional amenities. "The purpose of the workplace today is to reinforce a sense of community and culture," Dubisar says. "The office should make you better and support the whole self. At the same time, it's a place for people to come together and strengthen relationships." As Linked­In's global real estate portfolio continues to grow, prioritizing personal expression and community connectivity in the workplace seems only fitting for a company that's staking its claim as the world's largest professional network.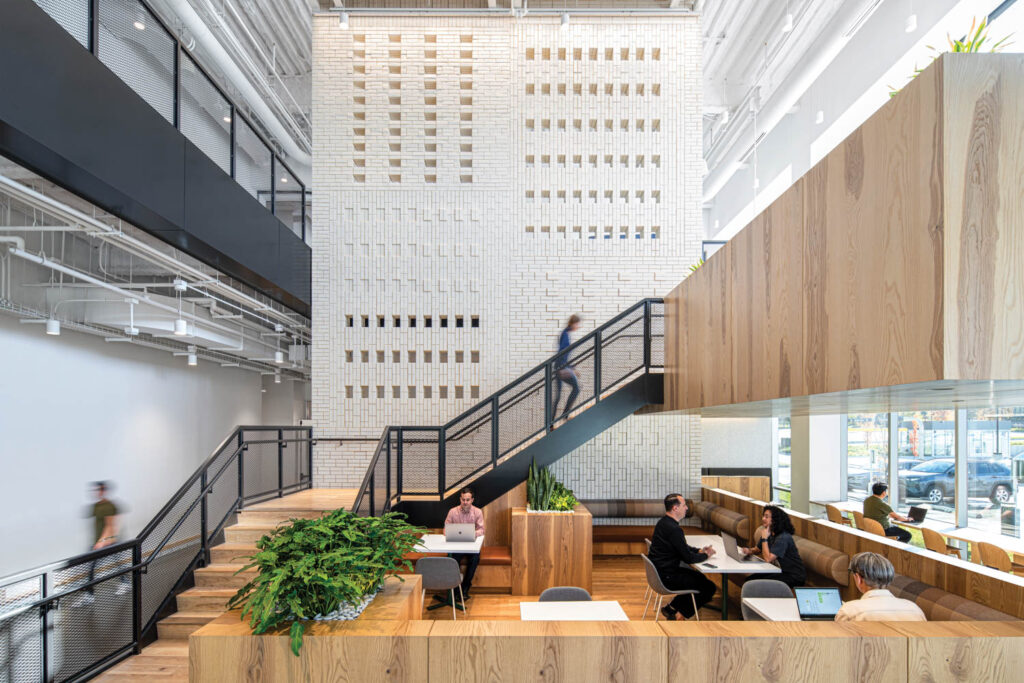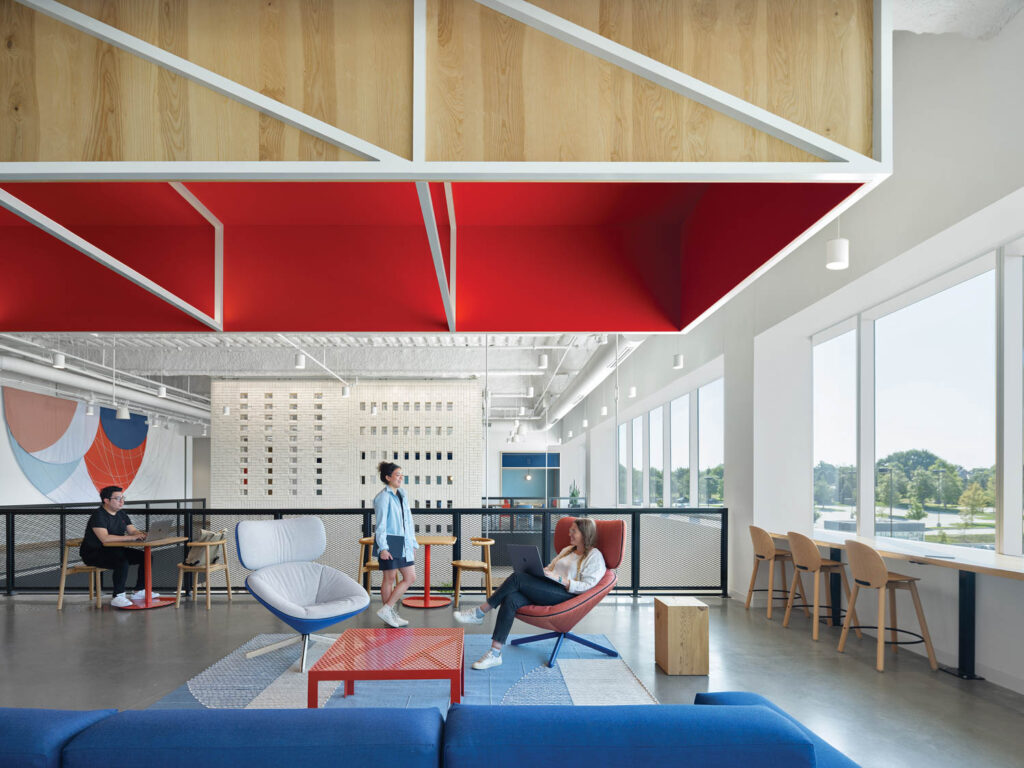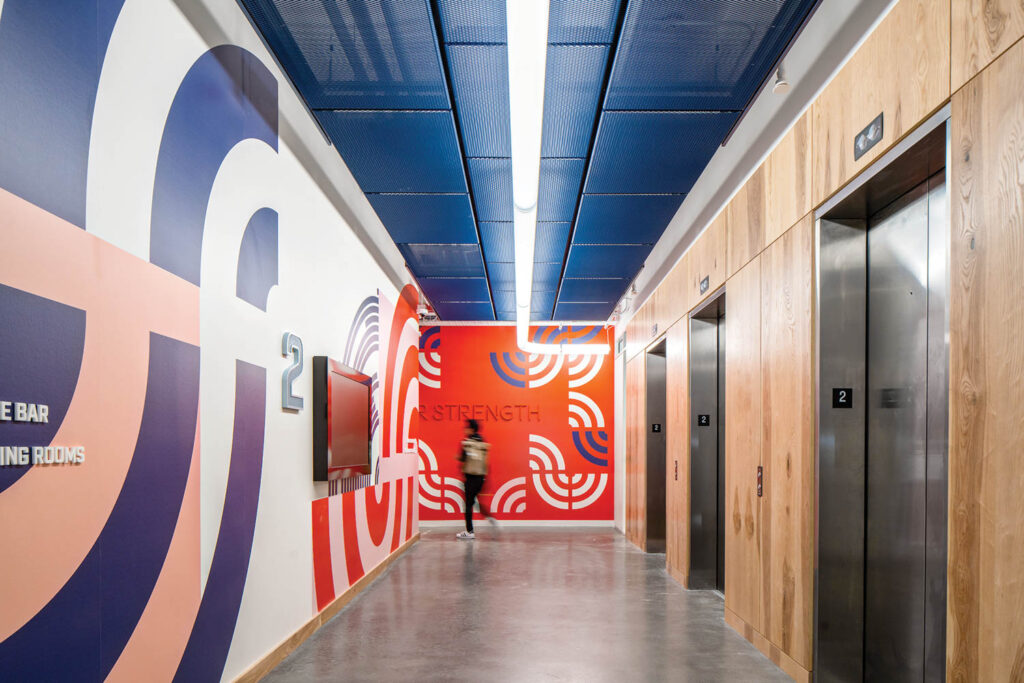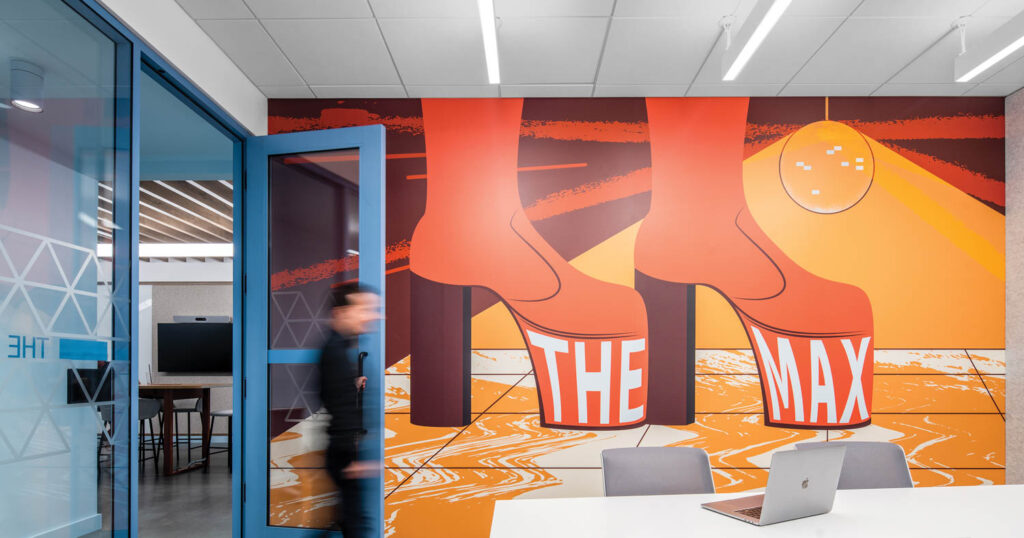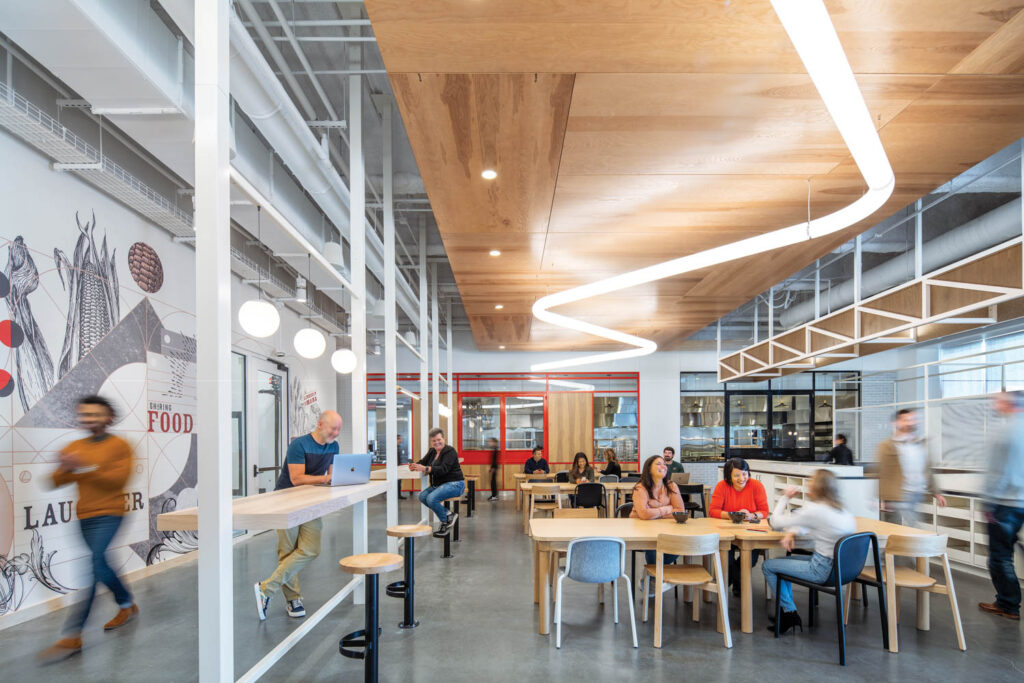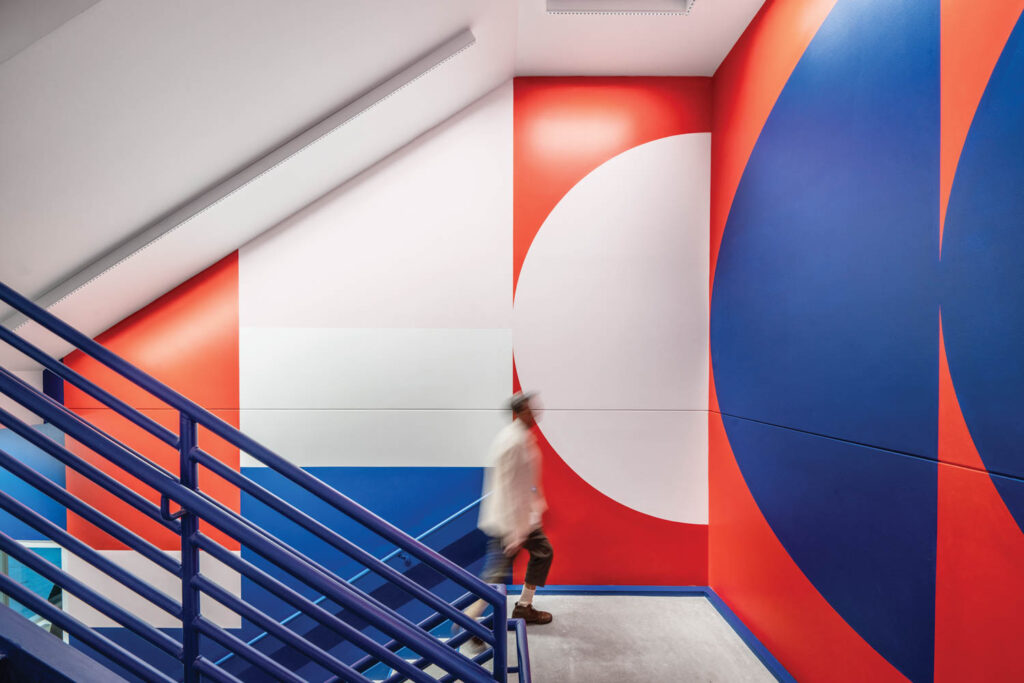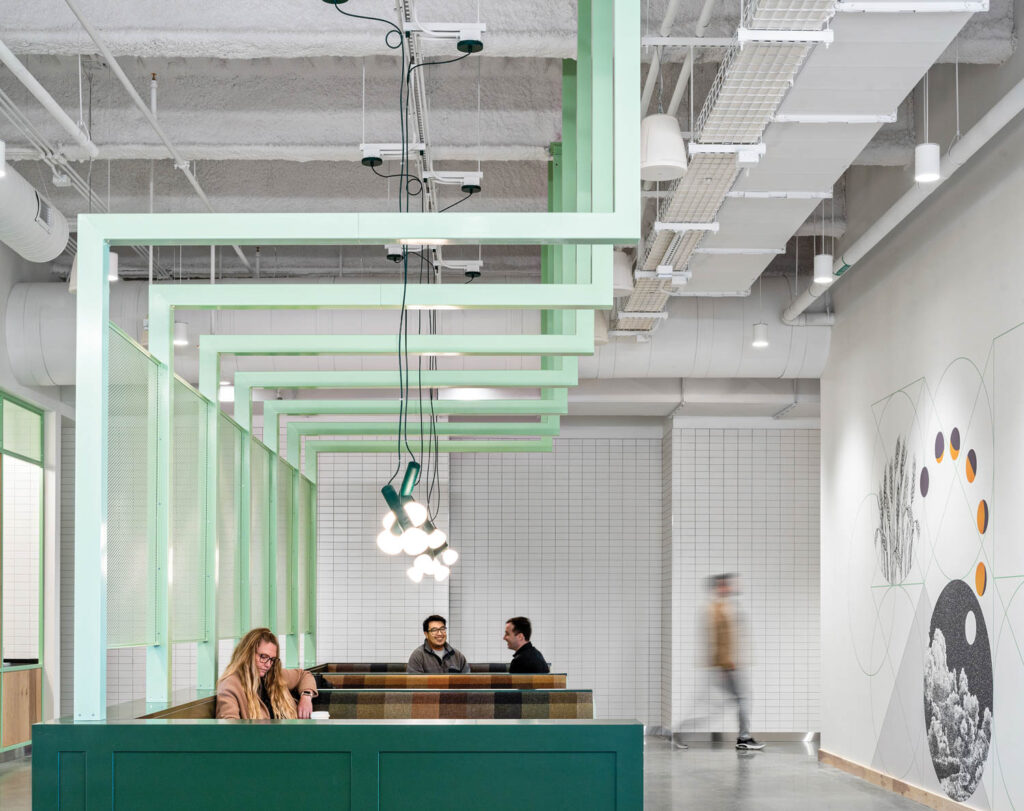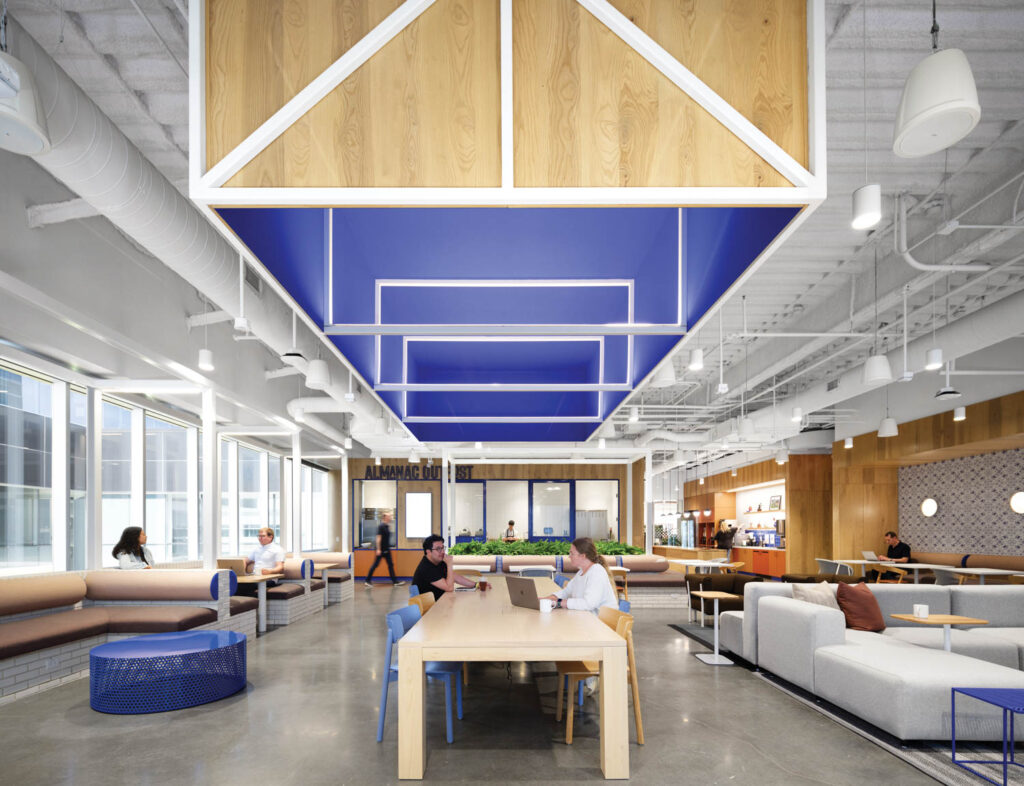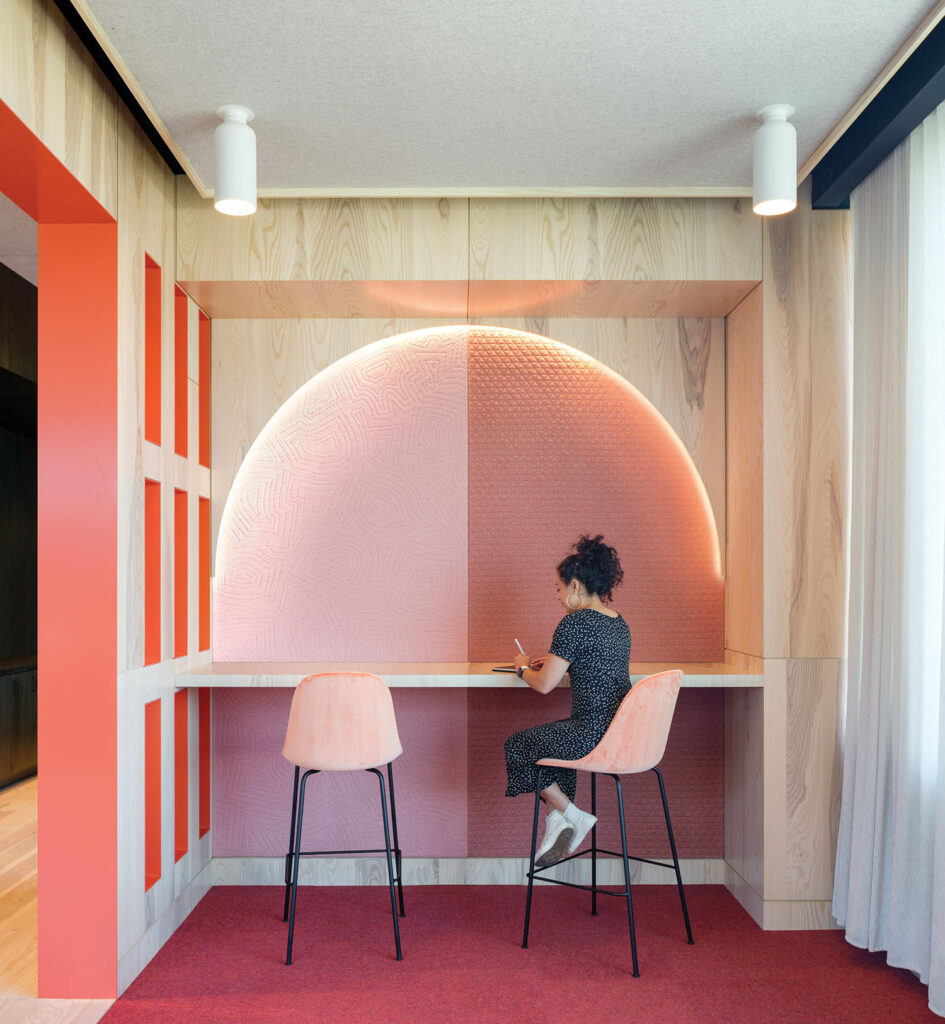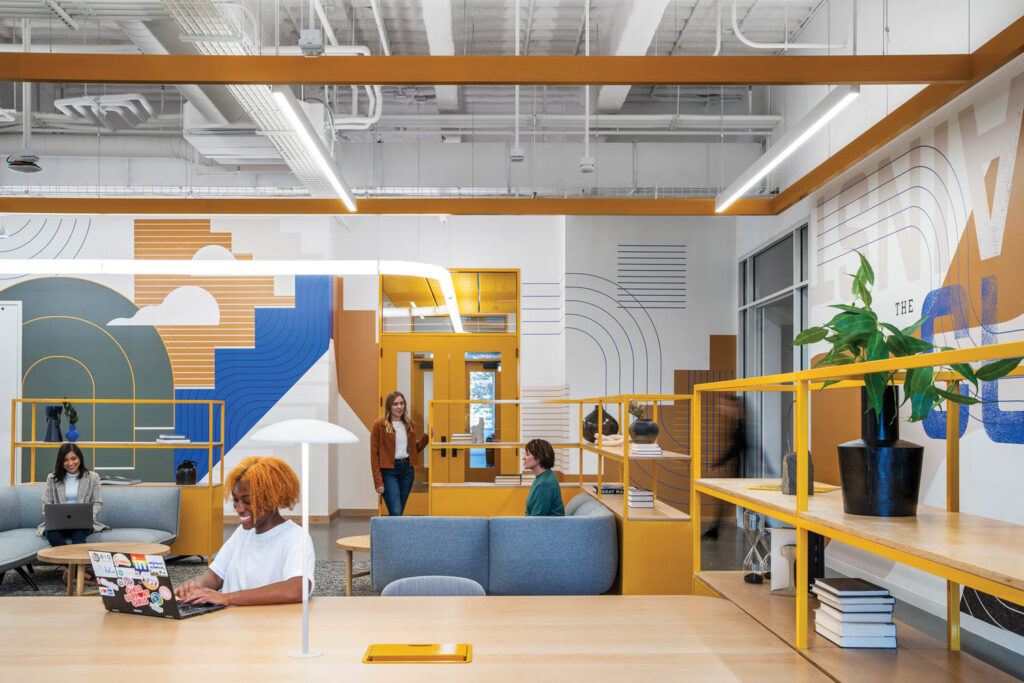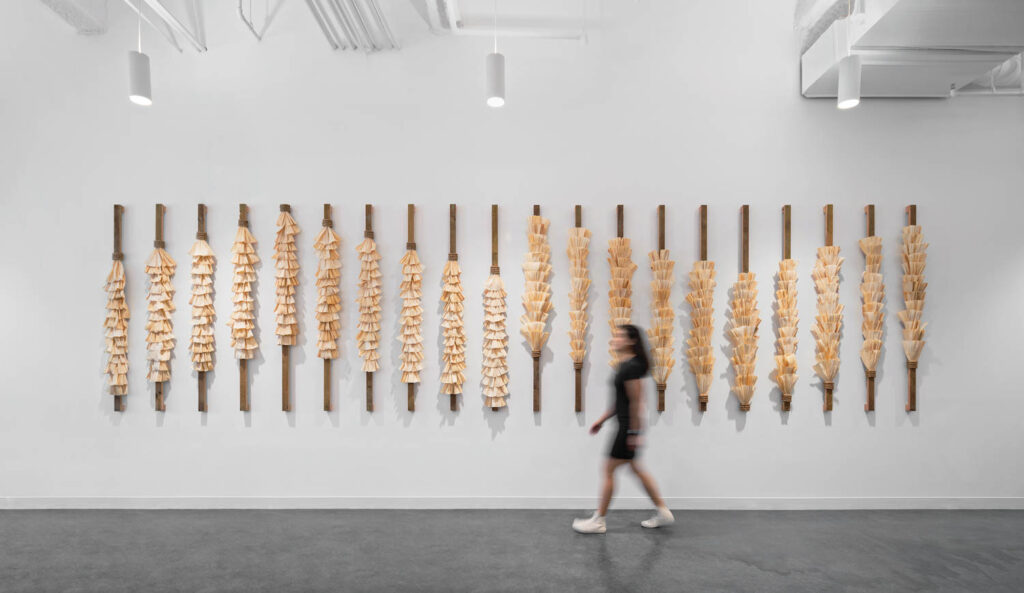 PROJECT TEAM
PRODUCT SOURCES
FROM FRONT
FROM FRONT