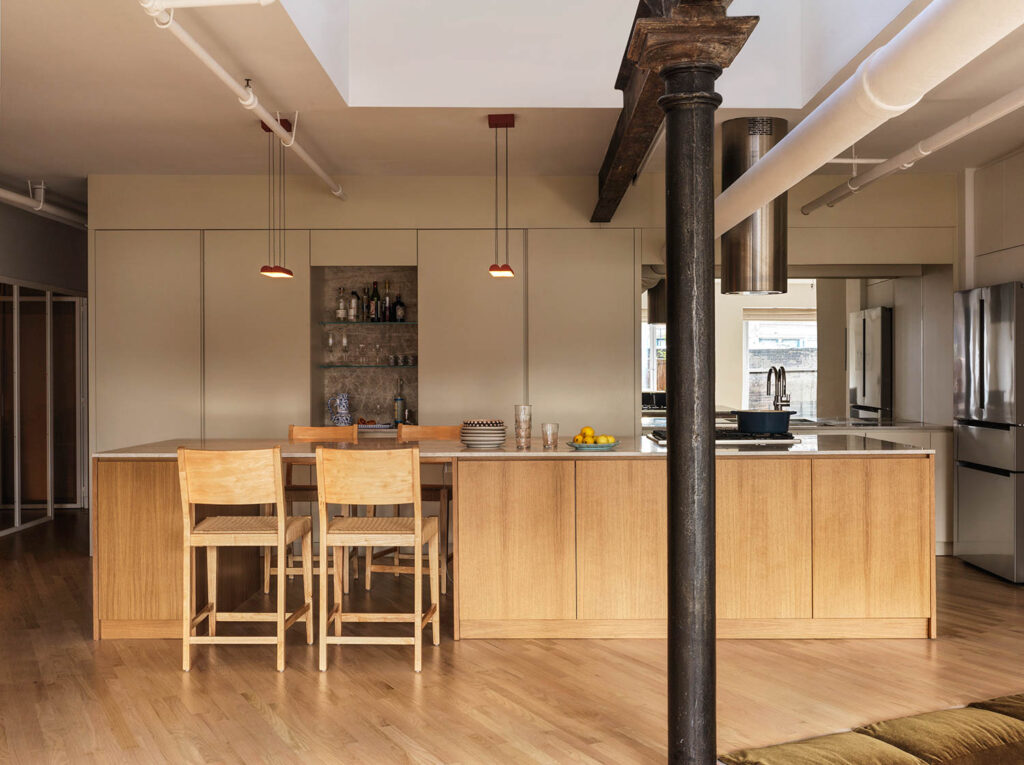 An Industrial Manhattan Loft Offers a Rich Cultural Narrative
This spacious Manhattan loft embodies a true marriage of design, drawing on aesthetics from Mexico and Israel—the native locales of the creative couple who call it home. To further the cross-cultural narrative, the homeowners chose to work with BoND Architecture, cofounded by Israeli architect Noam Dvir, and Mexican designer Edgar González to transform a former warehouse into an airy loft apartment.
"The existing space felt tired and covered up; too much drywall enclosures everywhere, and everything felt as though it had been overused," shares Dvir. "We wanted to expose the structure in the space to bring back more of an honest loft feel, reflecting the industrial past of the building." Working closely with González, the team reworked the space and introduced fresh finishes, developing a material palette of metal, glass, concrete, and wood. "The homeowners had their sights set on creating a space that was clean and sleek while still feeling comfortable and inviting," adds González, noting that the pair loves to entertain. "The couple also both highly value their respective cultures, so we injected elements of personality with artwork and accessories throughout the home."
Designing a Loft Apartment Fit for Entertaining
With layers of earth tones and subtle yet lush textures, the 1,800-square-foot loft began to take shape. Located in Manhattan's Flatiron neighborhood, the apartment features two bedrooms, two baths, an office, and walk-in closet. Not to mention an airy open kitchen that spotlights the home's original black steel structure. "We tried to inject elements of surprise through contrasting material palettes," says Dvir. "The main living spaces took a brighter, warm direction, while the smaller support spaces (closets, powder room) are darker and richer in tone."
Glass doors and partitions create a sense of openness throughout the light-filled space, which is centered around the dining room and kitchen—fitting given the homeowner's love of dinner parties. Here, industrial accents merge with modern furnishings, such as the cement dining table from RH surrounded by vintage Edward Wormely cane-back chairs. "Mixing new and vintage pieces is one of the foundations of my work as a decorator. I think it's important to balance the energy of a space by incorporating both," says González.
The living room also reflects this approach with a made-to-order Mesa Sofa from Lawson and Fenning, which is offset by a vintage Danish Walnut side table sourced from Paula Rubenstein. "Adding elements of age and texture was key to not letting the home feel too stark or lackluster," González adds. Artwork from Mexico and Israel further enhance the home—and the cross-cultural design narrative—adding pops of color, and pizazz.
Inside the Industrial Loft by BoND Architecture and Edgar González