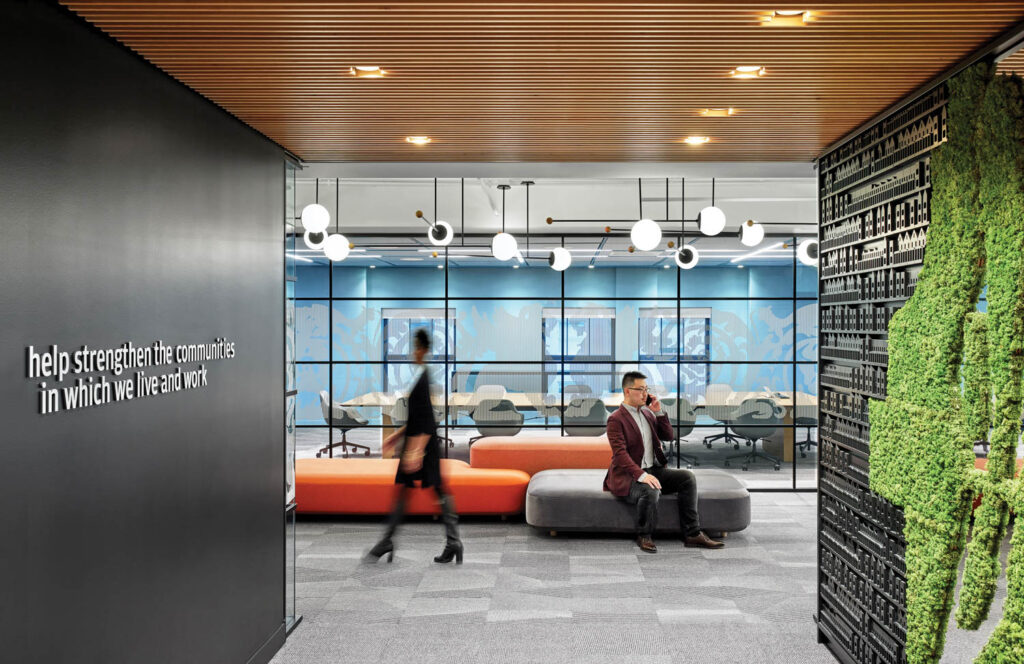 Inside JPMorgan Chase's Historic D.C. Offices by Studios Architecture
The nation's largest bank, JPMorgan Chase & Co., is also one of the oldest, tracing its origins to the late 1700's. "Respecting history and supporting art and culture have been a part of our DNA since inception," explains Farzad Boroumand, the bank's executive director and global real estate head of design. It was only fitting, then, that when choosing a home base for its new mid-Atlantic headquarters, the financial institution would purchase a venerable property: the 1922 Bowen Building in the heart of D.C.'s Historic Fifteenth Street Financial District.
Much like JPMorgan Chase itself, which is a synthesis of many institutions that have merged or been acquired over the years, including First Republic Bank last month, the Bowen is a hybrid of several early 20th-century structures that had been combined and expanded in phases. Although the 12-story limestone edifice is not landmarked, its listed status and contribution to a historic district stipulated a sensitive renovation—and an equally conscientious design partner. After inviting proposals from several firms, the client selected Studios Architecture. "Studios stood out by suggesting innovative interior solutions that were appropriate to the classical exterior," Boroumand recalls.
For JPMorgan Chase, Studios Architecture Designs a LEED-Certified HQ
The firm's work at the LEED Silver–certified headquarters, totaling 231,000 square feet, encompassed a subterranean mechanicals level, the lobby and an adjacent ground-floor community center, four levels of employee and executive workspace, and a client center with a terrace. The primary challenge was to deliver the perfect marriage of old and new. "The client sought a modern scheme that spoke to who JPMorgan Chase is and would carry the organization, with its rich history, into the future," says Studios board chair and principal Marnique Heath, who teamed with the client to lead the project with the support of Studios associate Ethan Levine, both architects from the firm's D.C. office.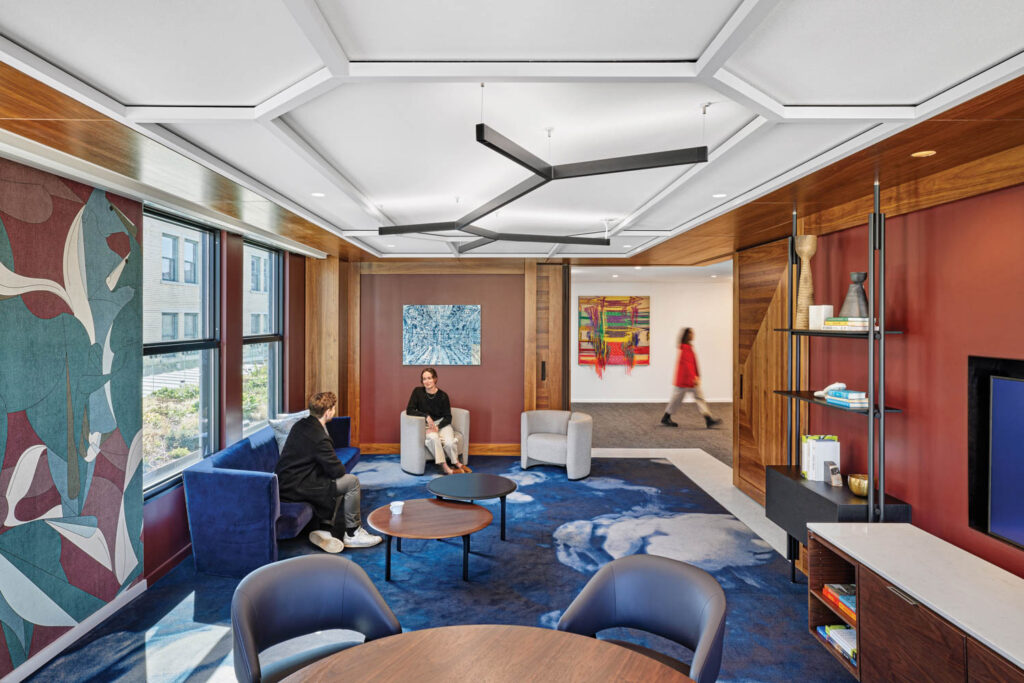 Many of the gestures, Levine notes, "were centered on thresholds, creating opportunities for visitors to pass into the bank and make them feel a sense of belonging." That starts at the main entry sequence leading from Fifteenth Street. The client requested that it convey welcome and a sense of transparency, which Studios answered by introducing a glazed portal with revolving doors and, above, a glass canopy.
The Office Design Features Restored Details
In the lobby beyond, the team restored the existing decorative ironwork detailing the marble portals' arched transoms, framing them with new dark-oxidized bronze screens featuring an abstracted version of the same triangular motif—a contemporary yet continuous expression. Overall, the scheme centers on interventions that compliment, rather than copy, the existing elements, Levine says. "The interior is an amalgam: We kept the best of the old and contributed new features intended to hold up just as well." In that same vein, Studios installed terrazzo floors in a custom mix throughout, a "timeless and incredibly durable material that marries well to both the modern and the historic," Heath explains.
The vibe of welcoming access extends to the community center occupying the building's north end. A mix of work and lounge areas furnished with clean-lined pieces lends abundant adaptability, as do retractable walls that subdivide the space as needed. Besides serving as an event venue for confabs like community board meetings and nonprofit fundraisers, the 1,750-square-foot multipurpose center gives spatial expression to JPMorgan Chase's recent financial commitment to supporting the greater Washington economy and helping close the racial wealth divide in the region through measures like flexible low-cost loans and investment in philanthropic capital.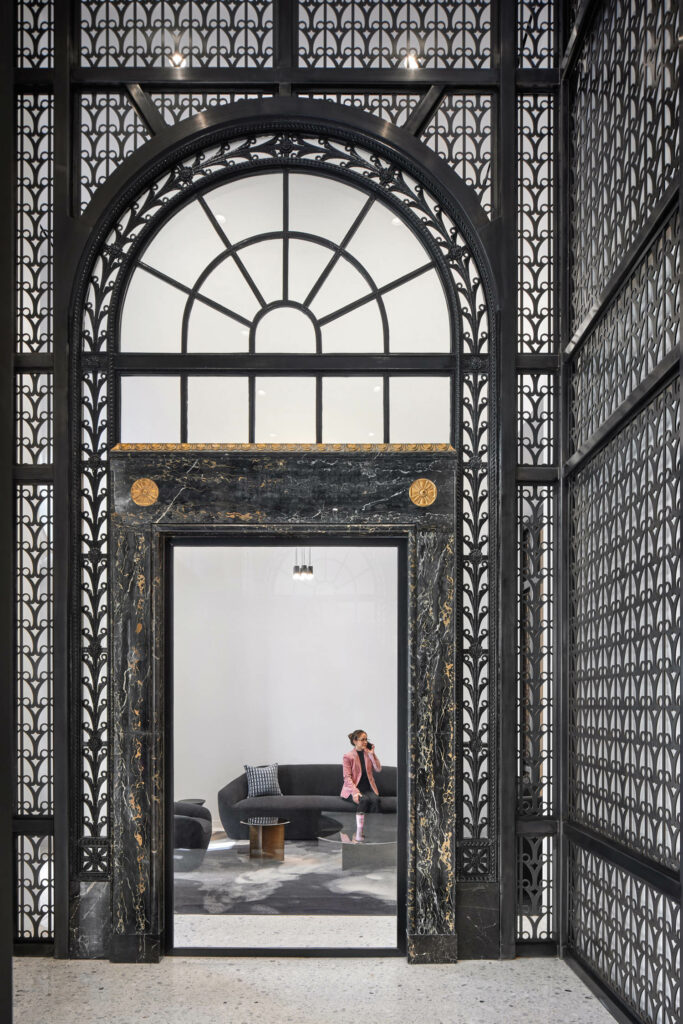 Studios Architecture Creates a Flexible Workplace for JPMorgan Chase
The client center, up on the building's 11th floor, houses various conference rooms and meeting areas as well as a generous terrace. Continuing the transparency theme, Studios carved out a double-height volume along the terrace-side perimeter, which serves as an airy waiting area. The firm also made substantial facade alterations here, expanding the glazing to create more openness and invite broader views of the Washington Monument and the White House. A new feature stair, its balustrade incorporating the same metalwork used on the ground floor, leads to the executive level on 12.
An elevator bay with tinted, mirrored panels and a series of LED mobile-esque chandeliers provides access to the three renovated floors of flexible work areas accommodating some 500 employees. Architect and client collaborated to uncover future-oriented strategies for the office proper. "We investigated entirely different models of working, incorporating features such as virtual meeting spaces and more homelike and lounge-y environments," Heath recalls. A diversity of furniture types and finishes, along with 2,500 square feet of open lounges on each work floor, encourages staff members to access different settings as they shift activities throughout their day.
Ultimately, the Bowen Building stands as an example of how legacy institutions like JPMorgan Chase can build a framework for serving their communities on multiple fronts—one that acknowledges the past while making much-needed modern interventions to cocreate a better future for all.
Behind the Design of JPMorgan Chase's D.C. Office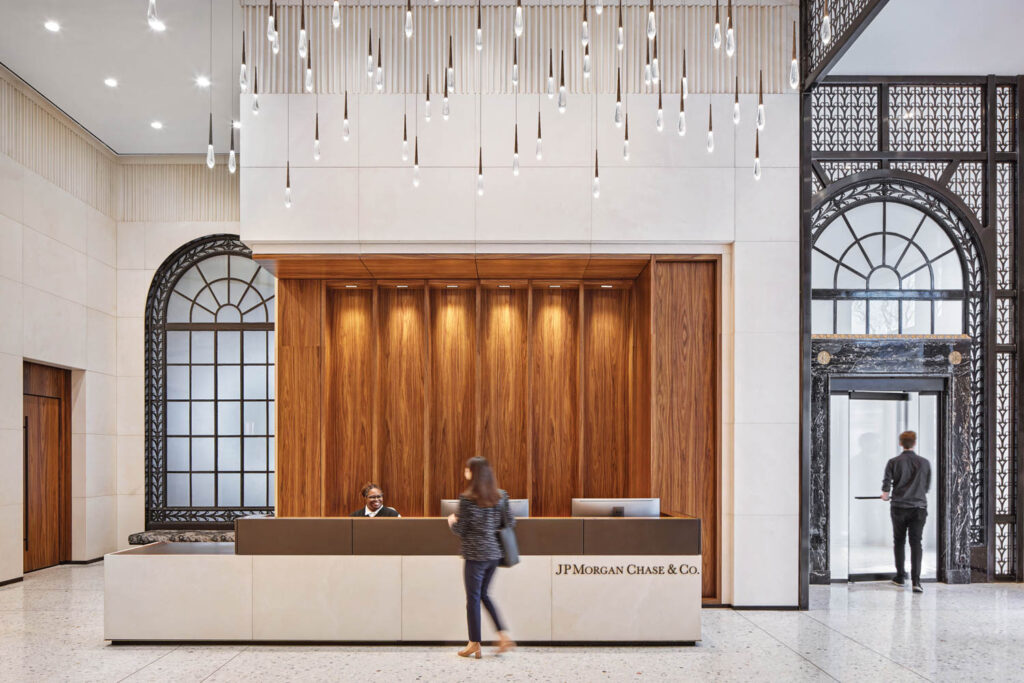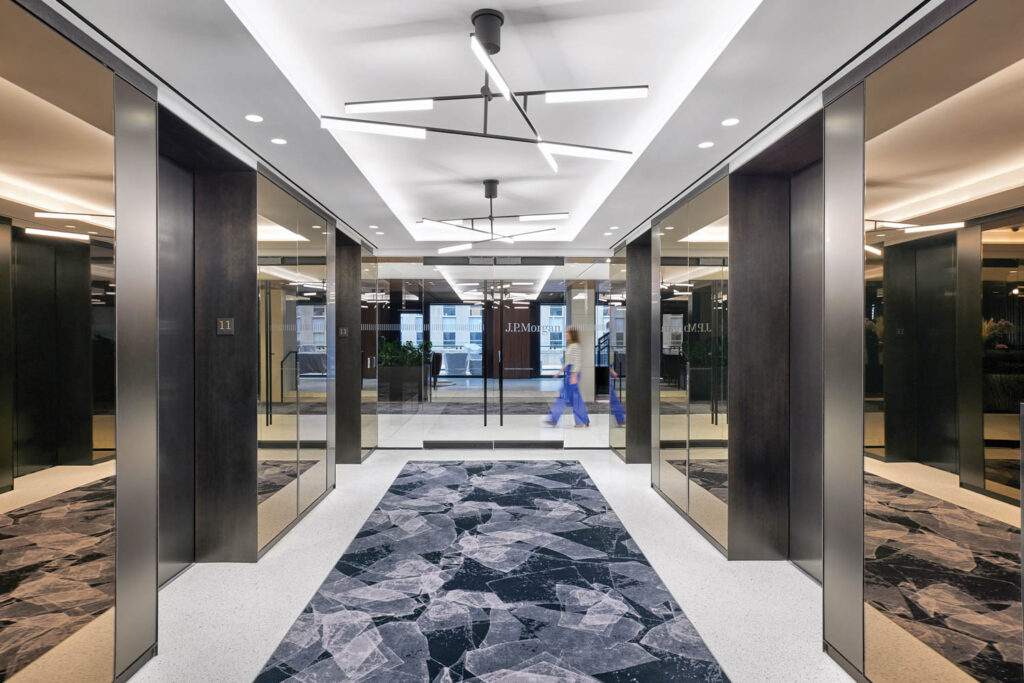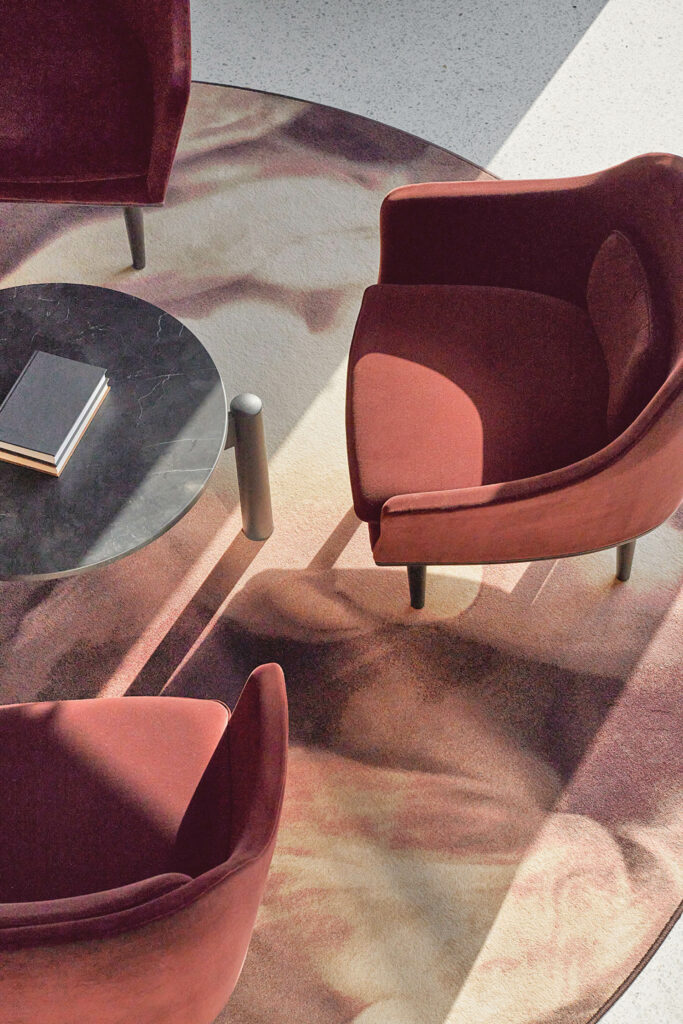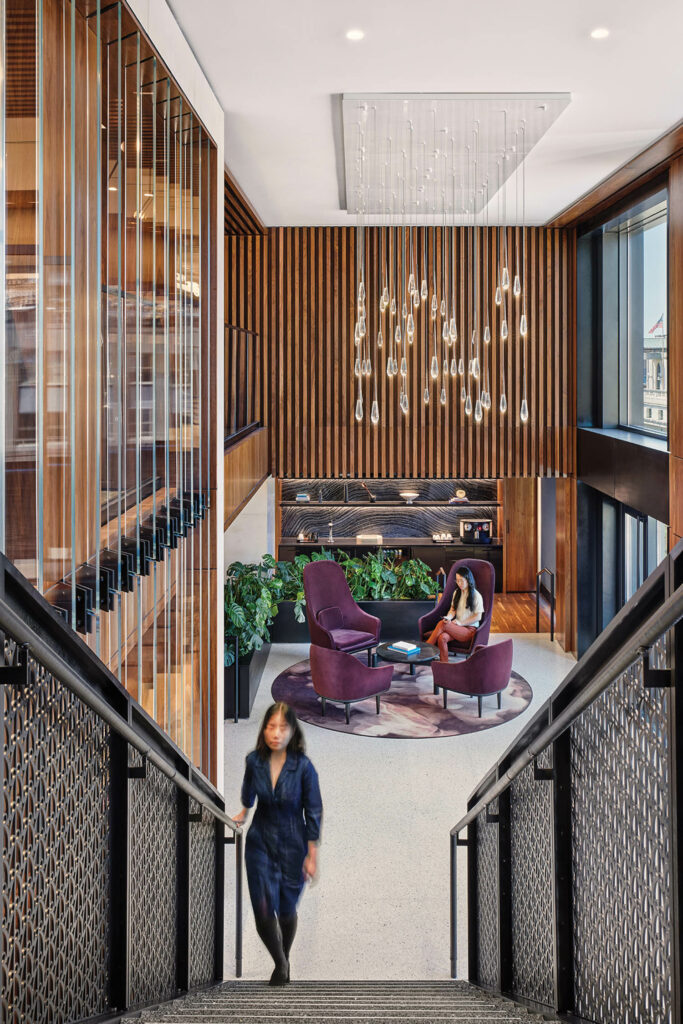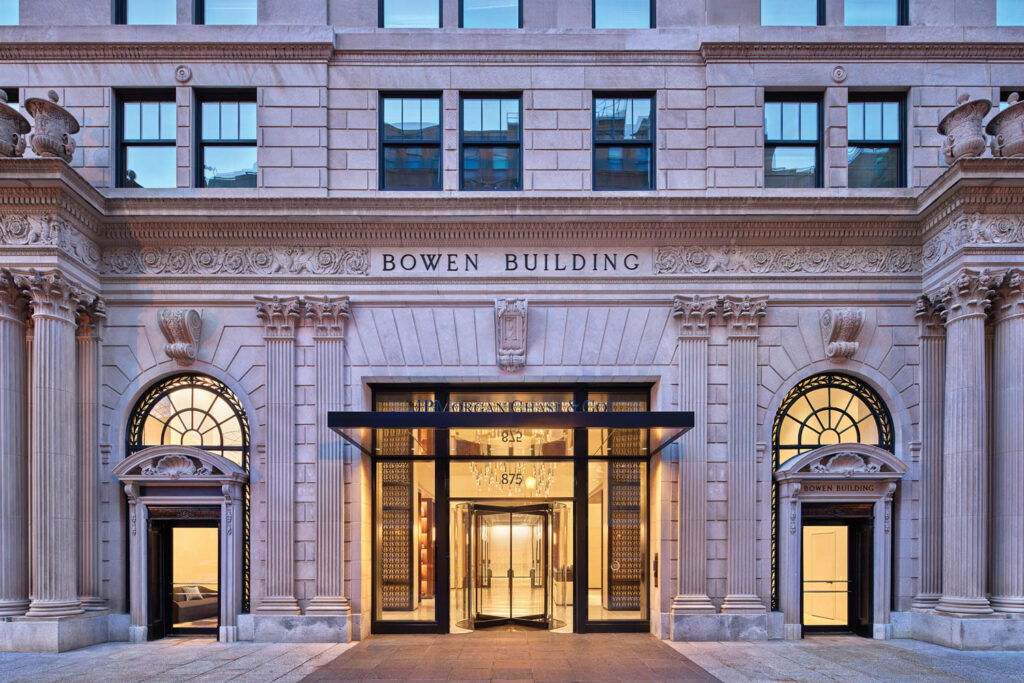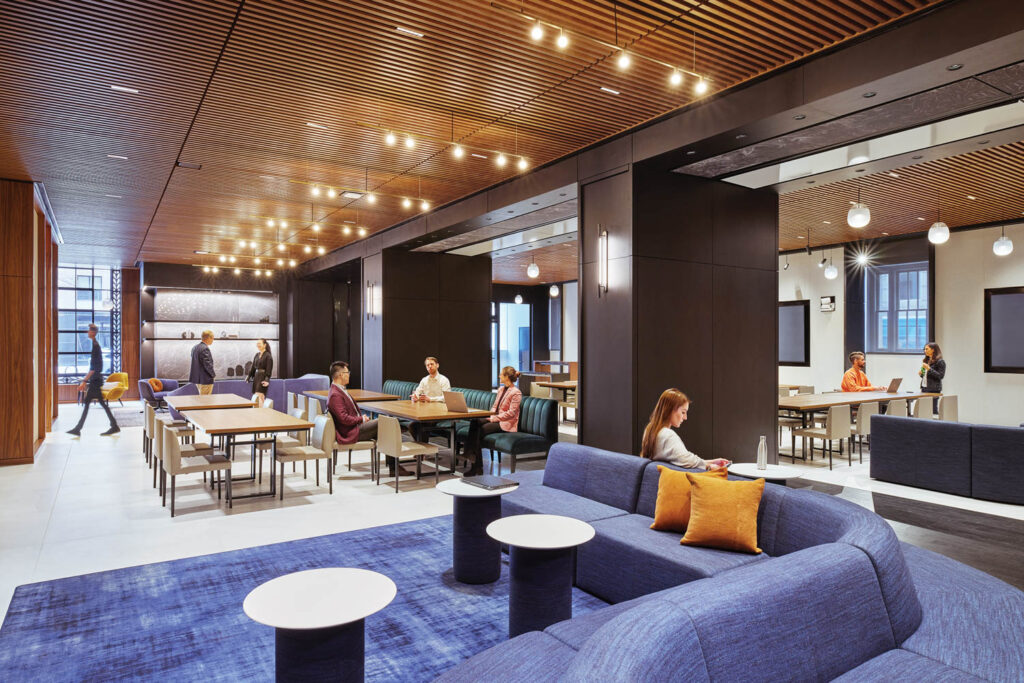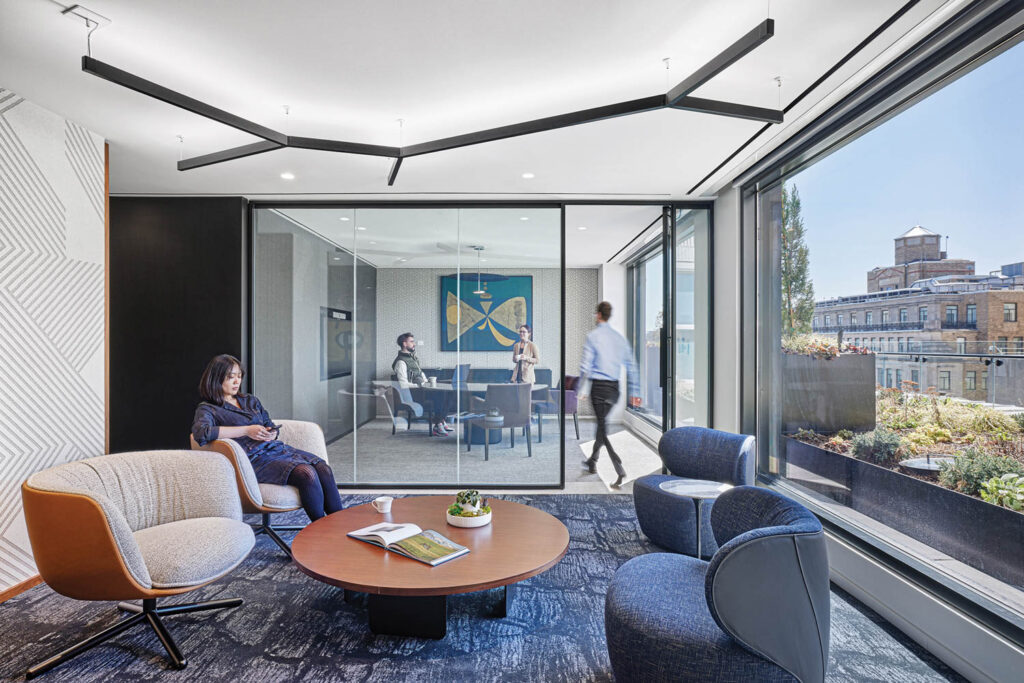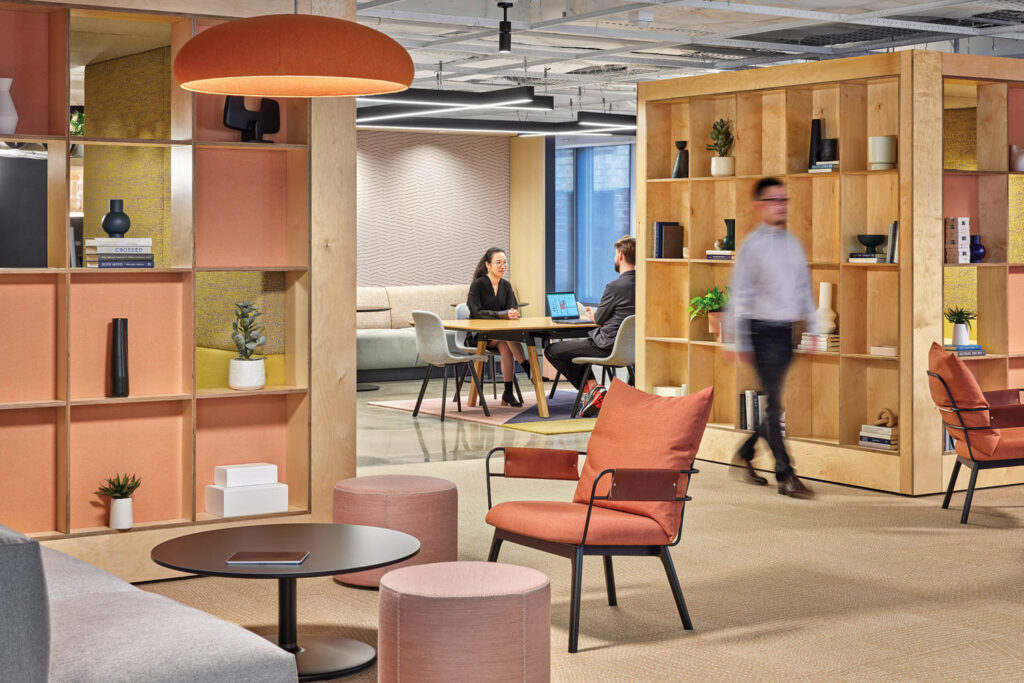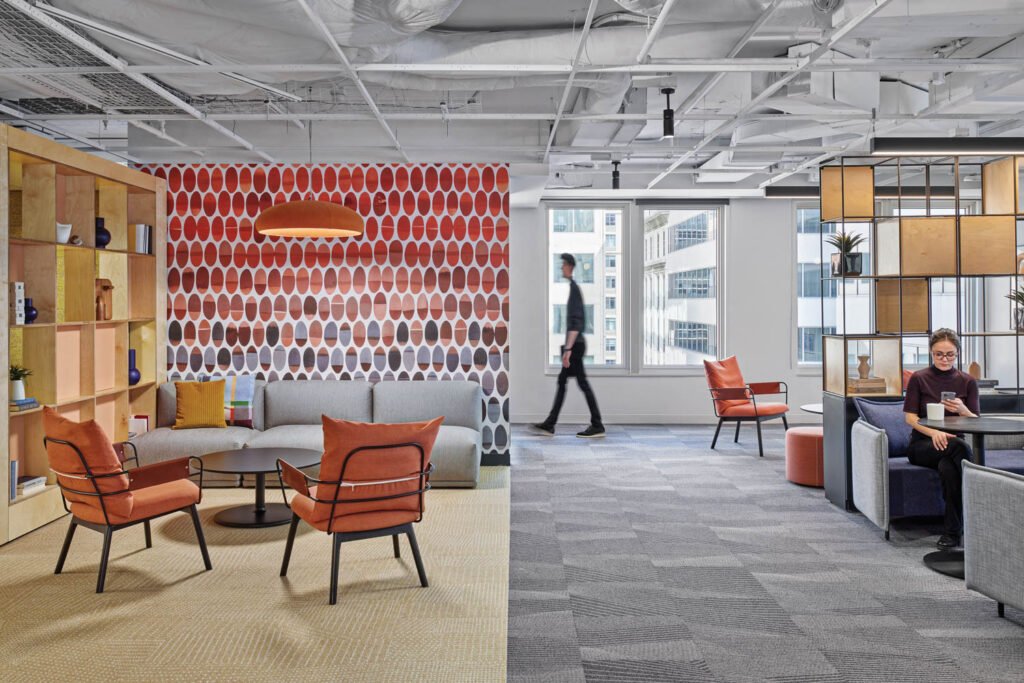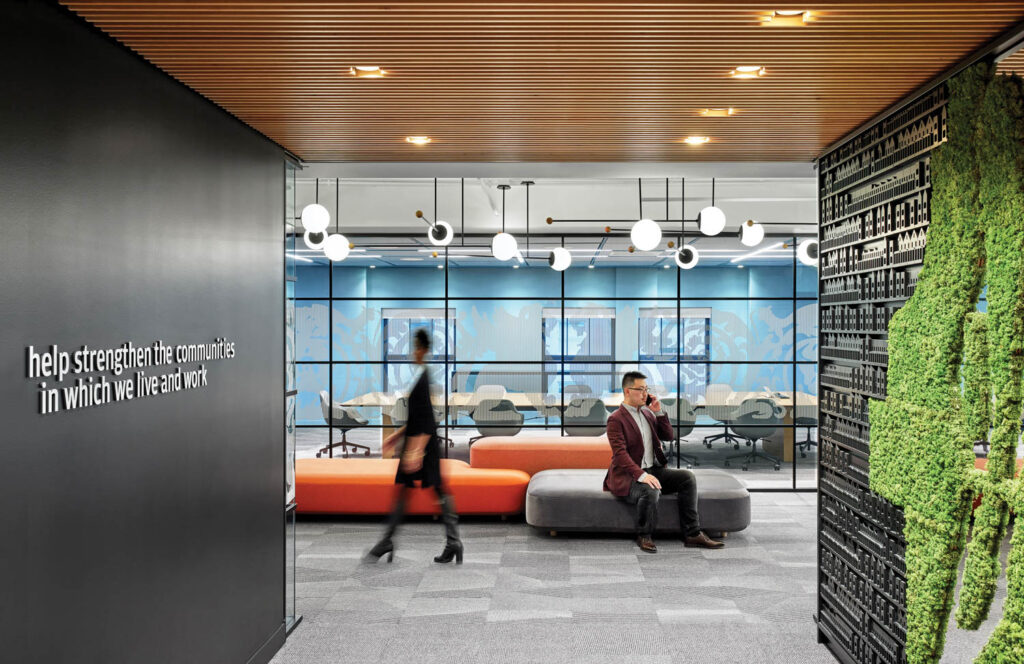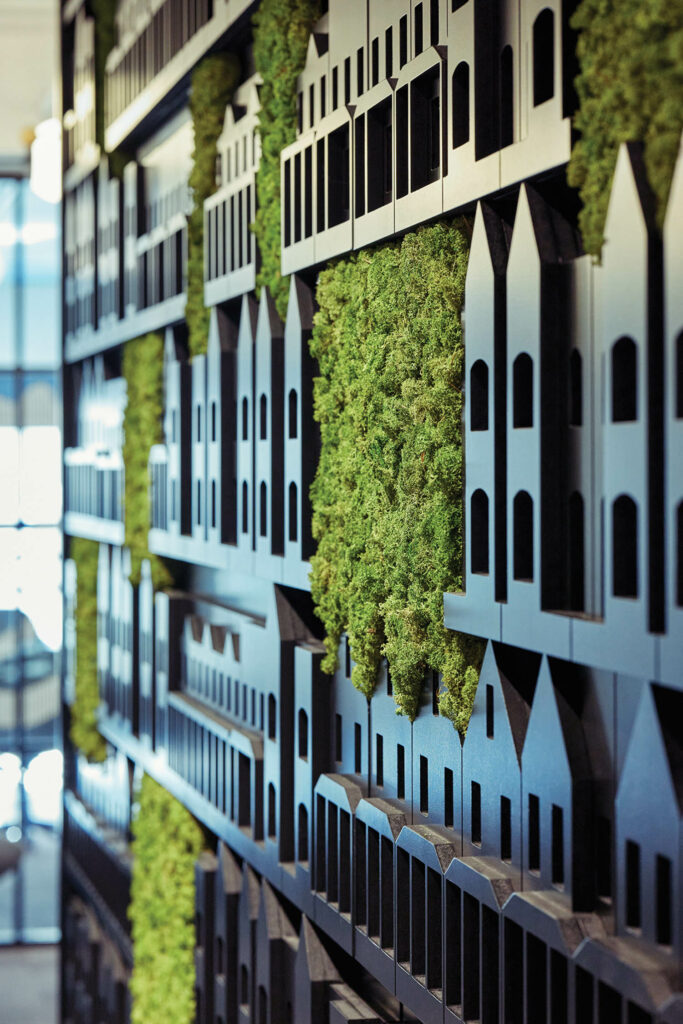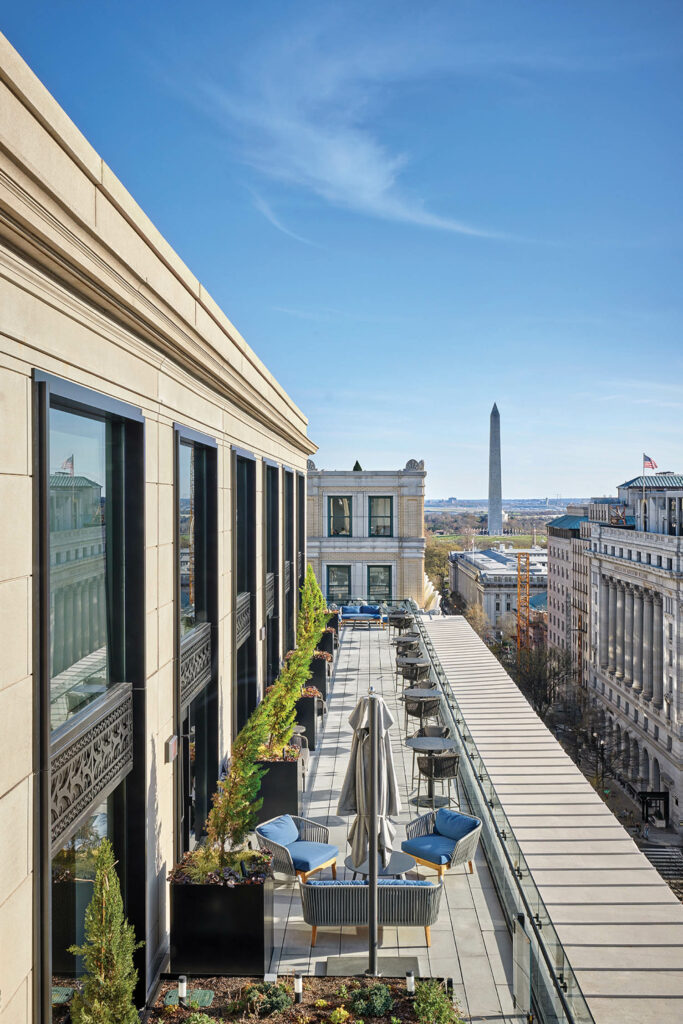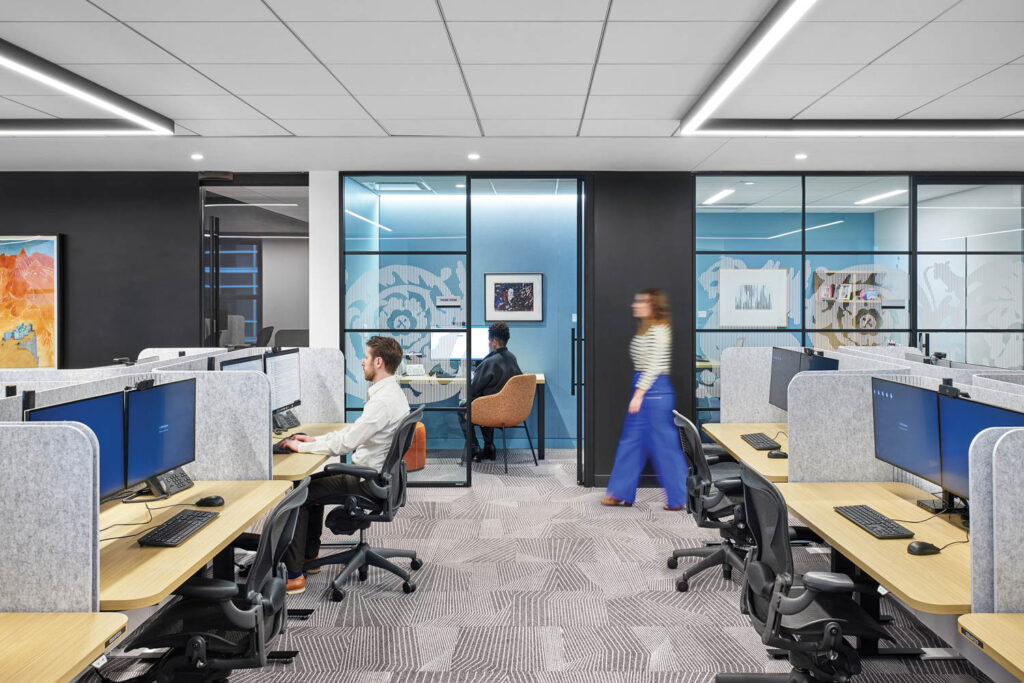 PROJECT TEAM
PRODUCT SOURCES
FROM FRONT
THROUGHOUT