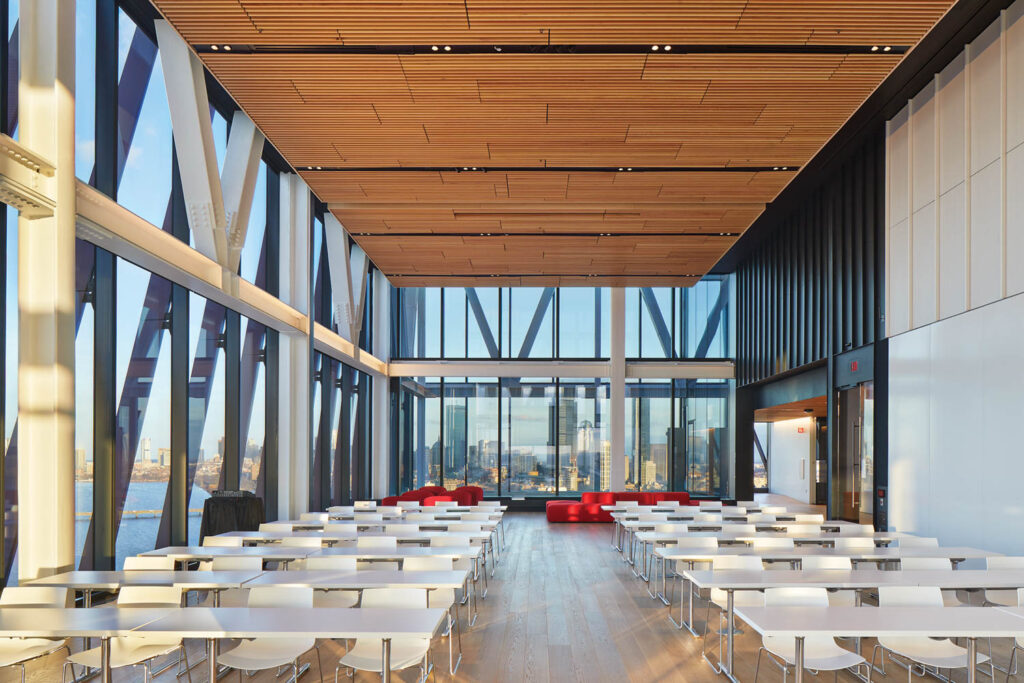 Human Connection Informs This Boston University Design
Computer science is about people. Much as it feels like machines are taking over the world, there are still programmers behind every innovation. Azer Bestavros, the associate provost for computing and data sciences at Boston University, has noted that, "Technology is not creative; people are creative." So when KPMB Architects, a collaborative, interdisciplinary practice based in Canada that has delivered millions of square feet of projects in such sectors as education, healthcare, and hospitality and is committed to shaping a more equitable and sustainable future through design, won the competition for the university's new Center for Computing & Data Sciences, Bestavros emphasized that the building should meet the needs of the students and staff members who would use it. KPMB met the challenge with a human-centered, Jenga-style tower that welcomes artists and engineers alike.
The project grew out of a surging interest in data science at BU. Enrollment in related courses soared between 2007 and 2017; as technology touches all of us, even humanities majors understand they need basic knowledge of the field. Further, the mathematics, statistics, and computer-science departments, which previously had separate buildings, needed to come together. A surface parking lot in the heart of campus was ripe for development.
KPMB Architects Designs a Jenga-Style Tower for Boston University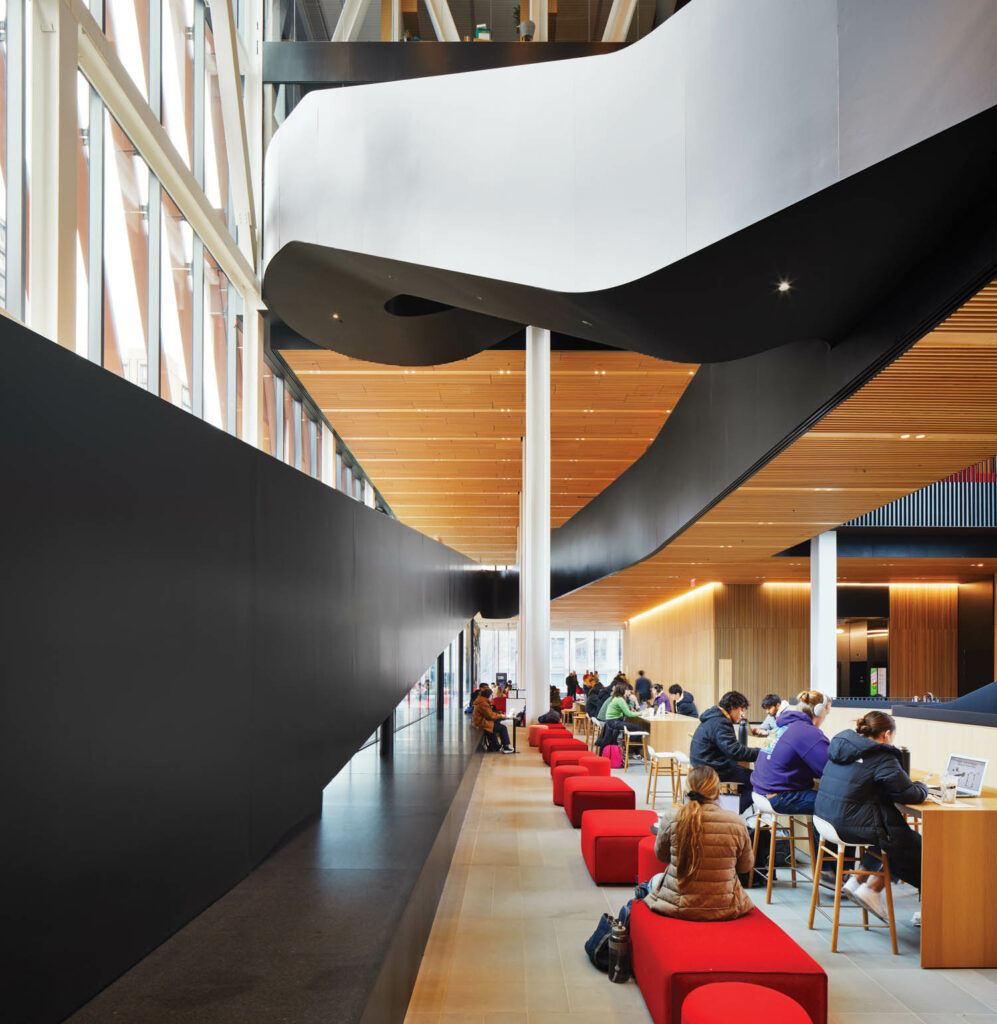 KPMB won the competition in 2013, but the 345,000-square-foot, 19-story building didn't break ground until 2019. "The initial brief was a hub for interdisciplinary computing fields, with classrooms, labs, and research institutes," KPMB partner Paulo Rocha begins. The university was also looking to "create an iconic building to situate BU on the skyline and in the world." Later, the client added sustainability requirements to help meet its goal of being carbon neutral by 2040. KPMB conceived a transparent five-story podium with a café and collaboration spaces around an atrium; department offices, collaboration zones, and meeting rooms occupy the floors above. Two computer labs and 12 classrooms are spread across the building, which is open to everyone on campus.
BU's Center for Computing & Data Sciences Invites the Community In
Located on Commonwealth Avenue near the Charles River, the center sits in a largely low-rise neighborhood. At first glance, the glass-and-steel tower might seem out of place, yet it relates to its context in subtle ways. Alternating between sections of glass and aluminum are reddish-brown louvers, the color referencing the local brick row houses, and the podium aligns with surrounding roofs. The latter also engages with the street, allowing pedestrians to see students moving through the atrium. "Academic buildings are often introverted," Rocha says. "Our building is porous and open, with an inside-out, outside-in feel that connects to the city."
KPMB broke down the structure's 305-foot height with cantilevered square volumes that rotate around the core. Every two or three floors, the volumes shift 23 feet clockwise, opening up the roof on the one below to form a terrace. "It's a vertical campus," Rocha explains, "that helps form an identity for the different departments and gives them access to outdoors." A communicating stair runs through the tower, and people are never more than a couple of flights from one of the eight terraces. Walkable floor plates determined the scale of the volumes, so it's easy for colleagues to meet and gather. There are no corner offices; colorful collaboration areas get the city and river views instead.
The cantilevered blocks make a lively statement on the skyline, and Rocha aimed for the interiors to have a similar energy. The podium's atrium fosters a sense of connection across disciplines, and a black steel butterfly stair creates what he calls "a ribbon of movement" within it. "Atriums with nothing in them feel too vast," he says. "The stair brings visibility to what's going on inside and livens up the space." Students can enter from the east or west and take stairs that meet on the second floor; it then winds up to the fifth. Another more gradual stadium stair, lined with terraced white-oak benches, connects the first two floors. Jolts of Boston University red are sprinkled throughout—in the fabric upholstering custom ottomans and Hee Welling swivel chairs, in the area rugs anchoring atrium lounges, and on the cushions padding the stadium stair.
Joining all the scarlet is a healthy dose of green: The Center for Computing & Data Sciences is one of the most environmentally responsible buildings in Boston, if not New England. For one, there are no gas lines: 31 geothermic wells 1,500 feet underground provide heating and cooling. It's also resilient, set 3 feet above the Charles River Dam to guard against floods. Insulated with triple-glazed windows, the facade has a solar-shading system consisting of angled aluminum louvers and vertical fins of mirrored sawtooth glass. The diagonal and upright lines alternate between volumes and look like a kind of binary code; their placement depends on where natural light has to penetrate deep into the floor plate.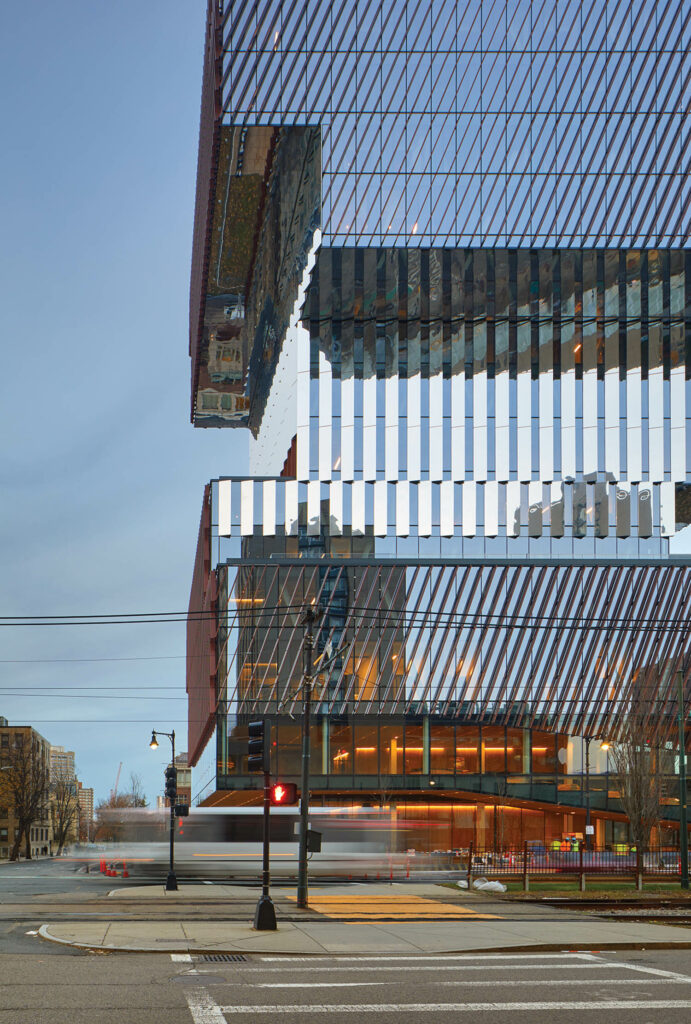 The KPMB team had to balance the need for an energy-efficient envelope with the desire for openness. A passive house design wouldn't fly. "Do you want clients to look through a small window or be enveloped in the city?" Rocha asks. "Sustainability is not just about numbers. It also has to be about how occupants feel.
A space that immerses you in the city has a positive effect." His firm's work asserts that even in our data-driven world, people should come first.
Inside BU's New Center for Computing & Data Sciences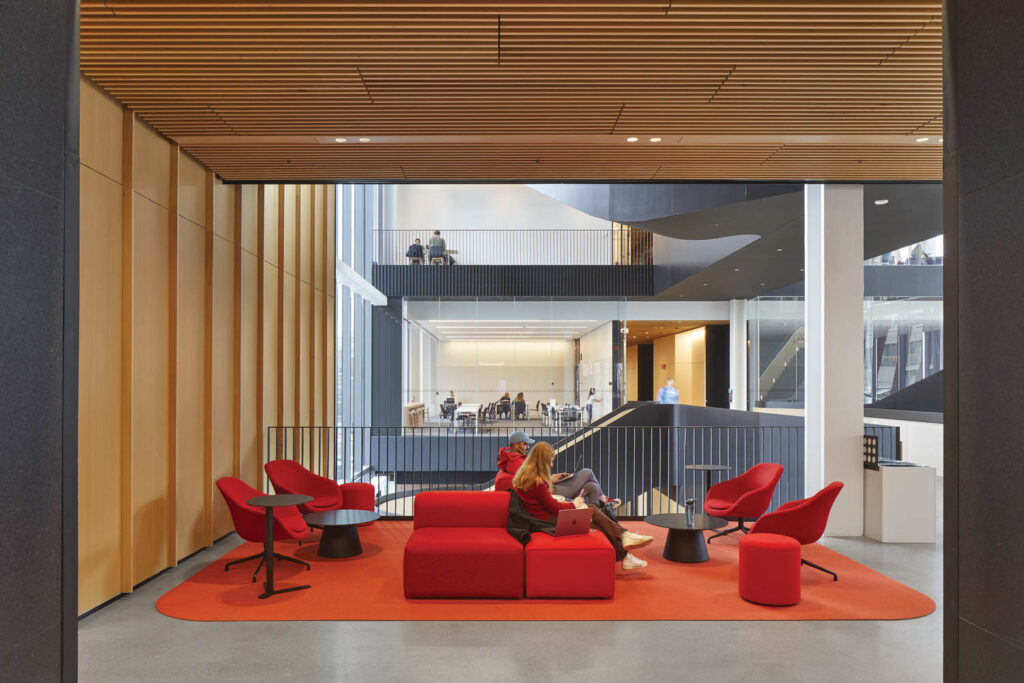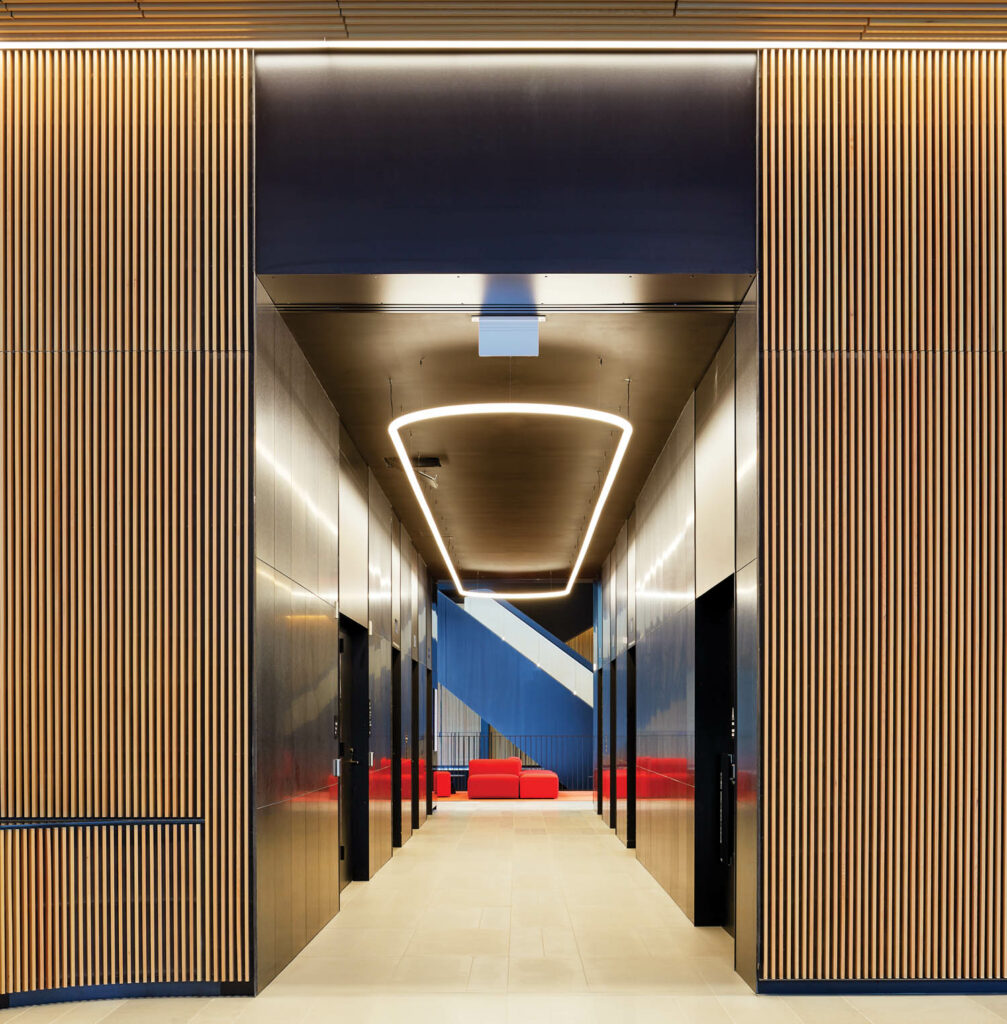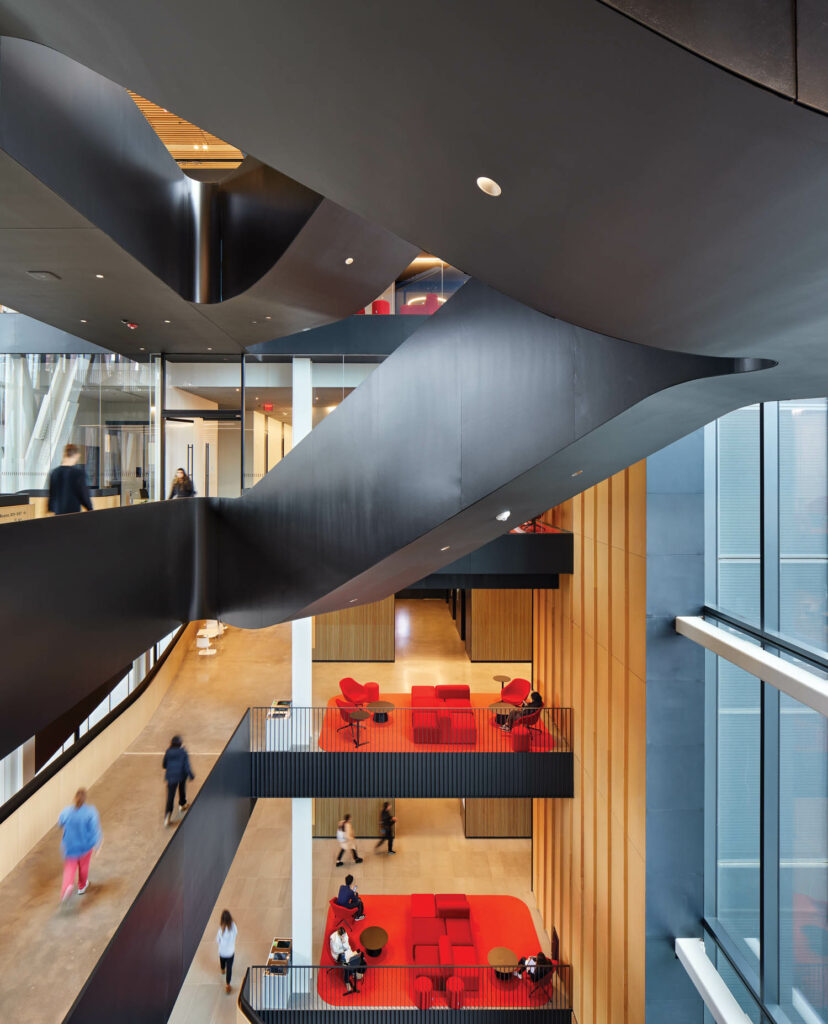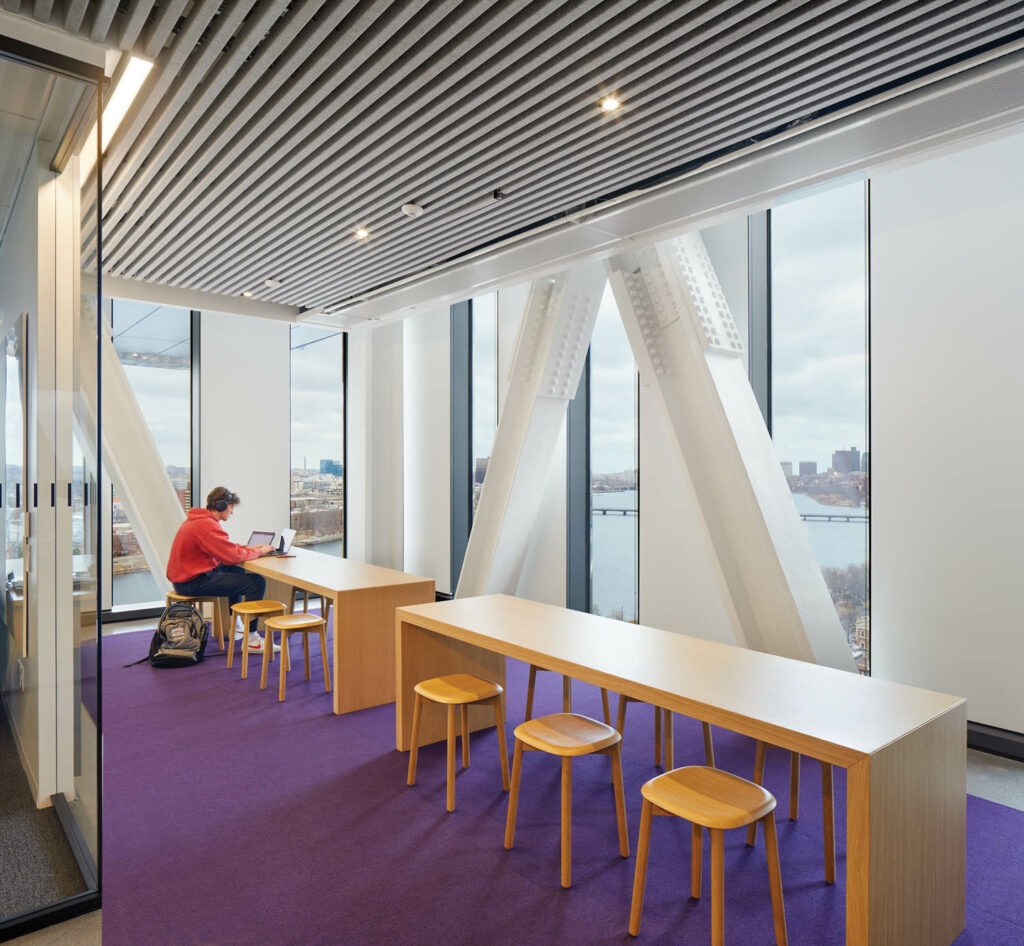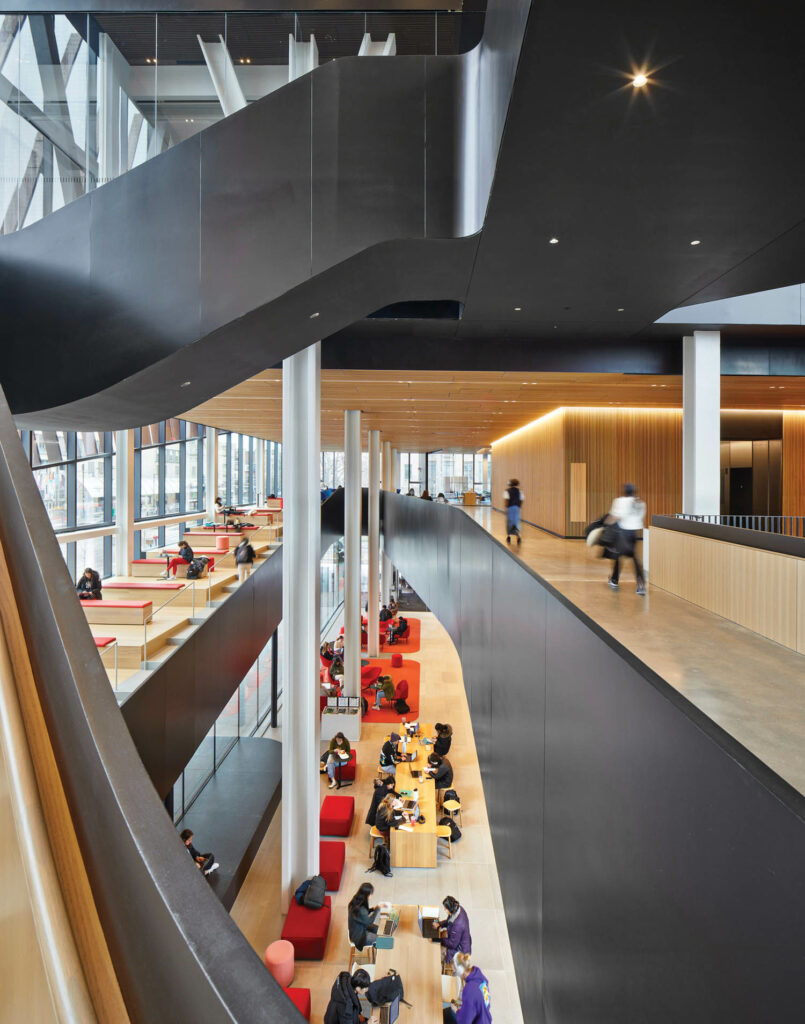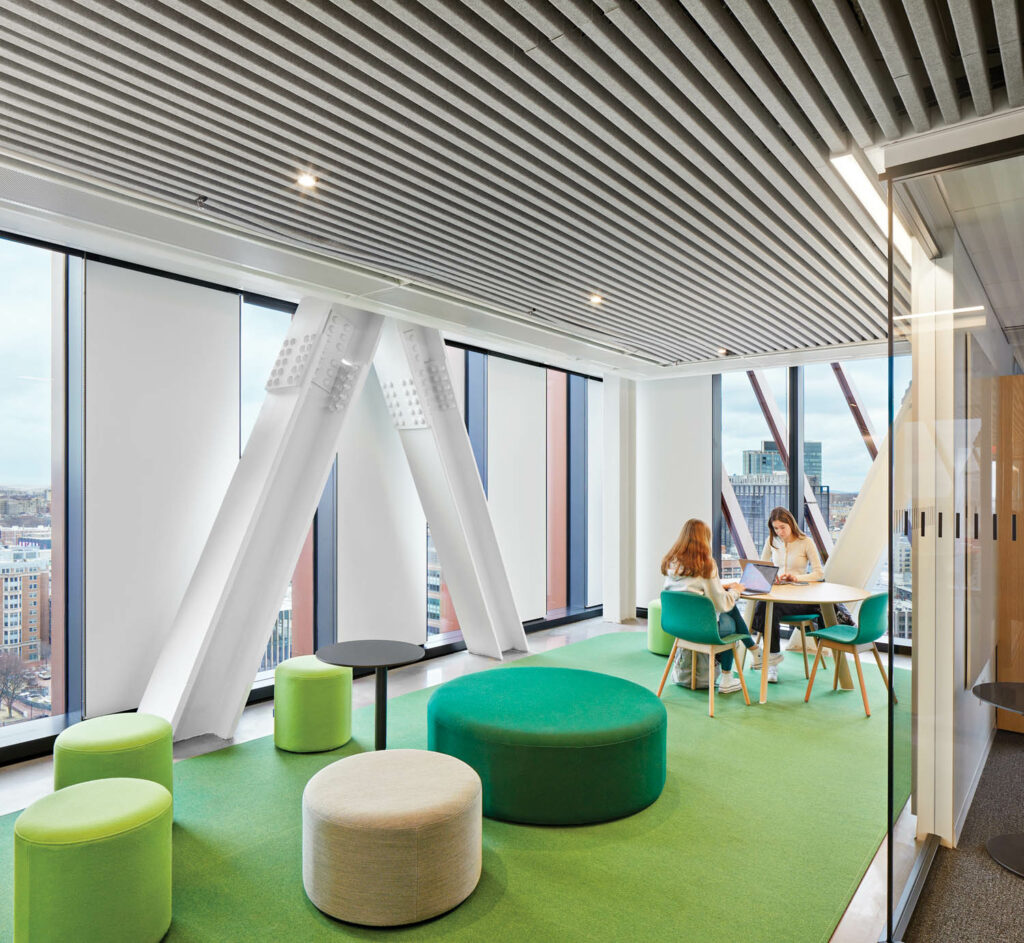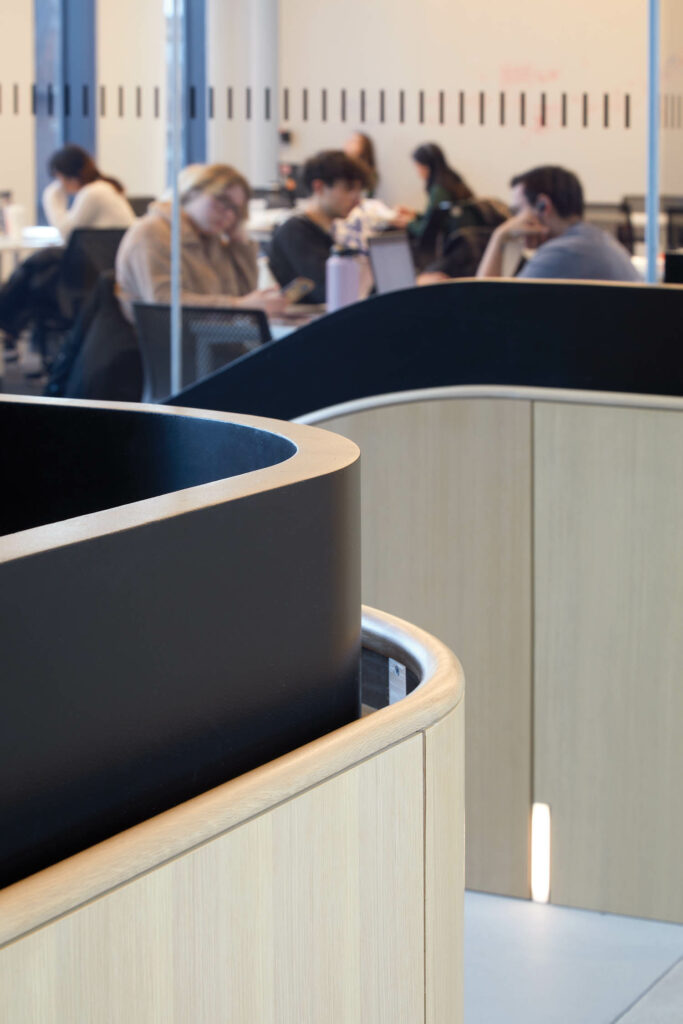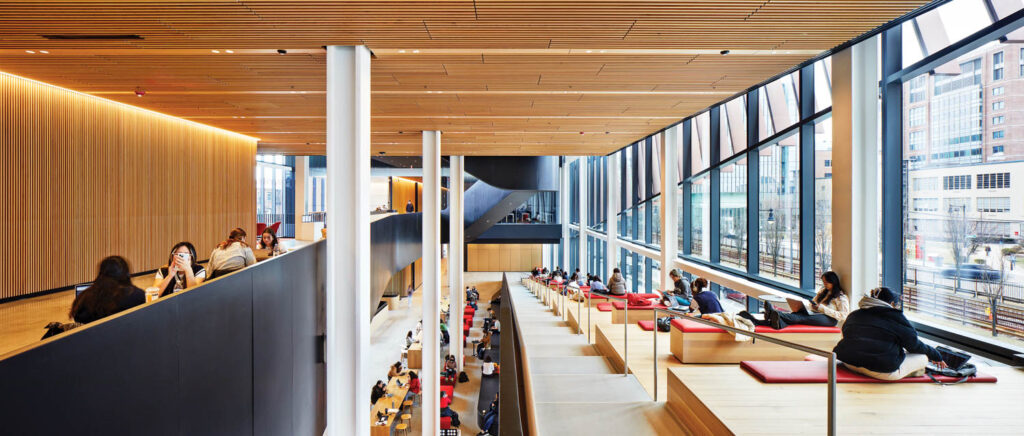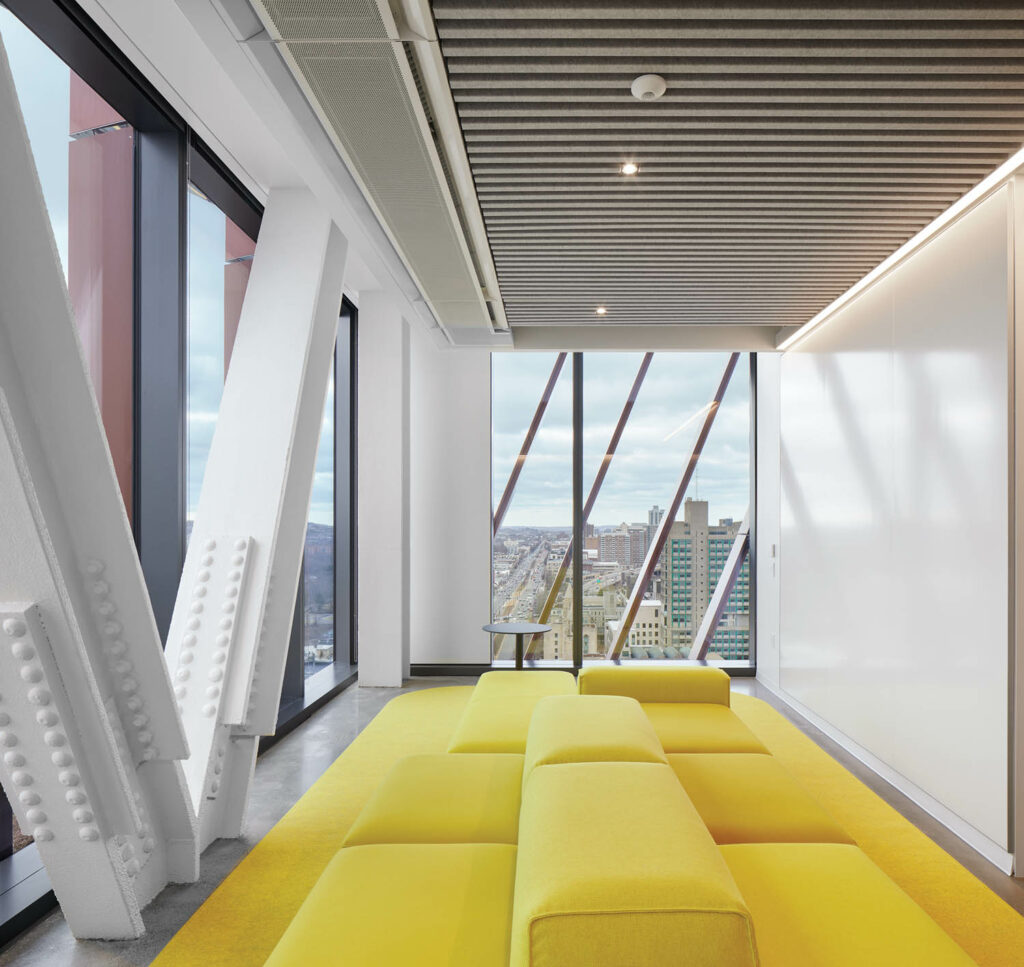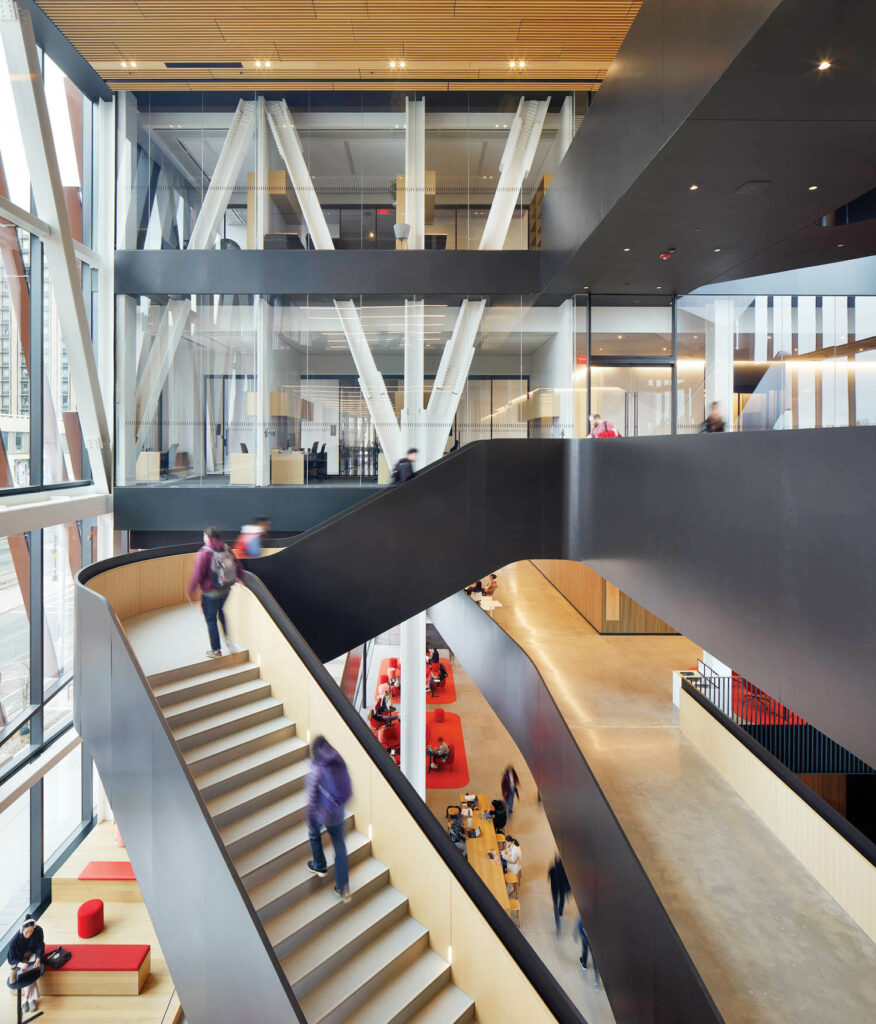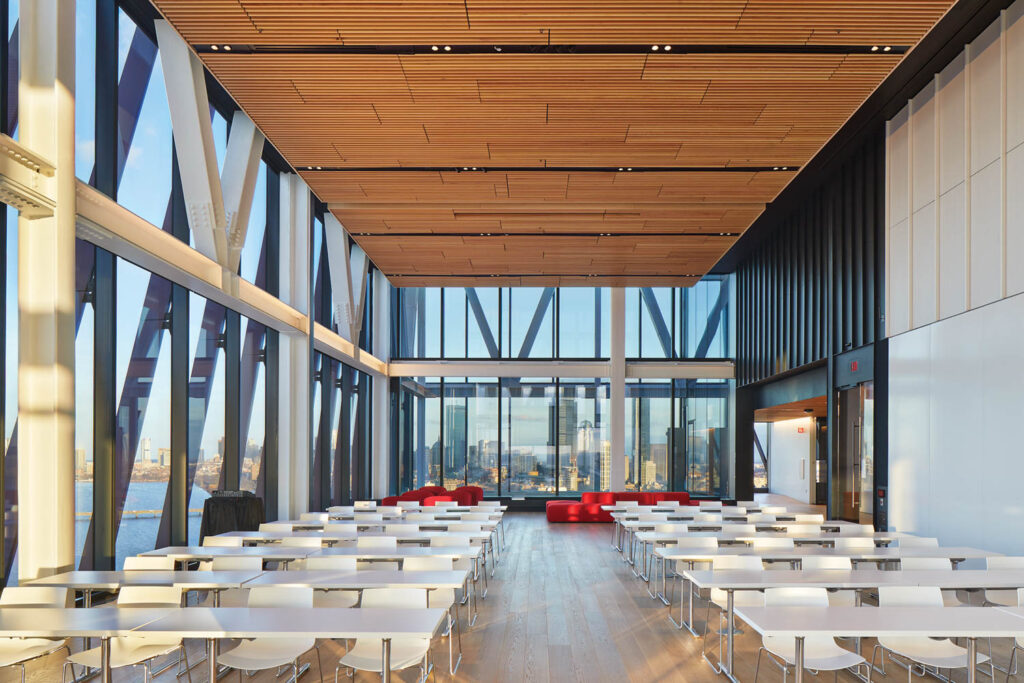 PROJECT TEAM
product sources
FROM FRONT
THROUGHOUT