Laboratory for Visionary Architecture Integrates Organic Forms For a Kindergarten School in Central Vietnam
Some may think of bubbles when they think of projects by Chris Bosse. One such received
international attention, the Beijing National Aquatics Center, which Bosse designed with
a facade of puffy-looking ETFE pillows for the 2008 Summer Olympics while he was on staff at PTW Architects. He has since gone on to create urban master plans and corporate headquarters around the world as well as co-found Laboratory for Visionary Architecture with Alexander Rieck and Tobias Wallisser. Yet the Sydney-based architect finds something particularly satisfying about building a school. "They are relatable and feel purposeful," Bosse says. "You have a direct relationship with the future users and can really make an impact."
So his interest was piqued when a colleague in Vietnam, where Laboratory for Visionary Architecture has an office (in addition to ones in Australia, Germany, and China), told him about a new kindergarten planned for Vinh, a midsize city south of Hanoi. A local family was developing a string of schools around the country that emphasized activity-based learning, with kitchens, music and art rooms, and gardens. The idea resonated with Bosse, partly because the kindergarten he attended as a child in Germany had similar interactive features such as a treehouse and a fire pit. "My father was an architect and my mother was a teacher," he says. "Growing up, I was very engaged with spaces and exploring nature, technology, and the world." The Vinh project, called Eco Kindi, offered him the chance to encourage such curiosity in the children of today through a playful modernism.
LAVA's exploratory approach to architecture and interiors made it a good fit for the school. The developers sought a nonlinear, nontraditional building that matched their approach to education. LAVA favors organic shapes inspired by nature, with few 90-degree angles; the firm's concepts employ geometries found in the likes of snowflakes, corals, and spider webs (and bubbles), and applies the same concepts whether the end users are adults or kids. Its headquarters for Philips Lighting in the Netherlands, for instance, centers on an abstract version of an illuminated tree, while the floor plan of a youth writing center in Australia alludes to splashes of water. Curved forms promote happiness and well-being, Bosse believes. "When you walk through a city like Berlin, where the buildings are all boxes 80 feet high, you feel small and insignificant," he observes. "Walking through a forest, you feel the opposite. People in our kindergarten should feel like they're in a natural environment." He and his team drew on rivers, canyons, and the ripples that a pebble makes when tossed in the water—a logical reference given Eco Kindi's location along Goong Lake.
The brief called for a 750-student school composed of three buildings, to be constructed in only a year. LAVA conceived of U-shape, three-story structures, scaled to the surrounding neighborhood, that open onto the lake. Two buildings house classrooms for children one to six years old; the southernmost unit contains a gymnasium, swimming pool, student kitchen, and cafeteria. Covered open-air footbridges connect the buildings, and courtyards and playgrounds fill the spaces in between. "It's conceived so the wings talk to each other, creating an indoor-outdoor relationship," Bosse explains. He oriented the 65,660-square-foot kindergarten to maximize daylight and views of the lake, and to capture the breezes off the water, allowing for natural ventilation most of the year. A green roof with a vegetable garden is in the works. Another tenet of LAVA is to combine nature's structural principles with the latest digital fabrication technologies to build more architecture with less material, energy, time, and cost.
The school's free-flowing floor plan and open circulation invite exploration. "Because of the curvature, you never see the end of the buildings—it draws you through," Bosse continues. Students might wander and discover cavelike hiding places, spouting outdoor fountains, or plants growing along the footbridges. In the reading room, they can crawl under a seating island or curl up with a book in nooks built into plywood shelves. Hanoi firm VietDecor interpreted LAVA's concepts for custom furniture throughout, including rounded plywood sofas and bloblike art tables, most of which was made by Vietnamese craftspeople using local materials. The buildings themselves were also constructed largely by hand, brick by brick. "It was relatively low-tech construction but with a high-tech design," Bosse states.
Colorful steel-framed porthole windows of varying sizes dot the concrete-and-brick facade. "Our goal was a kindergarten that suits small people and big people without being childish," he adds. "Some windows are on the ground and some are higher up. It breaks down the building scale so kids can interact with it." They can engage with even mundane structural elements like columns, which LAVA covered in ribs of plywood to resemble trees. Undulating slats on the ceiling recall waves; below, curling lines of terrazzo wind across concrete flooring.
The children intuitively understand the language. "When you unleash them onto the building, they know it's special," Bosse says. "They run around, wondering and exploring." And perhaps nurturing a lifelong love of smart, friendly, and environmentally responsible design.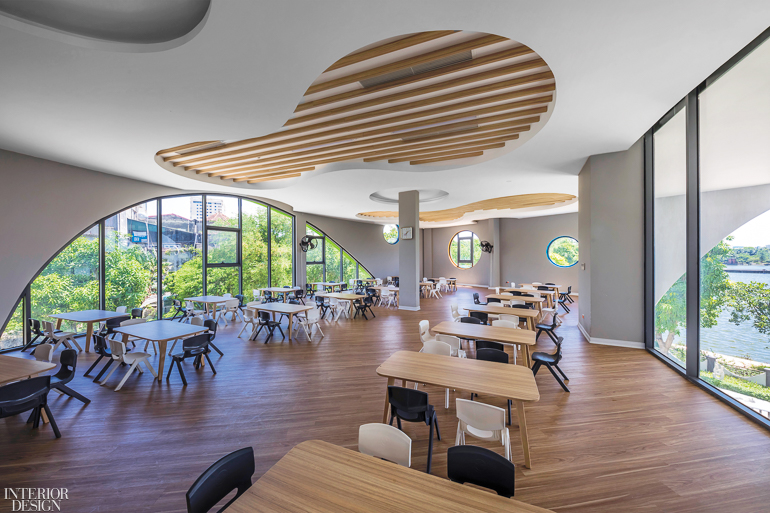 Project Team: Tobias Wallisser; Alexander Rieck; Dong Viet Ngoc Bao; Do Thi Duong Thi; Vu Ngoc Anh; Nguyen Truong Ngan; Cao Trung Nguyen; Trinh Tien Vinh; Bui Quang Khanh; Nguyen Thi Ngoc Hanh; Tran Minh Triet; Nguyen Le Yen Oanh; Pham Duy Bao Long; Nguyen Phuc Anh Thu: Laboratory For Visionary Architecture. Module K: Architect of Record. Vietdecor: Custom Furniture. Jager: Furniture Workshop. Great Concept Vietnam: Educational Consultant. Minh Sang Viet Joint Stock Company: General Contractor.
Product Sources: Vinh Tuong: Custom Windows. Bamboo Ali: Laminate Flooring. Ecowood: Pool Decking. Dulux: Paint.