Miami Vibes Come to Madrid for Lady Pipa's Retail Debut
In just five years, the Spanish ecommerce label Lady Pipa has established itself as the go-to source fashion ideal for special events. Even Queen Letizia of Spain is a fan, wearing a pink and white confection from the brand to a springtime event in the palace this year. Owned and operated by women, with designs flattering to every body type and fabrications more often than not made of sustainable viscose (and recycled polyester garments on the horizon), Lady Pipa ventures off-line and into Madrid with its first brick-and-mortar location.
For the store interiors, Lady Pipa turned to Valencia's El Departamento, founded in 2017 by architect Alberto Eltini and creative director Marina Martín. The design team was an inspired choice: before going out on their own, Eltini worked for Norman Foster, HWKN, Estudio Canolasso, and B720, while Martín earned an expertise in luxury goods at the London offices of Manolo Blahnik. El Departamento looked a bit further than Madrid afield for inspiration, however—all the way across the Atlantic to the tropical buzz of Miami.
Lady Pipa's First Brick-and-Mortar Store Brims With Color
That city's bold embrace of color informs the palette of the 1,200-square-foot space, from the lime green façade to the hue's reemergence as velvet curtains, and carpeting, for the dressing areas. Flecks of green undulate on the sales floor carpeting, joining warm oranges and even a deep purple which compliments the lighter velvet on a show-stopping sofa near the front door. Chrome details crisp up recessed display areas and side tables.
In the back, a methacrylic cashwrap sparkles like a favorite piece of costume jewelry, illuminated by a multicolored chandelier. It's the crowning touch for a project that not only recreates Miami's unmistakable warmth and breezy attitude in the heart of Madrid, but sets a template for Lady Pipa's further adventures in real-life retail.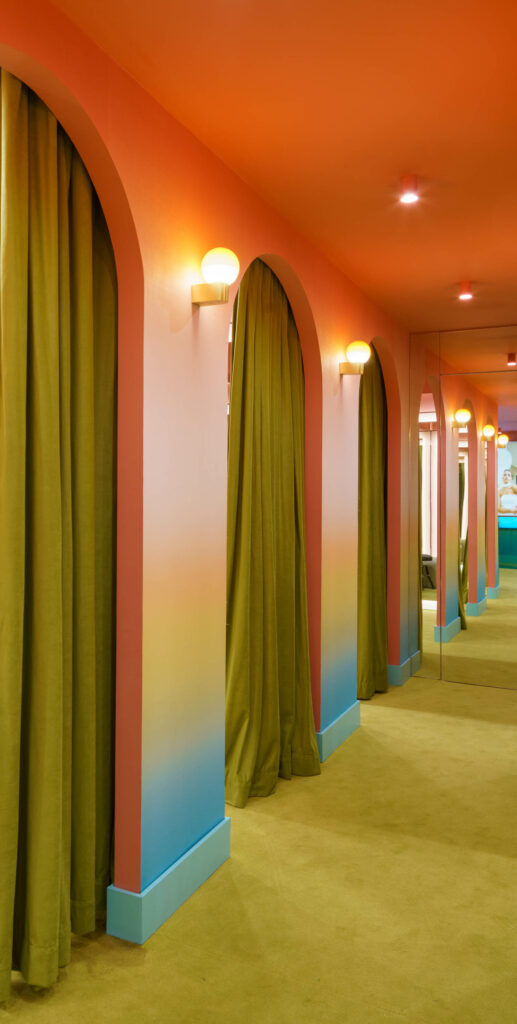 Inside Lady Pipa's Madrid Locale Designed by El Departamento