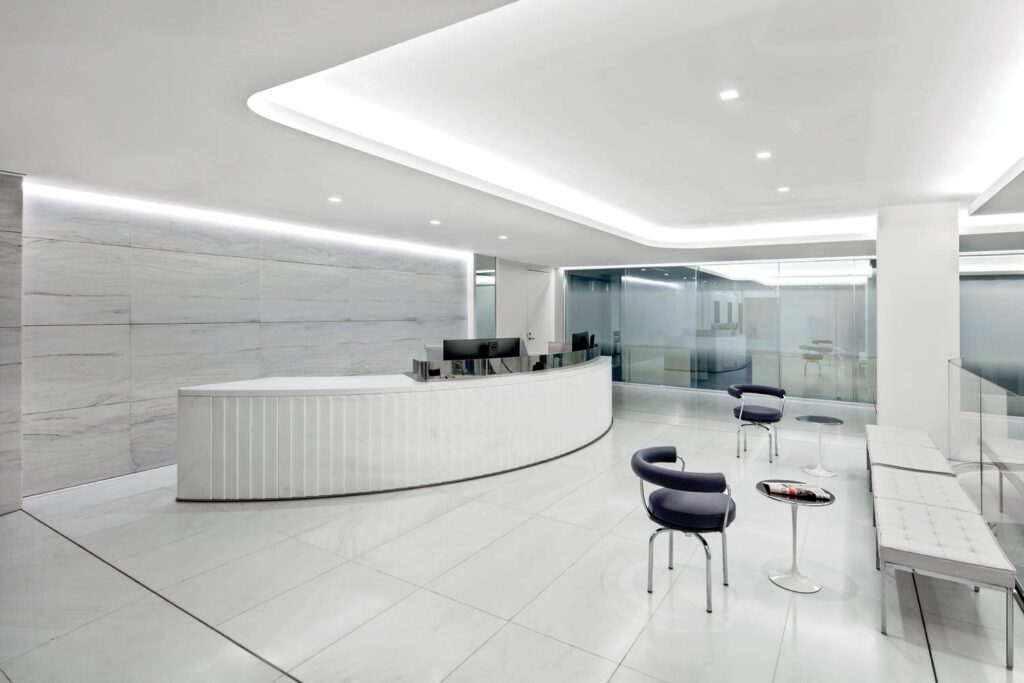 LSM Modernizes a Multilevel Workplace in Midtown for a Financial Firm
Mid-century office towers are fixtures of the New York skyline. From the MetLife Building to Black Rock, they make up much of the commercial real estate in Midtown but are woefully out of date and ripe for demolition. (Even Skidmore, Owings & Merrill's 270 Park Avenue has met the wrecking ball.) Low ceilings and large floor plates make for dark interiors, while frequent columns and clunky mechanical systems constrict layouts. Yet for Donnie Morphy, senior director at LSM, these 60-year-old buildings have their charm. "They have great expressions of steel and strong organizational templates," he says. "There are a lot of things you can't get rid of, but there's also a lot you can react to and embrace." He knows this first-hand. Recently, LSM did just that at the '60's office space of a financial firm, creatively updating the interiors so they rival those in any skyscraper of today.
The client engaged LSM to conceive a workplace and a conference center across several levels of an International Style building. The goal was to promote interaction among staffers and give them a light, bright environment—both of which would be difficult given the 50,000- to 100,000-square-foot floor plates. LSM was familiar with the challenges of mid-century structures, having transformed offices in the Seagram Building and Lever House. Led by Interior Design Hall of Fame member Debra Lehman Smith and James McLeish, the firm has shown that with a clever use of material and volume, older buildings can become an asset for clients. "Simplicity is deceptive. Our design for this project embraces the complexity of simplicity," Lehman Smith says.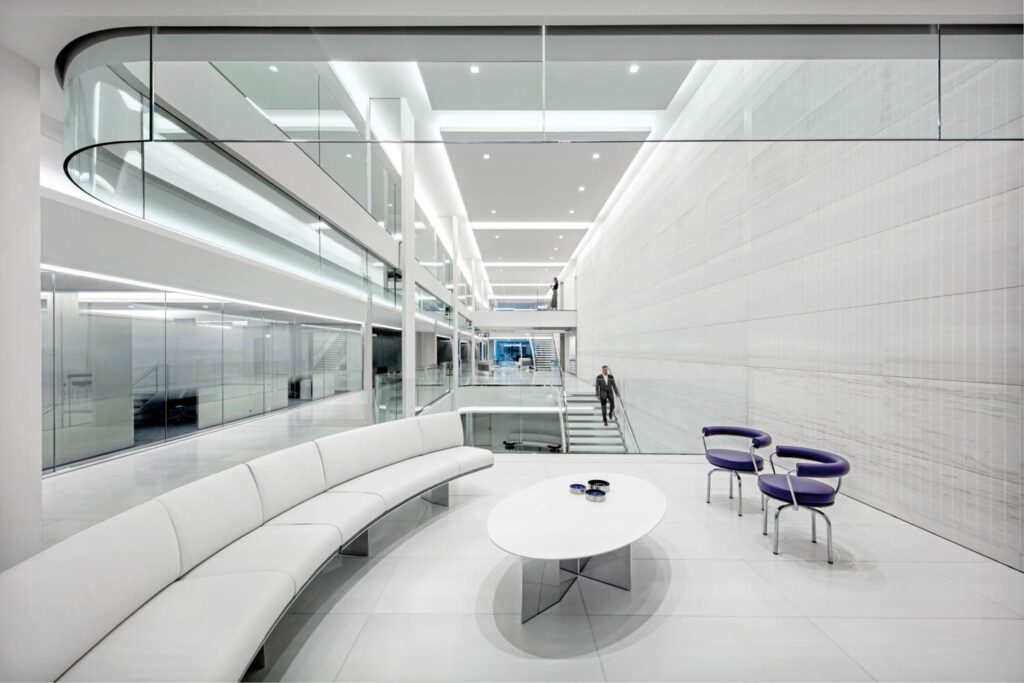 LSM conceived a plan that encourages employees to move around, connect, and collaborate. The client envisioned various hubs spread across the office, forcing people to take different routes throughout the day and meet colleagues from other teams. At one such intersection, for instance, a terrace—furnished with Richard Schultz's 1966 table and chairs—meets a pantry with seating by Space Copenhagen and Foster + Partners. The client also sought circulation at the perimeter, rather than private offices, so employees could have access to natural light and take in views of the city as they walked to get coffee.
Though lined with banded windows, the perimeter could feel cramped, with 8-foot ceilings, baseboard heaters, and steel columns every 20 feet. So LSM covered the columns in mirror, a technique the firm has used in new-builds like 55 Hudson Yards. "The idea was that you could demateri­alize the perimeter and make it feel like a new curtain wall," Morphy notes. Adds partner Terese Wilson, "It reflected the exterior and the light and made everything feel brighter." The team also carved out the drywall between the ceiling beams, going to the underside of the slab to gain over 2 feet of height. They brought the same technique to the conference center, heightening the ceiling wherever possible to create more breathing room and add alcoves illuminated by LEDs.
All of LSM's interventions came back to the same directive from the client: light, bright, and voluminous. "The biggest effort was trying to get natural light all the way to the core and expressing volume within the rigid framework," Morphy continues. In the conference center, the heart of the space, "We carved out a three-story cube to create a dynamic and forward-thinking first impression appropriate for this client," Lehman Smith says. The void visually connects the upper and lower floors and helps visitors get oriented. From reception, which is located in the middle of the floor, they can see 100 feet across to a perimeter window. Glass walls, balustrades, and smoke baffles ensure maximum transparency.
Marble, a creamy, subtly veined variety from Italy, extends to flooring and walls, further brightening the conference center. At first, the stone appears stark, but upon closer inspection, a pleated pattern on the walls becomes apparent. "Not only did we carve the space architecturally but we also carved and sculpted the stone wall to give it scale and texture," Morphy explains. "The level of detail increases as you get closer." Instead of an office filled with contemporary art, the walls themselves become sculpture, as does the curved reception desk faced in the same pleated marble.
LSM employs such curves throughout to soften the building's structure and 90-degree angles. Meeting rooms and stairwells are rounded, as are furnishings, like reception's Charlotte Perriand LC7 chairs, marble-topped coffee table, and long ecru sofa. The conference center's feature stair widens at the top and bottom to form "an elegant curvature that pulls you up," Morphy says. It's one of the many subtle touches that gradually reveal themselves to the visitor. "As you walk through, you see layers of detail that create the whole," Wilson says. As Manhattan reckons with a glut of empty offices and companies increasingly favor new construction, LSM proves there may be life in these old buildings yet.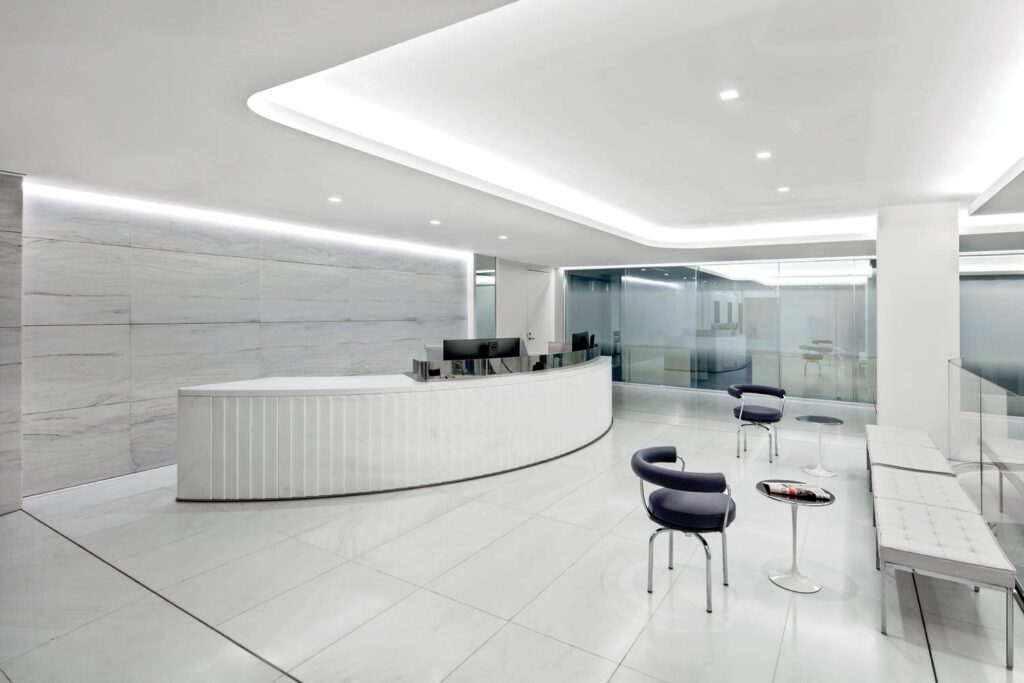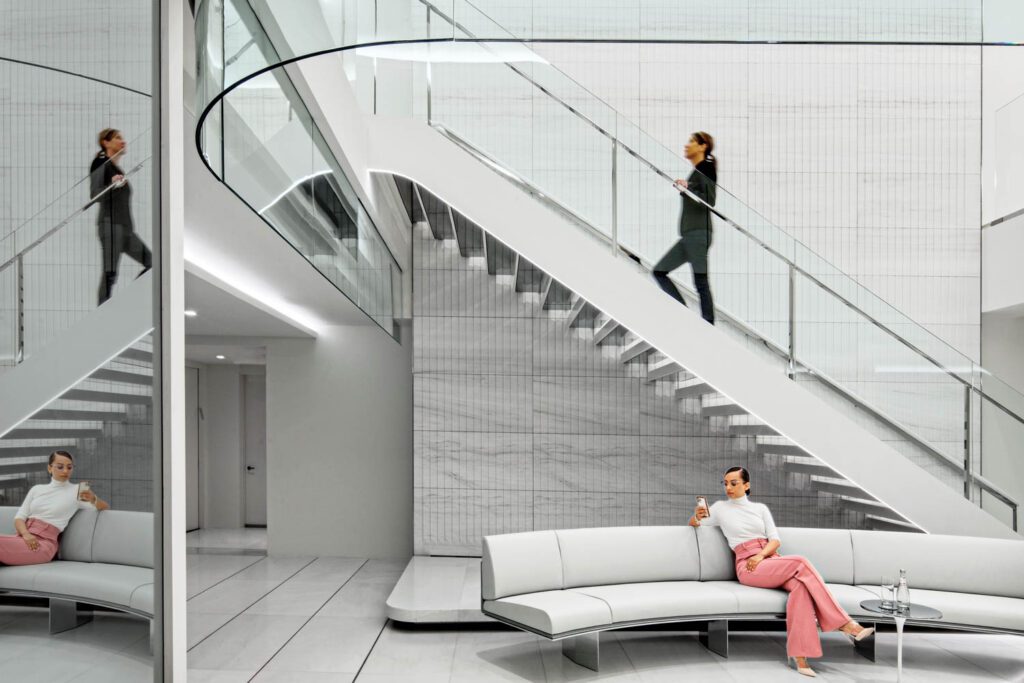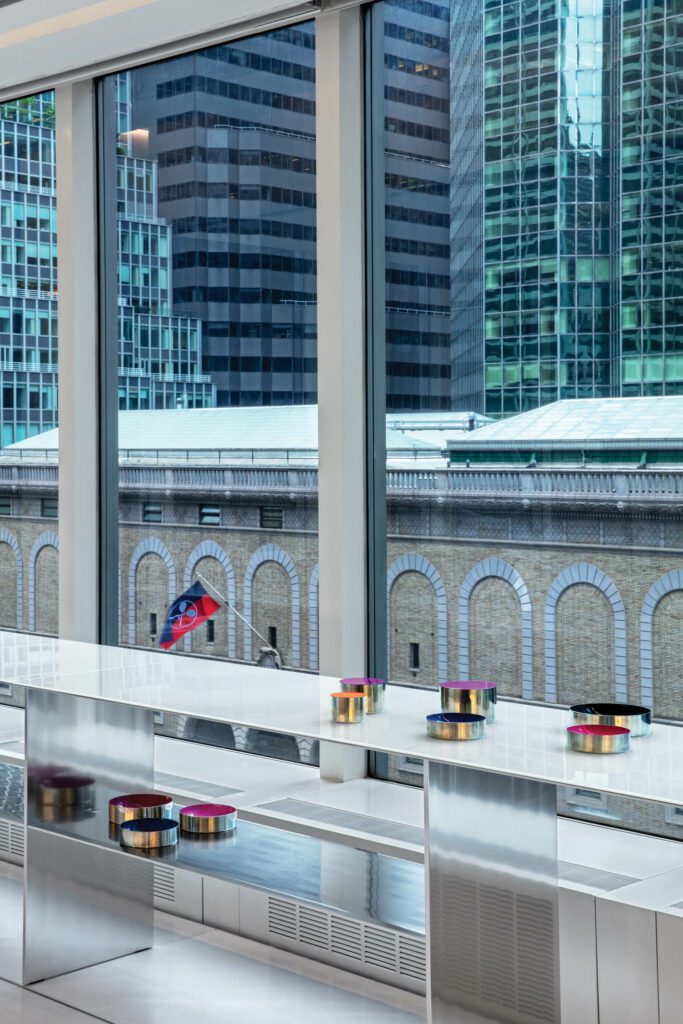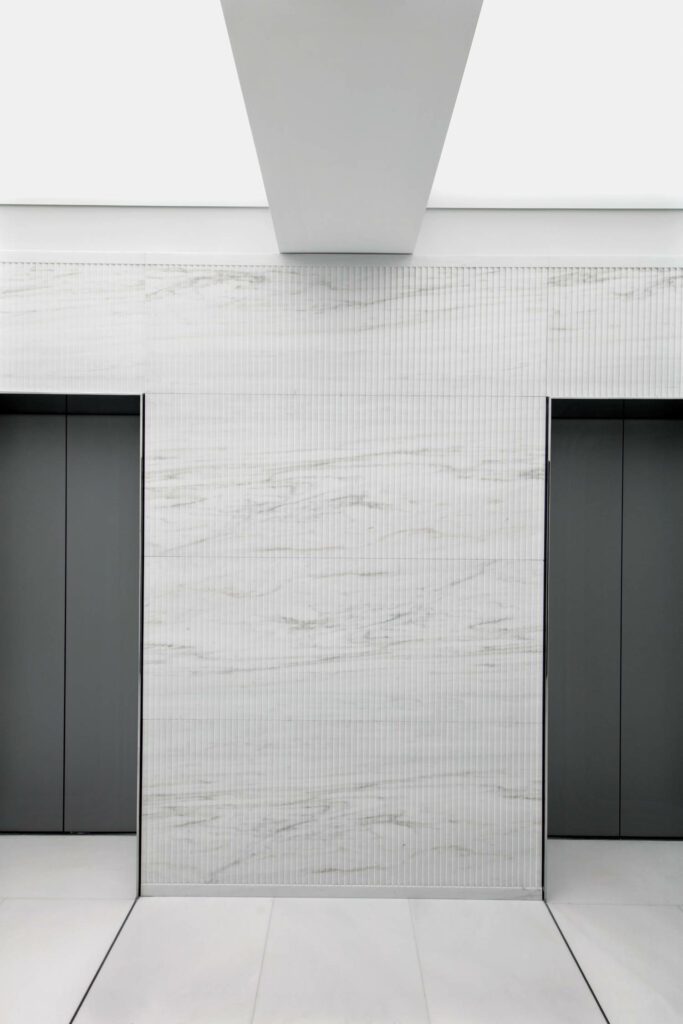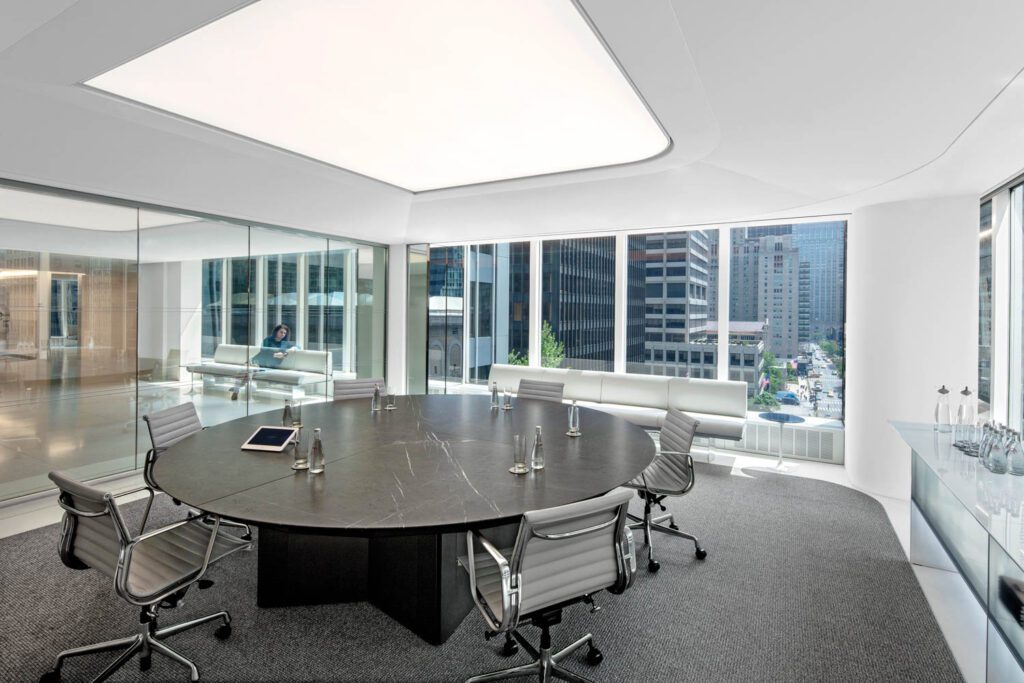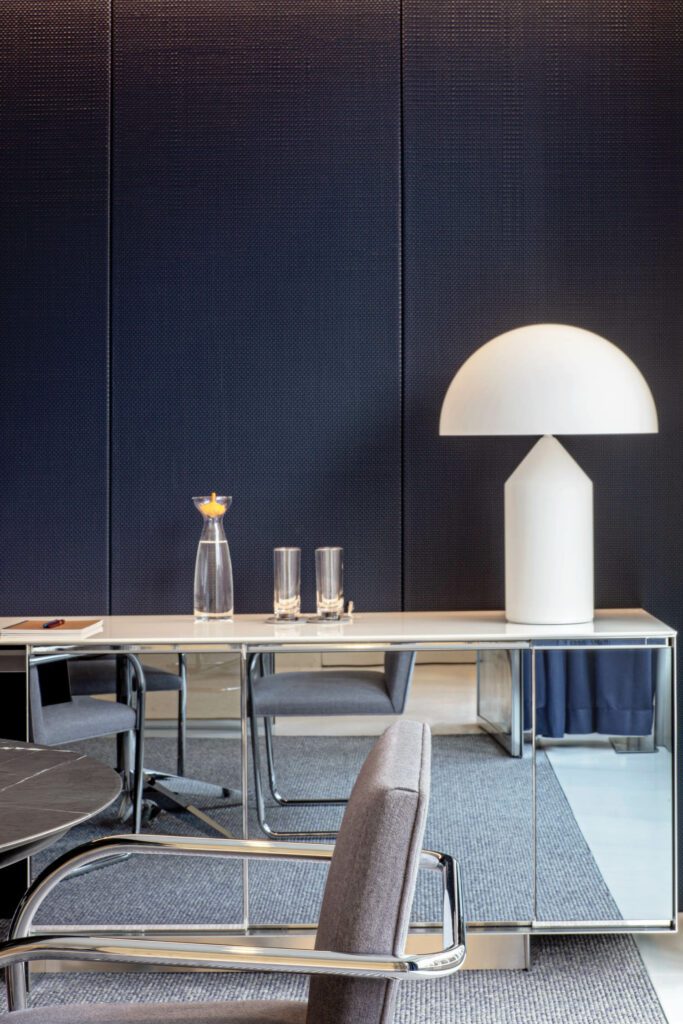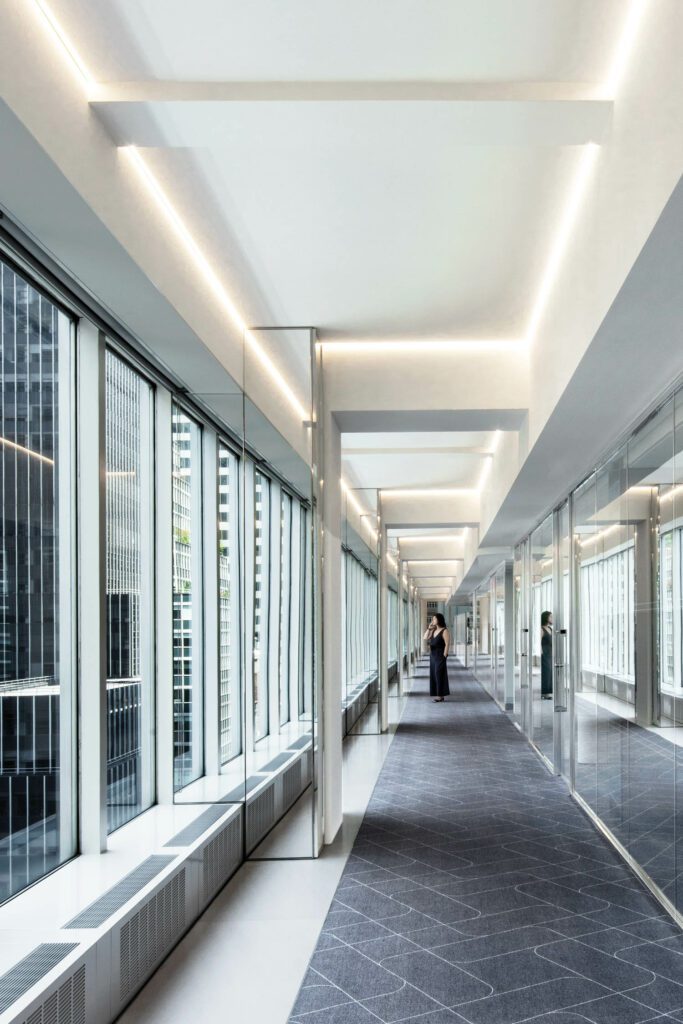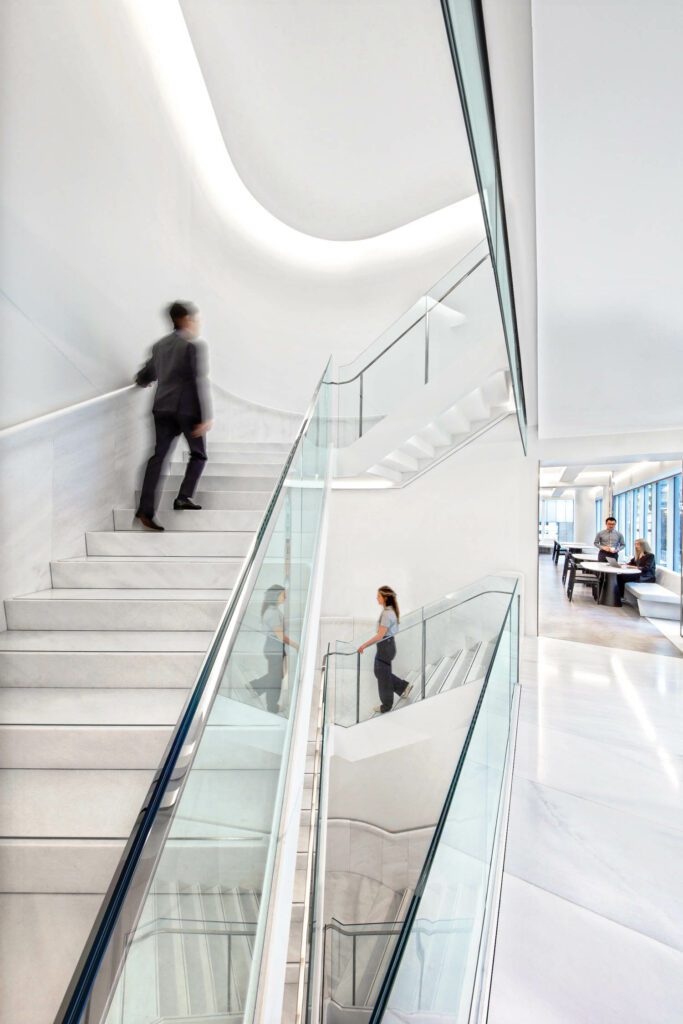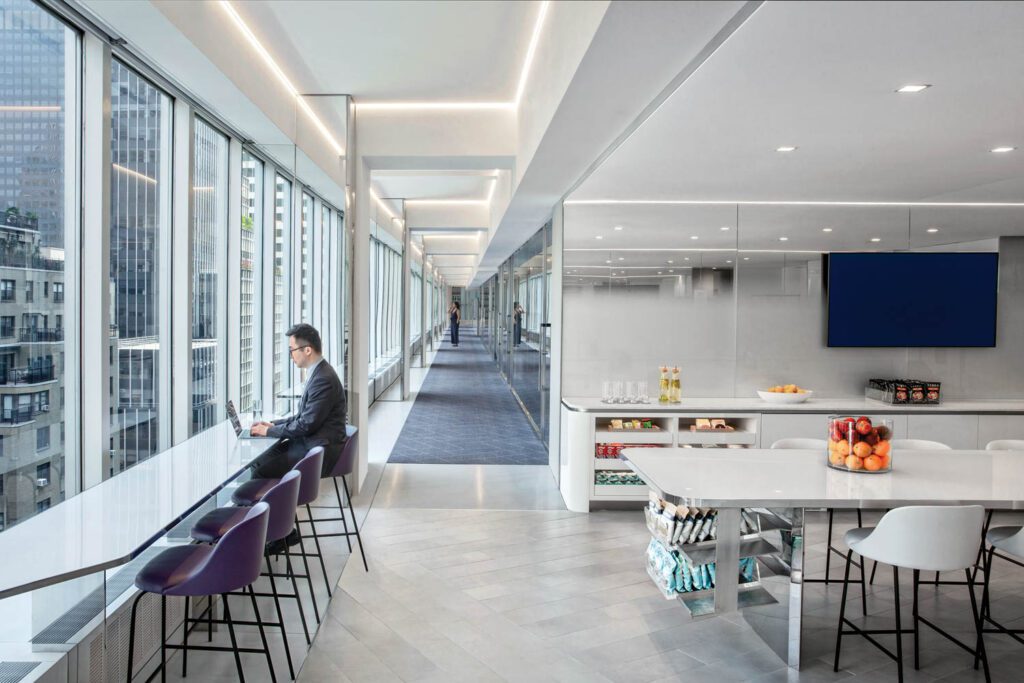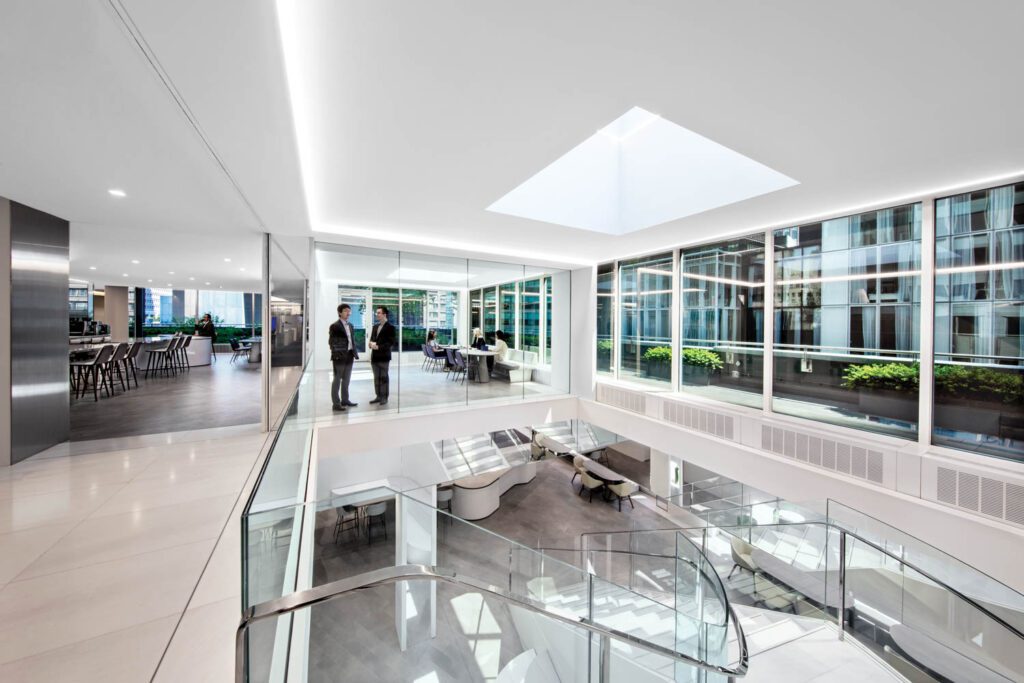 PROJECT TEAM
PRODUCT SOURCES
FROM FRONT
THROUGHOUT