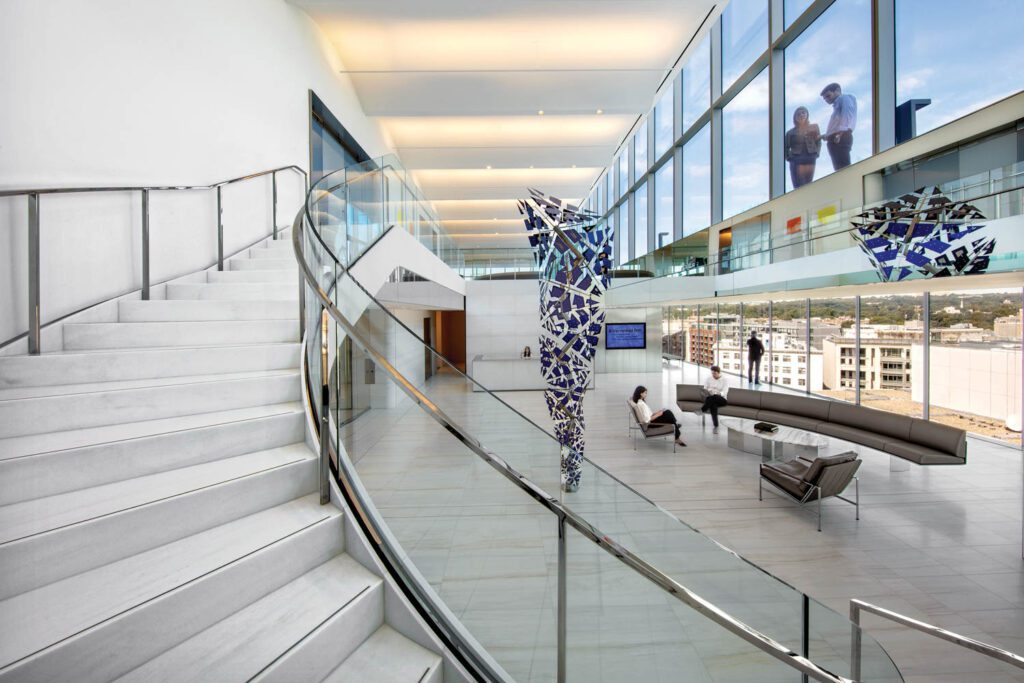 Sculptural Installations Enliven LSM's Washington Office for Paul Hastings
Located on M Street NW, halfway between Dupont Circle and the White House in Washington, the office LSM recently designed for Paul Hastings is somewhat off the beaten tourist track. But it is not unusual for passersby to press their noses against the gleaming facade, perhaps wondering if they have stumbled upon some exclusive art gallery. In one corner of the dedicated lobby, a 20-foot-long leather sofa curves in a smile as four illuminated Doric-like columns, each 12 feet tall, extend from the ceiling and hover a few inches above the honed Lasa floor. In a seemingly random pattern, each barrel glows incandescent, fades, then pulses bright again as if an impish wizard somewhere is fiddling with a sticky rheostat.
The mixed-media sculpture, a quartet of cylinders in varying heights lit by LEDs, is by Cerith Wyn Evans. Activated by a musical score of sorts, each column lights up in a carefully orchestrated syncopation. That nobody can hear the music does not matter. Originally created for an exhibition at Pirelli HangarBicocca in Milan, the sculptures, repositioned here by Evans, animate the sleek space, providing an active art experience for both pedestrians and vehicular traffic. They also complement a crystalline sculpture by Tara Donovan in a window vitrine nearby—the connecting main lobby of the 12-story building, a ground-up structure by New York architecture firm REX.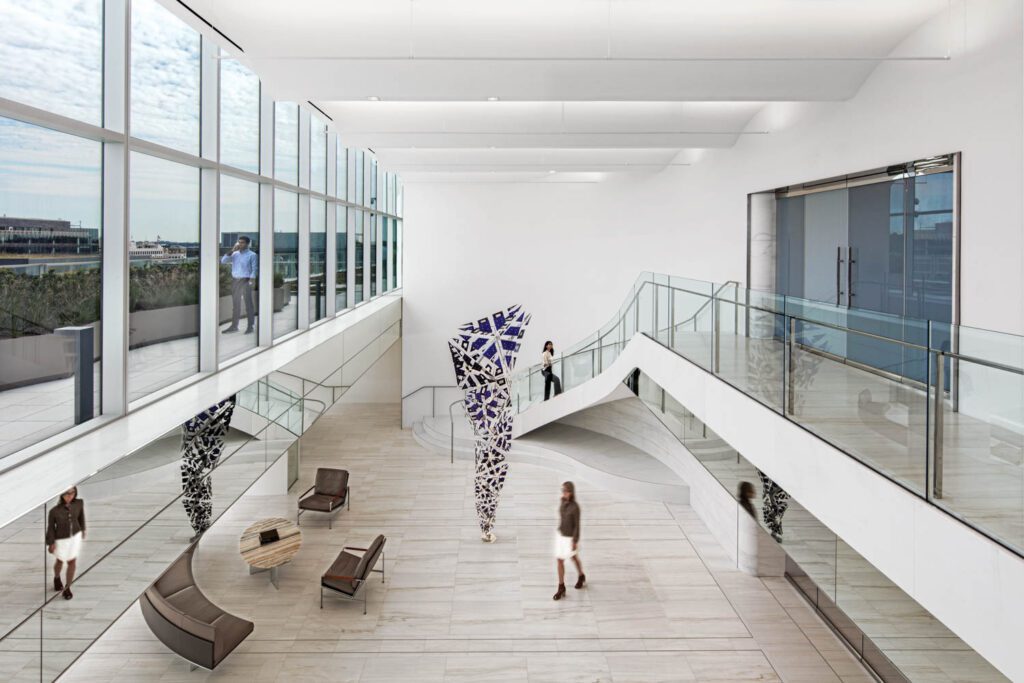 "We realized we had this opportunity to change the streetscape, to weave this wonderful thread of beautiful art through the city so that people can experience this incredible culture as they're just making their way down the street," LSM founding partner and Interior Design Hall of Fame member Debra Lehman Smith says. "This is art for all"—and a generous gesture by Paul Hastings, a global law firm with 21 offices throughout the Americas, Asia, and Europe. Approximately 200 lawyers and support staff work out of the DC office.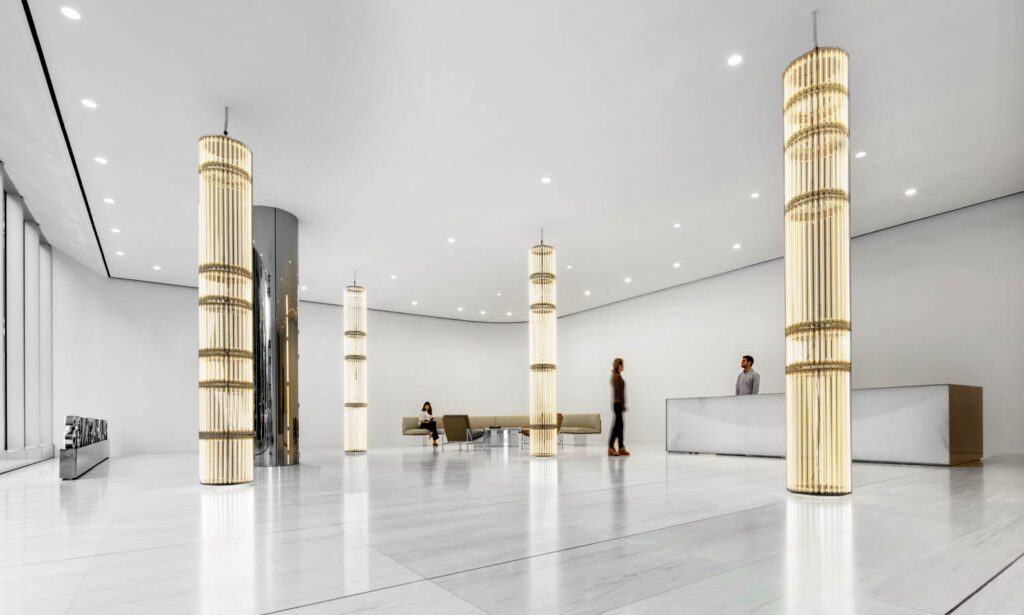 Smith and her team worked closely with CBRE to shape Paul Hastings's 100,000-square-foot share of the building, which, developed by Tishman Speyer, includes not only the street-lobby exhibition space but also floors nine through 12 and two roof terraces. Visitors entering on the 11th-floor reception are greeted by another commissioned work of art, a mesmerizing 13-foot-tall sculpture by Conrad Shawcross. It comprises hundreds of azure shards of anodized aluminum that appear suspended in air as if after an explosion. It's part of the artist's exploration of the tetrahedron, which is "geometrically, a four-sided non-tessellating form and conceptually the symbol of an indivisible unit of matter," he explains. "As a building block, the tetrahedron behaves as an irrational number, creating sequences that, in theory, extend into infinity without repetition." Installing the piece was no less complicated, requiring 14 hours, a crane to hoist it over the terrace and through a sliding partition, and a crew of 12 to bolt the stainless-steel frame to the floor on an impossibly small plate.
The work's delicacy is best appreciated as one ascends a sensuous staircase of Lasa, polished stainless steel, and glass, which curves along the far wall of the atrium to a mezzanine and the terrace. The 12th floor features a conference suite encompassing break-out space and a multipurpose room enclosed by glass walls; on one end, they slide open to connect to the interior and open accordion-style on the other to access the landscaped terrace, its views extending to the National Cathedral.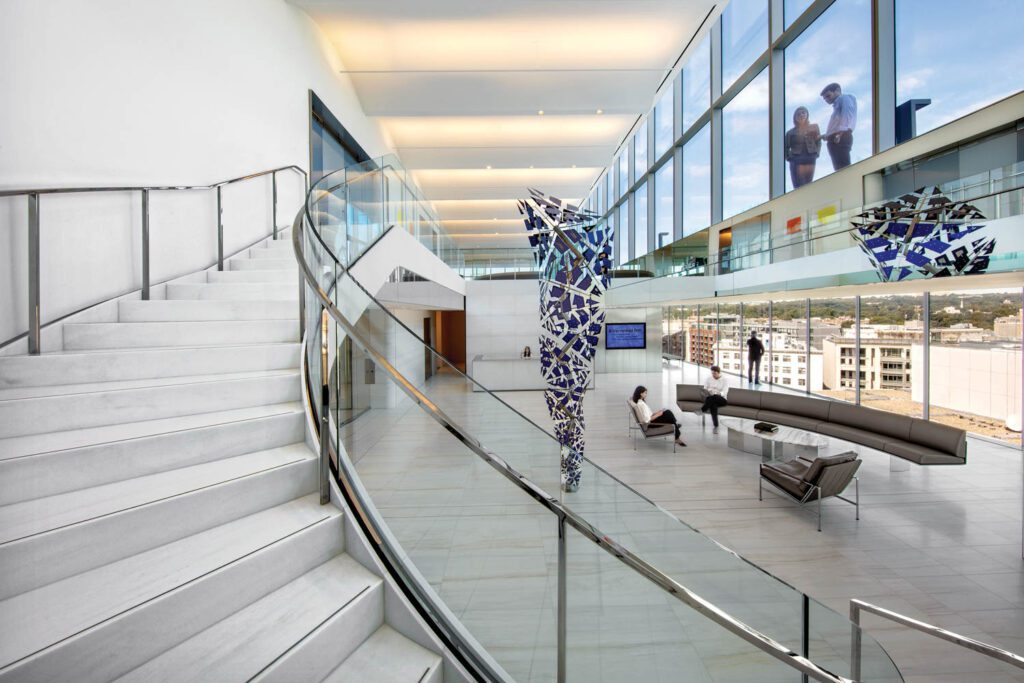 The building features what Smith calls "the most beautiful curtain wall in the world." Manufactured using cold-bending technology, each panel of energy-efficient glass curves inward, creating a kaleidoscope effect from the outside while eliminating the need for vertical mullions. The elegance of the unique curtain wall informed many decisions about lighting, materials, and furniture. Taking a cue from the concave shape, LSM created barrel-vaulted ceilings throughout the interiors, which bring daylight deeper into the floor plates, and installed curved benches and planters on the terrace.
Crossing to a window, Smith points down to one of her favorite "bespoke touches": a scalloped border along the perimeter of the stone floor, which mimics the curtain wall's shape, in a gold-toned onyx reminiscent of the walls in the building's main lobby and which LSM used to top several conference and coffee tables. "The contractors were like, 'You're serious? You really want to create this complicated inlaid border?' And I was like, 'Absolutely!'" she laughs. "It was a lot of meticulous work, but it's a nice surprise that doesn't detract from the overall design, which is quiet, tonal, and textured."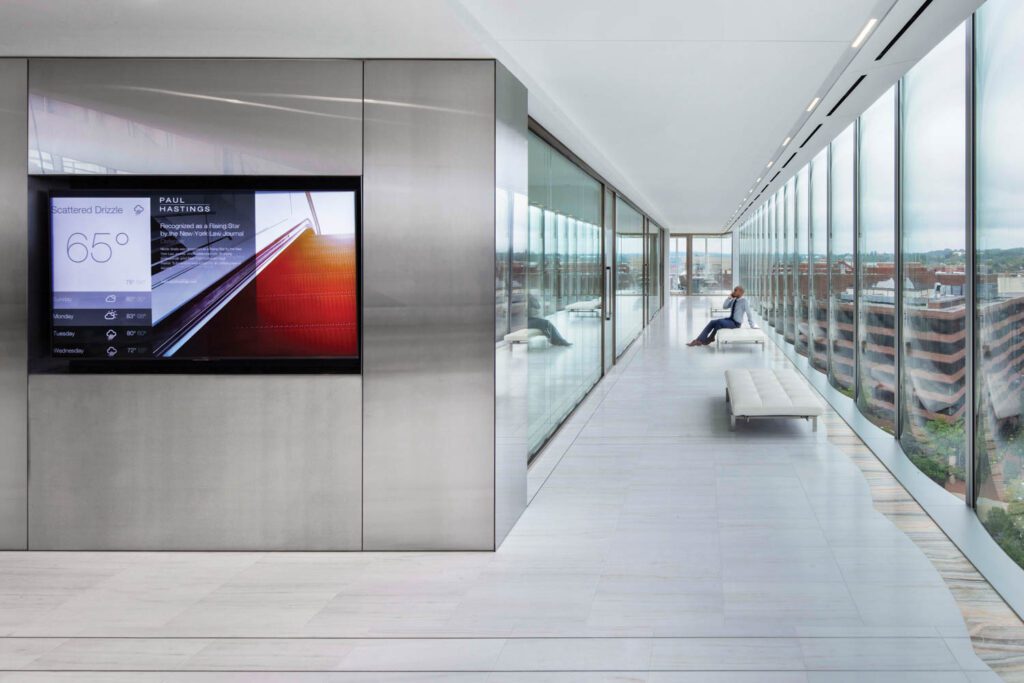 Returning to the street lobby, Smith is momentarily mesmerized by the Wyn Evans light show. "We spent hours and hours with corrugated cardboard cutouts to figure out exactly where each column would go," she says. Suddenly she snaps her fingers. "Oh! We should put an interpretive sign in the window so people can understand what they're looking at," she says, surprised that she had not thought of it before. "That would make this gift to the city even better."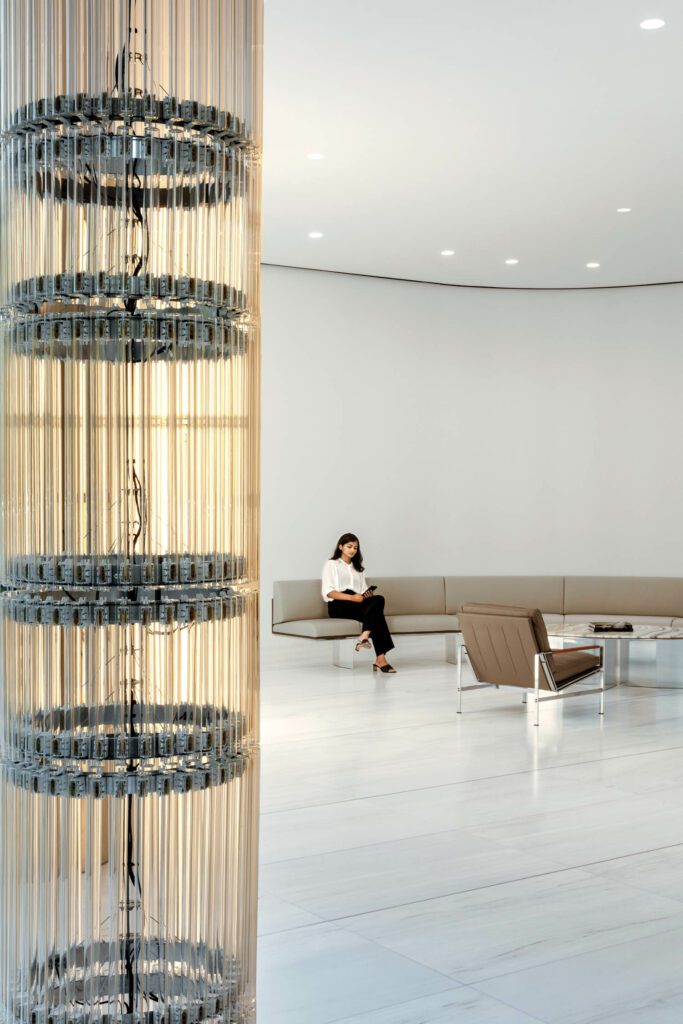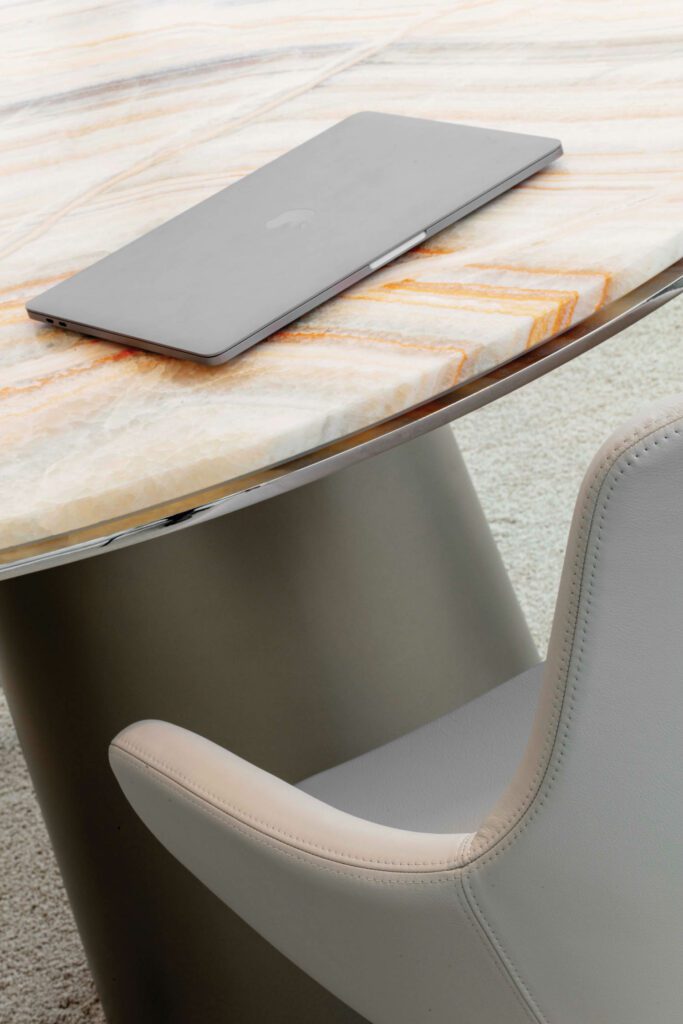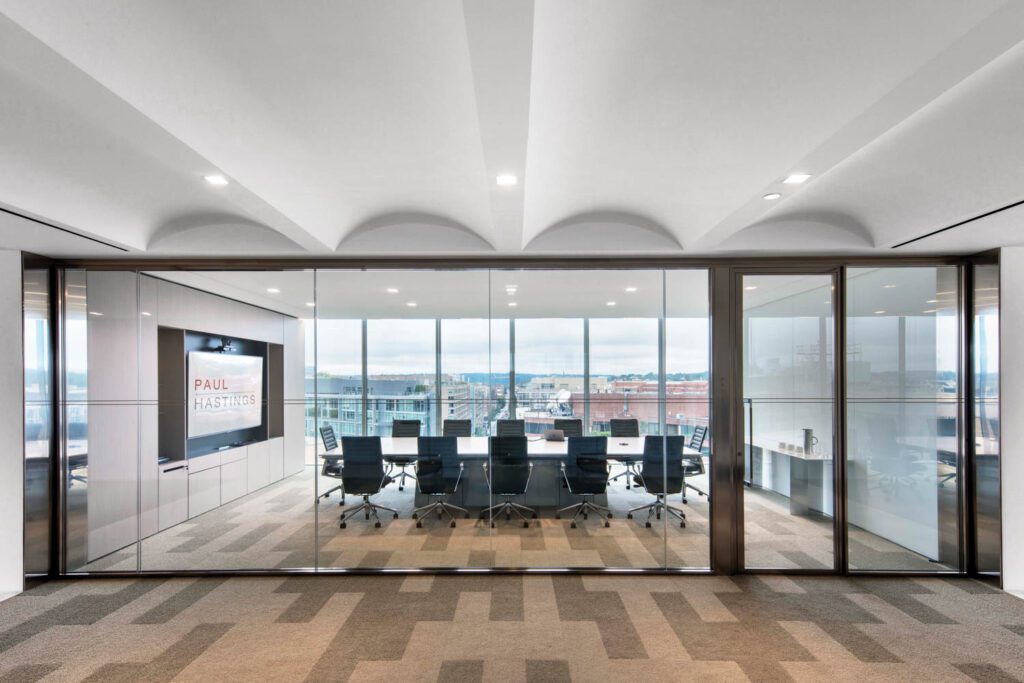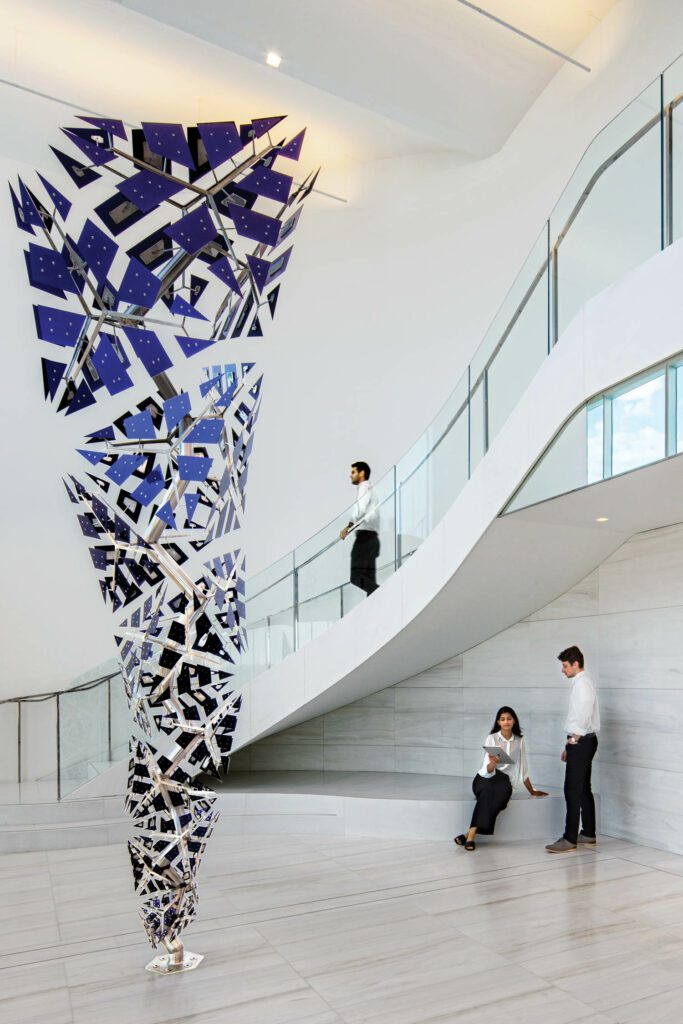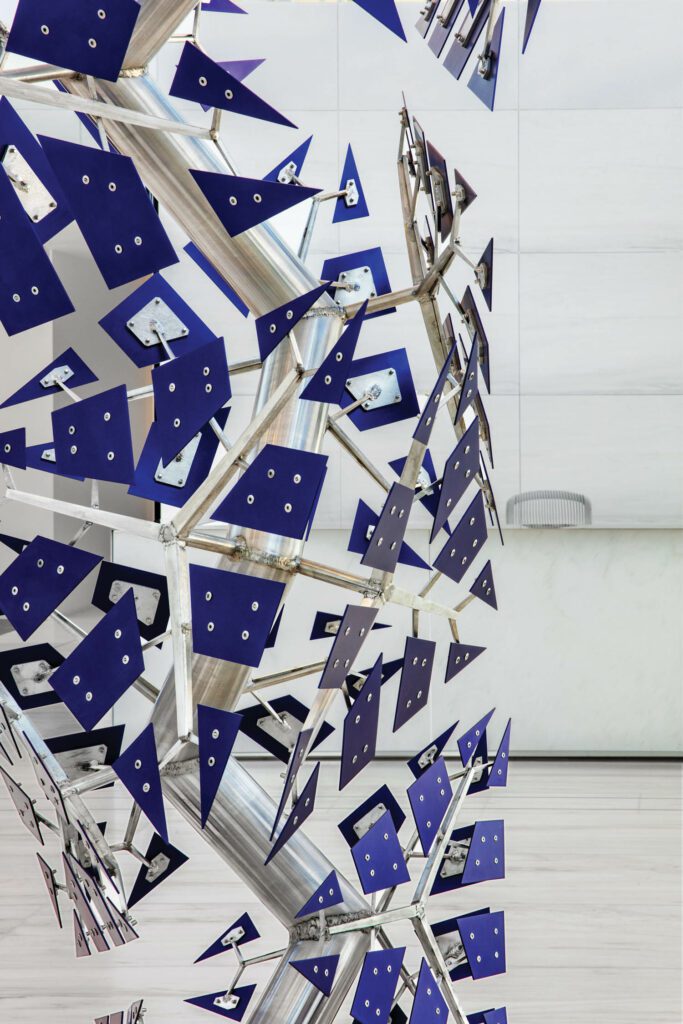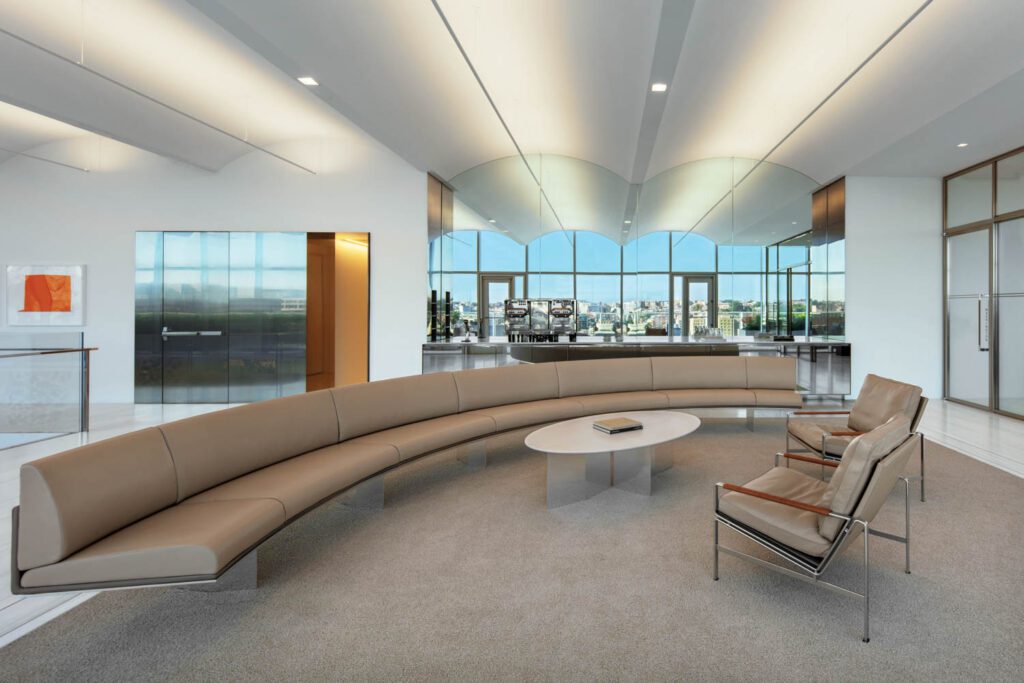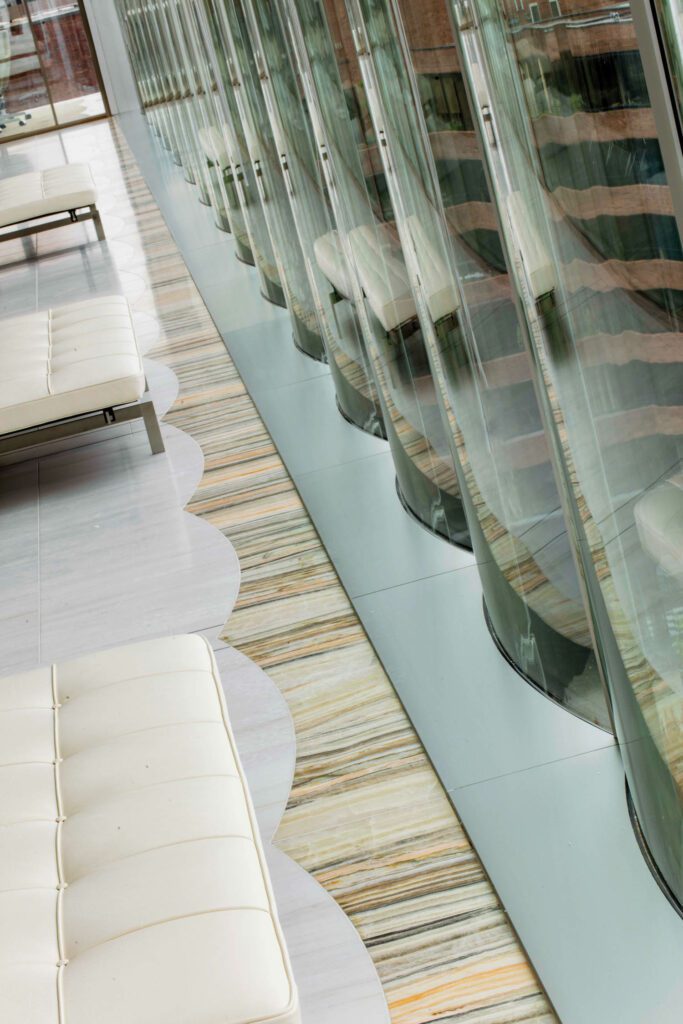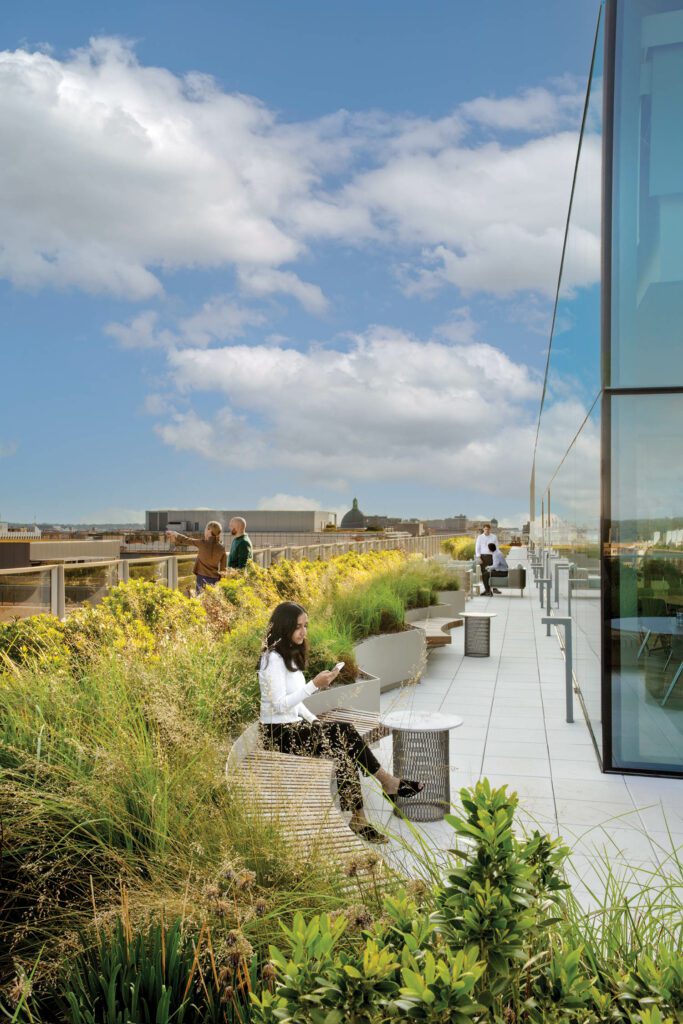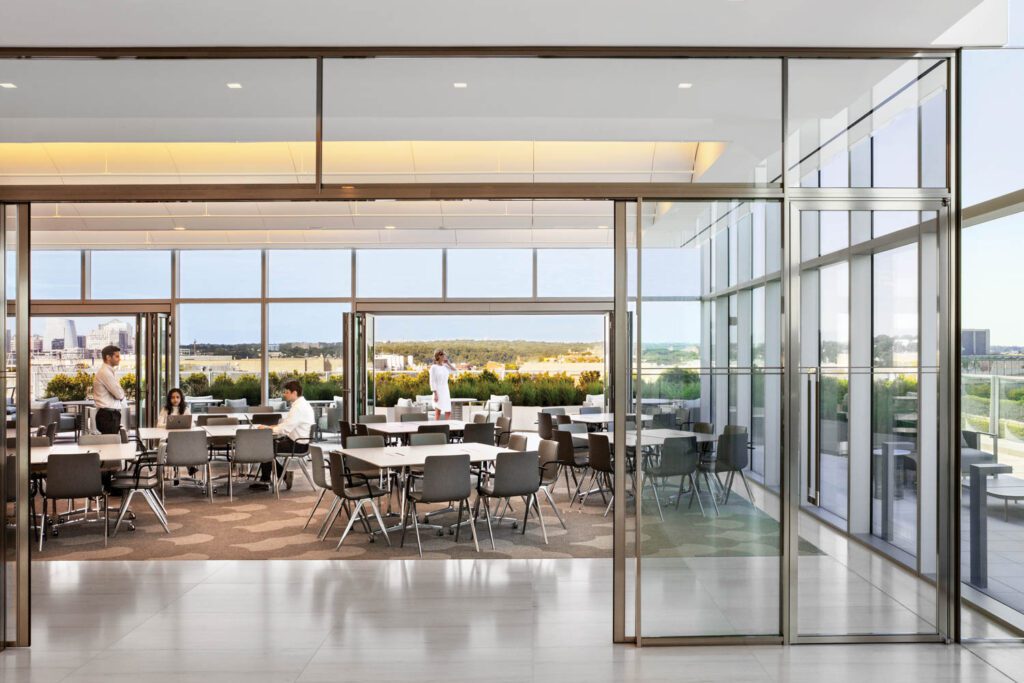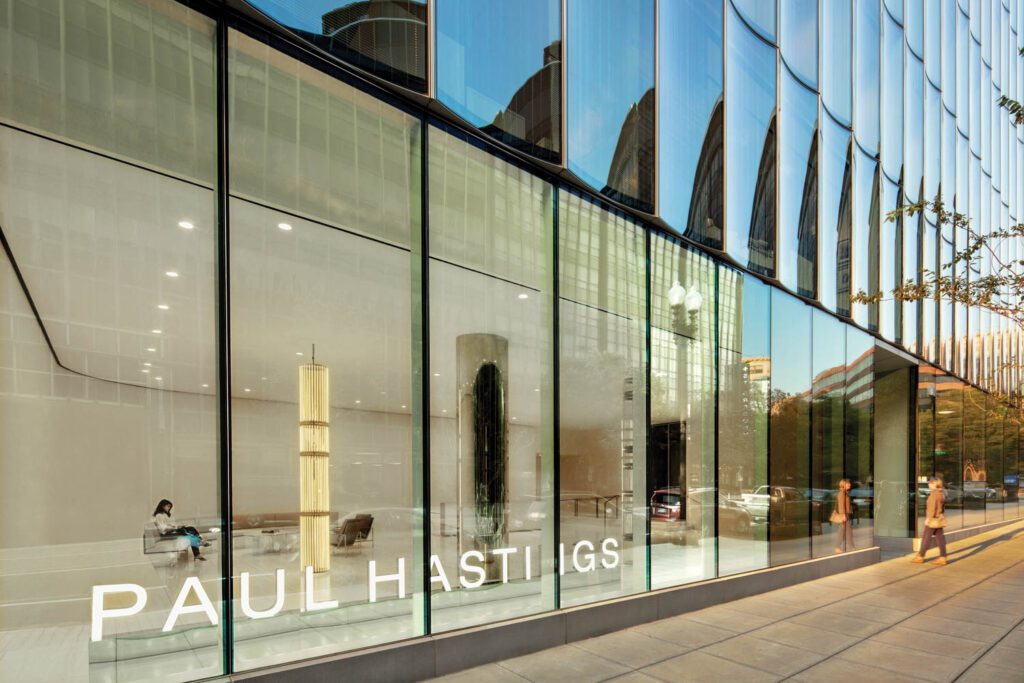 PROJECT TEAM
PRODUCT SOURCES
FROM FRONT
THROUGHOUT