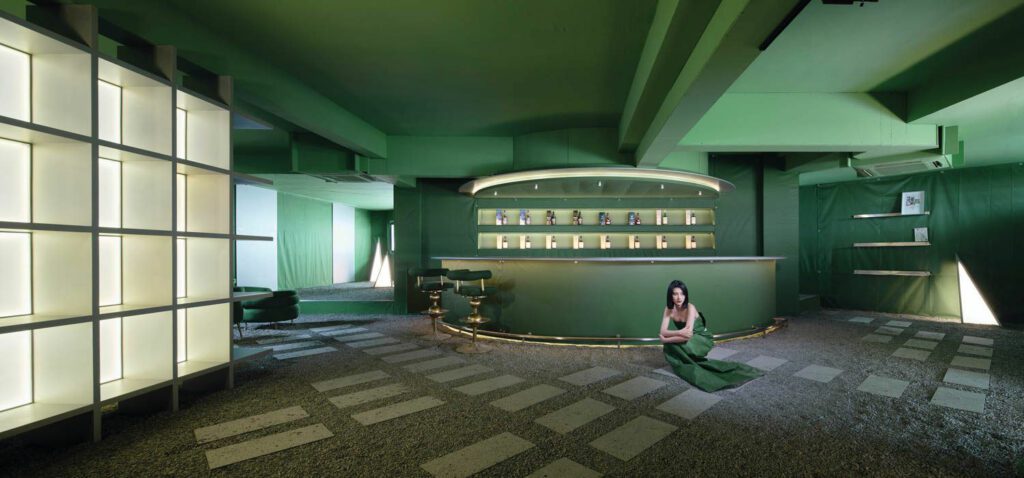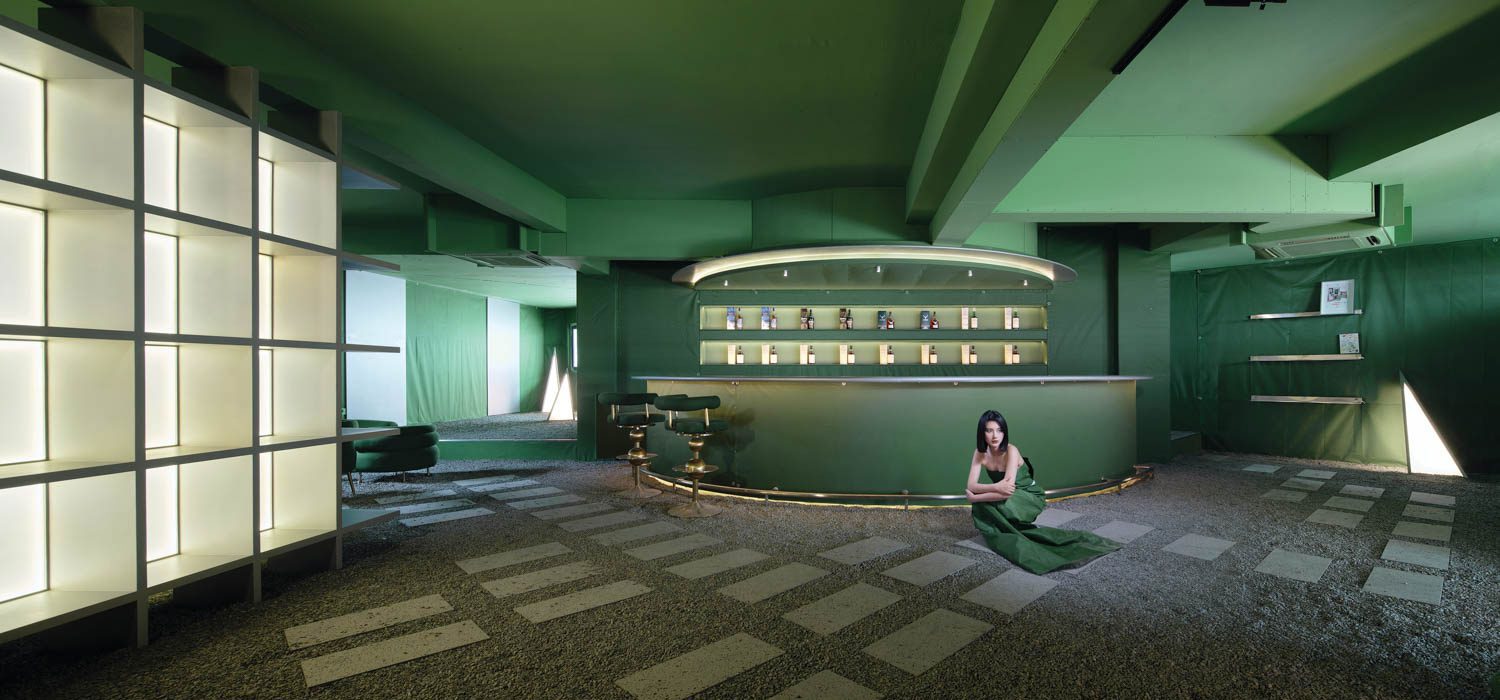 This Exhibition Venue in Hangzhou, China Spotlights Mission-Driven Architecture
Many young artists need support in order to achieve their full potential. One of the most impactful ways to assist burgeoning talents, without simply handing them a check, is through the provision of space in which they can exhibit their work. This offering enables them to gather audiences, generate discussions, and garner valuable feedback around their creative endeavors. A vacant, 2,900- square-foot commercial studio in the Xiangshan Art Commune, close to the China Academy of Art campus in Hangzhou, has been regenerated with exactly that purpose in mind.
The idea came from Martin Goya Business, an agency founded by Chinese video artist Ran Cheng that organizes exhibitions and performances for creatives born after 1995 (Cheng named his business after an obscure movie character). He invited his hometown friend, Pig Design founder and chief designer Wenqiang Li, to co-create a space that acts as a publicly accessible gallery and a salon in which independent artists can network and exhibit for free.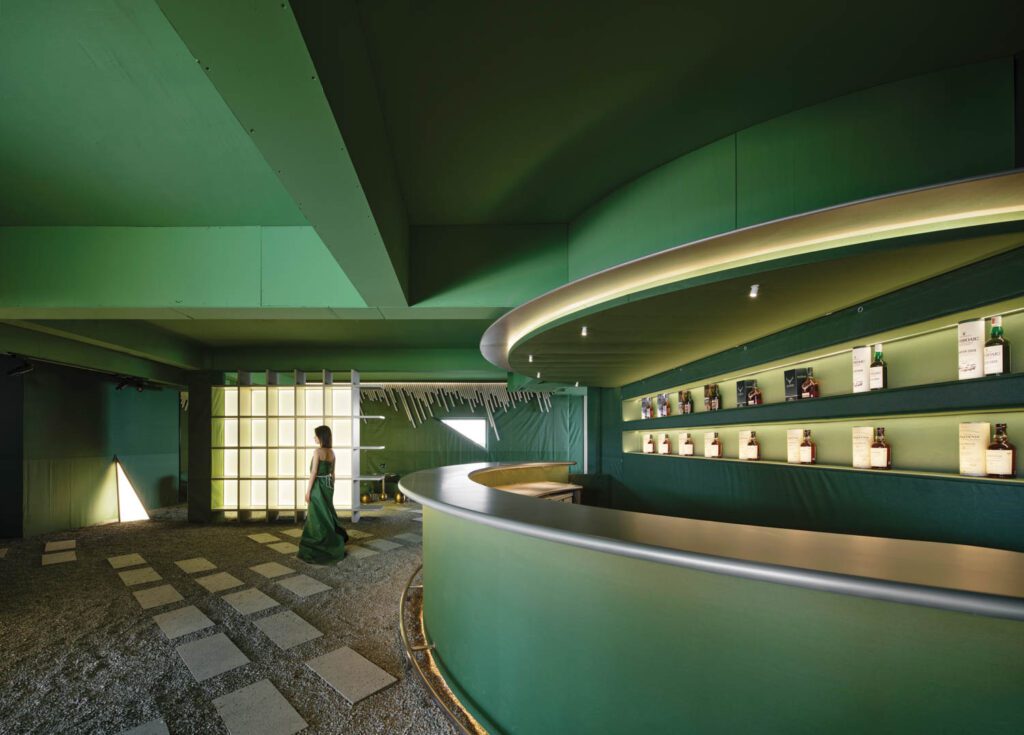 "The whole environment of contemporary art is institutionalized, commercial, and serious, however, many artists are free, wandering, and disorganized," says Li, who's also a painter himself. The intention of this joint venture, named Martin Goya X Pig Design, is therefore to provide a "nest," Cheng notes, where these young artists are offered space and the opportunity to grow, incubate and hatch ideas, spread their wings, and then take flight into successful careers.
Li applied the metaphor not only to the design of the venue but also the fabrication. He retained the basic shell of the building, then, just as in nature, constructed interventions from a wide mix of found and reused materials to assemble a sanctuary for its users. "The idea is that stray birds pick up city leftovers to construct a nest," Li says, treating the project with an element of whimsy so as not to fall into art-world tropes. "The act of removing seriousness is the balance point between the space and the design concept."
The concept is most evidently visualized at the entrance, where recycled steel rods cantilever out at assorted lengths to resemble a brush of metallic twigs and continue inside to form a tentlike canopy and passageway. Visitors follow the horizontal lines into the main space, where the effect is mirrored on the other side of the doorway. More rods protrude from a gap along the top of a far wall, wrapping the nest and visually weaving the areas together.
With time and budget restraints top of mind, the project was completed in just a month. It took only a few days to swath the building's exterior and interior surfaces in layers of emerald-green canvas using a staple gun, creating a color-saturated, waterproof shell. "Most visitors are surprised by the material choice," Li reveals. The same verdant color—chosen for its association with life, growth, and rejuvenation—is repeated across the low ceiling in environmentally friendly paint, enveloping the space in a monochromatic cloak. "To many people in our city, the green canvas has a definite sense of movement, transport, or, more bluntly, a sense of straying," Li explains.
Given the diversity of the artworks and disciplines showcased—from painting and photography to theater and musical performances—an adaptable, open layout was a must. Durability was also paramount, so black gravel was selected for the floor, filling in between lines of stone pavers that suggest, but don't dictate, pathways through the room.
To offset the predominantly darker tones, warm lighting emanates from a few sources, including above and behind a curved bar. Positioned opposite the entrance, the counter acts as a café that helps fund the venue's operation costs during the day, then serves drinks during evening events and parties. A series of freestanding triangular lamps that echo the form of the entryway corridor also illuminate the moody interior, while similarly angular windows bring in slices of natural light.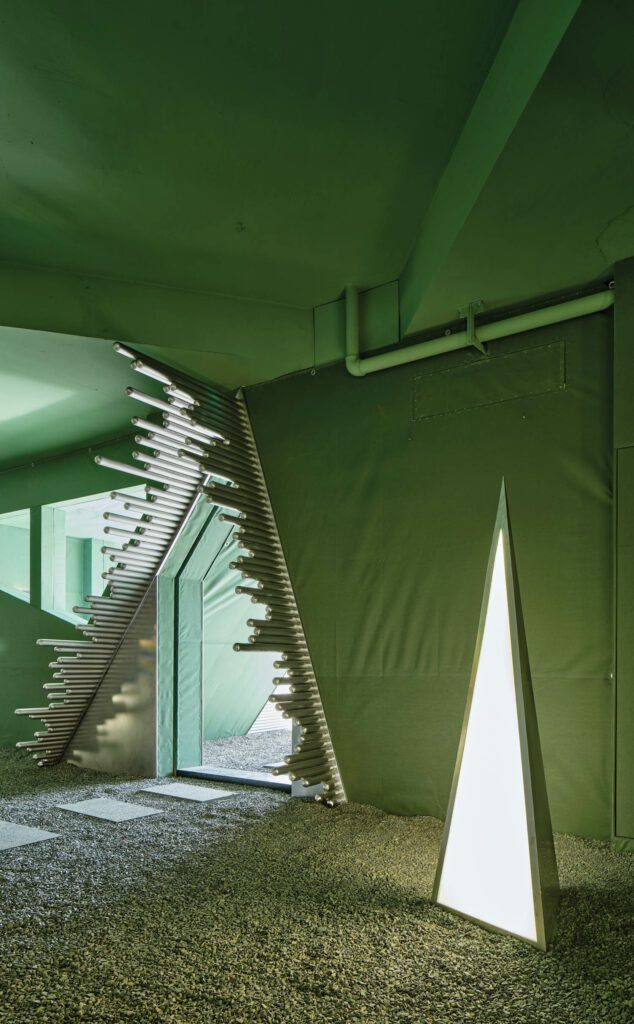 Behind a glowing gridded screen is a lounge area, populated with furniture selected from existing samples Li created for earlier projects. All upholstered in matching green, some of the sofas and armchairs appear to sprout human hands and feet in place of regular armrests and chair legs. The designer 3-D printed the gold-toned appendages from scans of his own hands and feet, again injecting humor and lighthearted energy into the project. "We hope that through spatial design, art can be more harmoniously integrated with people," he says.
Martin Goya X Pig Design offers a model for regenerating commercial inventory in the post-pandemic era. Quickly, inexpensively, and sustainably, Li and his team were able to flip a disused building into a cultural venue that almost immediately benefited the surrounding community. The hope is that once its initial cohort of users flies the nest to greater things, it will continue to grant opportunities to future flocks of artists for generations to come.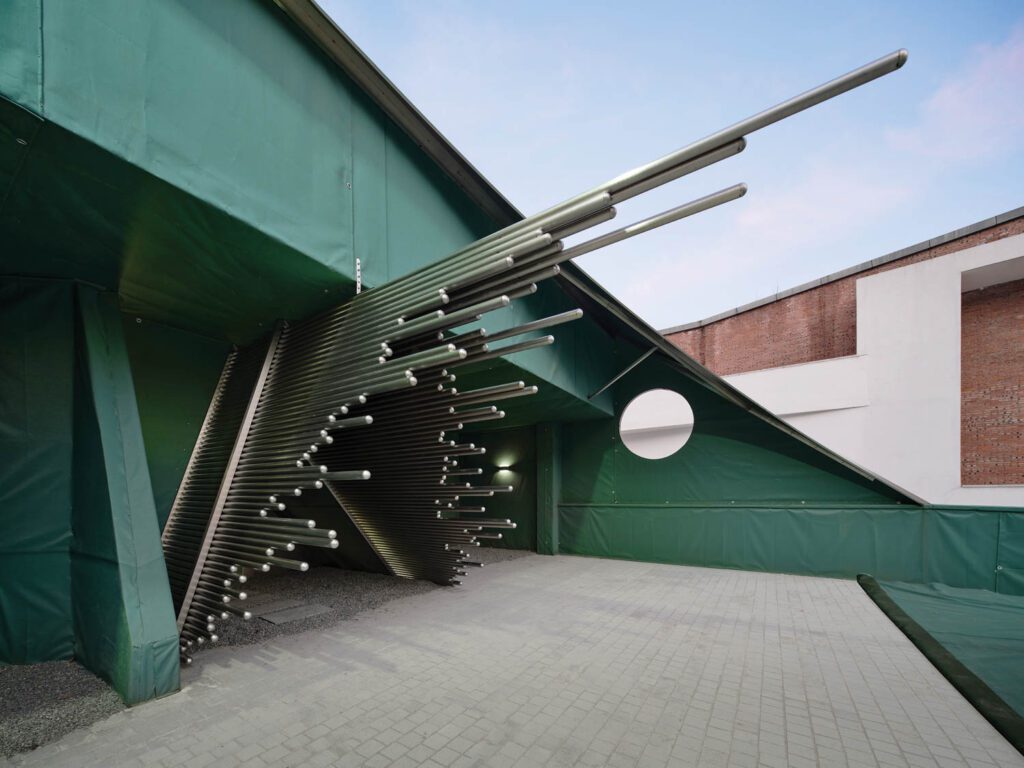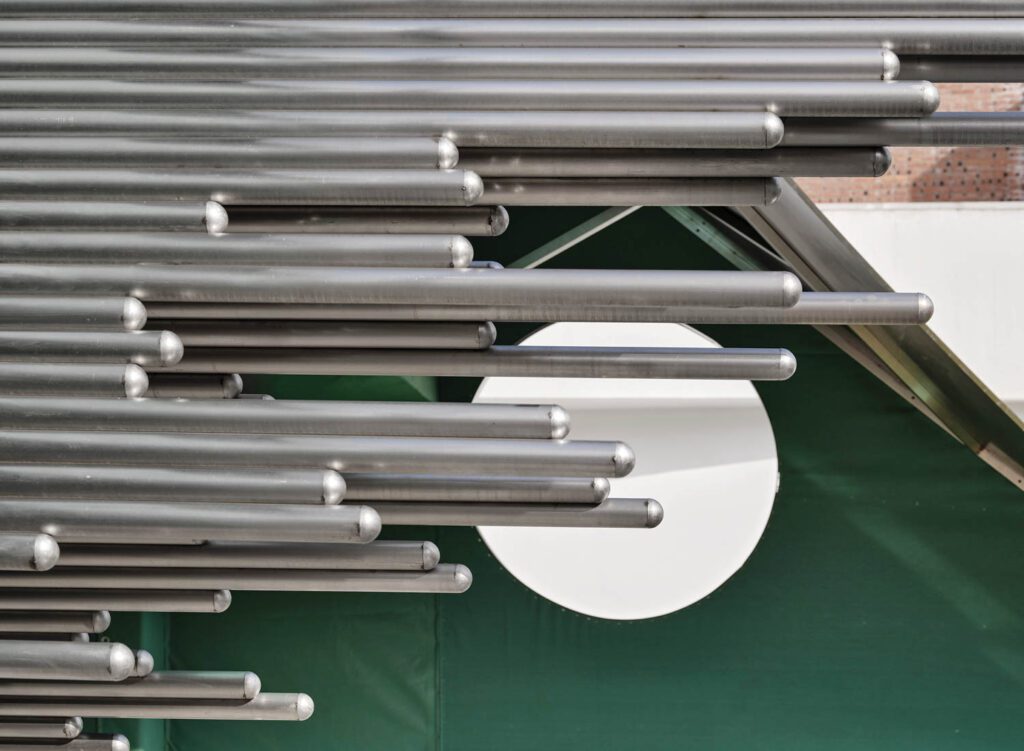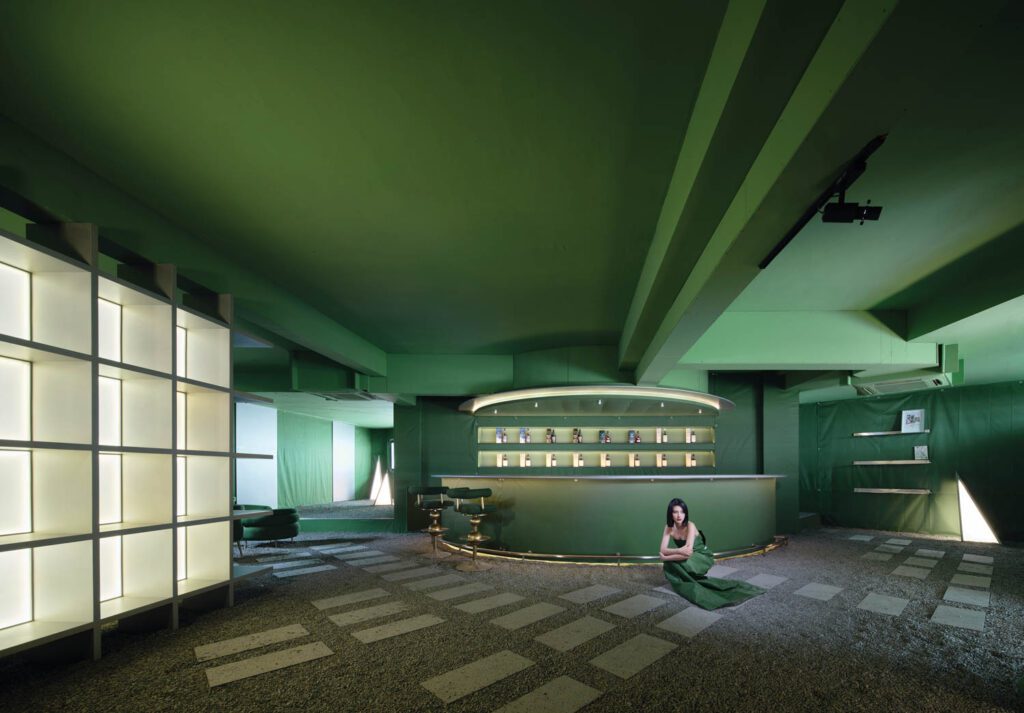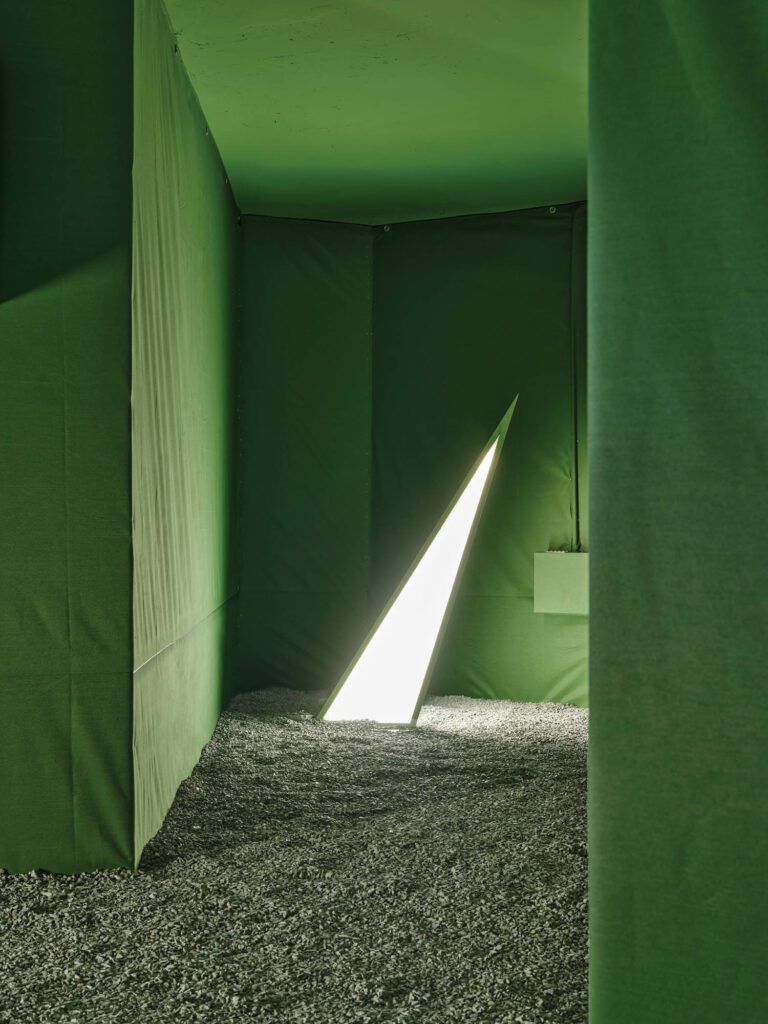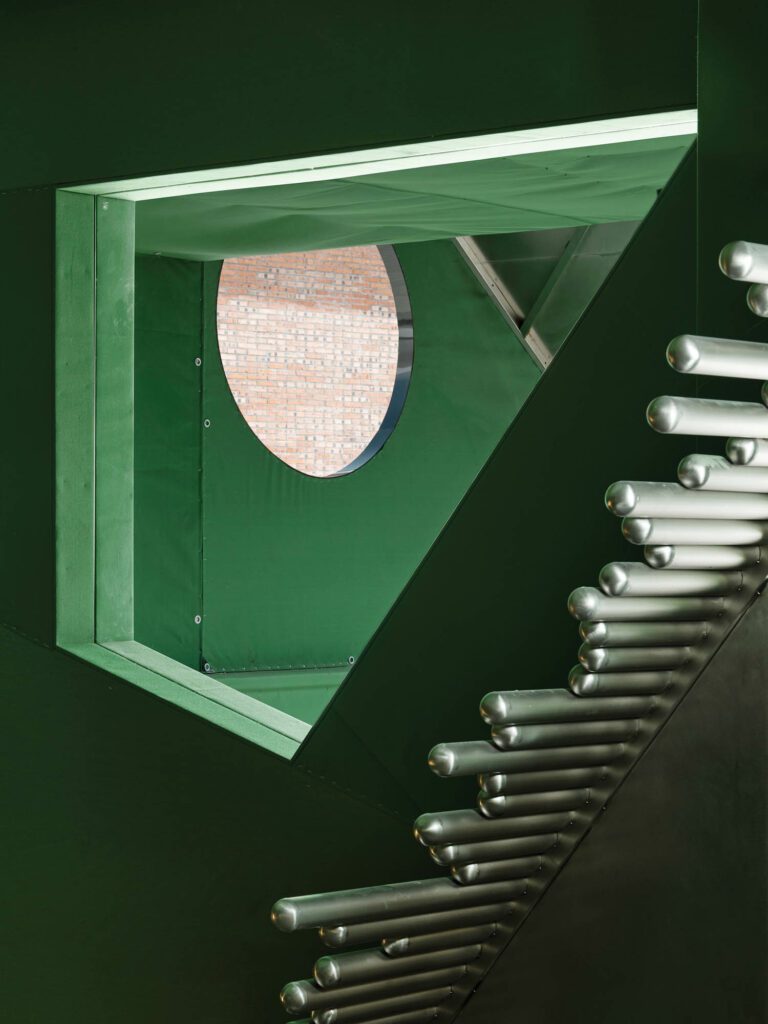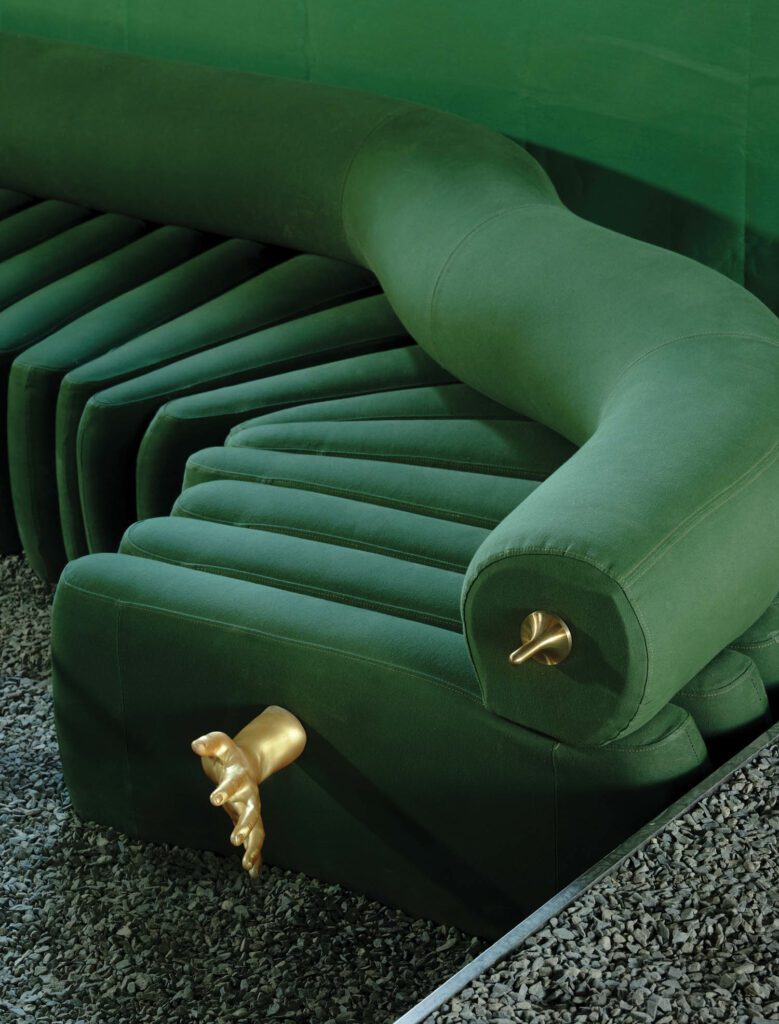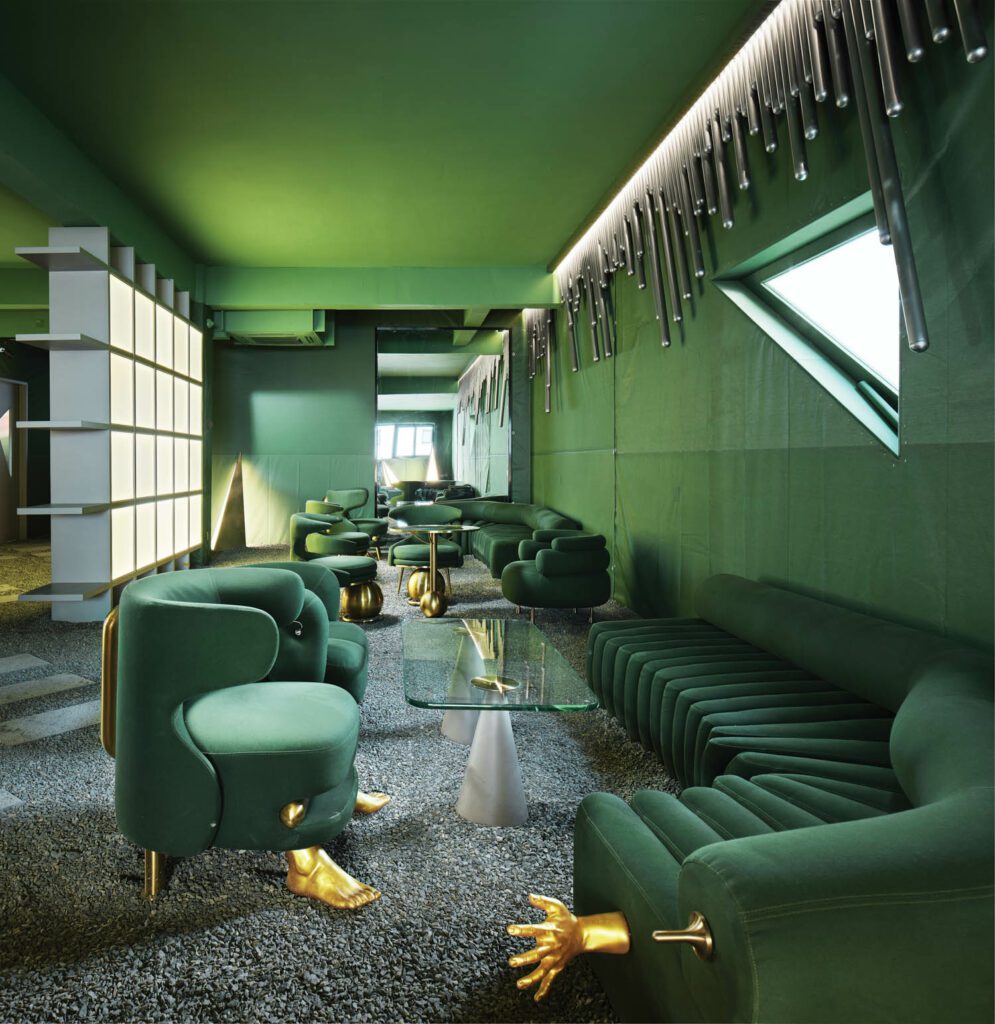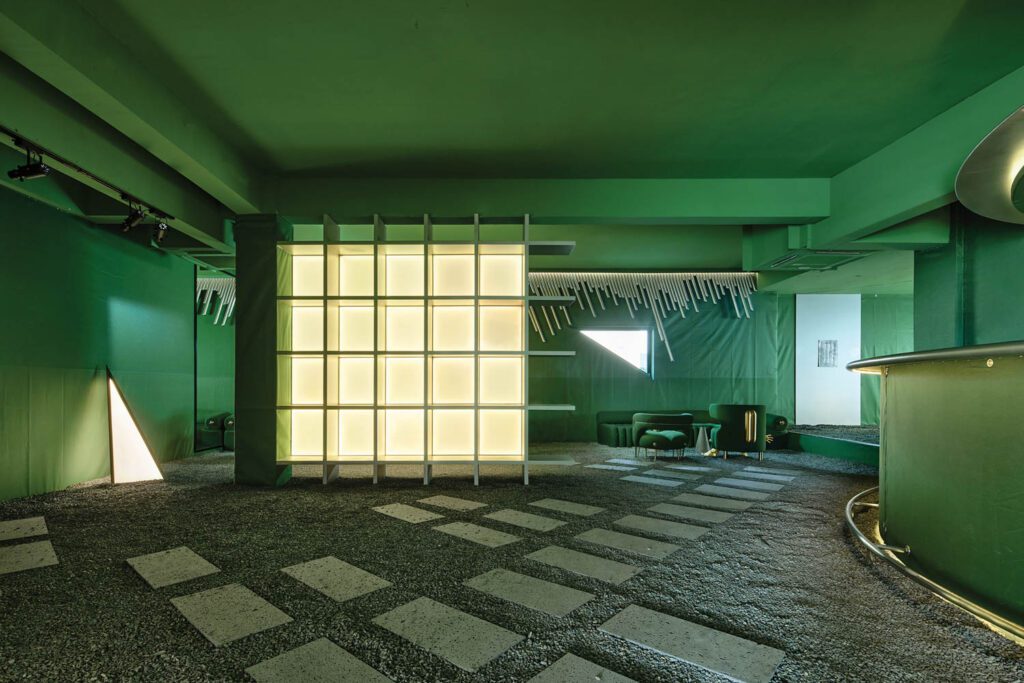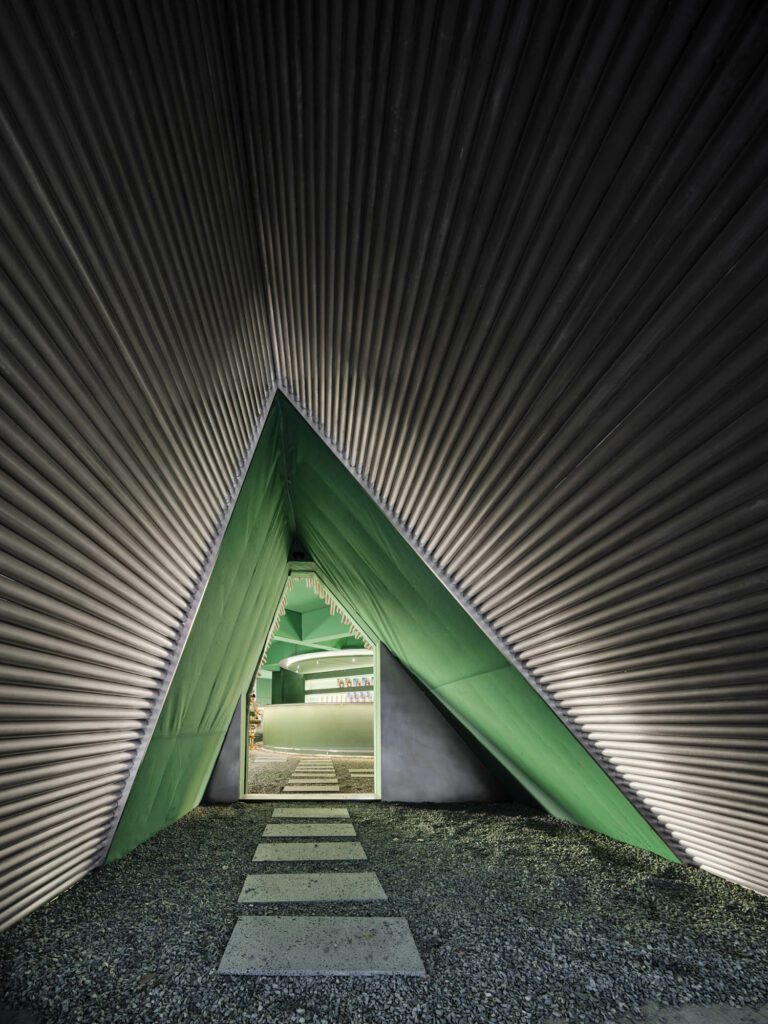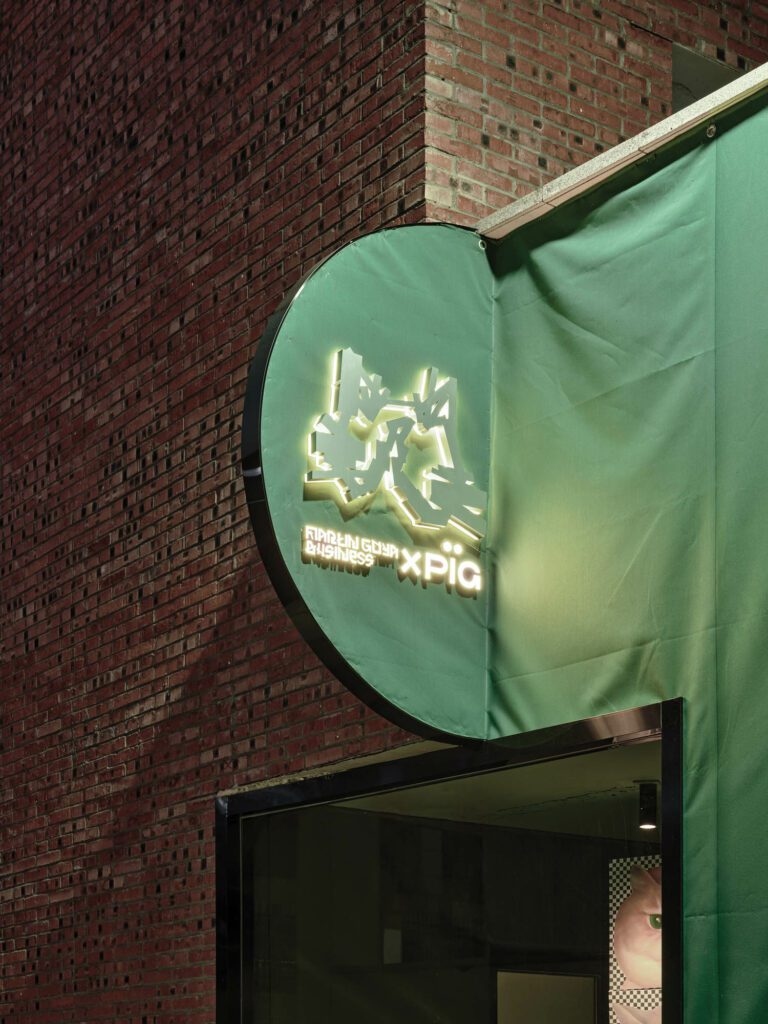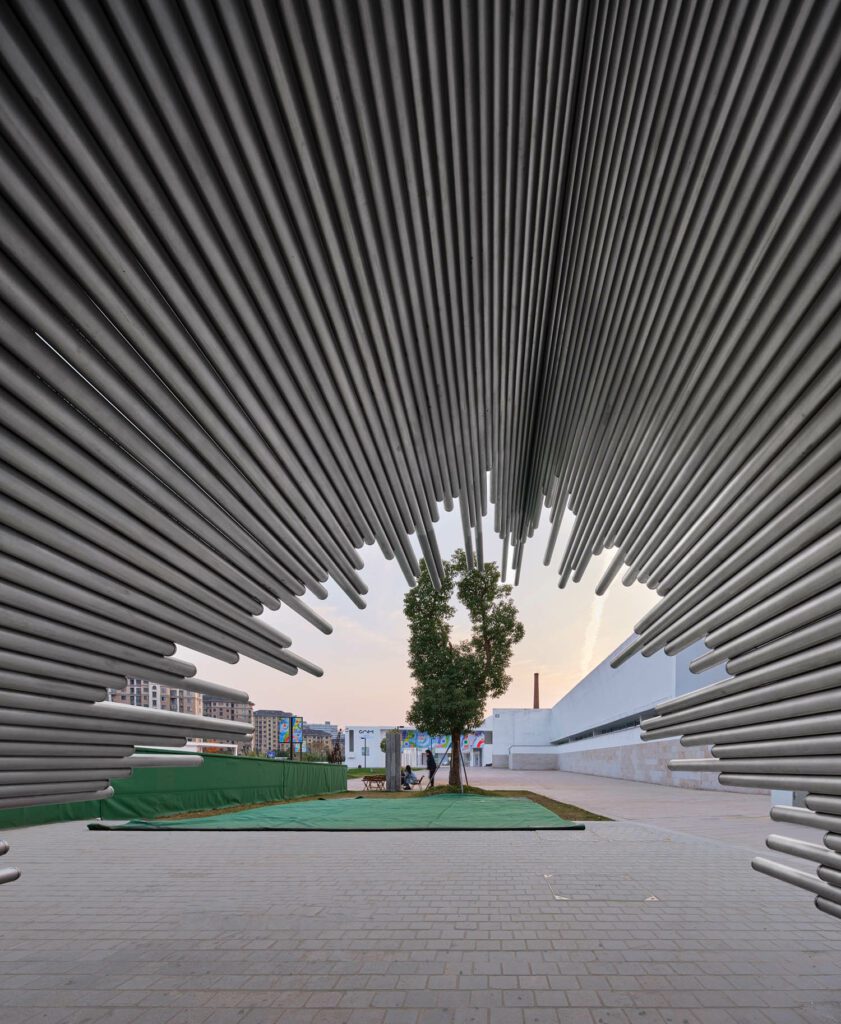 PROJECT TEAM
PIG Design
: chao liu; lili zhao; zhiwei yang; junjun yan; mengmeng qian