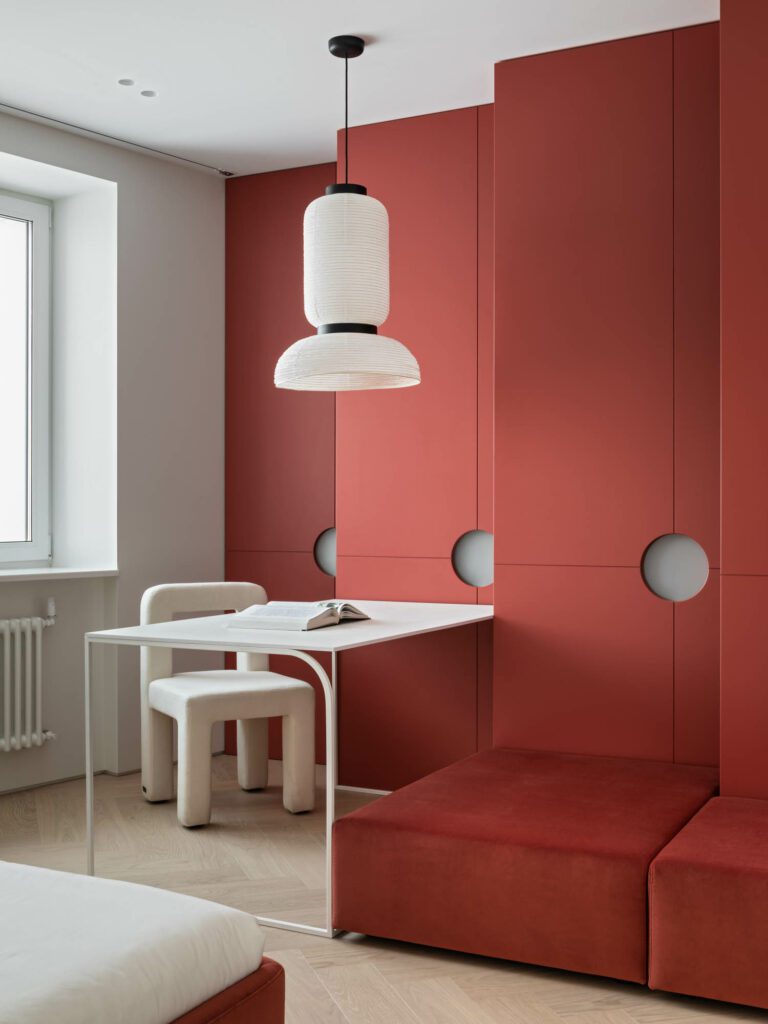 Mihail Kurnosov Designs a Minsk Apartment Wall-to-Wall
A young family with four children recently approached architect and designer Mihail Kurnosov, of the school/studio Art Depo Studio, to conceptualize their new 1,300-square-foot apartment in Minsk. "Their wish was to reorganize the space intelligently," Kurnosov says. The challenge required not just removing a wall here and there, but rethinking the role of a wall itself.
In lieu of traditional walls, glass partitions carve the kitchen and living area from the hallway. "It's made according to my sketches," he says. "This solution allows the maximum amount of natural light to enter the hallway." For a similar result, he built a partition in the younger kids' bedroom with perforations resembling polka-dots. Portholes in an arrangement of new panels transform another child's bedroom from what he calls an "unfortunate trapezoidal shape" into a "descending cascade." An adjacent closet boasts a large mirror framed with a mosaic smalt gradient, behind which flows an Italian textile curtain to hide storage.
In the primary bedroom, a thin line picks up the color of the custom pillows atop the custom bed; it contains the overflow of the gray ceiling paint and forms a kind of cap on the room. Kurnosov also designed the bulbous bedside tables. "It's nice that I was able to work out the space in detail, not only as an interior designer, but an object designer," he says. He didn't just rethink the space intelligently, in the end—he reorganized it entirely.