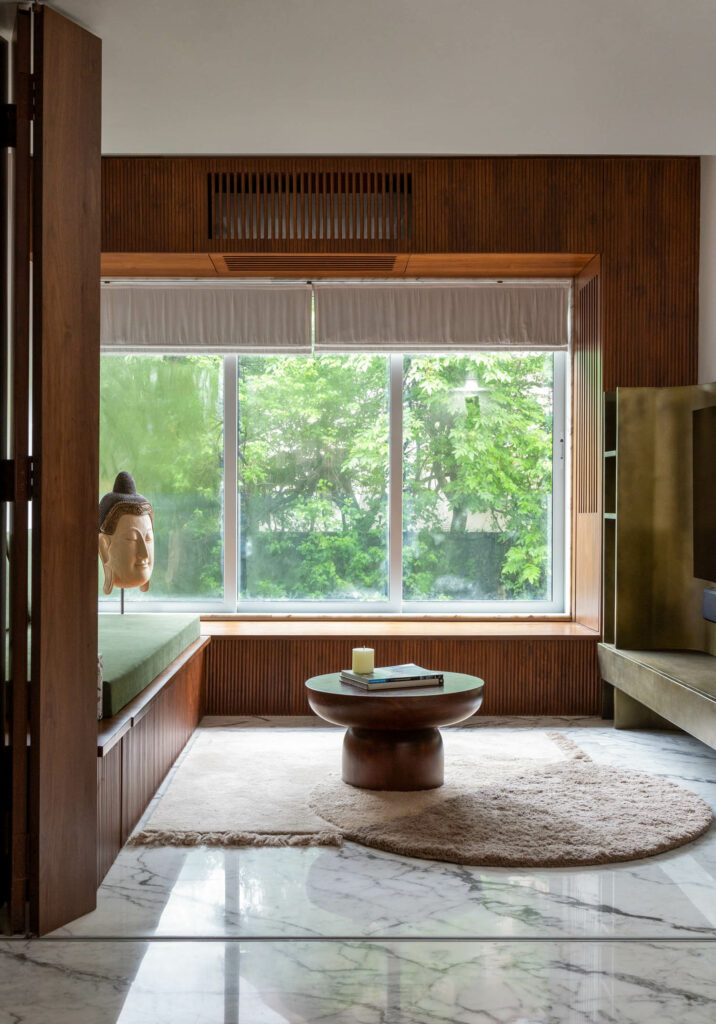 This Mumbai Apartment Raises the Bar for Residential Opulence
In December 2020, Mumbai natives Kasturi Wagh and Vineet Hingorani had returned home after graduating from New York's Pratt Institute School of Architecture. Despite the constraints of the pandemic, the emerging designers (and longtime friends) quickly launched their practice, kaviar:collaborative, a portmanteau of their first names and the word "architecture." Their first full-scope project? Remodeling a 1,250-square-foot apartment for a family of three in Mumbai's posh Malabar Hill neighborhood.
"The homeowners work hard and party harder," remarked Wagh. "They are extroverts, so it was clear that the house needed to reflect their outgoing personalities." Given carte blanche over nearly every aspect of the intervention, kaviar:collaborative had just one imperative from their fun-loving clients—to integrate a magnificent bar/lounge into the space.
"The homeowners love hosting soirées and sought a bar that would compel them to never go out for a drink again," shares Wagh.
A Verdant Palette Grounds This Mumbai Apartment
With that cue, the architects conceived a clever layout, combining two existing flats into one streamlined, flowing home with multifunctional spaces. A curved, sliding door clad in teak demarcates the den from the living and dining areas. When open, the den becomes an extension of the common areas, when closed, it can serve as a guest room.
Color—specifically, green—plays an equally vital role in the apartment. One enters the home via a moody vestibule with emerald marble flooring and forest-green fluted walls leading to the living and dining areas. "We call it 'the green guiding spirit' of the apartment," notes Hingorani. Accordingly, the architects dubbed the home "Midori," a Japanese word for fresh foliage.
The architects took a contemporary approach to complement the 80-year-old apartment building's period details. Spherical forms and a baroque material palette of terrazzo, white statuario marble, emerald green marble (locally sourced from Bombay) and brushed brass were inspired by the building's Art Deco facade, and storage space is hidden behind teak-cladded walls. Throughout, deep, graceful curves evoke Gatsby-esque glamour, through a modern lens.
"The design is out there, but has a sense of humbleness to it," explains Wagh. "Midori finely walks the line between subtlety and opulence."
This dichotomy plays out through tasteful, utilitarian aesthetic choices: the primary bedroom, hidden behind a fluted green door, features another fluted teak wall to conceal a walk-in closet and en-suite bathroom, which is adorned with verdant subway tiles and brushed brass fixtures. Spacious windows were added to maximize sunlight and mitigate the low ceilings throughout the three-bedroom abode. The designers also customized small-yet-cozy furnishings, including sofas and dining tables, so the homeowners could enjoy their spacious sanctum. The sofa and bed are custom, upholstered with similar vertical flutes, a motif that adds a sense of harmony throughout Midori.
As for the pièce de résistance? Midori's bar seamlessly blends with the kitchen's gleaming marble floor, designed by kaviar:collaborative with a terrazzo top and fluted legs. Guests can relax upon custom stools with undulating upholstery in a muted mauve hue. Sightlines throughout the apartment lead to the glitzy-yet-subdued centerpiece, which shines a light through Midori even when the party's over.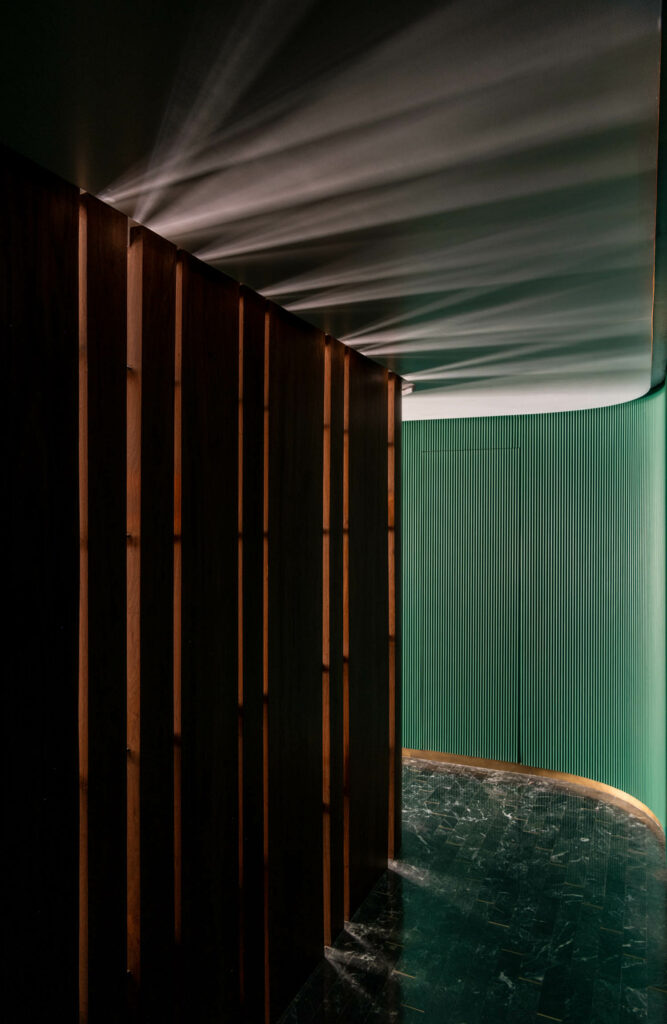 A Closer Look at Custom Furnishings and Home Accents