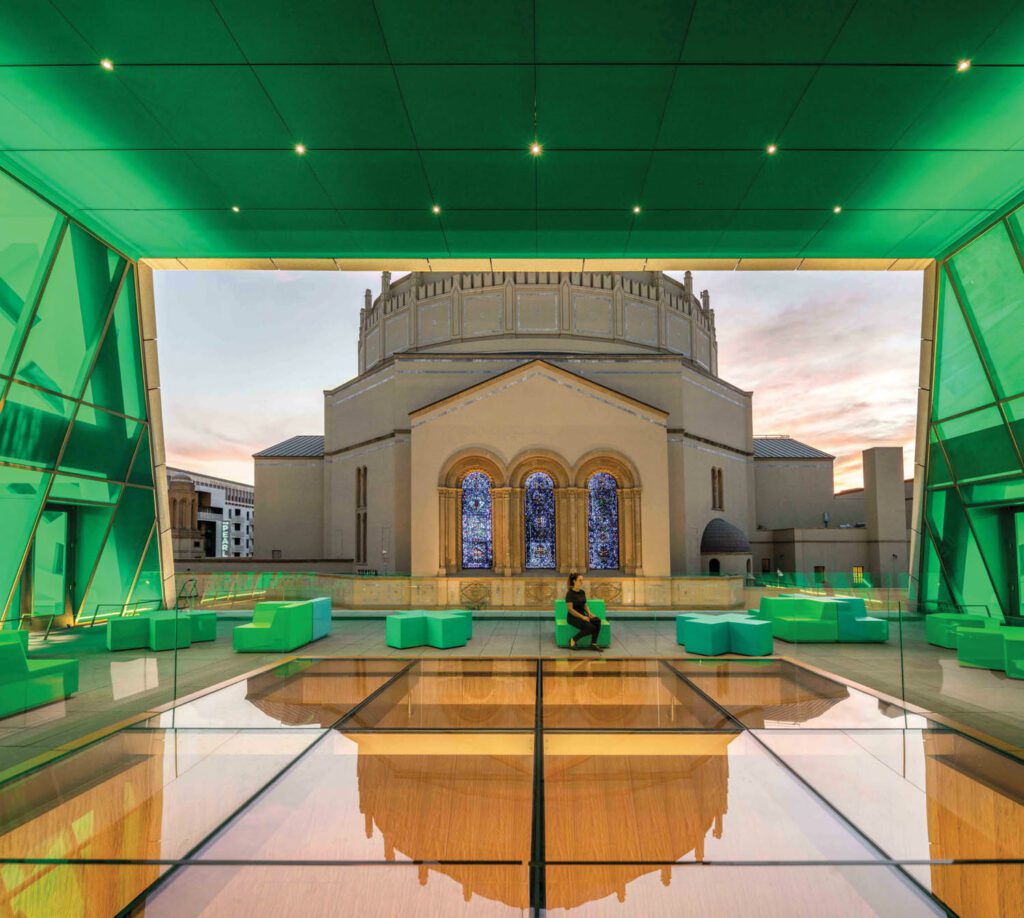 OMA and Gruen Associates Design Audrey Irmas Pavilion, Los Angeles
2022 IIDA Winner for Public Space and Commercial Lobbies
Designed by architect Abram M. Edelman and built by Hollywood moguls in 1929, Los Angeles's Wilshire Boulevard Temple is pure Cecil B. DeMille, a camera-ready, domed architectural extravaganza waiting for a cast of 1,000 congregants. But by the second decade of the new millennium, the synagogue was looking to present a more appealing and open public face for a more inclusive mission.
In 2015, the congregation held a competition for an ecumenical "gathering space" to be built on the temple's parking lot. The brief was simple: rooms—small, medium, large. The architectural issue was how to design a building that neither cowered from nor competed with the synagogue next door.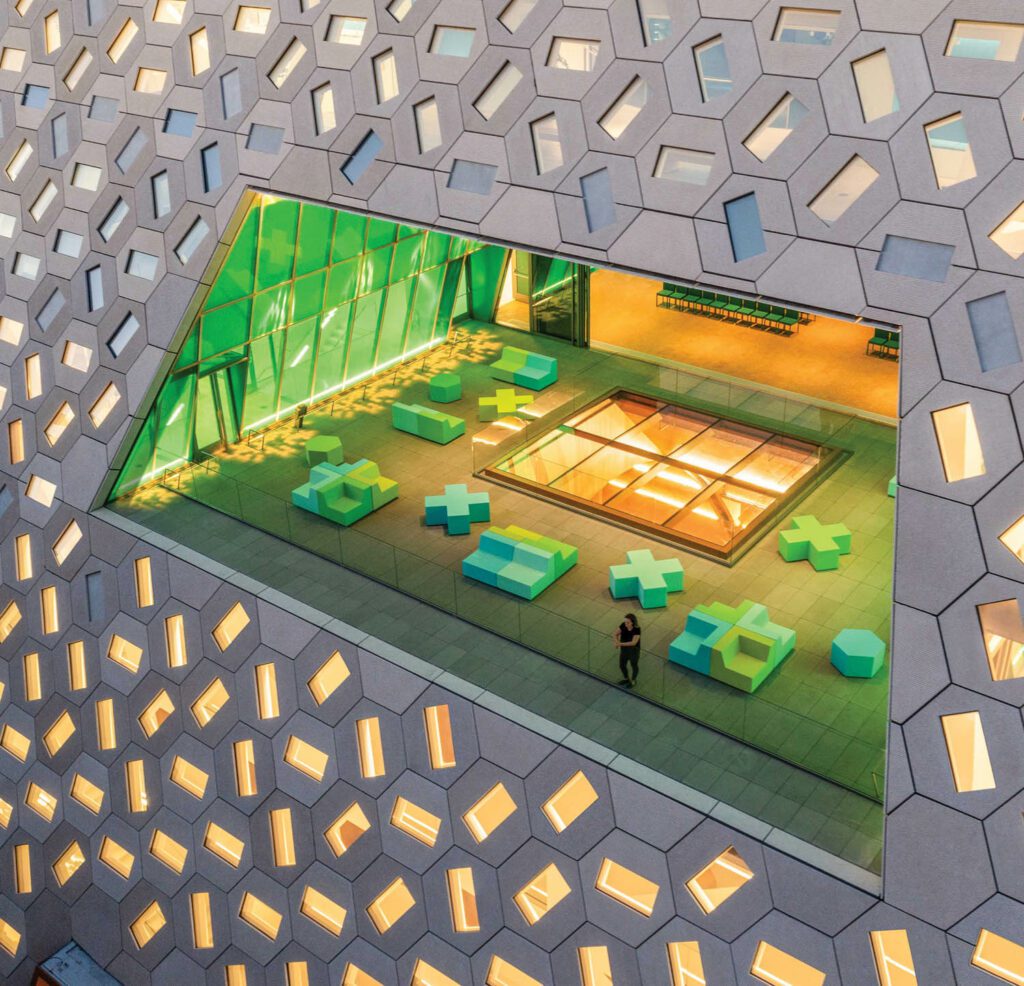 Led by partner Shohei Shigematsu with associate Jake Forster, OMA won the competition. The architects basically created a five-story, 54,600-square-foot object-building that, from some angles, looks like a truncated pyramid warped in a distortional field.
The interior organization is straightforward to the point of being diagrammatic. Lobbies, conference rooms, reception spaces, and service facilities flank either side of the hall and chapel in simple, orthogonal layouts. On the roof, OMA cut a circle that opens to a glass-enclosed sunken garden one floor below. A symmetrical set of stairs zigzags through an airy atrium, connecting the plaza entry to the chapel and the planted rooftop above.
Including terrace furniture by Renzo Piano Building Workshop, the new pavilion is fresh, spirited, and brash­ly colorful. With a jolting change in visual mode, the contrast in eras jumpstarts the campus into the new millennium.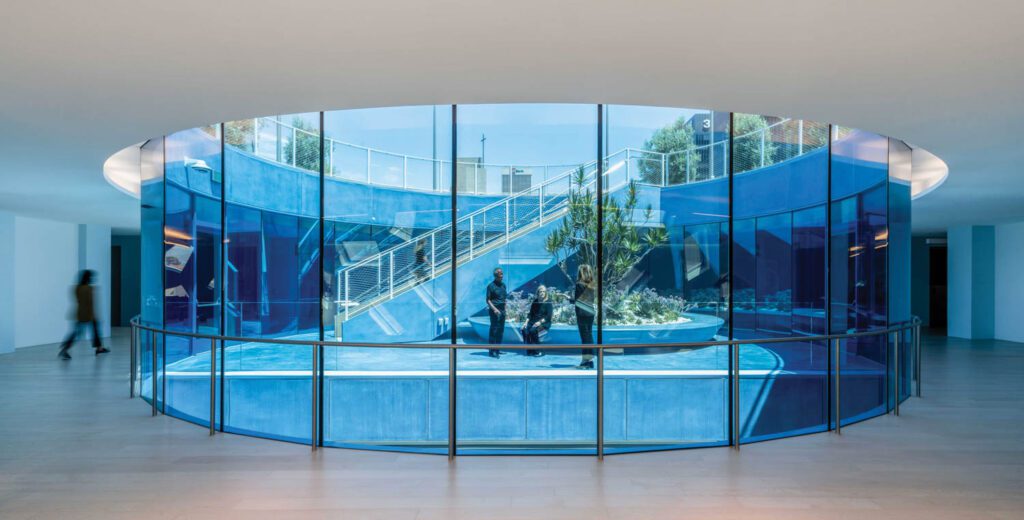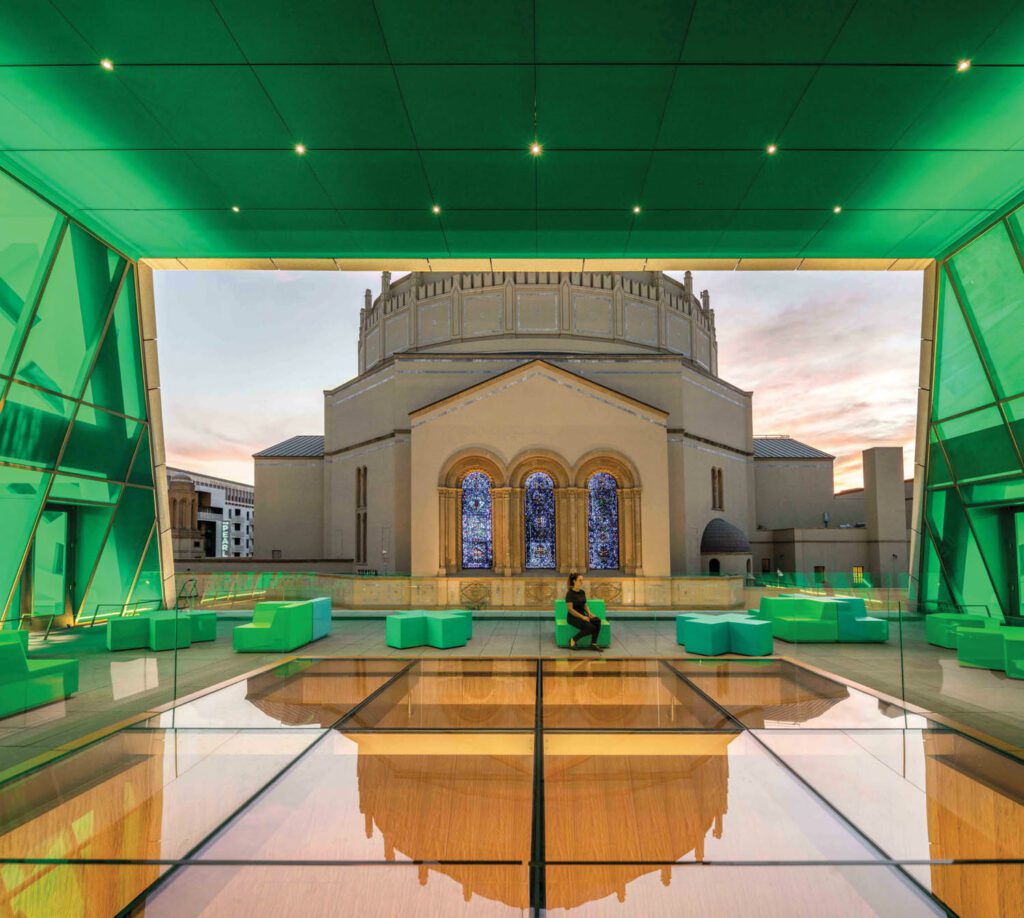 OMA
: SHOHEI SHIGEMATSU; jAKE FORSTER; Jesse catalano; david chacon; caroline corbett; nils sanderson; andrea zalewski; natasha trice; marie claude fares; wesley leforce; sandy yum; jade kwong; shary tawil; joanne chen