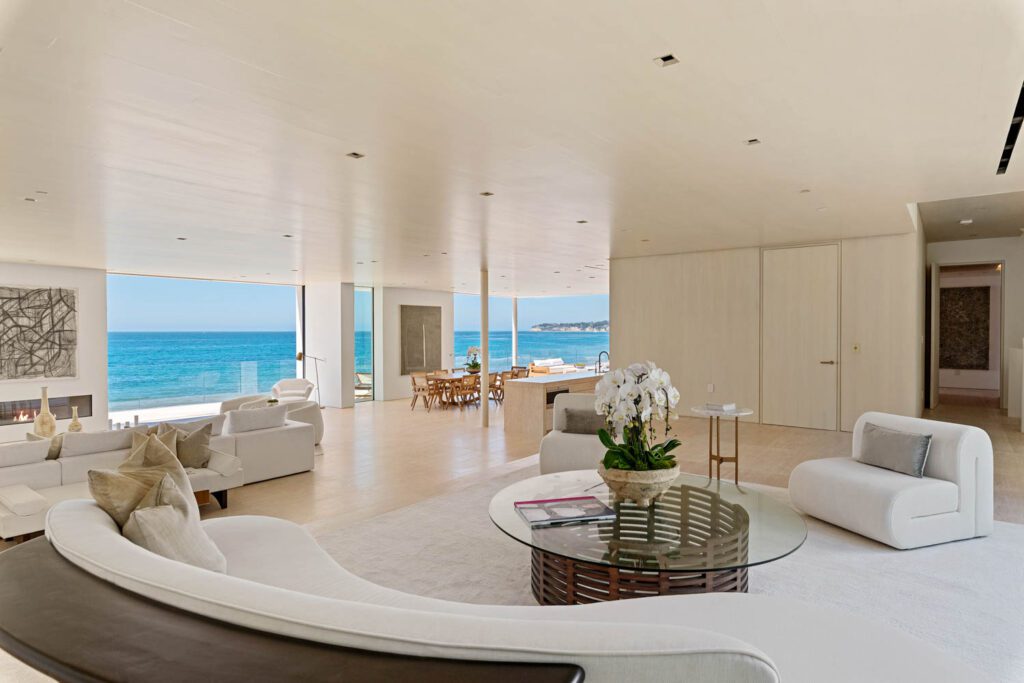 Oppenheim Architecture Designs a Malibu Marvel
Talk about a dream house. For contemporary design lovers, a Chad Oppenheim residence beach front in Malibu is the ne plus ultra. No dream at all, it's the real thing: a crisp white tri-level dwelling on Escondido Beach not far from the city's Point Dune. Perhaps the best part? It's a spec project and as yet is still up for first dibs.
With studios in Miami and Basel, Oppenheim Architecture has certainly made its mark world-wide. Commissioned homes come to mind first, and they've touched down in such far-flung locales as Caracas, Venezuela; the Bahamas; Aspen; Oberwil, Switzerland outside of Basel; and, of course, Miami Beach. For an exotic getaway, check into the Emiliano Rio at Rio de Janeiro's famed Copacabana Beach and further afield keep an eye on progress at the Desert Rock eco-tourist complex set within a landscape of caves and crevices in Saudi Arabia. For a seaside meal, reserve a table at Forte dei Marmi, the restaurant not in the much-loved Tuscan town, but closer to home in a 1938 building in Miami's South Beach. Commercial work fills the portfolio, too. All this by way of introduction to Oppenheim's own introduction to speculative work.
"I'm always putting myself as the person experiencing any project," says the Cornell-educated architect and recipient of the Cooper Hewitt, Smithsonian Museum's national design award for interior design. "I design around the feelings I want to create for the end-user or the greatest common denominator of end users." Thus, he responds to the obvious initial query of differences between commissioned and speculative work. "With a custom home for a client, I'm more in a dialogue. With a spec house, I'm in a dialogue with myself, and these dialogues are more abbreviated. There's one less participant discussing pros and cons." Vast experience helps. "Doing so many homes for end users helps us understand what the eventual owner would want."
In this case, it would be, of course, sweeping views of sea and coastline, celebration of daylight, open space inside, and dematerialization between indoors and out. "Malibu is one of my favorite places on the planet," Oppenheim enthuses. In terms of natural beauty, "it has it all, which generates a lifestyle, atmosphere, vibe, and experience."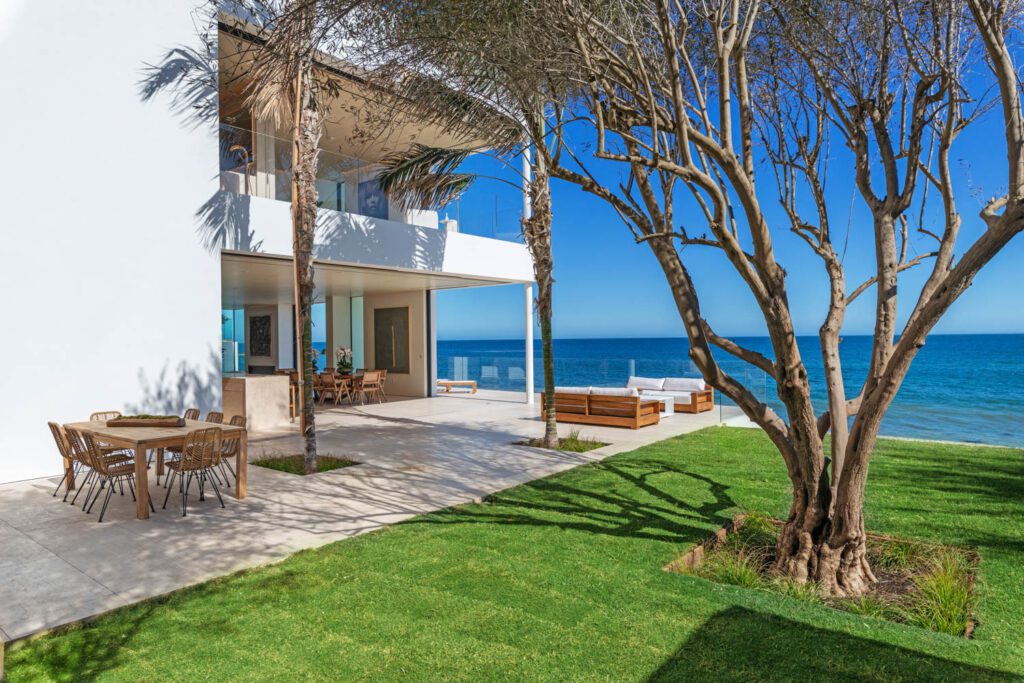 Thoughts and feelings turned concrete in the complete renovation of this "faux Mediterranean" dating to the 1980s. Encompassing 7,160 square feet, the dwelling is now organized with a contiguous living, dining, kitchen expanse on the main level, its 74-foot-long glazed front completely retractable. Same for the glass side opening onto a terrace and adjacent garden, the generous outdoor space a contrast to many of the tight confines of, say, the Malibu Colony. Elsewhere, corners are cut away and glazed as well, giving views as far as the eye could see. To add a bit of definition to this common living space and set the stage for three seating groups, Oppenheim raised it three steps up at the entry. "It's almost like theater," he says of the procession. Meanwhile, the home's lower level is designated as the entertainment area, while the upper accommodates four bedrooms with en-suite baths.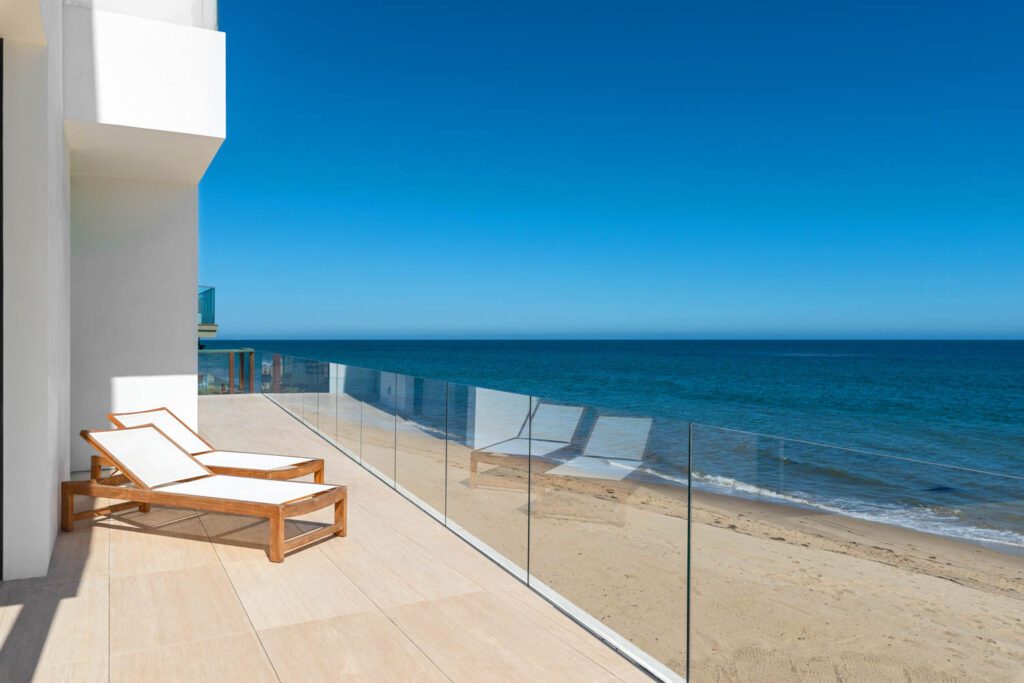 The sea and sunsets are not the only spectacle. Indoor drama comes from the generous spiral stairway as tri-level connector. The pièce de résistance, it is steel framed, fabricated in pieces, and was plastered on site during assembly. Replacing three in the house's previous incarnation, the element is one example of Oppenheim's "search for the essential." Elsewhere, "we found additional floor space by combining hallways into rooms." All in service of a "clean line floor plan."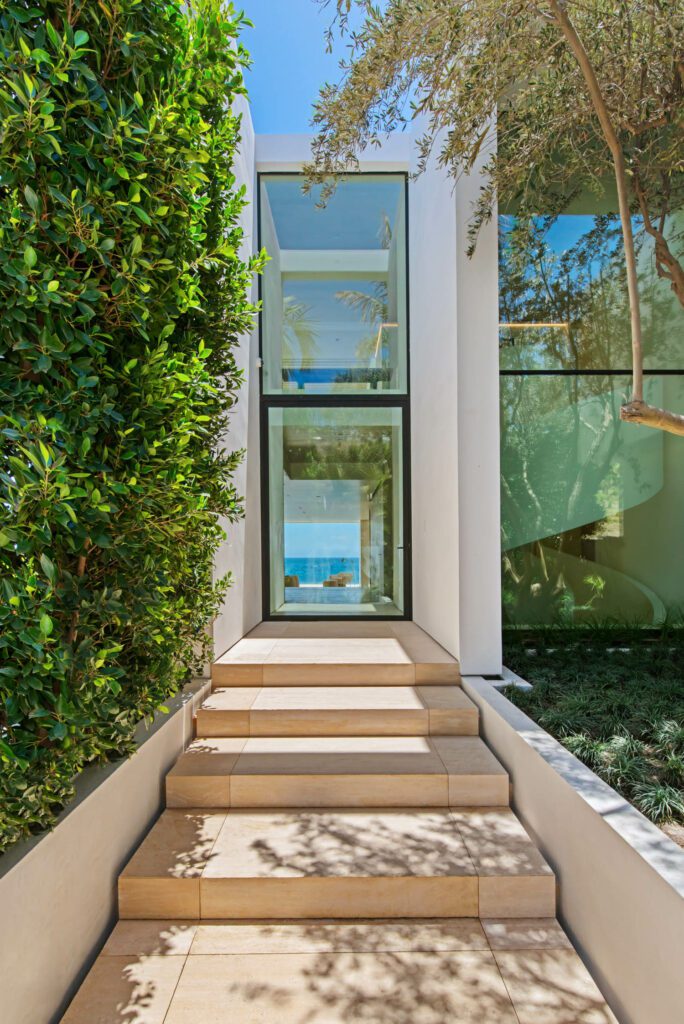 Materials are strictly minimal, natural, and pervasive. That means travertine, oak, and mineral plaster. Furnishings, though staged, are beckoning white pieces that Oppenheim himself might have chosen. Ditto for art works. As for the eventual owner, Oppenheim waxes poetic: "Whoever lives here will be incredibly happy." So will the architect. As follow-up, he's designing two more Malibu homes, one for an end-user, the other speculative.