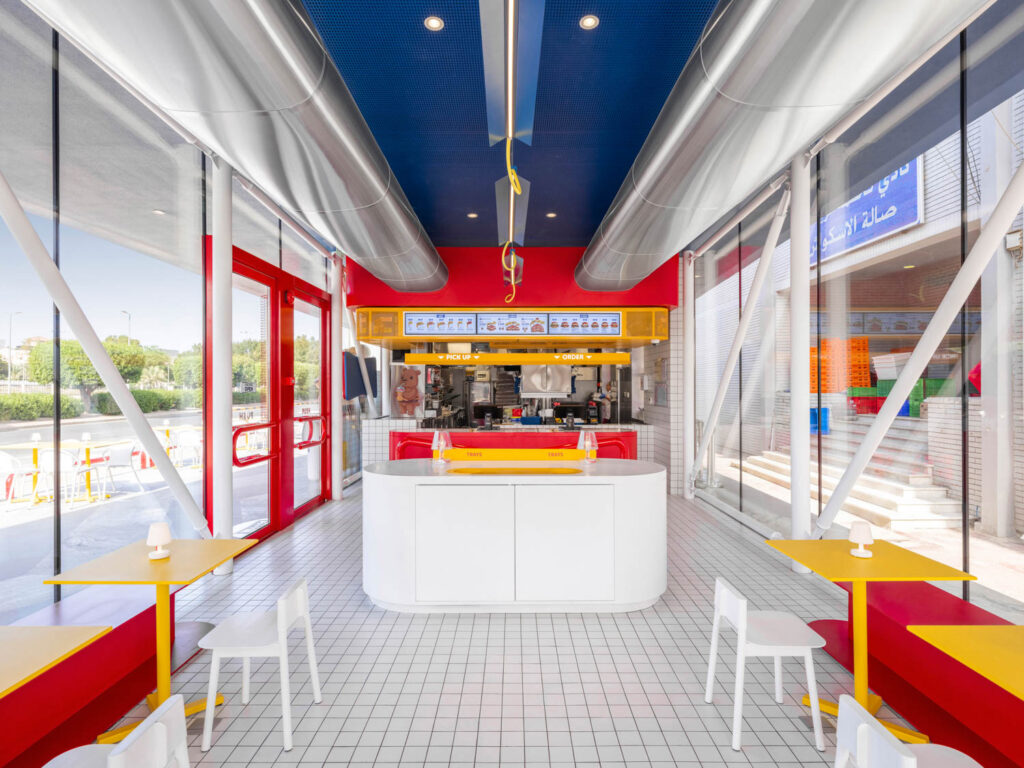 Pattie Pattie, an Eatery in Kuwait, Channels a U.S. Aesthetic
Fire engine red and mustard yellow are colors associated with popular fast food spots in the U.S., though who's to say their influence ends there? In Kuwait, a playful casual restaurant with industrial elements weaves the vibrant hues throughout, nodding to U.S. eateries and retro palettes. Designed by local firm WEFT, the roughly 968-square-foot space features sunny interiors and design-driven accents such as talk tubes, custom furnishings, and a dedicated play area with swings.
"Kuwait's fascination with American culture has deep roots, and a wave of new dining spots is finding its own identity by being perceived as locally made but with an American spirit," says expat Ricardas Blazukas, founder and design director. "Pattie Pattie is the product of that phenomenon." To invite a feeling of nostalgia, the design team studied U.S. restaurants that marked the birth of the fast food era, ensuring Pattie Pattie's architecture and interiors hinted at mid-century landmarks while offering a modern twist.
"In today's world, people do not expect much when they go to a fast food restaurant, but we wanted to change that," he asserts. "It was important to us to deliver not just a structure but a piece of high-quality architecture." The resulting space offers guests a sensory experience well beyond what's on their plates, from Heatherwick Studio's Spun chairs outside, which resemble in-motion spinning tops, to neon lights that enliven the navy ceiling.
Interior chairs are custom by WEFT, as are the exterior picnic tables, laser-cut from steel sheets and designed to minimize waste. The picnic and play area also are complemented by two distinct types of granite and a xeriscape garden of Washingtonia palms. But the defining feature is a striking cantilevered canopy. "The building's design was born from the limitations imposed by applicable regulations for the plot," shares Blazukas. "As a result, the design features a large cantilevered canopy cutting across the full width of the plot in a dynamic diagonal composition." The canopy also shields the interiors from sun, enabling WEFT to line the walls with clear low-emissivity glass to optimize natural light, creating a casual eatery that coaxes customers to dine-in.
Pattie Pattie Serves Up Nostalgia With a Twist in Kuwait