Perkins + Will and Valerie Pasquiou Dress Up Swarovski's New York Office
There Will Be Bling. When you're designing the New York office of Swarovski, the Austrian crystal manufacturer that was founded in 1895 and has in recent decades become a fashion and jewelry powerhouse, you can be sure of that. Especially when your primary client contact is the jet-setting style maven Nadja Swarovski, one of the company's five executive board members. If your scheme is overly blingy, however, it runs the risk of echoing that famous line from Valley of the Dolls: "Sparkle, Neely, sparkle!"
So Perkins + Will's principal at large, Joan Blumenfeld, and Valerie Pasquiou Interiors & Design made sure that their scheme was perfectly calibrated between glam and calm. It helped that the location, high up in a tower with relatively small floor plates and windows on three sides, provided a bounty of sunshine to the two-level, 13,000-square-foot space. "It's such a pleasure to work with that many windows," Blumenfeld says, particularly when showcasing a product that's "very shiny, very glittery" in response to light. Considering the inherent energy factor of Swarovski, Valerie Pasquiou notes, "We just couldn't over-design."
Another factor to take into account was Nadja Swarovski's well established tastes, notably a penchant for white. In the reception area, white leather upholsters the swivel chairs, while a look-alike covers one of the walls. Nevertheless, the palette is hardly monochromatic. Right across from the white chairs sits a periwinkle-blue sofa. "Nadja loves blues and greens," Pasquiou says. The oak floorboards also warm things up.
"Nadja said she was looking for a 'hospitality' atmosphere," Blumenfeld explains. "People should feel like they're entering a really beautiful kind of hotel or house." Carved into the marble wall behind the reception desk, the Swarovski name sets a certain tone. "It relays luxury in an understated way for a company that is not a Johnny-come-lately," Blumenfeld says. The font is classic capital letters with serif flourishes.
By the elevators, a display case in a faceted crystal shape contains a single enormous crystal in its uncut state—the first of multiple gestures meant to convey the many sides of the coveted glass. From here, a deliberate progression was conceived to highlight the company's star product. "It's kind of a subtle thing but, right when you walk in, you get an understanding of how crystal can be used," Blumenfeld says. That uncut crystal rests on a plinth covered in suede in a pale gray that reappears, at a much larger scale, for the solid-surfacing reception desk and the adjacent gallery's counters containing loose crystals and small pieces of jewelry for client perusal.
The progression moves forward quietly, and then. . . bam! Descending through the center of the floating staircase is a huge crystal "cascade," actually an LED chandelier commissioned from Vincent Van Duysen for a Swarovski Crystal Palace installation in Milan during the Salone Internazionale del Mobile. In addition, crystal strands hang between the stair and the building's glass wall. A fêng shui expert, getting in on the act, recommended positioning this crystal curtain to prevent good energy from flying out the window.
Blumenfeld cites the stair as a favorite element for a reason less spiritual
and more physical: "Designing for health" is one of her great interests. Another health-conscious amenity is a "wellness room" with ample windows—not shunted off to some dingy space at the core. And no off-gassing materials were used when they could be avoided.
Work spaces for the 60 employees offered an opportunity to consider crystals conceptually. "Crystals are graphic, so we emphasized graphic elements," Pasquiou says. "We did things like using a bronze finish on the frames of the showrooms' glass fronts." The showrooms line one side of a wide corridor.
Its opposite wall is covered with a complex series of vitrines, frames, and
LED screens in a puzzle-like composition inspired by the abstract sculpture
of Louise Nevelson. Below are rows of drawers. "Wherever you turn, there are drawers of crystals," Blumenfeld says. "There must be tens of thousands in this place. It's amazing."
While the showrooms are on the lower level, upstairs is largely workstations. They're interrupted by an open lounge furnished with a pair of curving sofas in
a royal blue. Pasquiou chose a similar tone for the wool rug grounding the corner conference room. "There are a lot of rugs everywhere to emphasize the 'hospitality' idea," Blumenfeld says. The designers' success in carrying out that mandate is crystal-clear.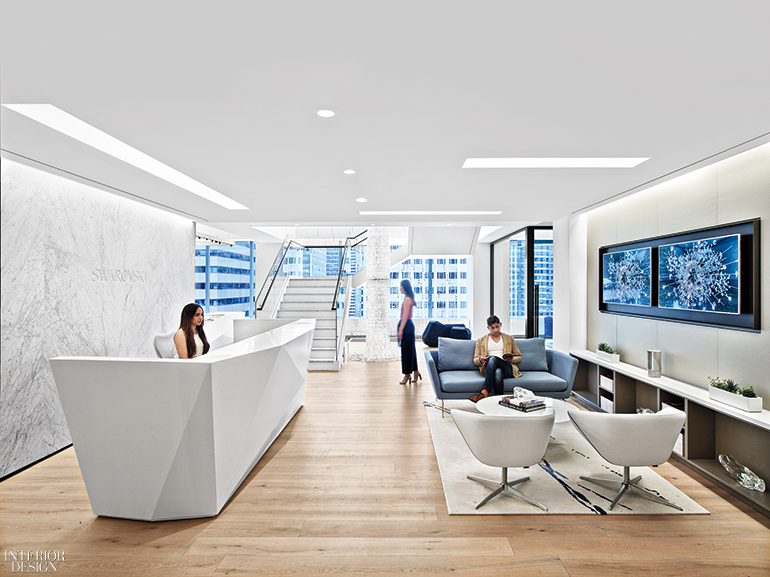 Project Team: Zafrin Hossain: Valerie Pasquiou Interiors & Design. John Sadlon; Bo Kim; Steven South; Jeanette Kim; Amanda Langweil: Perkins + Will. Hillmann Dibernardo Letter Castelli: Lighting Consultant. Labrador Technology: Audiovisual Consultant. Buro Happold Limited: Structural Engineer. Cosentini Associates: MEP. J.T. Magen & Company: General Contractor.