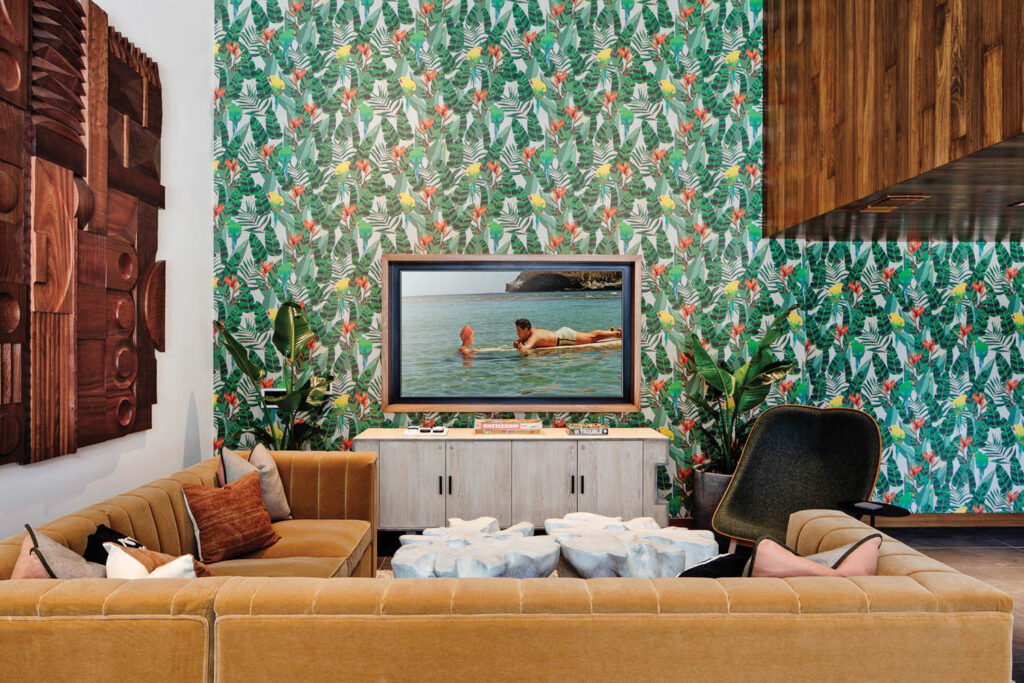 6 Luxurious Residential Developments Around the World
Whether rental or condo, America or Asia, today's residential developments are housing occupants in supreme style amid five-star amenities.
Inside Luxury Residential Developments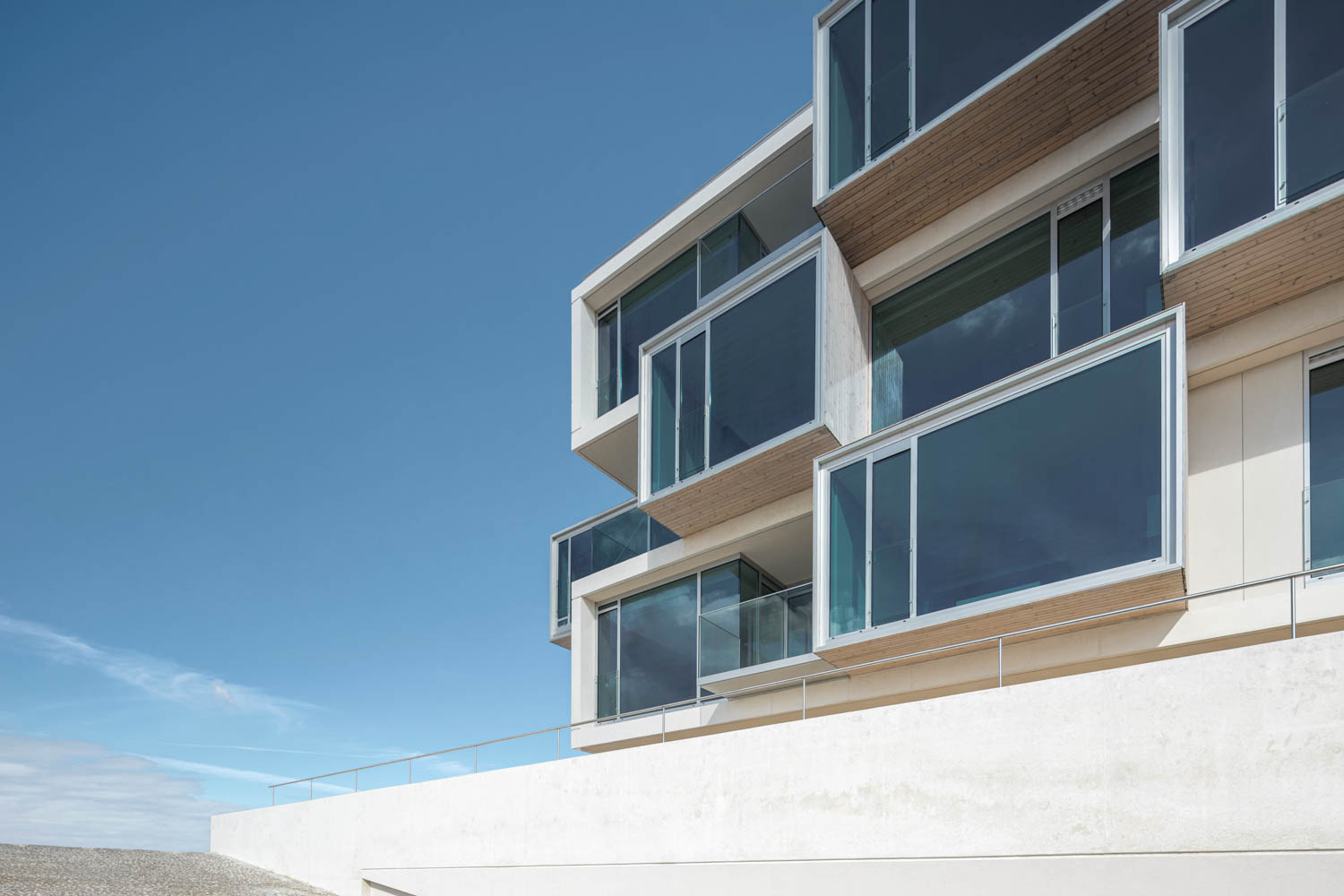 Staggered white concrete units partially clad in timber battens adhere to the grid in this three-story apartment building featuring abundant glazing that overlooks the canals of the city known as the Portuguese Venice. The 45,000-square-foot structure is raised on stilts, leaving the ground level as an open pavilion sheltering coveted perks, including a heated indoor pool that segues to a lawn.
Bradbury, San Diego by Vida Design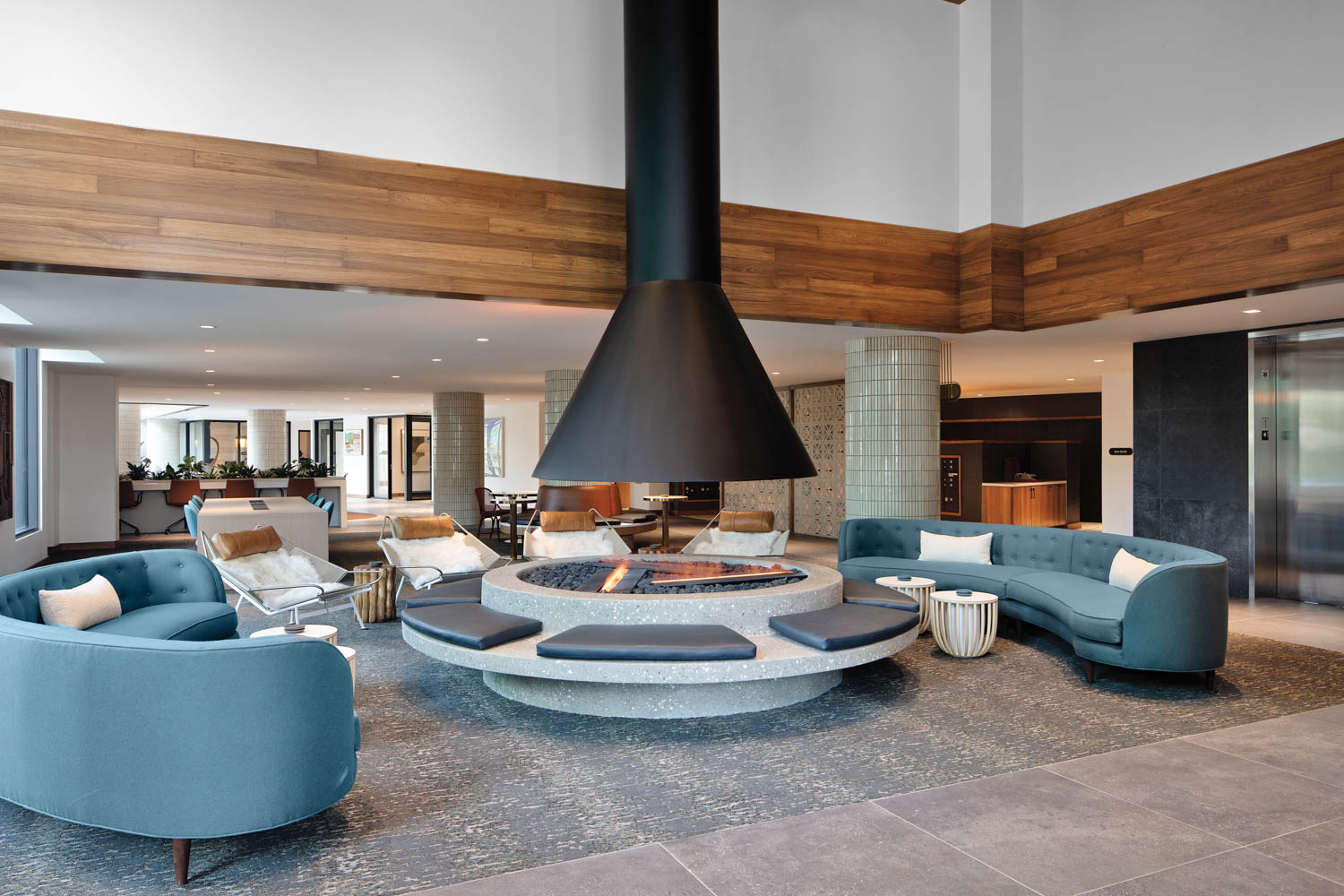 Part of The Society, a new three-building rental-unit complex by Carrier Johnson + Culture that's anchored by the Town and Country Resort, which was originally built in 1953, the Bradbury channels a mid-century lounge aesthetic, transporting residents to California's golden era with public spaces hosting carved walnut wall art, tropical wallpaper, textural ceramic tile, lavish mohair sectional upholstery, and a groovy concrete-slab fireplace.
The Bellslip, Brooklyn, New York by Leong Leong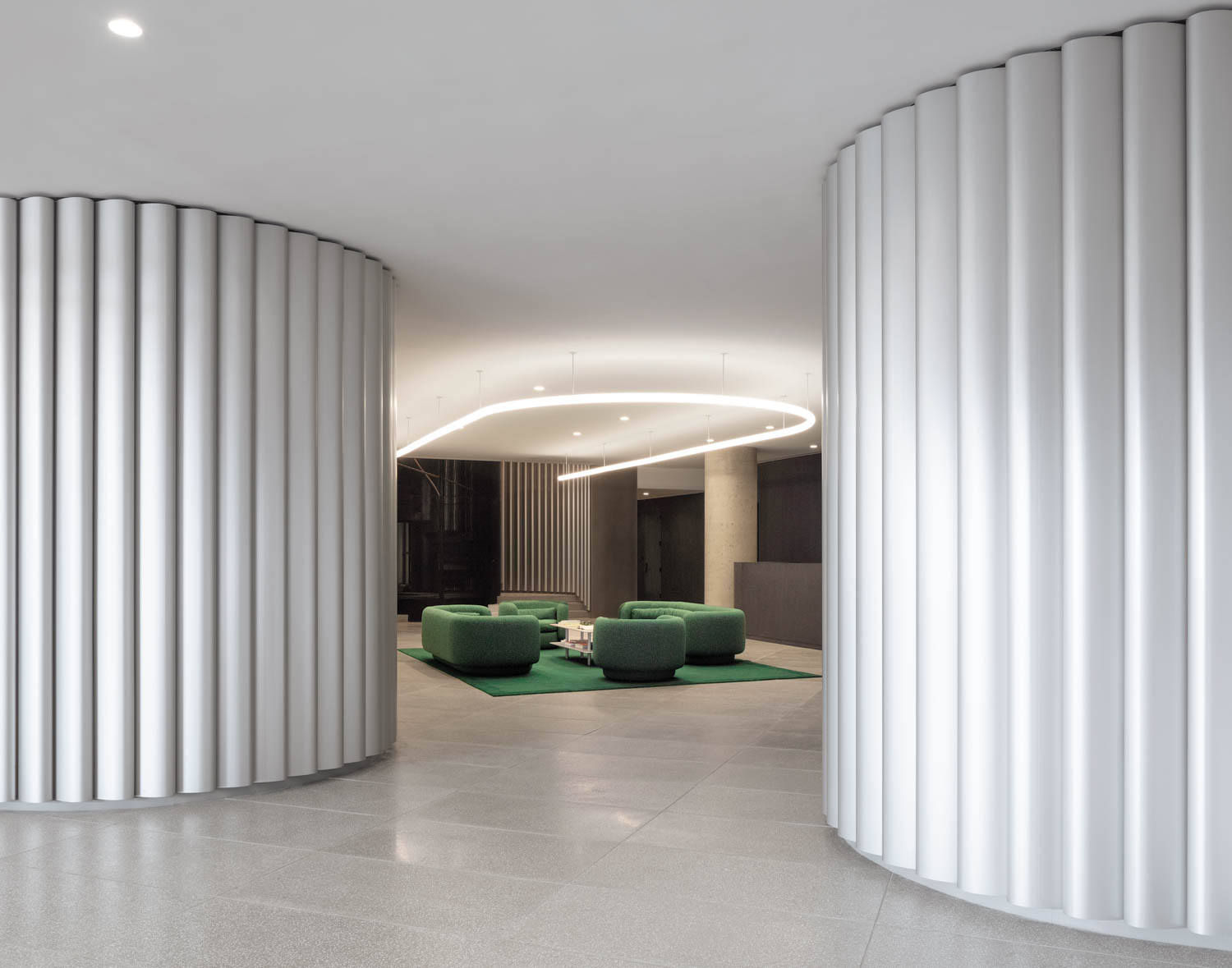 The 30-story rental tower in Greenpoint offers residents refined informality via a varied collection of spaces for living, working, and gathering—and even extends the experience to the public in the urban room, aka the entry lobby. There, curved walls fronted by anodized-aluminum extrusions flank partitions that pivot on tracks in the floor. Farther in and upstairs, monochrome contemporary seating defines the private lobby, café, and reservable room for tenants.
HSR Excellent City Hiyoshihoncho, Kanagawa, Japan by Moriyuki Ochiai Architects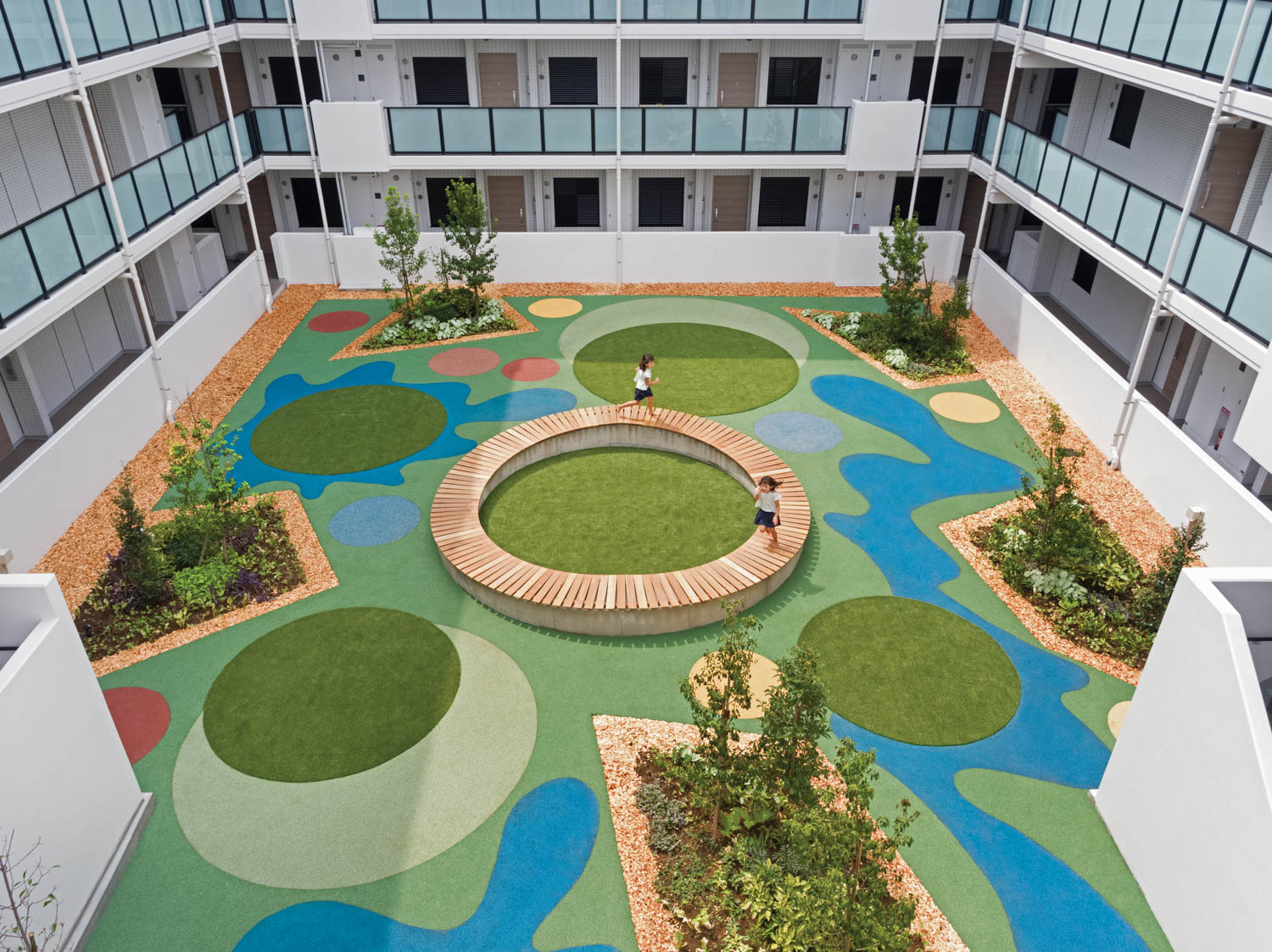 Faced in minimalist white tile, the five-story, U-shape condominium edifice takes poetic inspiration from its surrounding hills and rivers. Colorful AstroTurf and rubber-chip surfacing in geometric and organic shapes anchor the courtyard's native plants and built-in seating. In the entry hall, illuminated resin ceiling recesses, crafted by Moriyuki Ochiai himself, mimic sunlight reflecting off water.
The ground-up 1.2 million-square-foot condominium building blends into DUMBO's grit with its facade of custom Glen-Gery bricks and panoramic factory-style windows. Interiors are more cosseting. Limestone floors the wine room, burnished wood lockers outfit the billiards room, and the four lobbies, boasting luxe furnishings from The Future Perfect, Mark Jupiter, and Matter, lead to a ½-acre park by Michael Van Valkenburgh Associates.
The Set, New York by MAWD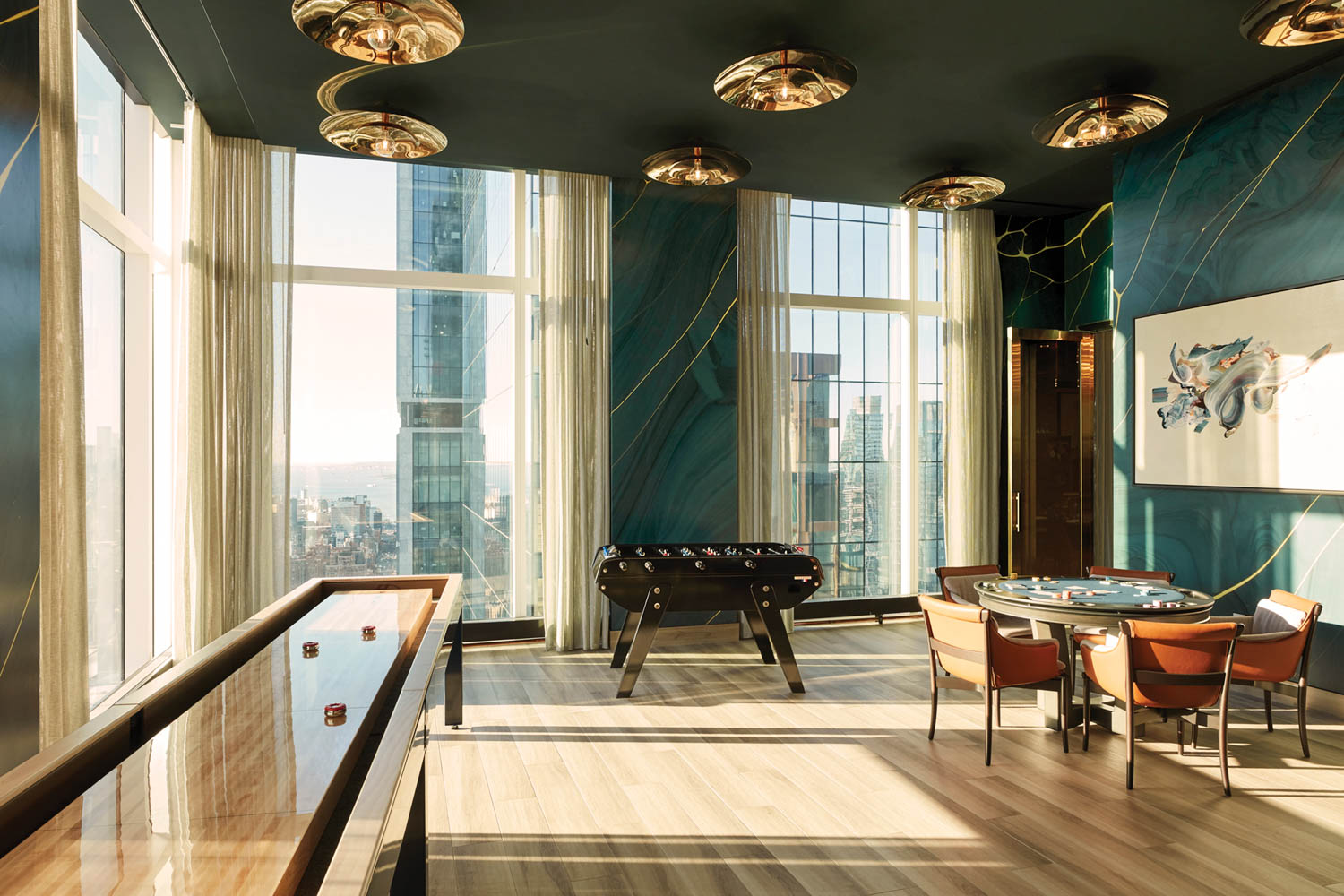 The 44-story Hudson Yards rental building by Handel Architects that contains 280 furnished residences includes a host of amenities, from a games den with a statement wallcovering evocative of the Northern Lights and a grand common area with Mario Bellini sofas and twin rose-marble coffee tables to a private members club. Kicking it all off near the concierge desk is a spiral staircase in Calacatta Gold marble, hand-patinated bronze, and high-gloss red paint.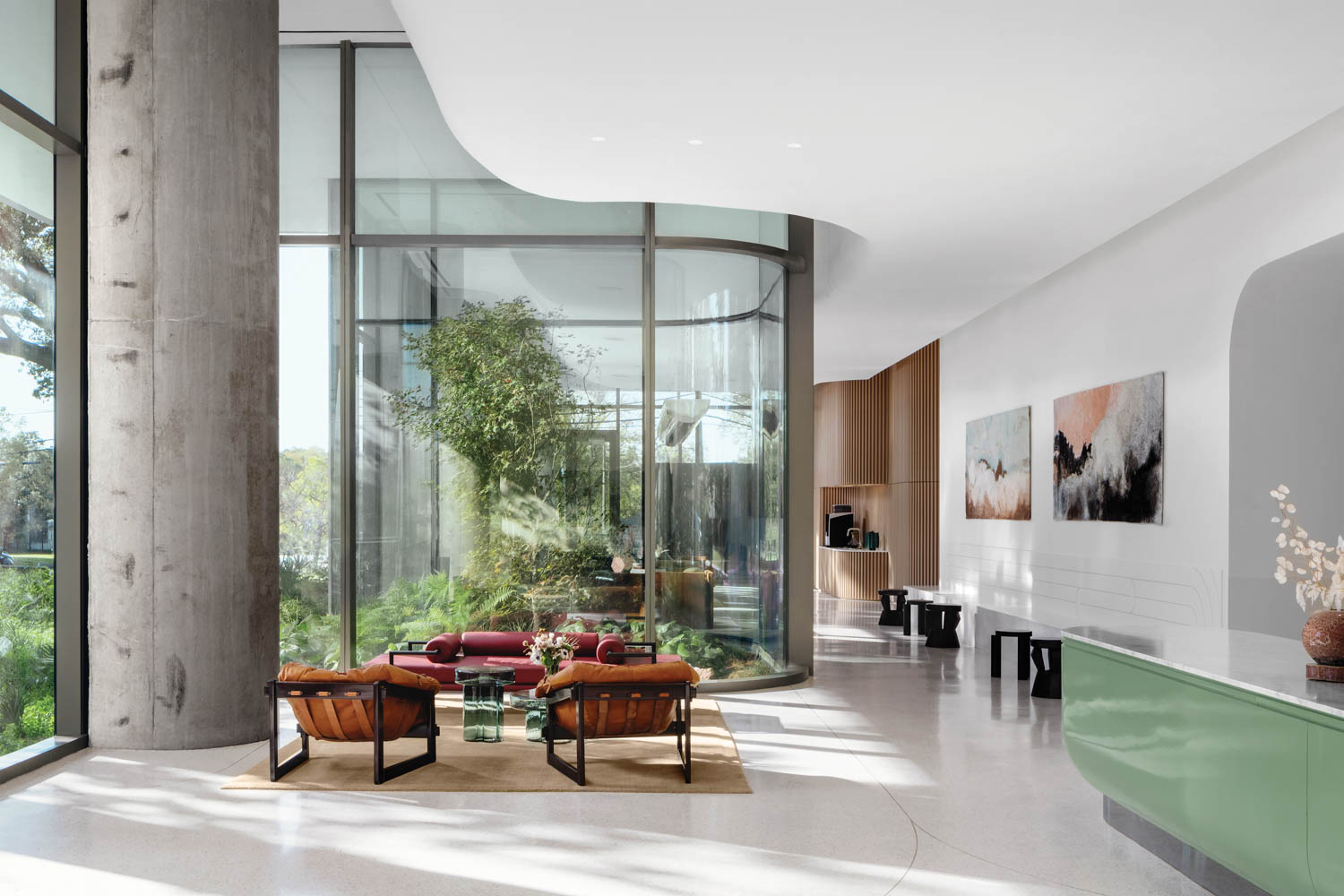 Located at the edge of the Colorado River, the 51-story condominium tower's relaxed yet upscale concept was inspired by the idea of water currents sculpting space. In the lobby, for example, a greenhouse atrium curves in from the curtain wall, poured concrete terrazzo flooring mimics the gravel of the nearby riverside trail, and the plaster ceiling has a subtly rounded shape like the hull of a boat.