RMW Architecture & Interiors Designs a Headquarters for Robotic Medical Specialist in Silicon Valley
Depending on the procedure, patients today have a choice between non-robotic and robotic surgery. But it's not entirely an either-or situation if they opt for robotic. A surgeon is always present, seated at a console to manipulate the robot's arms with its scalpels and instruments. The upside, according to Intuitive Surgical, creator of the robotic da Vinci Surgical System, is a less invasive operation with minimal incisions. Since being granted FDA approval in 2000, roughly 6,000 of the systems have been installed in hospitals worldwide.
Located on a 22-acre campus in Sunnyvale, aka California's Silicon Valley, Intuitive is both a research-and-development venture and a manufacturing-and-assembly factory for surgical parts. The C-suite occupies a ground-up building along with clinical facilities to teach procedures. Otherwise, employees within the company's various divisions were siloed in single-story, tilt-up structures across the site. Experiencing explosive growth, Intuitive clearly needed to commission headquarters. That's where RMW Architecture & Interiors enters the picture, obtaining permitting for a four-story, 300,000-square-foot structure.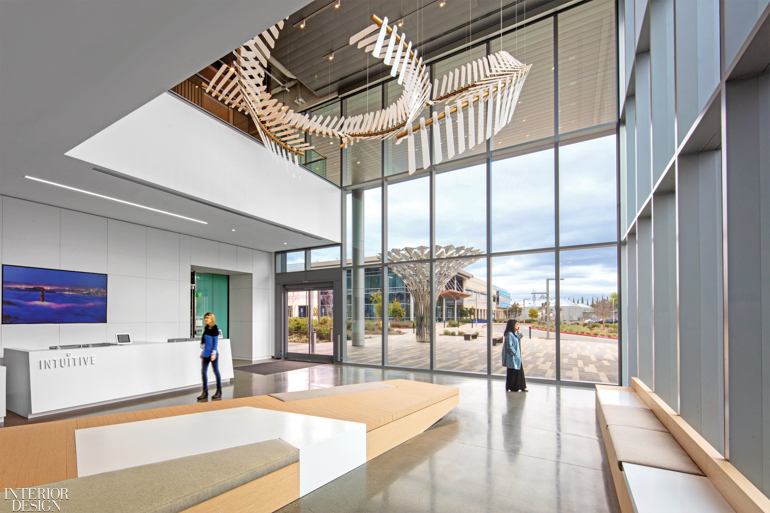 "Flexibility was key," principal Steve Worthington begins. Initially the program was general: Design a building to accommodate any one of the R and D divisions. With construction already underway, however, the program shifted to be more specific. Intuitive decided to put its
instruments-and-accessories unit in place as well. The change in plans meant, well, a change in plans for organizing the ground floor. It also meant raising a portion of that ceiling to accommodate a requisite clean room, a completely sterile environment where surgical instruments are delivered, cleaned, and assembled. But the revised scheme brought together the unit's entire staff. And that was the point. Designers and researchers would engage with staffers in receiving and assembly. Proximity would breed cross-pollination and innovation. "For Intuitive, it's a new way of doing business," Worthington says. "It's a model for the company's future, with a real-time feedback loop within one facility." The building is concrete with a wraparound band of glazing. Figuratively, "the glass is the glue," Worthington says. It cements together teams for assembly and testing. R and D occupies the top two floors with labs and touch-down cubes for engineers. The ground level, given its proprietary manufacturing, receiving, and clean room, is more opaque. Every floor has offices, and each of their four quadrants has a connecting stair plus an elevator, with bright blue supergraphics providing wayfinding.
Since Intuitive hosts plenty of hospital personnel and physicians and delights in touring them through, the entry sequence needed to be impactful. It begins outside at the entry plaza, which is dominated by a soaring stainless-steel sculpture cum shade canopy called Cosmos. "It's like a chameleon in the way it captures light," Worthington notes. Perhaps more fascinating still is the piece's underlying design process involving the Fibonacci sequence to mathematically create its shape.
Inside, the bright and airy double-height lobby is sparsely furnished with a massive white oak bench and a monolithic desk in white solid-surfacing. Overhead swirls another large-scale installation, Tailfeathers, composed of dozens of white riblike blades. "It relates to the spine—malleable and human, not at all machinelike," Worthington proffers. But the real main event for Intuitive is what the company calls the "story corridor." Functionally, it's the connector between the lobby and the company café, where employees enter after passing through an aluminum-paneled stairwell leading from the garage. Narratively, it illustrates just what the instruments-and-accessories division does, with its wall of embedded videos and oversize photographs of people, tools, and processes and windows offering glimpses into the clean room, a story in its own right.
Constantly busy, with items coming in from the loading dock and then being cleaned and assembled by employees, who suit up completely before entry, "the clean room," Worthington says of the crucial component situated amid industrial surroundings of gray epoxy flooring and an exposed ceiling, "appears precious, like an iPhone, but we did it without using expensive materials." The room is encased by a gleaming, white-painted steel framework. Flexibility was a governing factor, so all equipment and platforms are on wheels. Lighting is critical; in terms of lumen output, it's surgical quality. Not everywhere, though, required strict clean-room status. Actually, much instrument-and-
accessories assembly occurs where light pours in from two glazed sides. This hub is meant to be inspirational. "Typically, manufacturing spaces are not as well situated," Worthington says.
The café is also a hub, its oak woodwork making the space read a bit warmer than the mostly white-and-gray palette dominating the state-of-the-art project. It also continues RMW's art-full prescription for the HQ, with a
nature-inspired installation of
aluminum tubes and acrylic leaves that cascades 6 by 18 feet. Speaking of procedures, RMW's phase two for Intuitive is already underway.
Project Team: Bart Mcclelland; Patrick Todd; Vi Bracco; Brent W. Wollenburg; Ron Aguila; Stephanie Silkwood; Gloria Rasmussen; Josie Camaclang; Felice Rosario; Eunice Furuta; Larry Peifer; Jasmin Camarillo: RMW Architecture & Interiors. Royston Hanamoto Alley & Abey: Landscaping Consultant. Propp + Guerin: Graphics Consultant. Light­switch: Lighting Consultant. IMEG: Structural Engineer. Glumac: MEP. Kier & Wright: Civil Engineer. Brookside Veneers; Crestmark Architectural Millwork: Woodwork. Buildgroup: General Contractor.
Product Sources: Eurospan: Ceiling System (Hall). Wilsonart: Paneling. Group Delphi: Light Boxes. West Elm: Benches. Maharam: Cushion Fabric. Yellow Goat Design: Pendant Fixture (Lobby). Walters & Wolf: Curtain Wall Panels (Exterior). Kenall: Light­ing (Clean Room). Stonhard: Epoxy Flooring. BasX Solutions: Modular Furnishings. Finelite: Linear Fix­ture (Stairway). Coalesse: Chairs, Tables (Café). HPL: Parsons Tables. Belgard Moduline: Concrete Pavers (Exterior). Throughout: Halo; Soraa Arc; 3G Lighting; USAI Lighting: Lighting. Hunter Douglas: Ceiling Panels. Ceiling Plus Illusions: Ceiling System. Alucobond Panels: Composite Wall Panels. Pohl: Formed Wall Panels. Reynobond: Perforated Wall Panels. Graniterock: Concrete Flooring. Du Monde: Wood Floor­ing. Terrazzo & Marble Supply Companies: Terrazzo Flooring. Lotte Chemical California: Solid-Surfacing. Fenix NTM: Plastic Laminate. Sherwin-Williams Company: Paint.