Rottet Studio Makes Layovers a Luxury at Renaissance Atlanta Airport Gateway Hotel
Luxury hotels and Lauren Rottet. They definitely go together. But airport hotels? Not so much. The Renaissance Atlanta Airport Gateway Hotel, at the nation's busiest travel hub, Hartsfield-Jackson Atlanta International Airport, does not sound like the kind of project we expect from this Interior Design Hall of Fame member. On the other hand, why shouldn't road warriors enjoy a touch of class, too? The Renaissance mantra captures it: "Business Unusual."
So begins the saga of Rottet Studio's three-year project. Rottet started by giving the idea of luxury her unique spin, a major departure from time-worn travel experiences. "It's about letting a place have its own voice, something you can't find anywhere else," she says. Here, it's tied to notions of a diverse South. Subtle allusions to history and culture pervade the vast ground level and the 204 guest rooms and suites.
From reception through the lobby bar and lounges, public spaces compose one interconnected open zone, a kind of welcoming living room. Any hints of formality, once associated with Renaissance, have been shaken off—replaced by exposed columns and floor planks resembling concrete. Make no mistake: This is a thorough reinvention, as associate principal Enrique Vela notes: "Early on, we toured Atlanta's Westside Provisions District, which is a bit like the meatpacking district in New York. We brought some of that mentality to the hotel."
Knowing Rottet as we do, the importance of art was a given. Step into the reception area to be greeted by murals. In one, a silhouetted young woman is held aloft by birds. That's right behind the long desk—Rottet's retort to the current rage of hotel check-in via iPad. "With so much technology, you still want some central point where you can see human beings," she says. "This is hospitality, by the way." Alongside the desk, reception's sitting area is anchored by another mural, showing a world map.
Everywhere you look, there are scads of commissioned artworks. And SCAD, as in the Savannah College of Art and Design, is the operative word. The Atlanta satellite campus is "practically in the backyard," Rottet says. Although her art budget may have been limited, student talent obviously was not.
Beyond SCAD, her team scoured professional galleries and artists' studios. Senior associate James Cull adds, "Our goal was a well-rounded collection. Some works are by students, and others are by established names. What's exciting is that you can't tell which is which."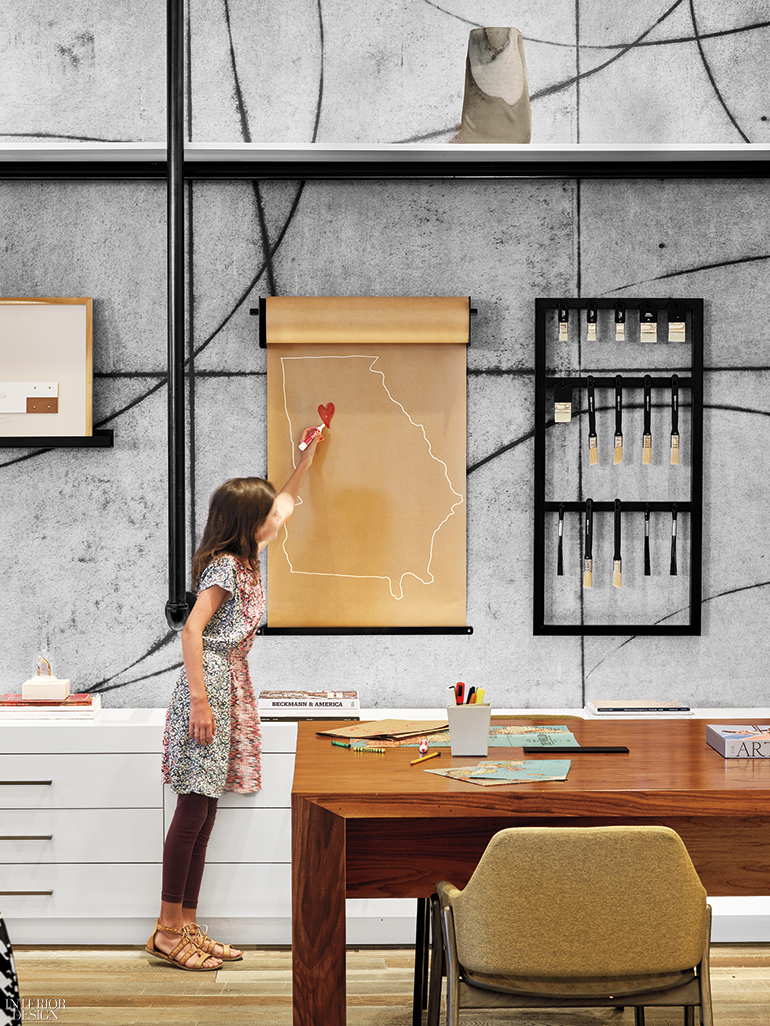 One of the lobby's pair
of lounges is even styled as an "art studio." Part creative space, part meeting room, it's outfitted with brushes and paper in addition to the expected sofas with built-in USB ports. To separate the lounge from adjacent spaces, Rottet used white-painted vertical slats derived from the picket fence, that perennial sign of Southern hospitality.
On one side, what you'll find past the fence is a free-standing bar. When you visit someone's home, she continues, the host is quick to offer a glass of water, a soda, or perhaps a bourbon. Ergo the bar's front-and-center location, steps from reception.
Both the bar and lounges are spots where any guest can linger. The select few have access to the Club lounge. Artwork is more "street" here, she says, pointing out a black-and-white composition recalling the guerrilla murals made famous by Banksy.
Hanging out in a lounge is, for many guests, a prelude to proceeding to the four meeting rooms. In one of them, ascending a wall and crossing the ceiling, a banner is densely covered with a French poem rendered in cursive script. She calls it the Tower of Babel.
An exclamation point or a question mark, both super-size, is emblazoned on each door along the corridors on the six guest levels. "It should make you wonder what's happening inside," designer Ashley Liu explains. The corridors are sunny, too, not to mention artful, with end points enlivened by the fruits of Rottet's gallery crawls.
Inside the guest quarters, the team kept things simple yet refined with upholstered headboards and crisp white bedding. "It's an unusual level of luxury for business travelers," she notes. "In fact, management told me that one guest, on entering her room, thought she was in the wrong place entirely." And she wasn't even staying in the knockout penthouse suite.
Every bathroom, regardless of price point, features a custom mirror with side panels that are angled and lit. "You can tell it was designed by a woman," Rottet says. Here's looking at you, kid.