Shoreline Hotel Waikiki by BHDM Design: 2018 Best of Year Winner for Budget Project
A self-professed "old millennial," Interior Design 40@40 designer Dan Mazzarini is particularly attuned to branding and social media. At his bicoastal firm BHDM Design (he's the DM; BH is Brian Humphrey, who has left but still consults), Mazzarini offers full-service interior design packages, which, for hospitality clients, extends to uniforms, key cards, even merchandising their gift shops. The principal's forte is an ability to adopt any style. "All our projects look different," he says. "The goal is for each to have a unique narrative."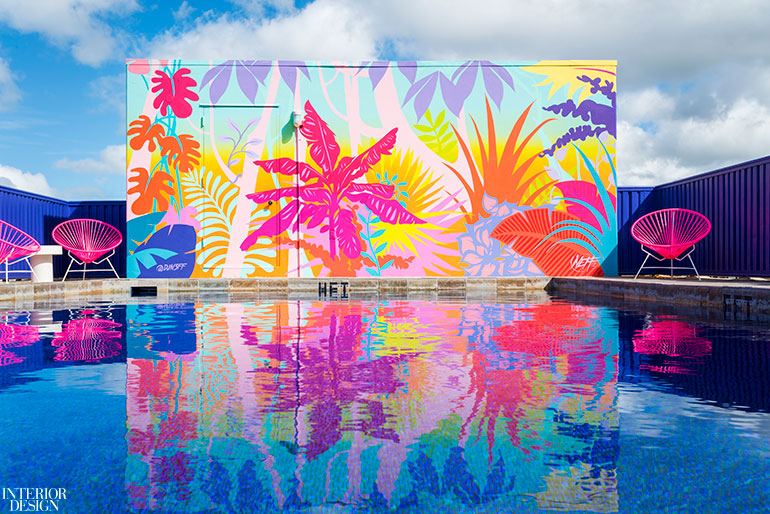 Mazzarini's latest endeavor is in Honolulu's main tourist district. The 1970's mid-rise was originally a United Airlines–owned apartment building where flight crews could stay during layovers; afterward, it became the Shoreline Hotel Waikiki. Now the 56,000-square-foot, 135-key property is repositioning itself as a tropical getaway full of Instagram-able moments.
"What we saw in the market was a ton of neutrals," Mazzarini notes, "but the local landscape and sunsets are so colorful." Thus, the elevator pitch: Nature meets neon. The double-height lobby, for example, is awash in hibiscus pink, canary yellow, and ocean blue. As if that isn't already vibrant enough, at night, colored LEDs layer over the space, making it glow like a James Turrell Skyspace. "Hospitality is transient," the designer states. "Why not be fantastical?"
> See more Best of Year Project Winners from the December 2018 issue of Interior Design
Story originally published in the June 2018 issue.