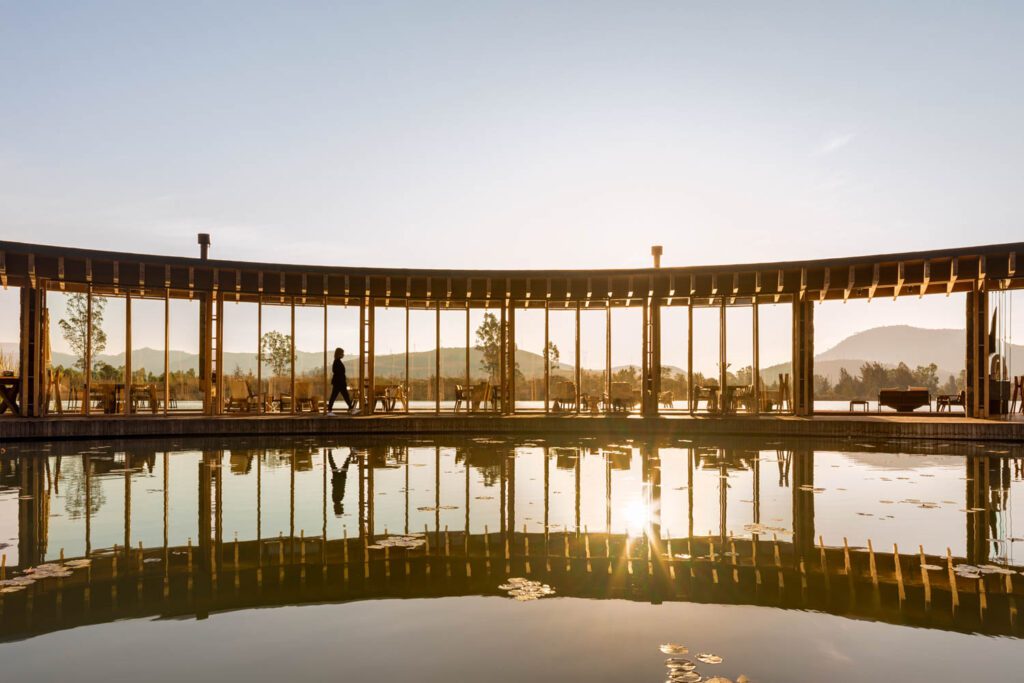 Sordo Madaleno Arquitectos Melds Nature and Architecture for a Residential Development Outside of Mexico City
2021 Best of Year winner for Beauty/Spa
If ever there was a harmonious melding of nature and architecture, it is this 914-acre residential development, located approximately 100 miles southwest of Mexico City. Lake Avándaro and surrounding mountains provide the first element, a new-built clubhouse by Sordo Madaleno Arquitectos, the second. Pragmatically programmed as the project's socialization hub, the 19,375-square-foot structure appears to float on the lake like a boat anchored close to shore, a poetic conceit that is visually stunning while making minimal impact on the land. Donut-shape in plan, the building comprises a largely open framework of cross-laminated timber columns and beams interspersed with stone walls that rise out of the water. The arrangement of solids and voids reflects how the different areas and amenities are distributed around the facility. Open-air corridors that ring its inner and outer circumferences serve as the main circulation routes; a third pathway crosses the watery center of the circle before extending beyond the clubhouse into the lake. It culminates in a floating pool, which is overlooked by the building's most public spaces: the bar and cigar lounge, dining room, gym, deck, and firepit. Enclosed by stone walls, the more private spa zones and service areas—massage booths, steam rooms, saunas, restrooms, kitchen—face the land. A nod to the project's northern neighbor comes in the form of a roof of American red oak.
project team
Sordo Madaleno Arquitectos
: javier sordo madaleno bringas; javier sordo madaleno de haro; fernando sordo madaleno de haro; boris pena; luis pucheta; santiago letona; alba díaz; andrés burguete; ignacio cabrera; josé mendoza; luis de la torre; marco pérez; federico serna; marcos hernández; josé eduardo hernández; fernanda patiño; delfina espina; regina jarque.