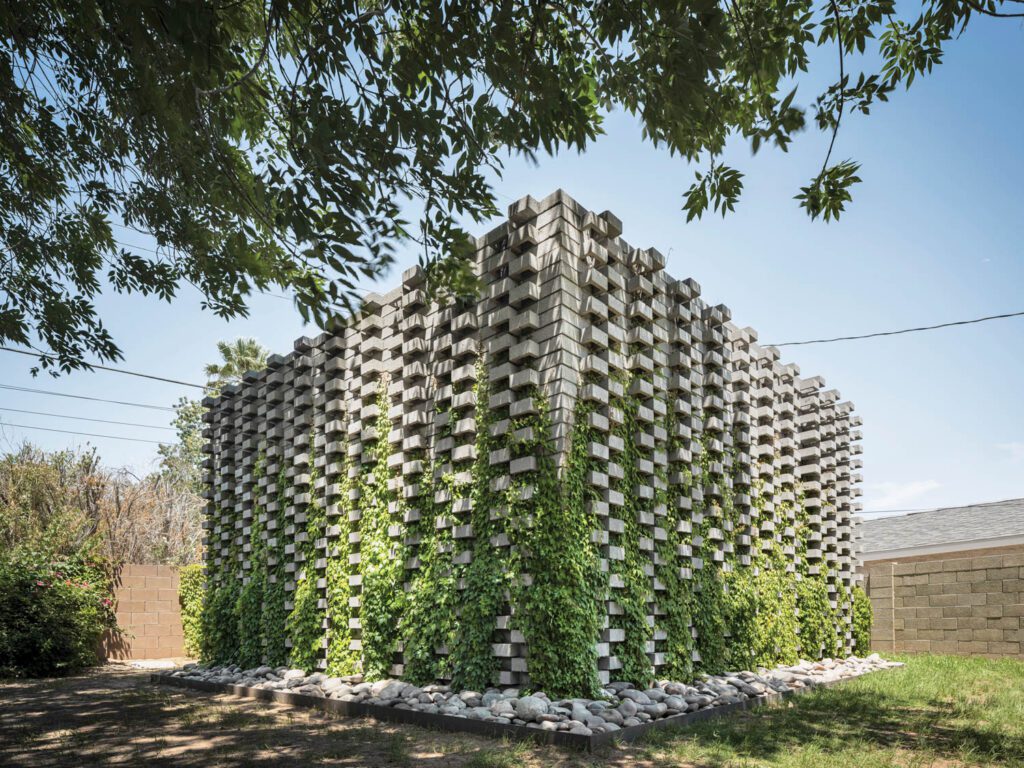 This Home Studio for a Creative Duo is Designed to Disappear into its Surroundings
Aaron Bass and Marie Navarre, an architect and an artist, respectively, are longtime Arizonans who met through a family connection and deepened their friendship through mutual love of the arts. So much so that Navarre, wanting a home studio close to her Tempe residence in lieu of working from a nearby apartment, asked the principal of Stance Architecture to create one on-site so the "commute" from her modest ranch house would be no more than a few steps. Bass obliged with a 428-square-foot volume built of parametrically arranged, protruding cinder blocks interwoven with native hacienda creeper vines.
A "masonry veil" is the architect's term for the construction, and he dubs the project Missing Studio, which is ironic since it stands out as a stunning presence on the lot. (The irony goes even deeper: Navarre describes her photography-rooted art as "placeless.") "It's an object in space, which will continue to disappear within the garden as vines, water, and other natural elements claim it over time," Bass explains, adding that, ultimately, it will be "perpetually hidden within nature." Inside, the pragmatic reigns over the poetic. Bass used Baltic birch and sanded Homasote for built-in storage that hugs the north wall. Thus Navarre, a Buddhist, got the humble materials she desired while Bass achieved understated architectural excellence.