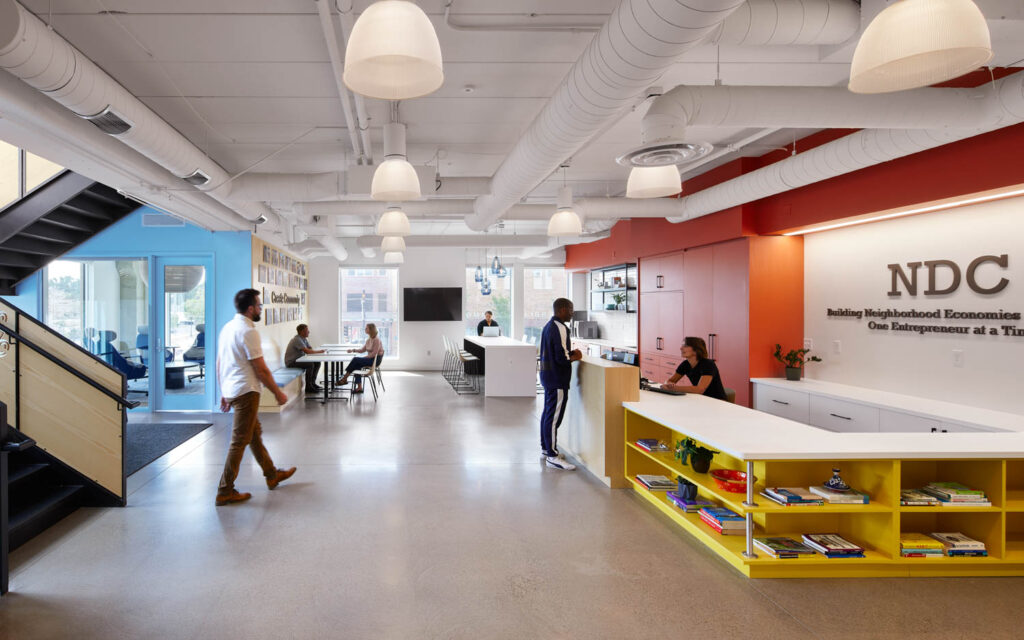 Studio BV Designs a Mixed-Use Space for the Neighborhood Development Center in Minnesota
For an organization built around helping others, Studio BV made it a priority to return the favor, designing the Neighborhood Development Center headquarters in St. Paul, Minnesota, as a pro-bono project. The center, which helps budding entrepreneurs turn business visions into realities through an array of services, from long-term mentorship to low-cost workspaces, needed a new home—one with enough room to foster a growing community. That's where Studio BV stepped in.
"I started my own design studio by saving my money and building it from nothing, so I can relate and connect to the Neighborhood Development Center (NDC) entrepreneurs," says Betsy Vohs, Studio BV founder and CEO. "I felt it was hard to start a business and I am well educated and own my own home and am a native of this country. I could understand how almost impossible it is for an immigrant or a person who doesn't speak English as a first language to try to build a business here."
The vibrant and welcoming mixed-use space was four years in the making—the result of a true collaboration between the design team and NDC. One goal centered around creating a space that felt approachable, ensuring anyone would feel at ease discussing their ideas, which is a hurdle in itself when starting a new venture. NDC's former space, housed on the second floor of a building in St. Paul, lacked areas for community meetings and featured a small lobby with two chairs. The new space reflects a dramatic glow-up, an airy labyrinth punctuated by bright yellows, reds, and blues.
"The most compelling story of the space is the use of color and wood," shares Vohs. Given that NDC facilitates vulnerable conversations, color is used strategically to instill a sense of confidence and warmth. "The use of color and warm birch wood was designed to help ease the visitor into the space and make them feel a sense of possibilities." The furniture and lighting follow suit.
A focal point of the NDC headquarters is a stairway created in collaboration with local artist, Seitu Jones, who also created panels for the exterior of the building to forge a connection with the neighborhood. "When we were designing the entry experience, we thought the idea of having a mural by Jones in the interior would allow the team at NDC and their clients to experience his story telling in a new scale and be something that they could engage with more directly," adds Vohs. Intricate patterns carved in birch wood panels add a dynamic element to NCD's concrete and steel stairway, affirming its connection to community indoors and out.