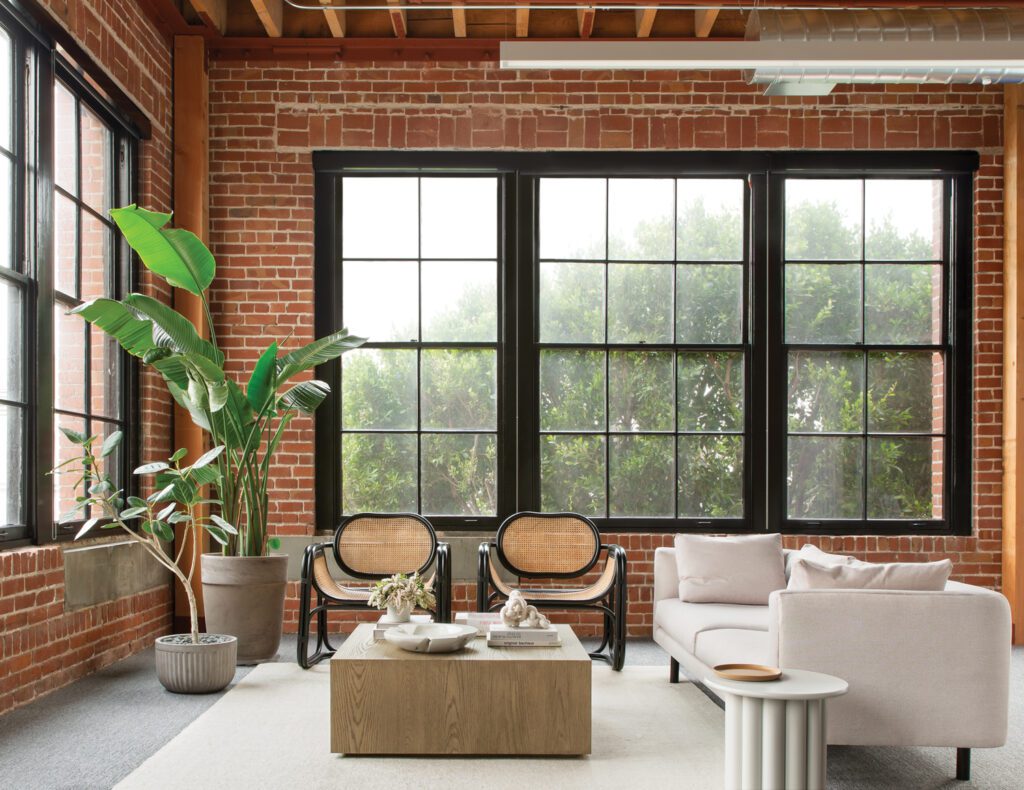 Studio Plow Designs a Meditative Headquarters for a Startup in San Francisco
Born in rural Oklahoma, and a graduate of Kansas State University, Brit Epperson's Midwest roots run deep. But the architect is now based in San Francisco, which is where she founded Studio Plow, the firm name an homage to her heritage, five years ago. Her small team has been busy during the pandemic, including, perhaps surprisingly, with workplace projects, namely the 70,000-square-foot, three-story headquarters for Faire.
The office marks Plow's second go-around for the digital platform, which connects makers with local and global retailers. The earlier project, completed in early 2019, "was a Craigslist special—a vanilla shell for a maximum capacity of 126," Epperson recalls. Fast forward less than a year. The Faire office 2.0, prompted by "massive employee growth," is the antithesis, thanks to the site, Epperson's response to it, and her client's vision toward a collegial change in how people work.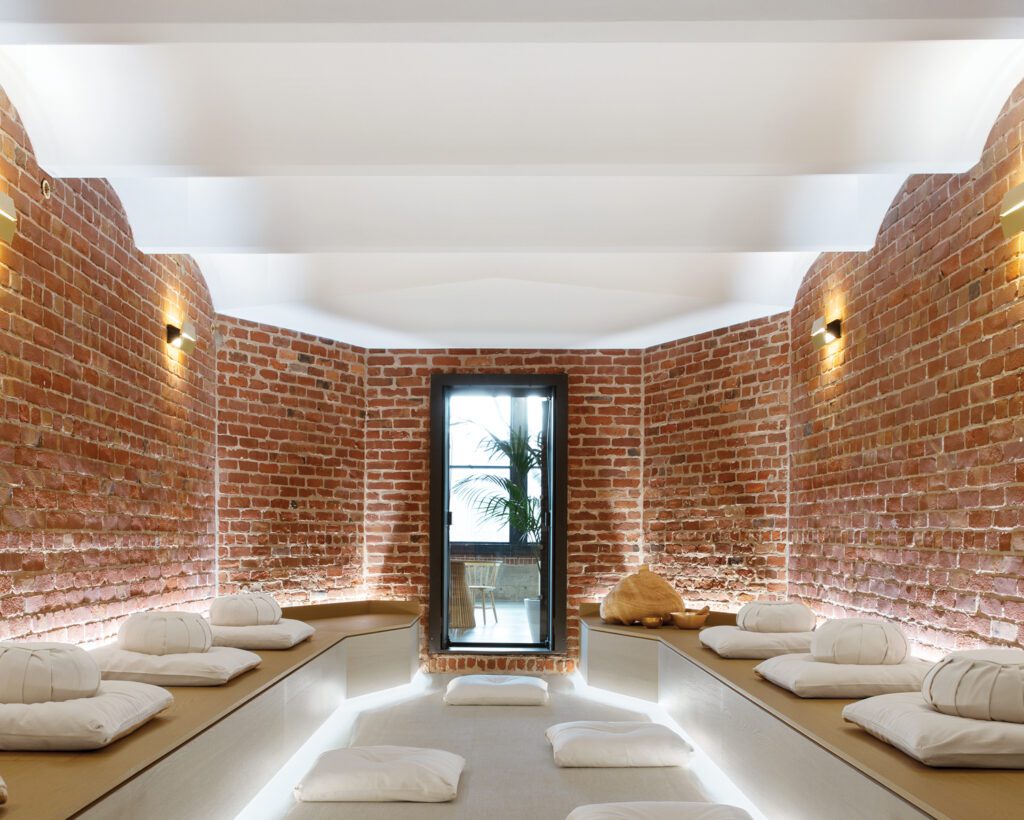 Faire now occupies a 1910 brick-and-timber former warehouse. After the architect of record addressed the necessary seismic and infrastructure upgrades, Epperson embraced the building's rich, architectural history with the maxim: "Let's lean into it." Work spaces, mostly benching configurations, span the three levels. Nothing is crowded: Epperson made sure to limit neighborhoods to 25 employees and intersperse them with amenities. Lounges, a total of 22 throughout, are rife with seating options, beckoning as alternative work zones. Ad-hoc meeting areas can be cordoned off with textile partitions. Dozens of conference rooms plus a boardroom offer more traditional gathering outlets.
There are also multiple spots for recharging. The airy commissary, which doubles as the all-hands space, is populated with minimalist white steel picnic benches and pendant globes along with warmer Windsor-style ash chairs and round teak tables. Just past reception, again warm with a sectional sofa upholstered in brassy velvet, is Petit Faire, a French bistro–inspired coffee bar with a white-oak communal table and accessories from Faire wholesale vendors. Pantries, one per floor, are well-stocked, and live interior landscaping by a local LGBTQ-owned business is everywhere. (There's also a pop-up with rotating Faire merchandise.)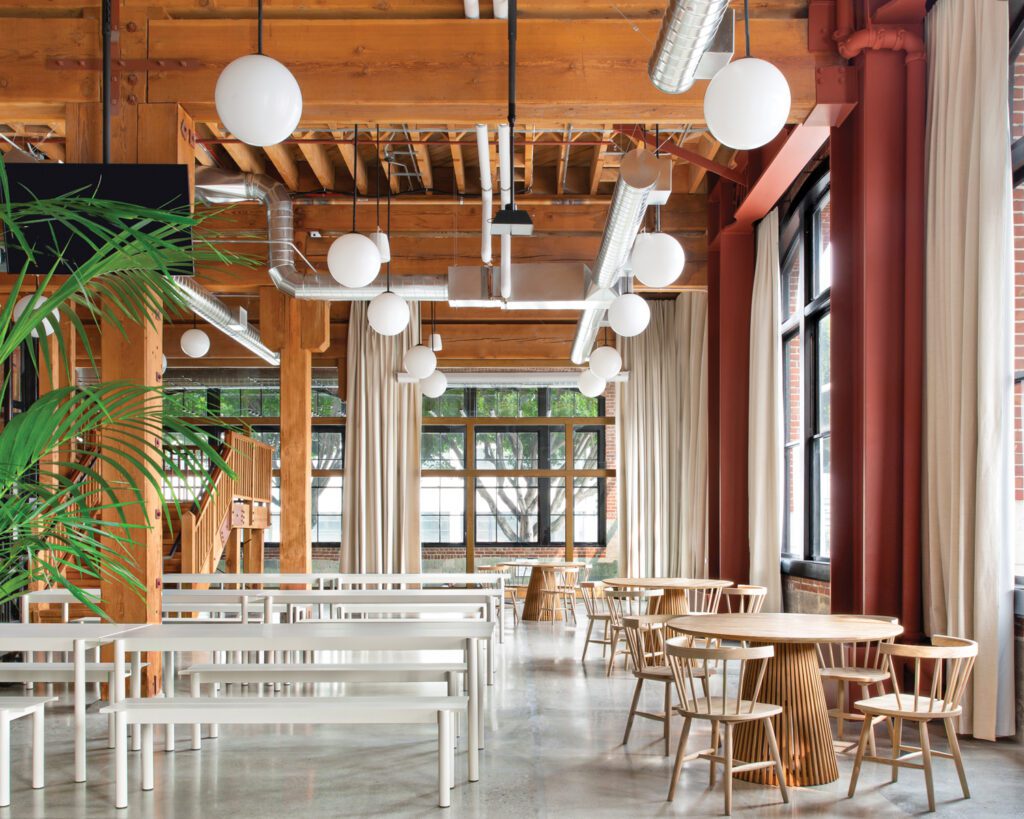 But the real recharging happens in the dedicated meditation room, a tidy brick vault that Epperson transformed into a restful aerie with built-in oak benches, plush cream meditation cushions and carpet, and integrated speakers for staff to tune into Headspace or Breethe. Employees started trickling in last April, first at 5 percent, then up to 25 on a reservation basis in June. "We gave them lots of places to gather," Epperson comments, "but it's all so open that everything feels safe." Calming indeed.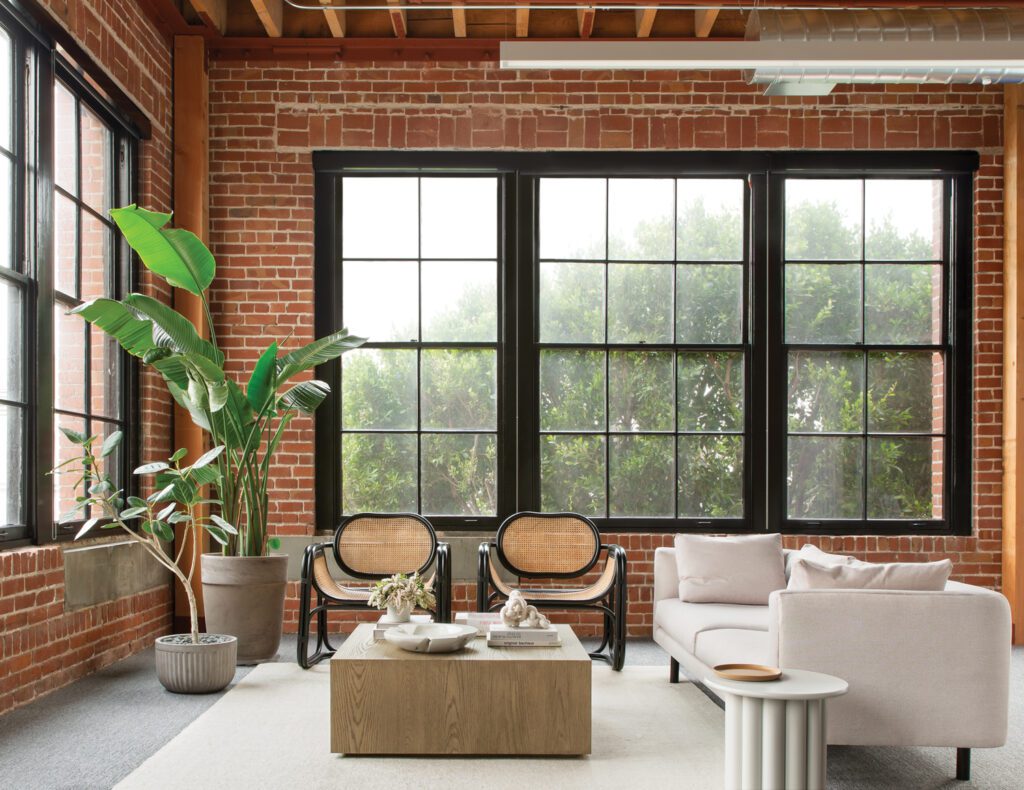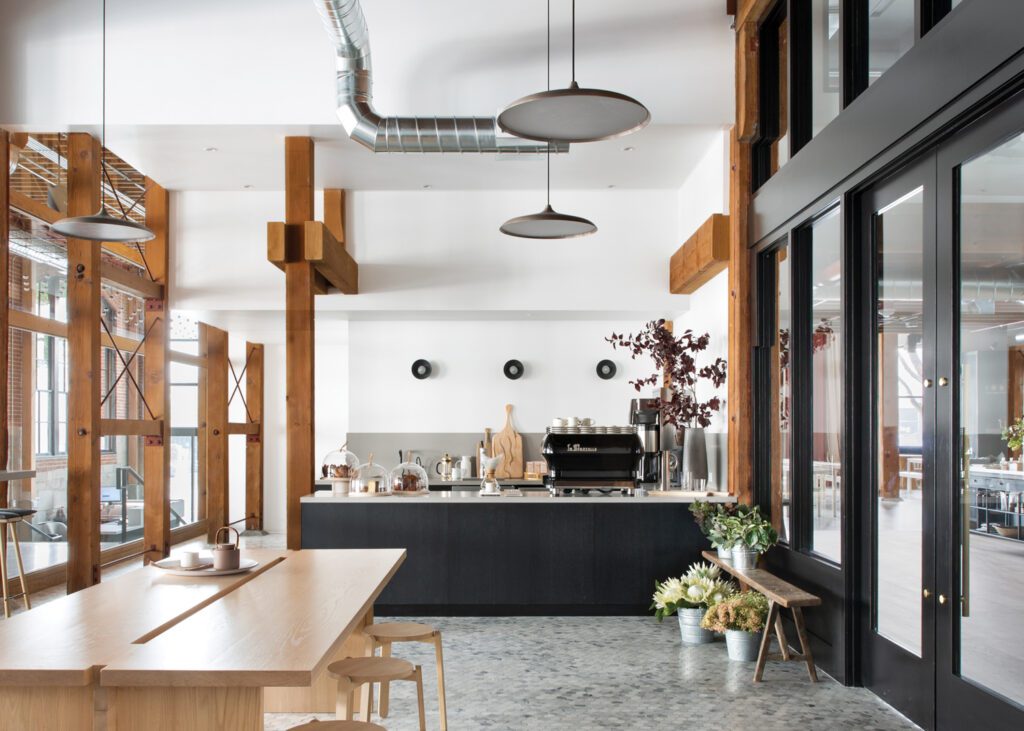 project Sources: FROM FRONT
project sources Throughout