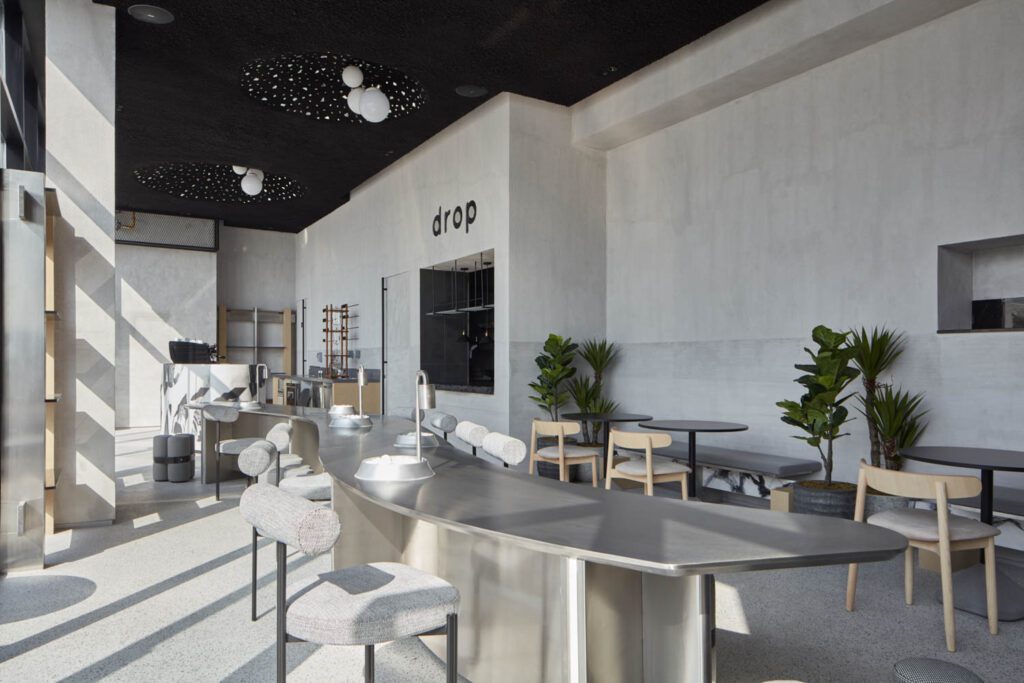 This Café by Roar Has Us Seeing Shades of Gray
A serene, monochrome palette enlivened by the sophisticated play of different textures characterizes Drop Coffee's first outpost in Abu Dhabi, United Arab Emirates—the second café that Dubai-based studio Roar has designed for the homegrown Emirati brand. "We wanted the new Drop location to have a different feel from the one we designed in Dubai last year while visually incorporating similar design references such as the materiality and subtle organic forms," Roar founder and creative director Pallavi Dean says.
This translates into an interior that, like J.M. Whistler's iconic painting of his mother, could accurately be tilted Arrangement in Gray and Black. All the 1,200-square-foot café's walls are coated with custom paint that emulates the color and texture of rough concrete, while the floor is covered with terrazzo-effect tiles in a similar tonality. The fragments in the terrazzo are echoed by shards of mirror embedded in multiple domes that dot the dark-painted ceiling. Each indentation is hung with spherical pendant lights, which float like luminous planets in a star-strewn night sky.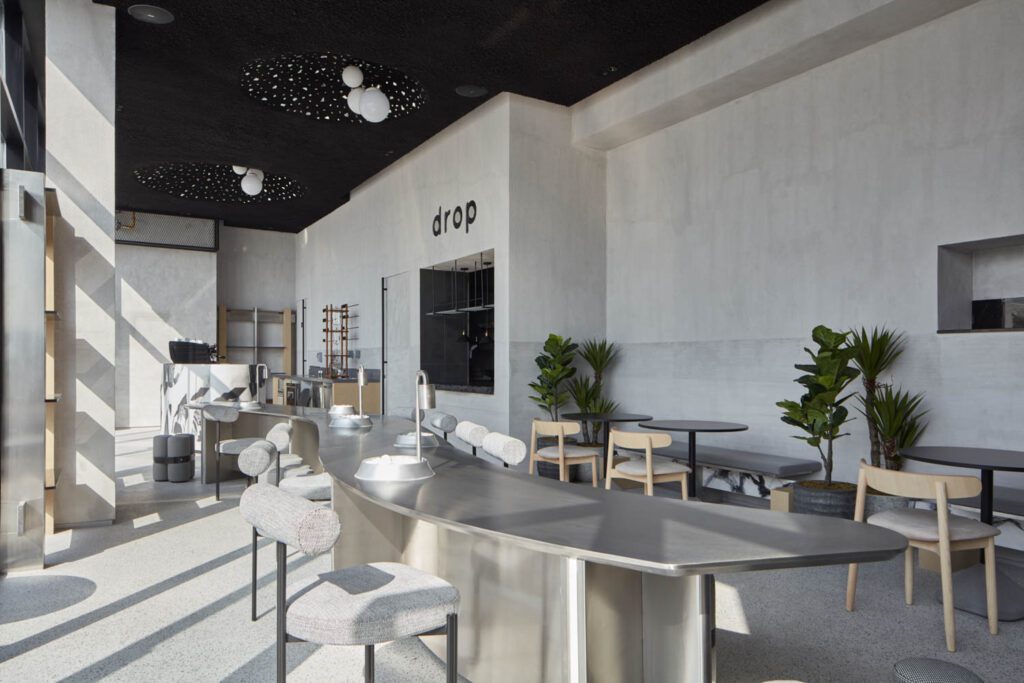 The inky darkness overhead is picked up in various custom elements below, which include a pair of drop-shape standing tables finished in black and a wall alcove trimmed with Nero Marquina marble. They are complemented by the soft glow of brushed stainless-steel, which not only clads a long communal table that snakes down the center of the space but also forms a series of half-moon shelves that emerge from one wall like an art installation.
Shades of gray and white also feature on the main bar, where textured paint is used to create an abstract pattern derived from magnified and manipulated images of spilled coffee. The same motif appears on joinery supporting wall banquettes that, like the café's other seats—side chairs, stools, ottomans, even a lounger—are upholstered in greige or its analogues. A handful of honey-color oak accents stand in discreet counterpoint to the pervasive smokiness.
The atmosphere may be cool, but natural light flooding through the all-glass storefront ensures the vibe is never chilly. And customers craving a direct hit of Emirati sunshine can sip their lattes at the tables and chairs that populate the outdoor area in front.