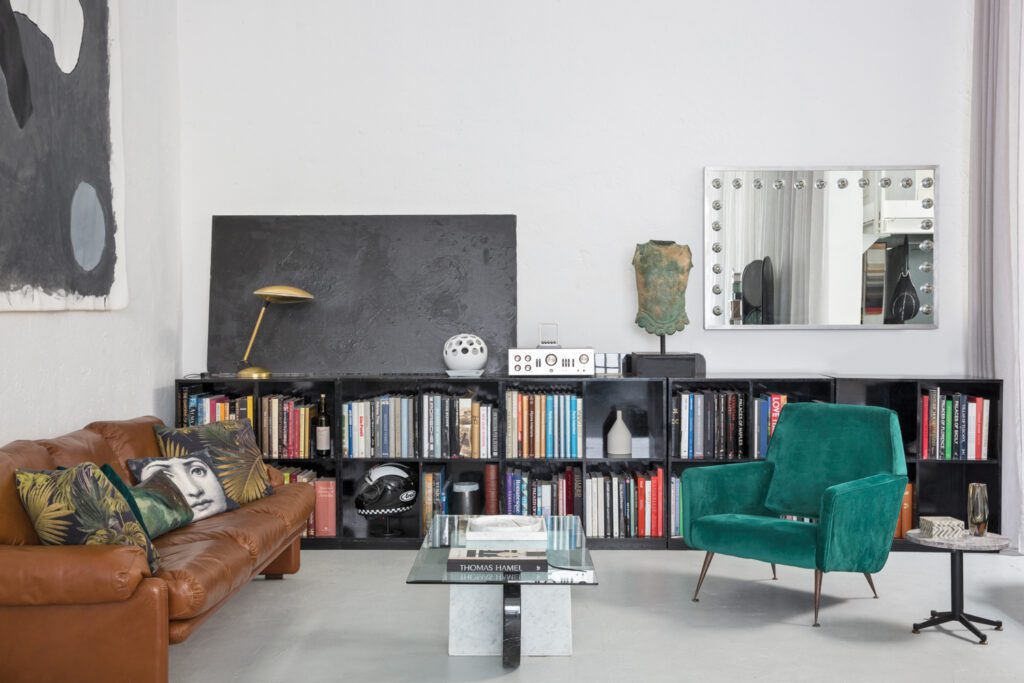 Tommaso Spinzi Transforms an Airy Industrial Loft Into His Own Apartment in Milan
Tommaso Spinzi is transcontinental. The young architect is a native of Como, Italy, but has lived or worked in New York, Switzerland, and Australia, the latter where he was located for nearly a decade and launched his firm, Spinzi. But in 2018, he decided to return home, to Milan specifically. It's there that he found and converted a former workplace near the city center into a luminous loft, now his own. The 2,000-square-foot "white canvas," as he calls it, reflects his work, which ranges from conceiving interiors and furniture to lighting and watches, as well as his passion for Italian art, design, and heritage architecture. "You can't walk toward the future without learning from the past," he proclaims.
The origins of his loft are most definitely rooted in the past. "We received word that, in the late 1800's, it housed a stable for the postal service horses," he says. "In more recent years, it served as an office." Upon acquisition of the ground-floor space, Spinzi employed a measured approach to the renovation, working with its industrial elements—the tall multi-paned windows, the concrete floor, the open plan—and underlining them with the addition of softer elements both old and new. His main and only architectural intervention was, in order to create a dining area, opening a passage underneath the existing mezzanine, a former work area that Spinzi turned into his bedroom.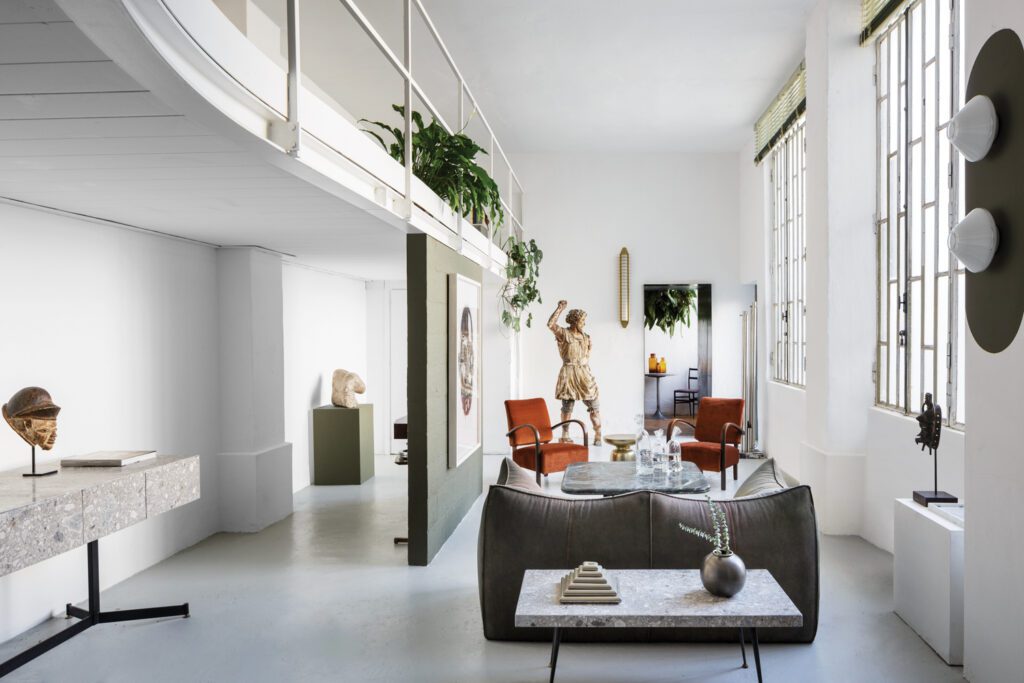 Downstairs, walls and windows have been painted white and the concrete flooring polished and painted gray. The functional areas—kitchen, bathroom, living and dining, library, and garage, for his 1983 Porsche 911SC (Spinzi is a vintage car collector)—flow into one another, loosely delineated by furniture groupings. And it's those elements that make the project come to life, through overlapping material and texture, combining vintage and new pieces, many Spinzi's own, the careful positioning of artwork, and the occasional shot of green. "It's my favorite color," he says,"so I applied it to walls, reupholstered furniture in it, and added foliage com­positions to bring nature inside."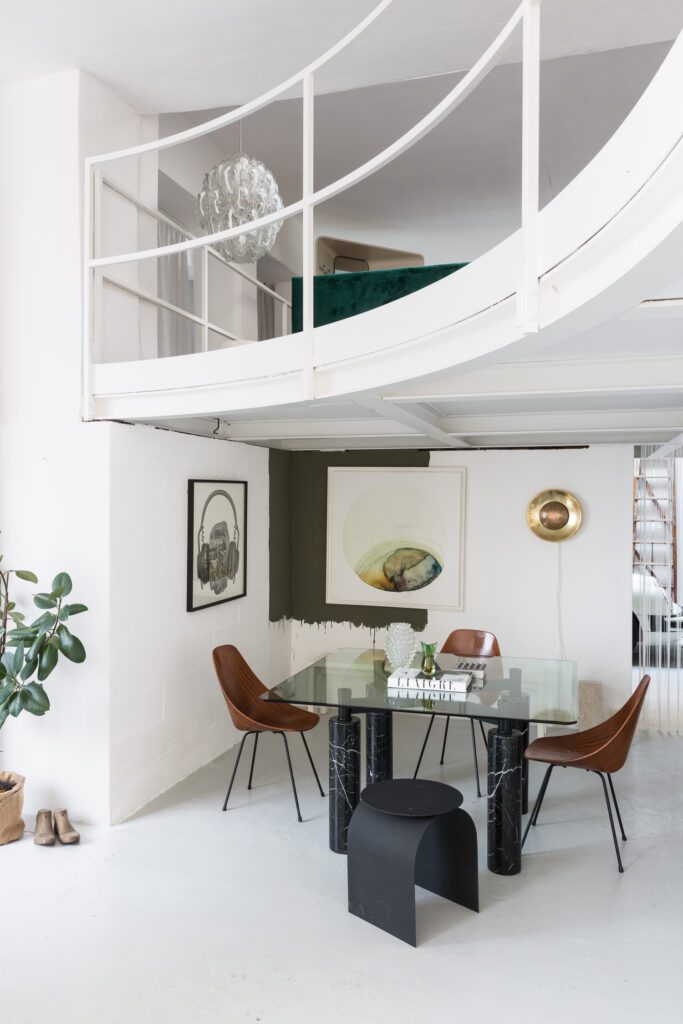 In the library, for instance, an Afra and Tobia Scarpa 1960's sofa in shiny tobacco leather shares the floor with an armchair from the same decade that Spinzi found and recovered in emerald velvet and his smooth marble Medusa stool. On the walls is a '70's Italian vanity mirror and a large abstract canvas by Spinzi (yes, he paints, too). He uses vintage furniture to support "upcycling" and celebrate Italian craftsmanship.
Furthermore, Spinzi does not advocate using solely the work of famous designers, choosing several anonymous pieces that stand out for their strong profiles and Italian origin. The living area's pair of shapely burnt orange–upholstered armchairs and imposing wooden soldier sculpture exemplify this approach: Their provenance is unknown, but their aesthetic value is certain. They're joined by a Mario Bellini Le Bambole sofa from the '70's, a drawing by Italian artist Alessandro Paglia hung on a sage-painted partition, and Spinzi's Origini console and cocktail table, both topped in greige terrazzolike Ceppo. These pieces, which Spinzi developed in the last few years, offer sober complements to the various ensembles.
He admits to having a preference for working with stone and metal, but has engaged with a variety of mediums throughout his career, always honoring their essence. "We're committed to respecting the feel and nature of materials," he points out, "enhancing their look and exploring the creative possibilities they offer." It's work that has earned him an exhibition at the high-profile Rossana Orlandi Gallery in Milan. (His pieces as well as his carefully selected collection of rare finds and curiosities can be purchased at his online shop at spinzi.com.)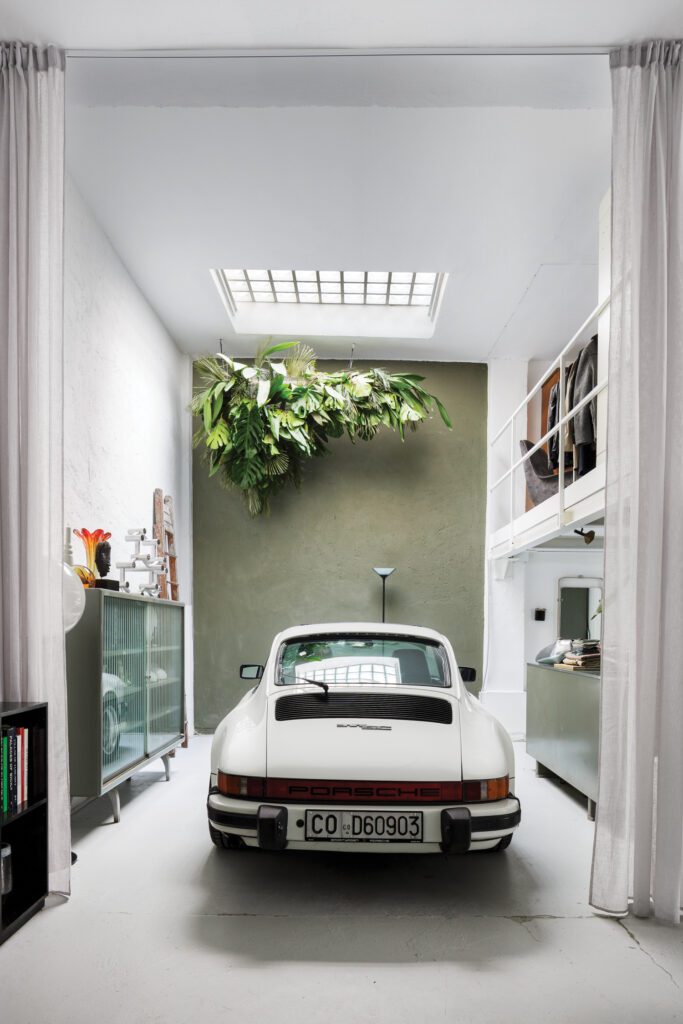 Further intersections of new, old, and recycled Italian design in the apartment include light fixtures made of Murano glass, such as the large '70's Venini chandelier appointing the bedroom, and a stack of marble samples that Spinzi assembled into a striking sculpture. His attitude toward remix and reuse, from an object to the scale of a building, is intrinsically linked to the rich architectural heritage of Milan. From the grandiose palazzi in the center of town to the industrial complexes in the outskirts, Spinzi notes how "all these spaces were built to endure, and retain an intrinsic sturdiness that allowed them to withstand the test of time." For the architect, "Repurposing old structures instead of tearing them down and rebuilding something new is a way to respect the souls of buildings and a city's past, all while avoiding unnecessary waste and environmental stress." Spinzi's conscious approach fully embraces important contemporary concerns, while also continuing strong Italian traditions.
Product Sources