Top Health, Wellness & Beauty Projects of 2019
As the concept of self care continues to gain momentum all around the globe, the result has been an innovative array of health, wellness, and beauty projects by both established and emerging design firms. Interior Design's coverage ran the gamut: a children's hospital in New York, a dental office in Argentina, a community gym in Virginia, and even a celebrity stylist's salon in Beverly Hills. Here are 10 top projects from 2019.
Skolnick Architecture + Design Partnership Creates Healthcare Wonderland at NYU Langone
For a hospital, good design is when it helps patients forget where they are. That was the philosophy of Skolnick Architecture + Design Partnership when conceiving the public spaces for the ground-up Hassenfeld Children's Hospital at NYU Langone Health in Kip's Bay. Lee Skolnick and his team, along with Ennead Architects, NBBJ, and the hospital's in-house creative staff, worked with the theme of New York is a Wonderland, tailoring elements to be lighthearted for the patients and engaging for the parents—"whimsical yet sophisticated," he says. Read more about this project
Pro Athletes and Soccer Moms Work Out Side-By-Side at the St. James Training Center by HKS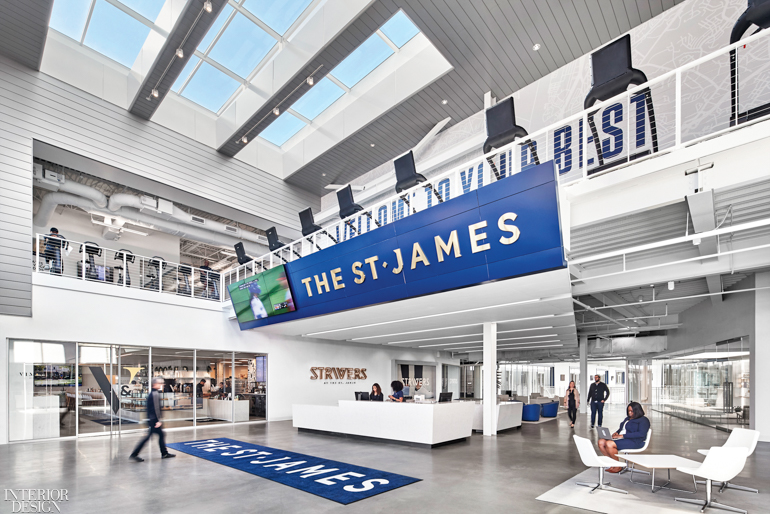 An Olympic swimmer, a quarterback from the NFL, and… members of the pee-wee hockey team. Rarely would you put them altogether. But at the St. James in Springfield, Virginia, they share the same turf—along with professional and recreational soccer players, Zumba participants, and young gymnasts. That broad appeal makes the St. James, which bills itself as a premier sports, wellness, and entertainment center with the motto "Welcome to your best," unique in the Washington area. It also presented a challenge for Emily Macht, who, as the director of commercial interiors for HKS, spent more than four years designing the three-story, 435,000-square-foot facility. Read more about this project
FGP Atelier Creates Salon of the Future for L.A. Stylist Ted Gibson
FGP Atelier creates mega-scale projects on a global playing field. Principal Francisco Gonzalez Pulido reels off some current endeavors: a stadium in Mexico City; three towers reaching up to 1,600 feet in Guangzhou, Shenzhen, and Nanjing, China; an urban complex with culinary school in Puebla, Mexico. So, what was the attraction to a 1,100-square-foot hair salon, Starring by Ted Gibson, on a nondescript block in Los Angeles? Turns out, plenty. Read more about this project
Eight Inc. Creates First Keepland Gym in Beijing for Chinese Digital Fitness App Maker
The Chinese digital fitness startup Keep has over 40 million active monthly users for its HIIT and weight-training videos, not to mention devoted fans of its fitness and fashion products. And now they have a physical place to meet—and sweat—thanks to Eight Inc.'s 5,000-square-foot flagship Keepland gym, located in the heart of the Beijing Fun development in Qianmen. Read more about this project
Brooklyn Studio Cactus Blends Beauty and Healthcare for NYC's First Ever/Body Clinic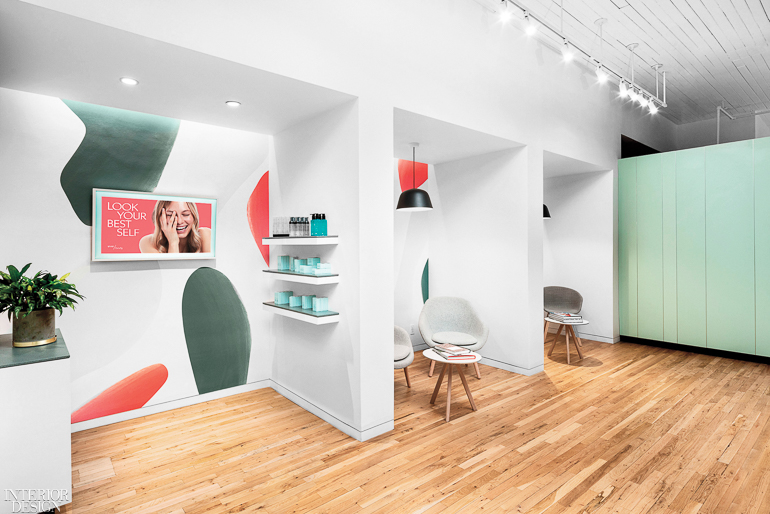 The meeting of the minds occurred in 2009, when Noah Waxman and Lucas Werthein were enrolled in the interactive telecommunications program at New York University. That's where they met architect Marcelo Pontes, who was visiting from Brazil to check out student projects. In 2016, the three founded their collaborative, digital/physical studio, Cactus, in Brooklyn. One of the firm's projects, the Ever/Body flagship in downtown Man­hat­tan, is remarkable—in appearance but also in speed. The team received the keys to the 5,000-square-foot site just eight weeks before the cosmetic dermatology clinic opened for business. Read more about this project
Brandon Haw Architecture Paints a Picture of Health for New York Dermatology Group
Although beauty is more than skin deep, dermatologists often favor exfoliation and ointments over integrative medicine. But in 2018 the tri-state portion of the profession took a leap toward treating appearance from within when the New York Dermatology Group opened NYDG Integral Health & Well­ness, a 7,000-square-foot center designed by Brandon Haw Architecture. Patients are just as likely to come up to the full floor space inside the landmarked former Lord & Taylor building on lower Fifth Avenue to meet with a nutritionist or an orthopedic surgeon as they are to get a facial peel. Read more about this project
Bright Architecture Kicks New York Fitness Center Rumble into High Gear
Jeff Koons doesn't box, but his Popeye did inspire Jab, the 7-foot-tall fiberglass sculpture at Rumble, a New York fitness center specializing in boxing-inspired classes designed by Bright Architecture. "It was us rethinking the Instagram moment and branding opportunities," Nathan Bright explains of the artwork and the entire 14,000-square-foot, five-story project, which includes concrete bleacher seating, two fitness studios, luxury women's and men's locker rooms, and a full-floor office for staff, in an environment that feels more gallery than gym. Also "gramable" are the 72 pairs of gloves backing the streamlined reception desk. Read more about this project
AFFD Space Design Firm Creates a Traditional Chinese Medicine Center Inspired by Water
The Xicheng District is the largest in the old city section of Beijing, and a bustling blend of traditional and new China. The Beijing TRT Cuihe Healthcare Experience Center, for example, embodies its brand of Chinese traditional medicine in a forward-thinking space by local firm AFFD Space Design Firm. "The inspiration comes from the nimbleness and endurance of water," says chief designer Gao Zhigiang. Read more about this project
Bells + Whistles-Designed "Social Wellness Club" Remedy Place Debuts in L.A.
What's a "social wellness club"? Los Angeles is set to found out with the opening of a facility billed as the first. The brainchild of Dr. Jonathan Leary, a doctor dedicated to natural healing, Remedy Place in West Hollywood features a dark and moody interior by L.A.-based interior design firm Bells + Whistles geared towards a unique blend of self-care and social interaction. With a focus on "maximal texture and refined detailing," according to Jason St. John, co-founder and creative director of Bells + Whistles, the 4,000-square-foot space invites lingering with three lounge areas—one outdoor—and soft, upholstered furnishings such as custom velvet-upholstered lounge beds. Read more about this project
Baremberg Bass Uses Origami to Brighten an Argentine Dental Office
One wouldn't expect to find a monumental ode to origami in a facility devoted to straightening and cleaning teeth, but Marion Odontología in Córdoba, Argentina is no ordinary dentist office. A pair of brothers bought the 2,150-square-foot space and asked architects Cintia Bass and Hernan M. Baremberg of studio Baremberg Bass to create something both modern and functional. Read more about this project