Universität Stuttgart Uses Robotics and Biomimicry to Create an Outdoor Event Pavillion
Researchers from Universität Stuttgart in Germany look to a sea creature and advanced digital timber-fabrication methods to construct an event pavilion called Buga Wood Pavilion for a horticultural show.
A group of 18 researchers and craftsmen led by Universität Stuttgart professors
Jan Knippers, a structural engineer, and Achim Menges, an architect contributed to the project. "A biomimetic approach to architecture enables interdisciplinary thinking," says Menges.
Buga Wood Pavilion took 13 months to develop, and 17,000 robotically milled finger joints and 2 million lines of custom robotic code to build.
To create the Buga Wood Pavilion for a horticultural show in nearby Heilbronn, Germany, researchers at Universität Stuttgart's Institute for Computational Design and Construction and its Institute of Building Structures and Structural Design developed a robotic-manufacturing platform to CNC-cut geometric panels and form a segmented timber shell.
Composed of spruce laminate, a rubber waterproofing layer, and a larch plywood exterior, the individual segments were fabricated at Müllerblaustein Holzbauwerke, a local workshop.
Working on boom lifts, craftsmen assembled the structure on-site over 10 days.
The 376 segments were joined via steel bolts.
The pavilion's form is based on the exoskeleton of the sea urchin.
Buga's form echoes the surrounding land­scape of Sommerinsel, one of the 15 sites that the biennial Bundesgarten­schau takes place this year.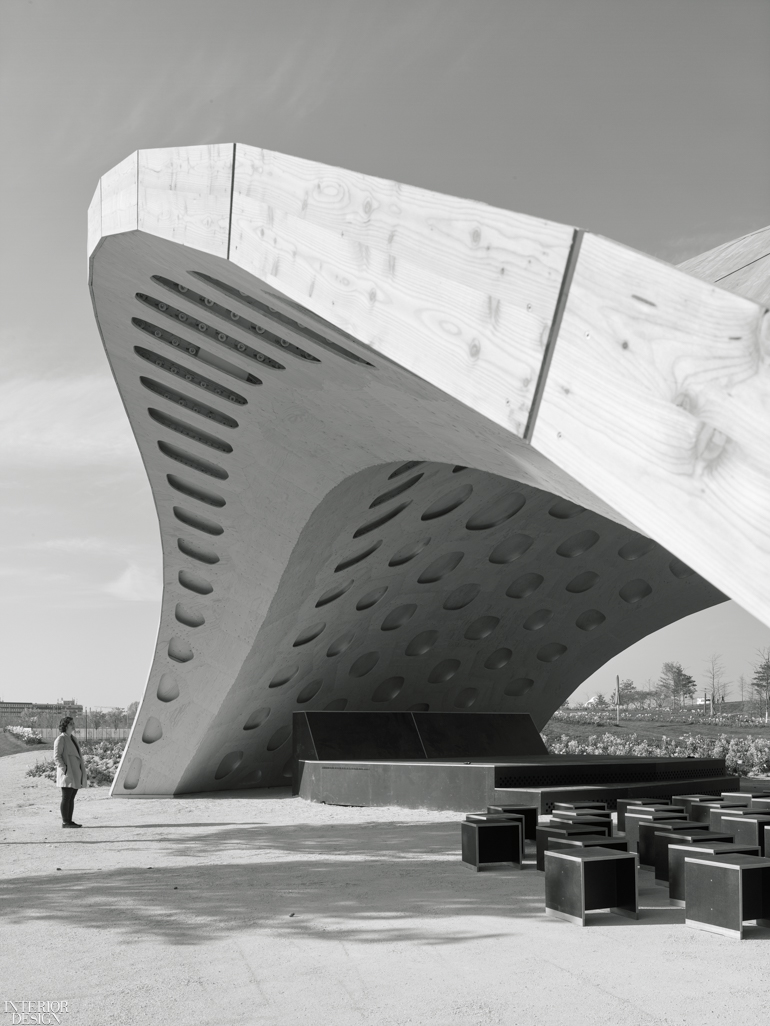 The combination of spruce, rubber, and larch plywood make the installation acoustically sound.
Fully assembled, the pavilion spans 104 feet and reaches 23 high.
It is hosting concerts, lectures, and workshops through October 6, when it will be disassembled for future use.
LEDs illuminate the shell at night.