10 Questions With… Carlo Bach of Illycaffè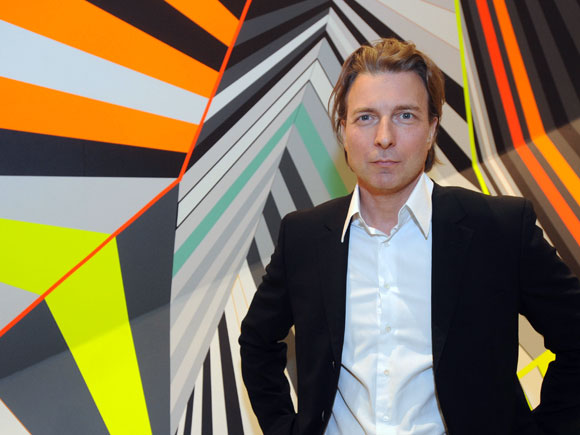 Few global brands have ever created a hands-on impact in the art and design world such as that of family-owned coffee purveyor Illycaffè, based in Trieste, Italy. Recently voted one of the world's most ethical companies by the Ethisphere Institute, Illy is known for its strong commitment to many facets of the art community, and has a presence at top art events. Through the years, the company has enlisted artists such as Robert Rauschenberg, Jeff Koons, Marina Abramovic, Kiki Smith, Francesco Celemente, Mimmo Paladino, and Michelangelo Pistoletto to take its white ceramic cup and elevate it to a special experiential level. For twenty years, these cups have been greatly anticipated by the art and design world.
Carlo Bach, Illy's Art Director—an artist in his own right—is an enthusiastic ambassador for the company's various art-world endeavors. Here, he discusses 20 years of tableware design, the delicate balance between personal and professional creativity, and the intrinsic creative quality of a café.
Illycaffè's Carlo Bach Talks Art and Coffee in This Interview
Interior Design: How will you celebrate the 20th anniversary of Illy's artist-designed cup collection?
Carlo Bach: We're very proud of the history, and these 20 years—although every year has been special in its own way. We'll be very involved once again with the Venice Biennale. It's our 12th year of work with them.
ID: How has the company's relationship with the Biennale evolved?

CB: I consider the Venice Biennale to be the most important contemporary art event in the world. It's certainly an important moment here in Venice, when the world can really see what's going on in contemporary art. Illy tries to have a new experience with them all the time. One year our presence may be stronger, another it may be softer. We're the official coffee of the event, and at this moment I'm working with Massimiliano Gioni, its director, to find out exactly what we will do this year. Two years ago, we built an incredible show with Anish Kapoor at Basilica di San Giorgio Maggiore. Kapoor did a very special piece for that. Every year it's something new. In the past, we've worked with Tobias Rehberger… The illy Push Button House was designed by Adam Kalkin in 2007. Every two years there is a new way to relate and contribute to culture.
ID: Illy has an unusually strong presence in the art world for a coffee brand. What is the root of the company's investment and interest?

CB: Illy is a family company, and that family has always been extremely invested in art and culture. That's always been the starting point. From there, you can see how coffee itself has an important connection to art and culture. Coffee has long been connected to an artist's process, present during artistic thought. Coffee is convivial, and its connection with art is very natural. Then, of course, a café as a place is culturally important. Paris, Venice, Vienna—all these places are known for their cafeterias, places where culture is made and ideas are created.
ID: Tell me about Illy's take on interiors, and atmosphere in general.

CB: Right now, we are looking to create a new experience within our bars. We try to develop the idea of a contemporary Italian bar, though it's not easy to define. We use a lot of the illy red—which is a powerful color. We use steel, which represents our tins. And then there's white, a symbol of our logo and the porcelain cups. From there, we prefer to keep the design minimal.
ID: And yet, your bars feel very elevated—not like a 3-D advertisement for your brand. What's the key there?

CB: We've tried in the past to create visual guidelines, though we try to respect the thoughts of the barista. It's important to make sure that what's inside the bar is connected with the coffee, and we believe that baristas themselves know how to build a bar perfectly. It's important to perceive the cafe as a part of your home, and the barista as your friend. You should feel that you can come in and have a coffee with him.
ID: You became the curator for illy's art projects in 1999, and have been Art Director of Illycaffè since 2006. How has the position changed through the years?

CB: It's changed a lot. Not only am I the director of art projects, I work with the designers for our machines and with agencies on things like "brand personality." It's a very different job than it originally was, venturing into different areas of art and design.
ID: And how did you decide to work with the company in the first place?

CB: I, myself, was an artist. When I started working for illy, I felt that it would be nice experience to do for one or two years. I knew I'd meet all these great masters like Paladino and Clemente. It felt like an opportunity to go deeper into the souls of artists who impact me. The experience was so great that I wanted to stay in this type of world. When I see that an artist is happy—and the company is proud—it's very satisfying. And every year, something is new and exciting. I think about some of the relationships I've been able to build—Marina Abramovic, who is an incredible person and an amazing artist. I went to Louise Bourgeois's home to work with her on her connection. These are my points of reference.
ID: How does being an artist balance your role at Illy?

CB: This is a very difficult question. Illy was collecting my art pieces fifteen years ago, and I started a nice relationship with the family. They said, "Why don't you try to develop a program for young artists for us, as you yourself are a young artist? The idea was that one or two years would be nice, and I could help other artists. I took a few years at one point, and stopped a bit to do my own work. Then I returned, taking on only nonprofit projects myself. Now, I'm always thinking how to manage being the creator of this art project on one side and being an artist on the other. Sometimes it's difficult. They have to be separate, totally, and I approach them in totally different way. Things always change in life, and yet everything has been my choice. One thing is certain: I choose the world of contemporary art.
ID: How has the cup project evolved over the past two decades?

CB: When the project first started, the collection was just for the bars themselves. They were immediately stolen by the public, and the marketing department said that if they can be stolen, they can be sold. They immediately became a success. Through the years, I'm often introduced by one artist to another, who will go on to create the Illy cup. The company proceeds to reinvest money into the art world, sponsoring shows and scholarships. It's a very nice circle.
ID: On the topic of scholarships, what's the focus of Illy SustainArt?

CB: This is one of the greatest pleasures of my job. There are several components. We show art pieces coming from growing countries on the website illysustainart.com. We give an illy prize at the biggest art shows in Europe—between 10,000 and 15,000 Euros. A Brazilian artist who recently won said to me, "With this, I can live for a year." The fact that we can give an artist the ability to survive another year and make his artwork is a source of great pride. At this moment, we're running a very exciting contest, in fact. The prize is to live in Venice for three months, during the Biennale, and have a studio here. Now that's great. I know how hard it can be for struggling artists, and I would love it!