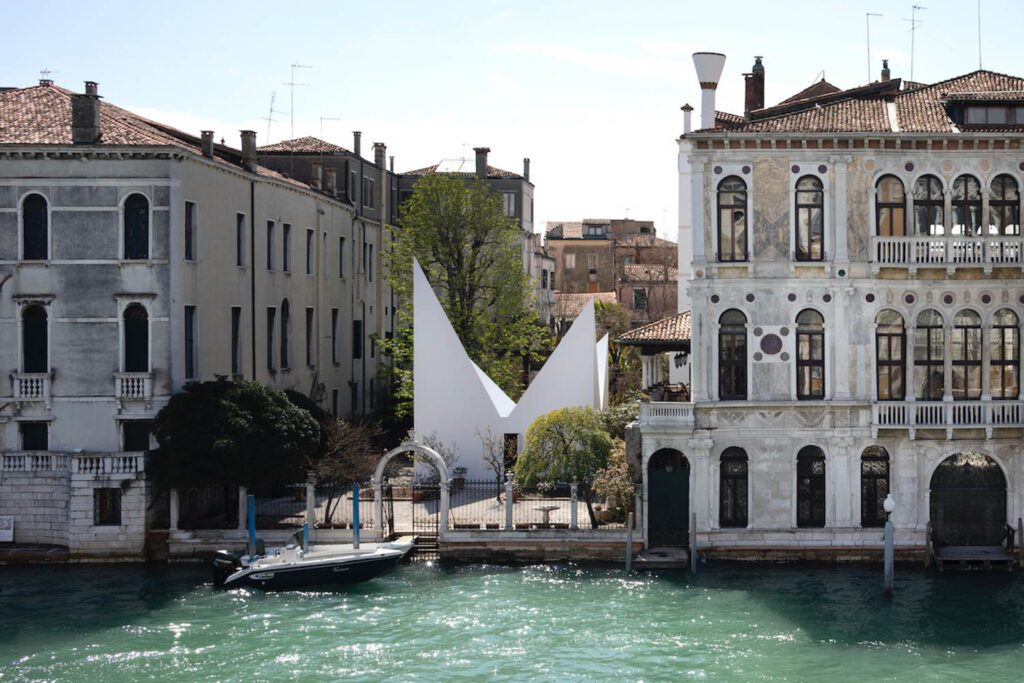 13 Highlights from the 2022 La Biennale di Venezia 
Postponed by one year and overcoming the uncertainty of the global pandemic with a bang, the 2022 edition of La Biennale di Venezia recently opened its doors. Titled "Milk of Dreams" and curated by Cecilia Alemani, the 59th International Art Exhibition runs through November 27 in Venice and has pivoted to account for the ever-shifting global climate. 
The Ukrainian pavilion prepared for 2021 was replaced with a more current response to the invasion of the country. Nearby, the Russian pavilion lies empty—the participants resigned following the invasion of Ukraine—and protestors against the war gather daily. However, the 213 artists from 58 countries featured in the Central Pavilion (Giardini) and in the Arsenale offer more than a dash of escapism, with a dreamy alternative reality frequently found among the 1,433 works on view. From larger-than-life sculptures intended to empower Black women to hyperrealistic centaurs, here are 13 of our favorite finds.
1. Sentinel and Facade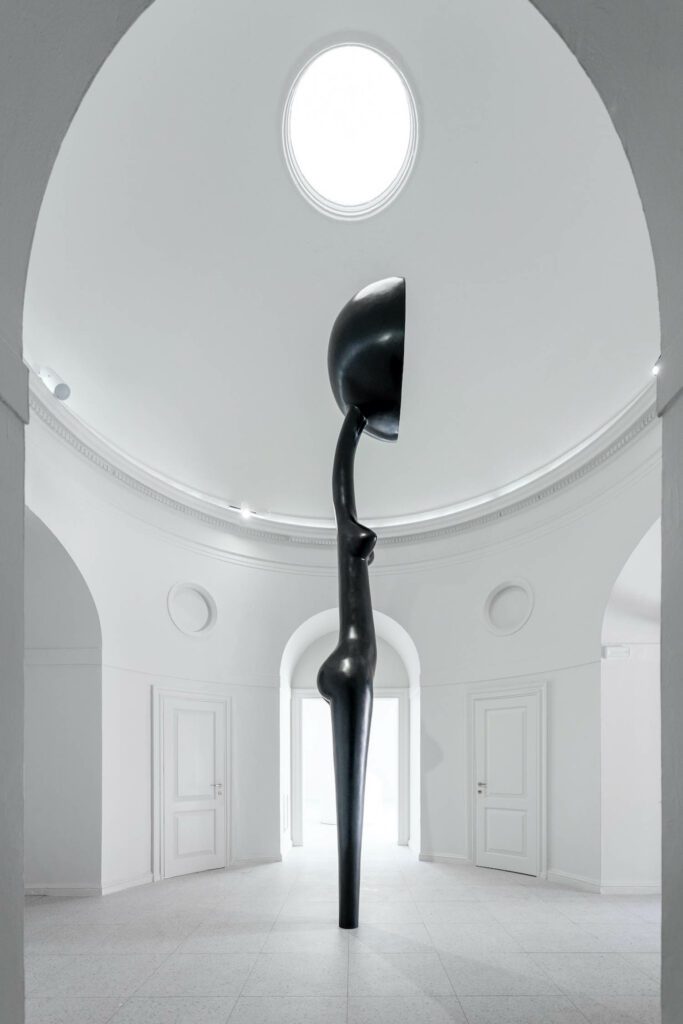 Several new sculptures by Simone Leigh with a narrative intended to empower Black women and address history, race, and gender dominated the U.S. pavilion. Sentinel is a large-scale bronze sculpture.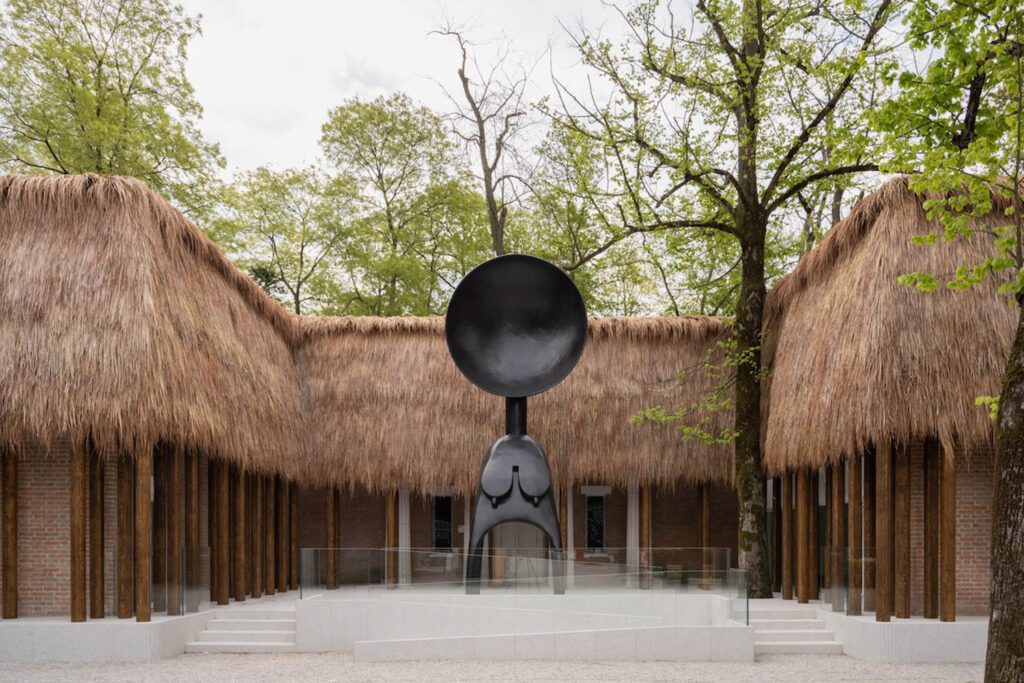 2. We Walked the Earth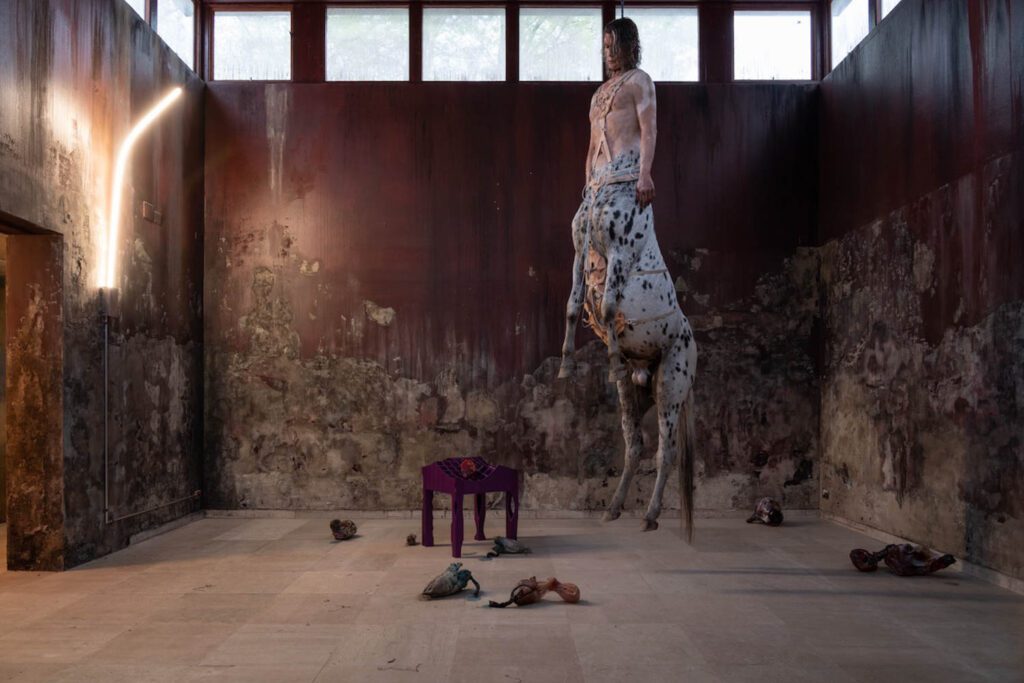 We Walked the Earth, the hyperrealistic Danish pavilion, follows the life of a family of centaurs—exposing the drama of the half-human, half-animal creatures in striking detail.
3. Earthly Paradise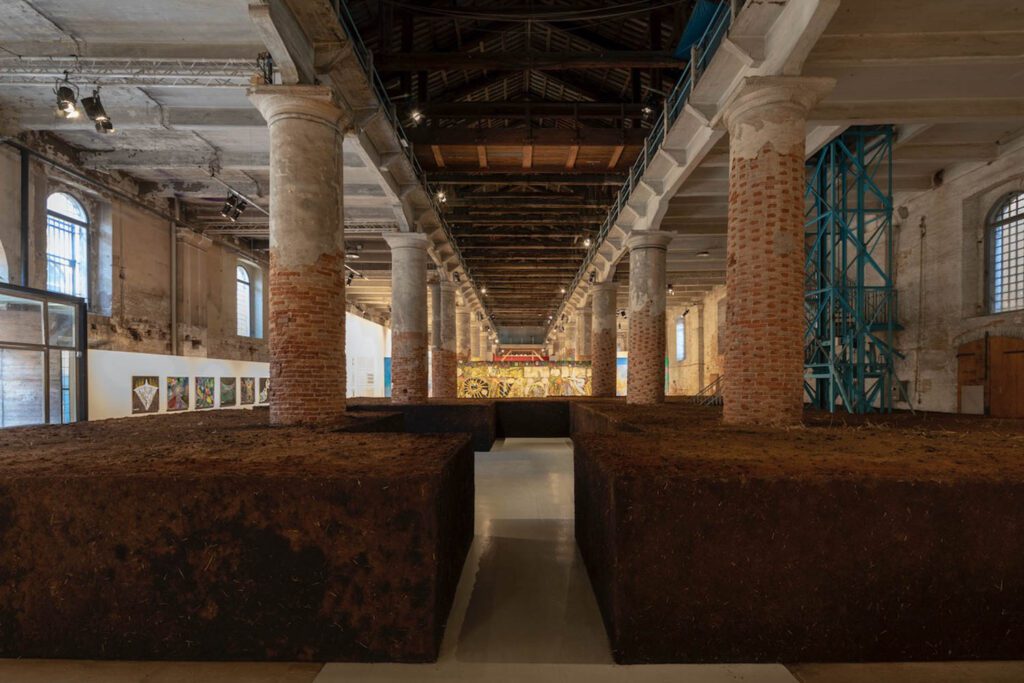 Pleasant aromas waft from what appears to be chest-high soil in Delcy Morelos's Earthly Paradise, a site-specific mixed-media installation in Arsenale composed of soil, clay, cinnamon, powder cloves, cocoa powder, cassava starch, tobacco, copaiba, baking soda, and powdered charcoal.
4. Chun Kwang Young: Times Reimagined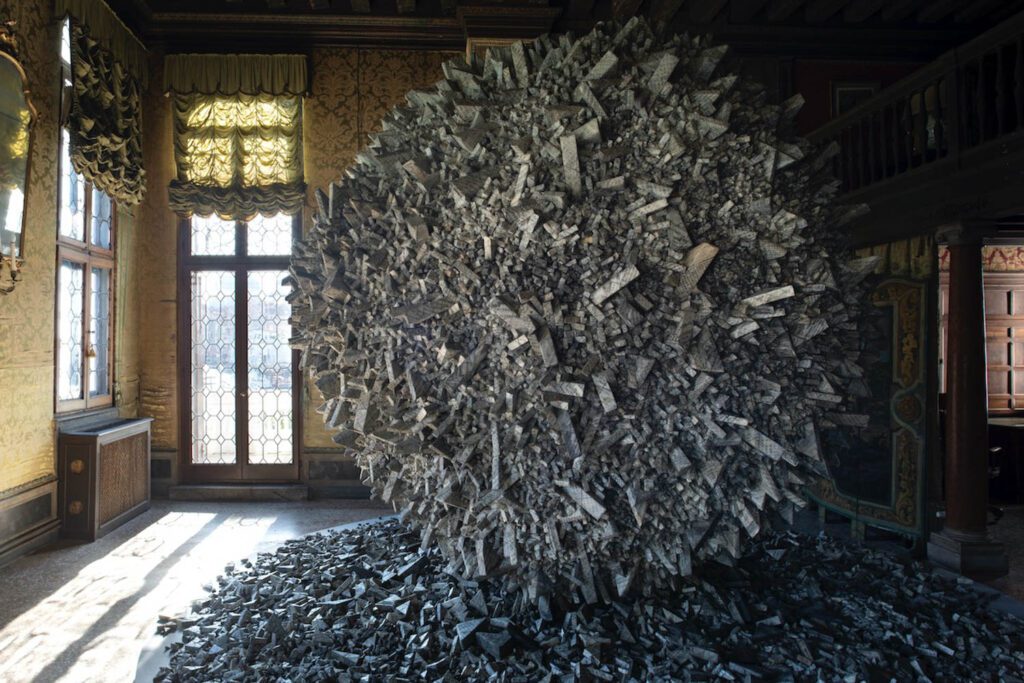 Hanji or sustainable paper made from the bark of the Korean mulberry tree, is the medium of choice in "Chun Kwang Young: Times Reimagined," on view in Palazzo Contarini Polignac. This organic-appearing spiky mulberry paper ball is one of 40 reliefs, sculptures, and installations by Chun in the site-specific installation curated by Yongwoo Lee.
5. Hanji House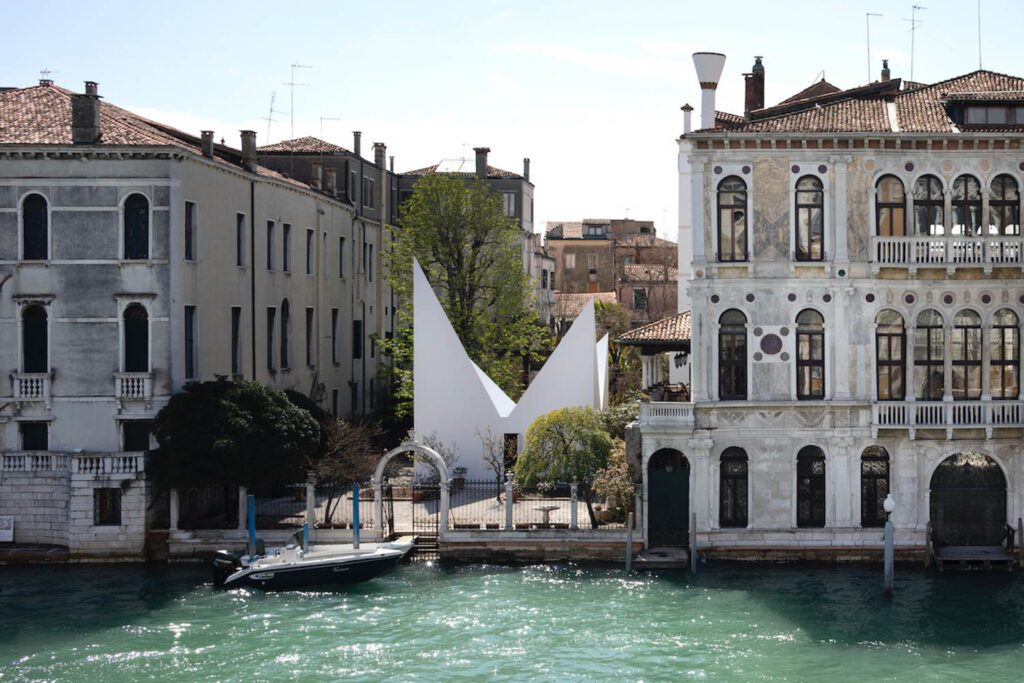 Visible from Venice's Grand Canal, an origami-like structure sprouts between Venetian buildings in contemporary contrast. Constructed in dialogue with "Chun Kwang Young: Times Reimagined," the timber and textile membrane on soil Hanji House is an example of temporary foldable architecture by Italian architect Stefano Boeri, with geometry consisting of four pyramids on top of a parallelepiped. Inside, with a virtual presentation of Chun Kwang Young's work, is an interactive art installation by Calvin J. Lee. At night, the building is transformed into a glowing landmark. Photography by Alice Clancy/courtesy of CKY Studio.
6. Gõegõe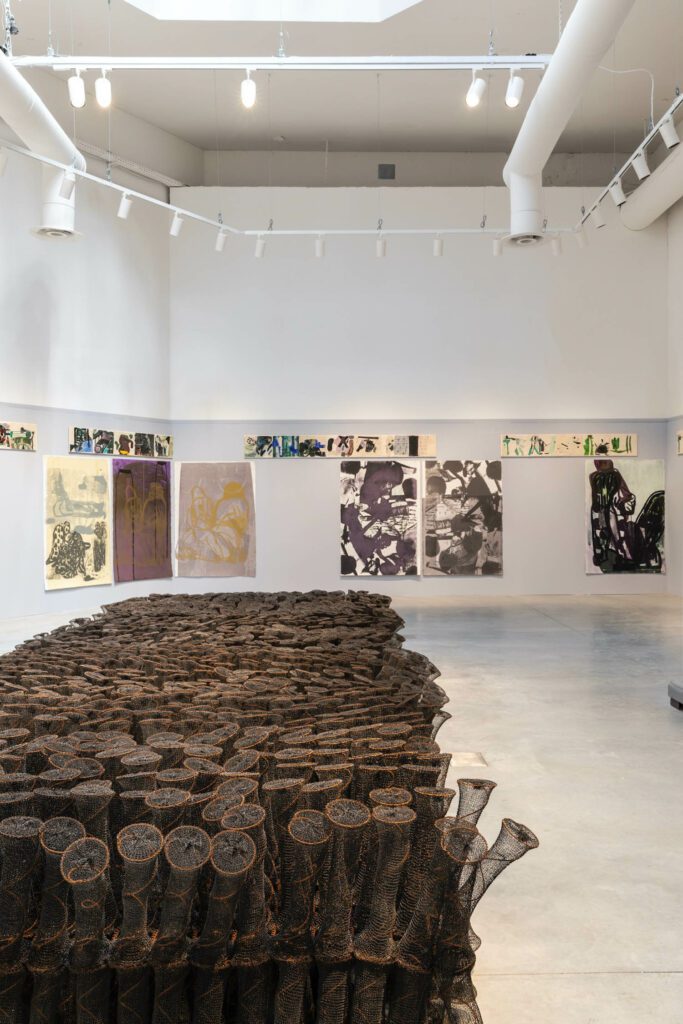 It's not the first time that Bronwyn Katz has incorporated mattresses into her work. Gõegõe, featured in the Giardini venue, is made of repurposed bedsprings.
7. Pastel Sculptures
Zsófia Keresztes, celebrated for her pastel sculptures—moulded shapes clad in shiny glass mosaic—takes over the Hungarian Pavilion with a solo show of her work. Keresztes is one of just three female artists presented by the country since 1982.
8. How Do You Feel When Your Body Says Yes?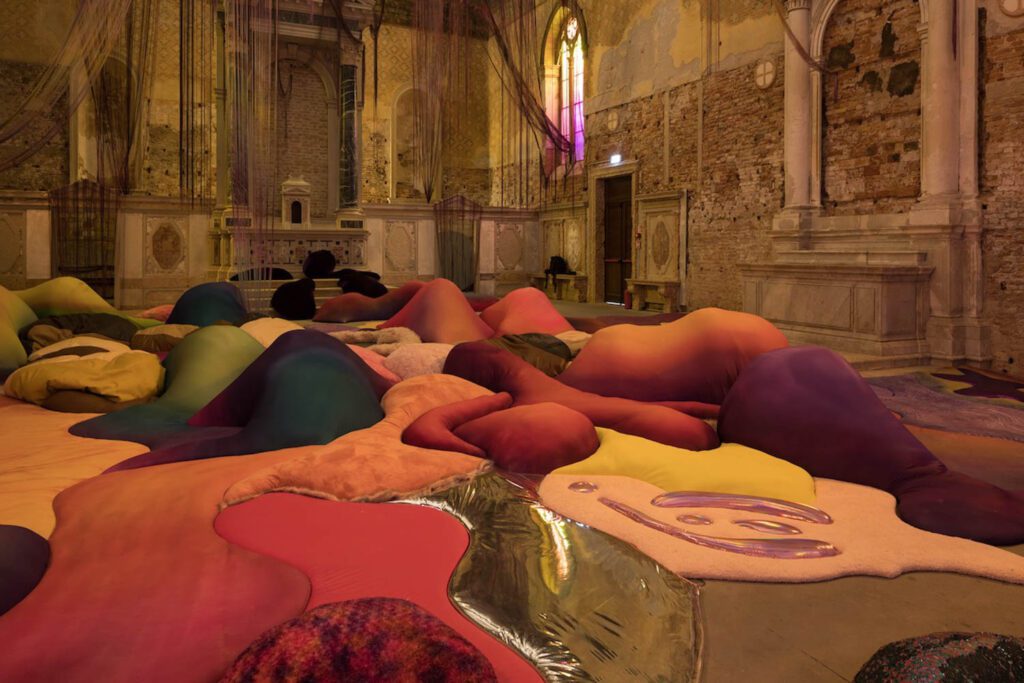 Artist Melanie Bonajo—who is also a "filmmaker, sexological bodyworker, somatic sex coach and educator, cuddle workshop facilitator and activist," according to press material—is behind this year's Dutch pavilion, a video installation presented at an alternative location. "How Do You Feel When Your Body Says Yes?" fills the Chiesetta della Misericordia of Art Events, a deconsecrated 13th-century church in Venice's Cannaregio district, exploring intimacy from a backdrop of soft upholstered shapes in soothing colors.
9. Piazza Ucraina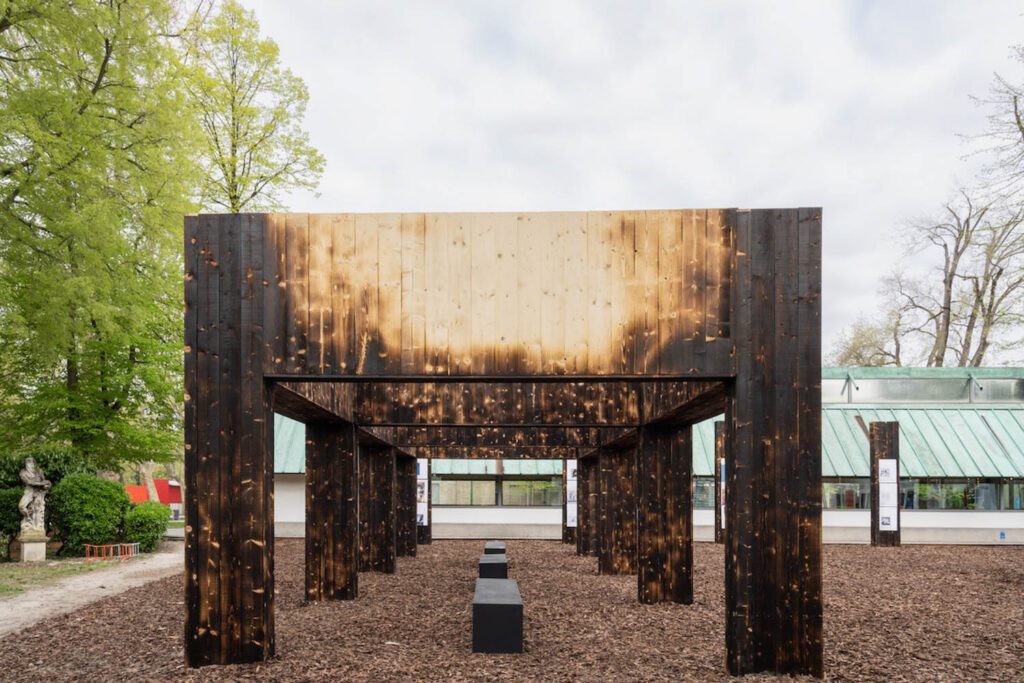 At Giardini, near the empty Russian pavilion, is Piazza Ucraina by Ukrainian architect Dana Kosmina. The open-air installation presents Kosmina's immediate reaction to Russia's invasion of her country with sculptures including a burned piece of architecture that forces reflection on the destruction of war.
10. For Dreams Have No Titles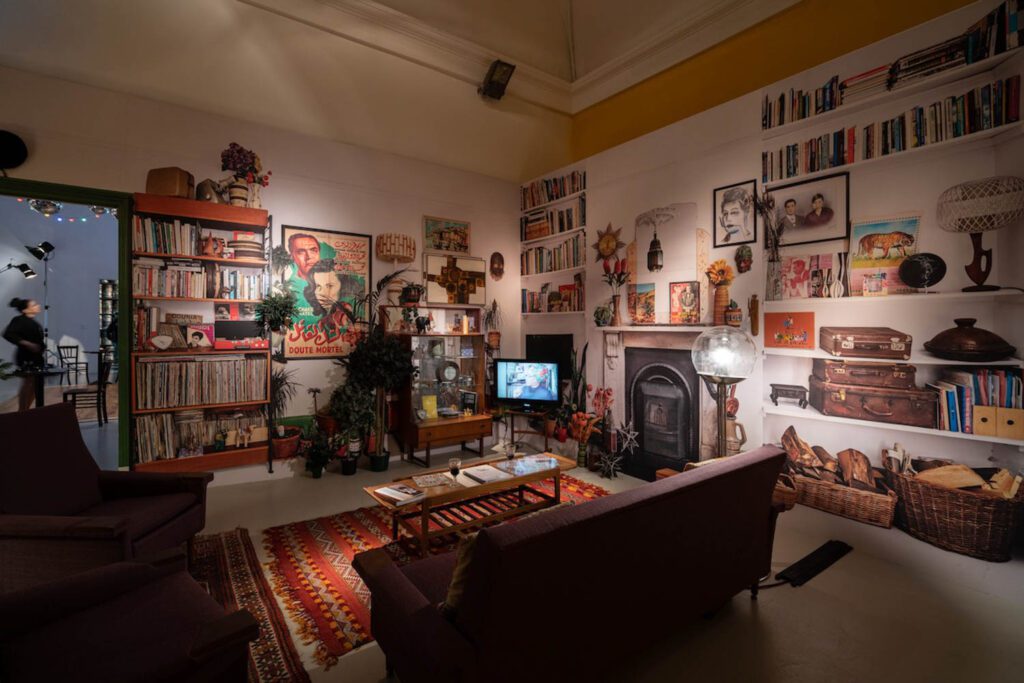 Drawing attention to the militant movies of the 1960s and 70s, Zineb Sedira's For Dreams Have No Titles transforms the French pavilion into a film studio and video installation.
11. Sunset Light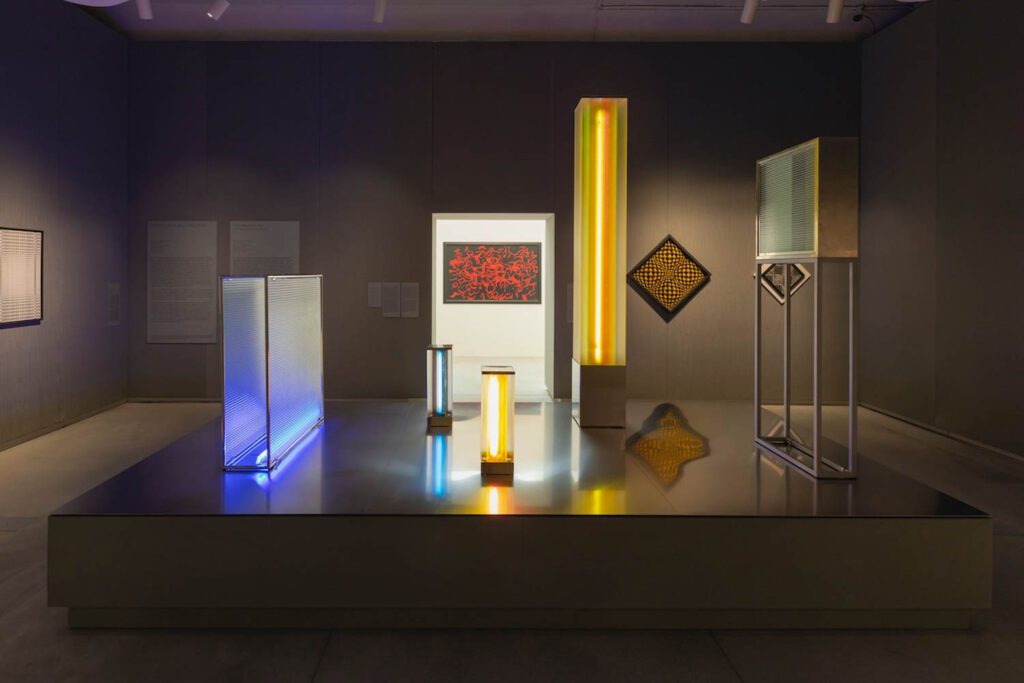 Works by electric artist Laura Grisi (1939-2017) are a highlight in the Technologies of Enchantment gallery in Giardini. Her plexiglass Sunset Light series (1967)—surprisingly modern for the time—are light pillars that glow like the sun via a yellow neon core.
12. Shooting into the Corner
Among the more notable off-site events held in parallel with the Biennale is a retrospective exhibition on British artist Anish Kapoor. The canon-powered installation Shooting into the Corner, which shoots blood-red balls of wax, is among 60 works on view at the Gallerie dell'Accademia and Palazzo Manfrin.
13. White Cube
A series of Akari lamps by sculptor Isamu Noguchi overtake a ceiling in Danh Vo, Isamu Noguchi and Park Seo-Bo, an off-site installation coinciding with the fair filling the rooms of Fondazione Querini Stampalia, a 16th century historic palace. Curated by Danh Vo and Chiara Bertola in collaboration with White Cube gallery, the installation offers a peek at the home of the royal Venetian family Querini Stampalia.