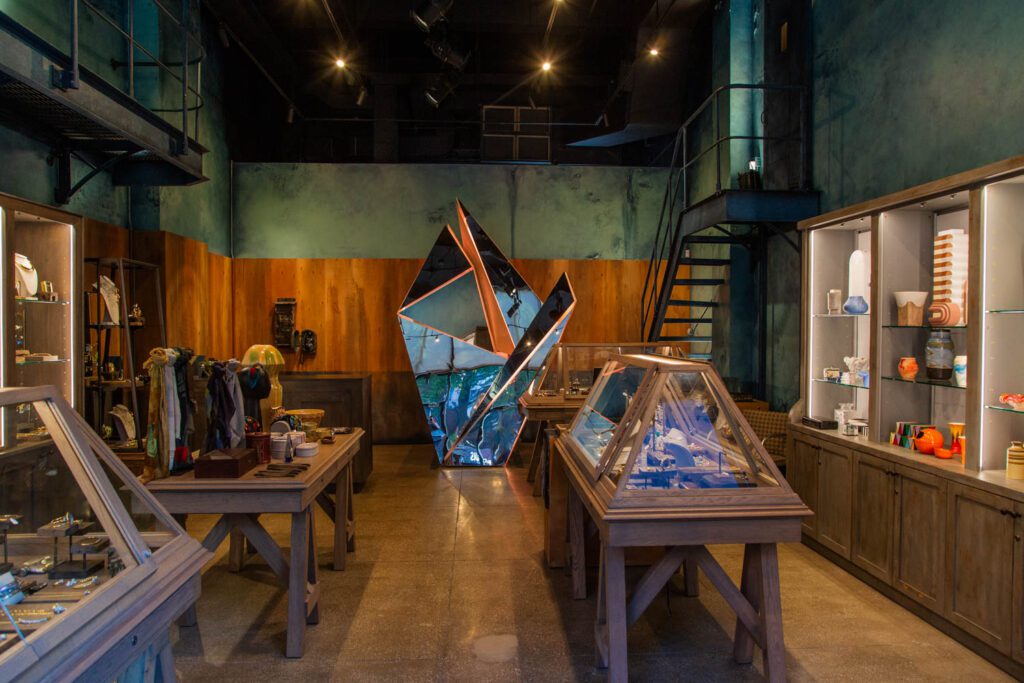 10 Questions with… Alexis Bittar
Alexis Bittar is certainly not a minimalist. But he knows how to make a little go a long way. When he was 13, his father gave him $300 worth of antique jewelry, which he began selling in the East Village in New York; a few years later, he began carving earrings from Lucite sourced on Canal Street that soon were sold at the Guggenheim and Barneys. In 2004, Bittar opened the first of his many boutiques around the world and grew the business into a multi-million juggernaut with legendary ad campaigns starring everyone from Joan Collins to Zoë Kravitz. He then sold half of the business to a venture capitalist firm followed by the entirety to Brooks Brothers in 2015.
When Brooks Brothers went bankrupt, Bittar seized the opportunity and bought his brand back, self-funding a reinvention that includes five new stores in New York City and a sixth in San Francisco. A collaboration with Tony Award-winning theatrical designer Scott Pask, the eerie stores are chockablock with antique phones, peeling paint, and stairs that lead nowhere. Blurring the line between shop and stage, they look more "2001" than Tiffany's, more Belleview than Van Cleef & Arpels.
Here, in a conversation via Zoom that has been edited and condensed for clarity, Bittar tells Interior Design about creating new creatures, taking control of his destiny, and the future of retail.
Interior Design: What was the first store you remember going to and thinking, Oh, this is what a retail space should be?
Alexis Bittar: The original Henri Bendel's on 57th street created a space that was fantastical, it really leaned into fantasy and the idea of theatrics. And Takashimaya, in a different way. It was more minimal. But it wasn't merchandized to literally sell, it was there to create an experience. And then, much later, Dover Street Market in London. I found their fusion of art and fashion interesting.
ID: How did those places influence the design of your first stores?
AB: Well, I'm always blending concepts and eras. There was a nod to "North by Northwest," one of my favorite movies, where Grace Kelly and Cary Grant are in this vacant hotel in Chicago and there are these cherry blossoms on the walls. That was married to this idea of taxidermy I was working with, where we would create these fantastical animals, like a swan with a gazelle.
ID: In September 2021, you bought back your business from Brooks Brothers. That was, of course, a very difficult time for retail. As you began thinking about brick and mortar locations, what were you worried about?
AB: Well, last September it was with the promise of the vaccine. It's slightly different now. But I was really thinking: Do I even want to buy back the business? Owning my name was an important thing. Obviously there were advantages to opening, in terms of the monetary end, in terms of rents. But there were definitely challenges in navigating how people are going to resume shopping. You have to give them a reason, an environment they feel like they want to actually, literally go into.
ID: Was there perhaps a freedom in that kind of situation?
AB: I thought that if I were to do stores, I'd do them very differently. I was watching this documentary on Studio 54, and remembering back in my old club days how Area would constantly redo itself with different themes. I started thinking how I'd like to create a feel and aesthetic around the store that feels more theatrical. Most retail went, you know, very white marble and chrome, a white box. I liked the idea of having a space be the opposite of that, kind of falling apart a little bit. Abandoned. If you could have an abandoned factory in Berlin and just plop a store in the middle of it. You can't find that in New York. So, how could we create it? I did feel a sense of freedom, having nobody else in the business and being able to figure out an aesthetic. To be able to say: I want to design a space that's an abandoned institution from the 1970s with a futuristic sculpture that brings us into the future.
ID: And so that's when you called in Scott Pask?
AB: I've known him for years. He's why I think it's a great idea to hire theater set designers. I actually think it's so smart, because they don't think like a retailer. They understand how to create moods. His range is incredible, and he's also a perfectionist. I'm incredibly impressed by his attention to detail, finding historical references and implementing them. He really understood this melding of the future and the past, so you're not sure what era you're in.
ID: How did you decide on the store locations?
AB: We went shopping in December and January of last year, so it was a crazy time. We were probably one of the only people looking for stores. Fortunately for us, there was an abundance. Some of the locations we picked have a little bit of sentimental value. The one that was out of the realm of where we had stores before was Court Street in Brooklyn. And because I live in Brooklyn Heights, I wanted something in the neighborhood. I have little kids and I want to teach them how to have a business, what it takes. It actually has turned out to be one of the best stores, the amount of traffic is like three times the other stores.
ID: Does the design concept differ from store to store?
AB: Each store has a sculpture. They are mirrored glass and wood, but they're shaped differently to fit each space. The SoHo location has a staircase leading nowhere with this backlit door, an abandoned staircase like a catwalk but industrial. Scott is a prop stylist and sourced a clock, an old phone. We spent a ton of time on the paint to get the feel of layers and layers of it peeling off. The West Village location has these big pipes in the ceiling, with a big hole full of plywood, which adds to the feeling of an abandoned space. And I wanted the lighting to feel like you are walking onto a set. For SoHo, we actually use can lights.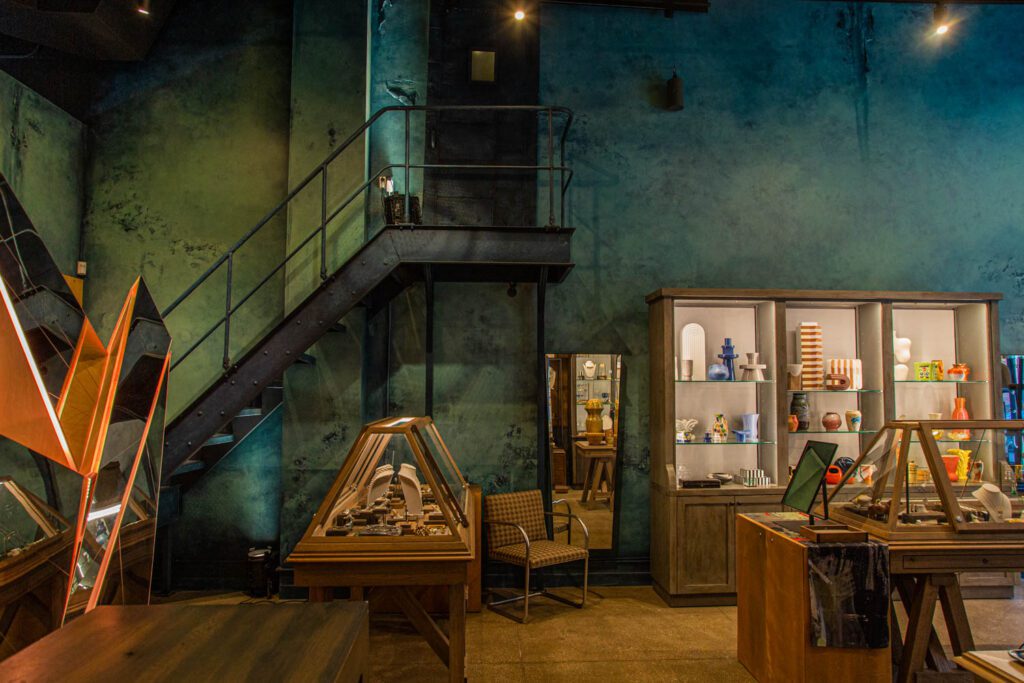 ID: And what about the furnishings?
AB: We wanted to get the feel of, like, a famous antique taxidermy store in Paris, but we didn't want a hodgepodge of a bunch of vintage cases. So we designed our own, with a steeple sitting on sawhorses. They have an unfinished-but-finished quality, so it doesn't feel like a typical jewelry case where it's so precious. With the old stores, people would just walk in and do a loop. But I want the customer to get a lost a little bit in the immersive aspect of going into the store. Whether you buy something is less important than if you remember it. A big part of retail is word of mouth.
ID: Has all this rethinking of your stores caused you to rethink the design of your own home?
AB: No, I'm pretty compartmentalized. My partner has a bigger say at this point. He's really definitely the voice. (laughs) And we have little kids, so we've had to let a lot go. (laughs)
ID: What's in store for the coming months?
AB: We're launching a line of handbags for spring. We had to design the stores into that idea; right now, the home lines are taking up the space for them. I like the idea of incorporating the sculptural elements of the jewelry on the bags themselves. I've done a lot, from homeware to furniture. So it was kind of like, I want to do it. Why not?