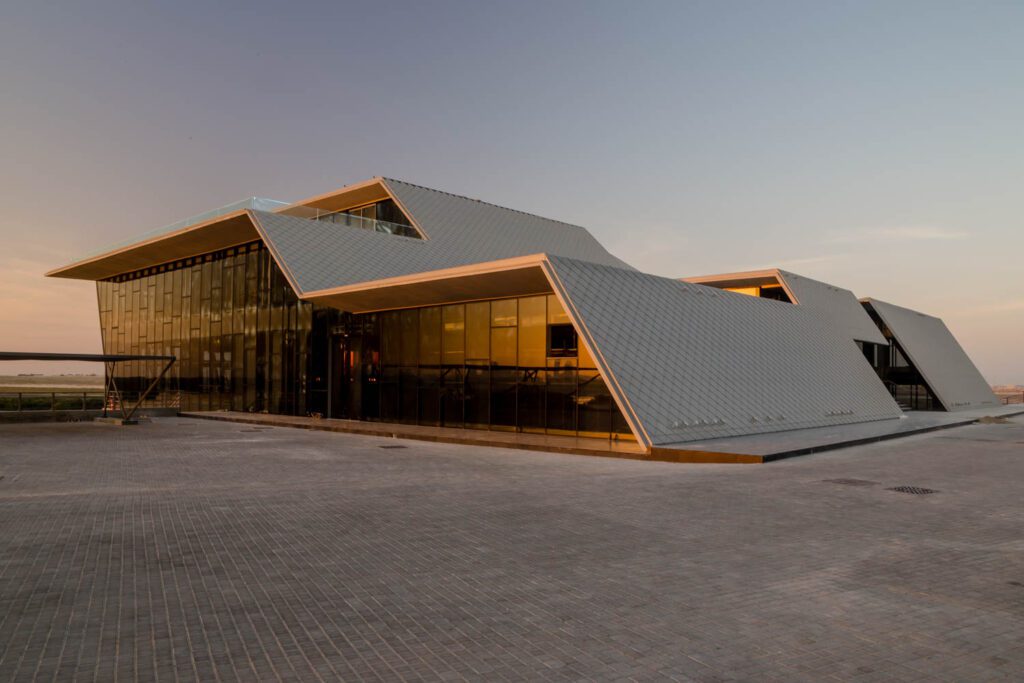 10 Questions With… Annabel Karim Kassar
Annabel Karim Kassar, a Franco-Lebanese architect and designer with offices in London, Dubai and Beirut, combines a modernist vocabulary with traditional Arab, Berber and Ottoman aesthetics. Throughout her career, Kassar has worked on projects across North America, the Levant and the Gulf. She views studying culture as a means to learn about the more emotional and sensorial aspects of contemporary design.
At the end of the Lebanese civil war her practice, AKK, was joint winner of an international competition to rebuild the traditional marketplace at the heart of old Beirut. This past June, she unveiled an installation in London's V&A museum featuring a reconstructed facade of a traditional 19th century Beiruti house. Entitled "The Lebanese House: saving a home; saving a city," the installation documents the aftermath and the reconstruction of the city's architecture through the fate and plight of a single building; a house her practice has been renovating in the district of Gemmayzeh for a few years but that was badly damaged in the Beirut port explosion of August 2020. Karim Kassar is also part owner of a lighting company, CAI Lighting, with two other designers. "We have a basic collection of 10 pieces that we can always do when clients ask for them but we don't do any advertising, we don't have an online shop or presence…," she says "Creating lights and selling them is two very different things. I realized it's very difficult to do both!" Her latest project, a restaurant in New York's East Village, opens later this year.
Interior Design: What does the Lebanese House installation represent?
Annabel Karim Kassar: In a way it's a sort of pretext to think about this extraordinary triple arcade Ottoman Venetian architecture and use it to talk about houses in Beirut, preservation and also the port explosion as an event that impacted not only this kind of building but different parts of Beirut. All around the port has been damaged. So I thought it was a good opportunity to start a dialogue, to make people understand the situation in Beirut. Also it's a good way to ask questions about what happens at the level of the people in a country when there is an explosion. For the London Design Festival in September I will be adding a very large and long diagonal mirror wall behind the triple arcade that is going to reflect and emphasize it, amplify it, make it more spectacular. It will give a different feel to the installation. On September 16 I will also give a lecture about what might be the best way of reconstructing Beirut after the devastation of 2020.
ID: How has the installation been received? Have you had any interesting encounters, meetings or proposals as a result of it being in London?
AKK: I have been really happy that it's interested me in so many people. And now the Lebanese Embassy is working with me on this lecture. I don't know if I can but I will also try to get the exhibition into the Venice Biennale, and show an evolution of the project. I see it as an itinerant project. It's very positive in that sense. I like doing art and architecture exhibitions and installations because you are much more free than when there is a client. I quite like that with this project it is never quite finished.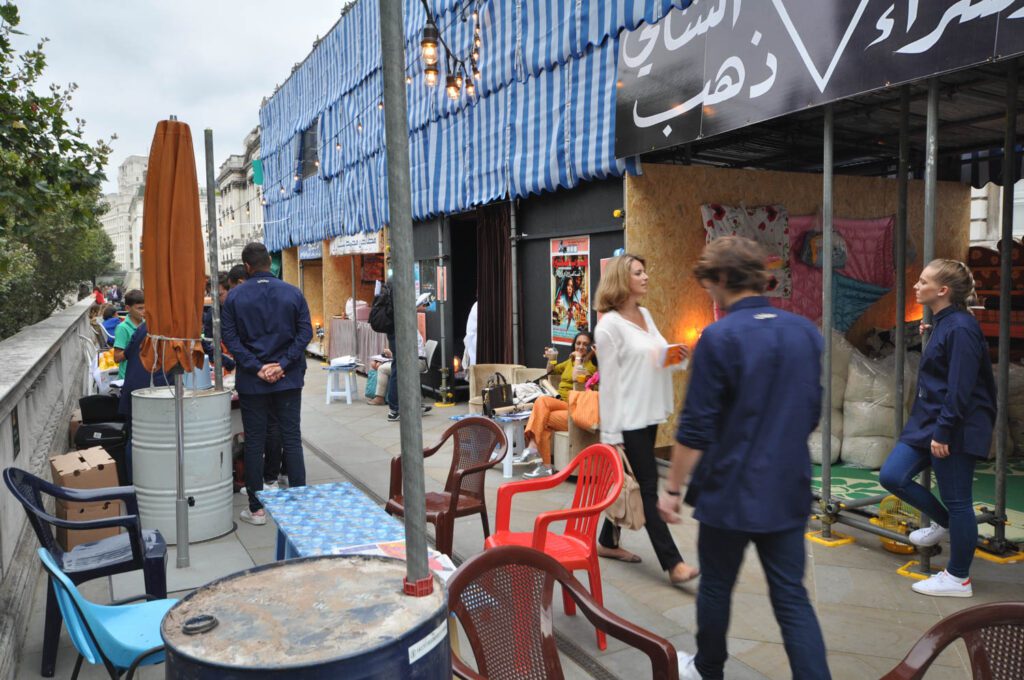 ID: Tell me what state the house you were restoring in Beirut, which is known as Bayt K, was in before the explosion?
AKK: I had done quite a lot of work on it already to reinforce some of the foundations and a lot of the flooring. I had put in big beams to sustain the walls and the stairs. And also a big part of the roof had been renovated. It was really at a good point structurally and we had started to think about the next phase. Then the explosion came and the house was quite seriously damaged. Less compared to others in the city, but damaged nonetheless. The three interior arcades on the second floor collapsed. The roof frame has also sagged and has cracks, while the northern wall buckled towards the street by 15 cms, so there was considerable ballooning on the facade. We took urgent measures first to try to stop and temporarily preserve it with planks of wood and metallic cables. It took us ten months to consolidate the building. And it was complicated further because we needed permits to do the work. We were saying "it's going to fall on people so let us do the work" but it took months of effort to get the authorization. Now we need a bit of time to understand and see what needs to be done.
ID: Can you talk to me a little bit about the explosion and aftermath? How did it impact you personally?
AKK: I couldn't believe what happened. I was lucky I was not in Beirut at the time. I have a house in Gemmayzeh but I was not there. A lady I know who comes to clean the house twice a week was there with her son for an hour when the explosion happened and she was badly injured, especially one of her arms as a door fell on her. Still, she was lucky…Some architects I know died and some friends died or were injured. I still have an office in Beirut, not in an old building or a traditional Lebanese house, in a building of the '40s and '50s. It has also been damaged. But more frightening than that was that one of my architects was staying late that night and had her car parked at the port of Beirut, which is not that far from the office. She was delayed by 30-45 minutes by work, if not she would have died. So yes It was horrific. I could not believe it was so bad.
ID: What about the city, how has it affected the city?
AKK: It has been very depressing. The situation was already very difficult in Beirut. On top of all the damage it's the fact that it has conjured up the trauma of the civil war for people, because people are still recovering from that, as well as dealing with difficult economic and social problems. And then this happened. People are still trying to live their everyday lives and trying to survive like they have for so many years but this has added some layers of despair. A lot of people who can have left Beirut because the situation is so difficult. As regards the city's reconstruction we need to rebuild collectively I believe. We need a community-led planning approach with a focus on the preservation of existing buildings. I don't think putting up huge new commercial projects is the right answer. When they go up, people can't go back to their old routes and routines. Beirut has been through huge development and the economy is doing badly, we need to find solutions at the community level.
ID: Quite a lot of heritage buildings in the city have gone forever and weren't rebuilt after the civil war. It would be sad to lose even more…
AKK: It would be sad….already people are struggling with memory and loss and finding a way of living in a country where there are so many social and economic problems. I think to keep housing that has been shared by the same people for generations, especially in the Middle East, is important. That's why I think it's good to work on the existing buildings right now and not to erase any more of them. I think the situation in Beirut is the result of a mix of issues, real estate speculation but also the fact that the country has been divided into different communities. People are living and staying in their own neighborhoods much more than before; it's much less mixed. There are different reasons for that, it's complicated.
ID: For your installation in the V&A you brought some specific elements from Bayt K, your house in Beirut, tiles and masonry specifically, and had others made in Beirut and installed by master artisans. Why did you want to do this?
AKK: For me this isn't an interior decoration project, it's an installation. So I had the timber windows made by a master carpenter in Lebanon and shipped to London. I also brought wood supports, wood columns and marble capitals and some colored concrete tiles from the terrace of the south west staircase of Bayt K and decorative painted plaster ceiling fragments from the main living room of the house. I asked an architect restorer and a master mason to help with the installation and work on it the traditional way. I didn't want people to feel like they were in front of a model or a replica. I wanted them to think they are in front of the house. I wanted the emotion that I felt when the things were done to come through. While I was building the installation I started thinking I was crazy to do that. Then I saw that I did that because I needed the emotions to transmit. This is not a model but a piece of architecture. When you stand in front of it, you understand the scale of the house.
ID: What inspires you or stimulates your creative process?
AKK: If I'm doing a project, I often don't have ideas at the beginning, it takes me some time to understand what I want to do. With the Somerset House project I did in 2016, the Lebanon Pavilion for the London Design Biennale, at first I did not have any ideas. And I thought at one point I would not be able to do the project as a result. But I'm a runner, and when I was out running one day I suddenly had an idea, that the pavilion shouldn't be about one designer or design, it should be about the life of the streets in Beirut and the people who inhabit them and transform them in such an amazing way. That's how the idea eventually came. I can think about something for a month and while I am doing something else in the day I get an idea. Once the ideas come then I work very systematically as an architect.
ID: What other projects are you working on at the moment?
AKK: A restaurant and bar called Ella Funt in New York's East Village, which wants to bring the French food of the 11th arrondissement of Paris together with the buzzy New York late night restaurant hang out. It will open around November time I hope. It's located on the site of the legendary Rainbow Inn and Club 82, a drag hall that was very popular in the 50s and 60s. There will be organic wine, a casual gastro food concept brought directly to New York from Paris by the Levha sisters (the chef is called Tatiana and the sommelier is Katia). The restaurant space is divided in two; one of the spaces is a more relaxed bar space with a snake shaped bar and using a mix of material. There is a central mirrored pillar which reflects yourself and others. In the dining area, there are banquettes and a long central table with a map of Lower Manhattan. I am also working a lot in Ajman, which is near Sharjah and about half an hour from Dubai. I did a project there called Al Zorah pavilion, a geometric admin, culture and entertainment building overlooking the mangrove and featuring a cascading canopy roof. Now I am working on a golf club creating a clubhouse that maintains the architectural language of the Al Zorah Pavilion.
ID: You've lived in several different places, Morocco, Beirut, Dubai, and now, for the past few years, London. What is life in London like compared to these other cities?
AKK: I think in London you have to get yourself out there to meet people, it doesn't happen as easily as in Mediterranean countries. But I like the way that in London you can do what you want if you go for it. You can do a lot here. There's also quite a lot happening outside the city centre now, more of a community spirit and buzz in the different neighborhoods, more cafes and restaurants spilling out on to the streets.