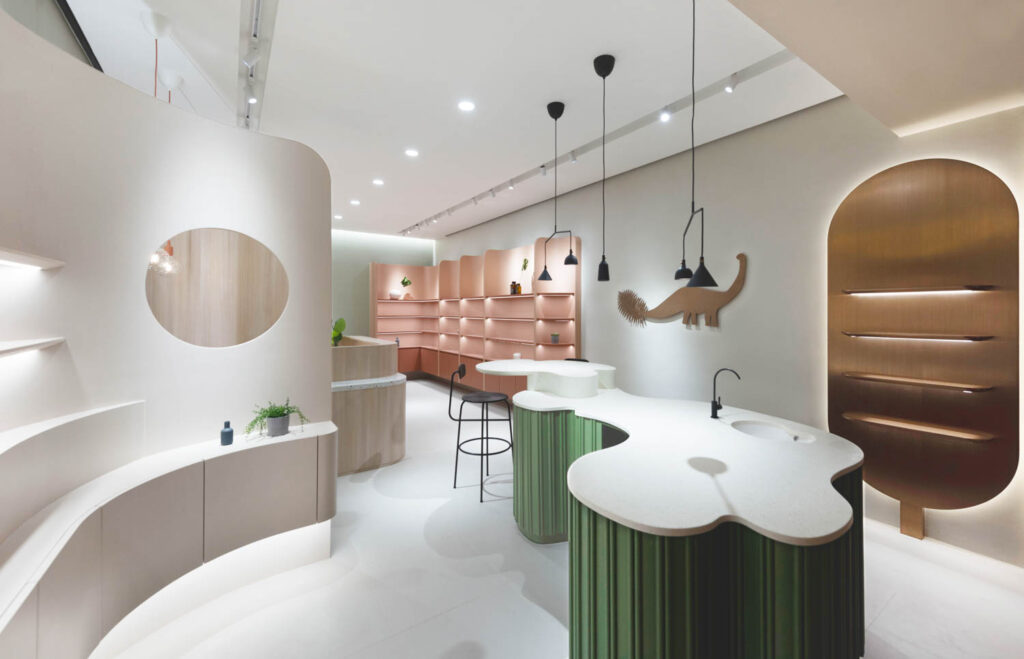 10 Questions With… Bean Buro's Founding Directors
A design firm's meeting space often provides a glimpse into its soul. Within Bean Buro's sun-drenched boardroom facing the South China Sea, adjustable shelves, and picture rails showcase colorful renderings of projects completed and in the works. Sample boards, models, awards, and books join an eclectic collection of favorite things, anchored by a hard-working edition of the studio's Bean Table. It is a cozy yet highly agile room, where creative discussions occur in equal measures as charitable endeavors with all hands on deck.
Bean Buro's founding directors Kenny Kinugasa-Tsui and Lorène Faure have catapulted from strength to strength in the decade since they opened shop in Hong Kong. The duo collaborates with some of the biggest developers in the city on offices that push work boundaries. Their painterly approach to graphic communication goes a long way towards helping clients envision spaces. Mindful of their role as leaders and mentors, their dance card is full of industry events including last year's 25 Years of Design and ESG initiatives such as beach clean-up days. Perhaps most importantly, they sculpt regular family time with their 4 ½-year-old daughter and 2-year-old son.
Interior Design joins the couple to understand their inspirations, the projects they feel most exemplify their design oeuvre, and why giving back to the Hong Kong community is a must. 
Get to Know Designers Lorène Faure and Kenny Kinugasa-Tsui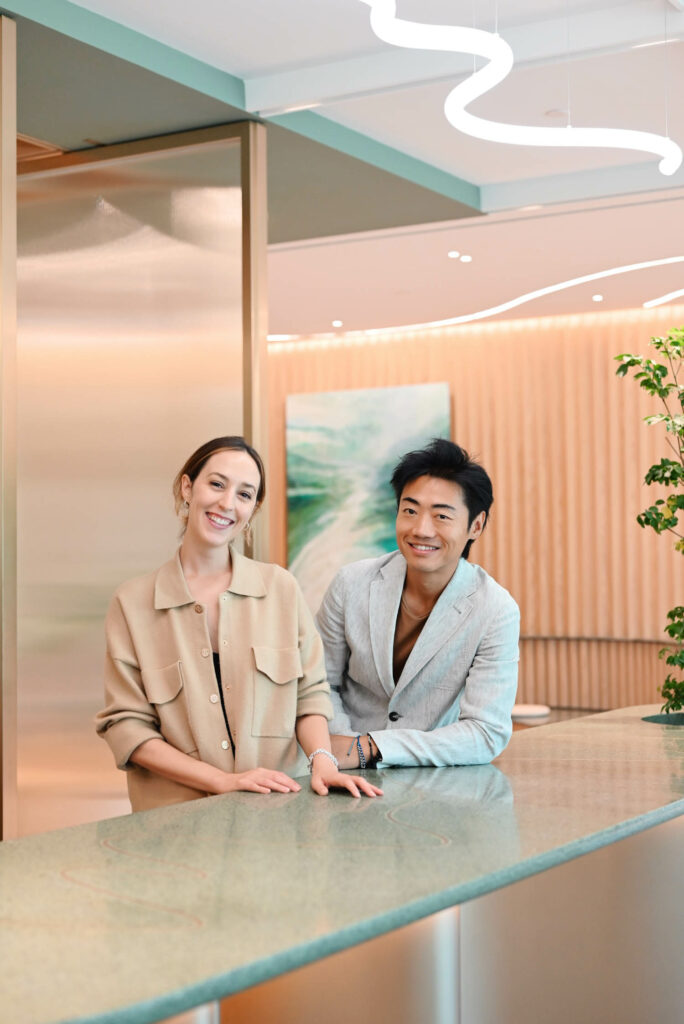 Interior Design: Did architecture bring you two together?
Lorène Faure: Yes. Kenny was a lecturer at Ecole Spéciale d'Architecture (ESA) in Paris where I did my master's degree. I am from France and grew up between France and the U.K. ESA is tailored for international students, and its cross-cultural approach fed into our philosophy. Peter Cook, one of the founders of Archigram, was my tutor and I worked for him after graduation for several years in London. 
Kenny Kinugasa-Tsui: Peter was my mentor, too, and was head of The Bartlett School of Architecture at University College London where I studied architecture. He was a big influence on us: he encouraged different drawing methodology and was very into representation. I am from Hong Kong originally; my father is Chinese and mother is Japanese. After school, I taught for two years in Paris and worked in London for some amazing firms. While in London, Lorène and I began working together on design competitions. We both wanted to do our own thing.
ID: And then you moved to Hong Kong?
KT: My dad's family lives in Hong Kong. We wanted to work somewhere with a faster pace. We felt there was more opportunity in Hong Kong. The first year, it was just the two of us still defining what our studio was about.
LF: Hong Kong has a lot to offer young designers. In Europe, it can be a catch-22 situation as clients won't trust us with projects until we have experience, but how can we get experience without the projects? Hong Kong clients are remodeling all the time, and they are receptive to new ideas.
ID: Why the name Bean Buro?
LF: Although Kenny and I have very different personalities, we have similar ethos and approaches. We are consistently aligned. Our company name 'bean' is an acronym for 'between exchanges of architectural narratives' and 'buro' is from 'bureau' or office in French. Even with the smallest of spaces, we always try to tell a story. And Bean Buro sounds friendly, not too serious, reflecting a more personal approach.
KT: Our name is catchy and easy to pronounce. It is tongue-in-cheek, with an element of being humanistic. It reflects our bespoke approach to design.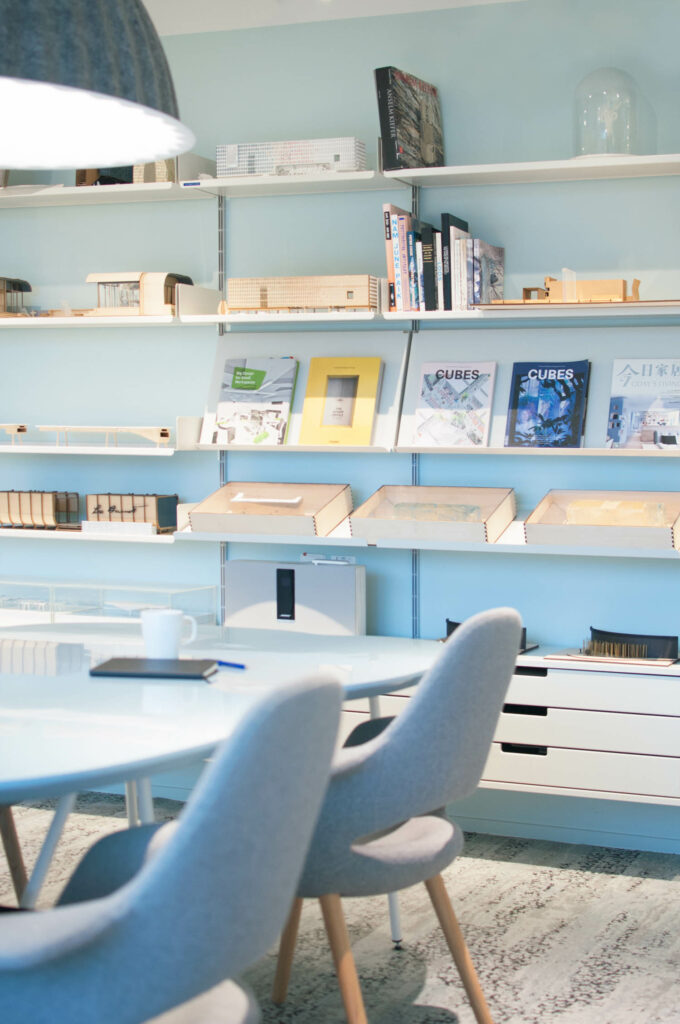 ID: Are there any commonalities across your portfolio?
KT: For our commercial projects, it's about the client's brand and making spaces functional. For our residential projects, it's about a personal narrative with careful attention to details. They involve different engagement processes to yield more edgy outcomes.
For example, the Bloomsway is a post-pandemic triplex home for a family with two young kids set in the Hong Kong Gold Coast hillside. We were inspired by Cézanne's paintings of Provence to develop a palette of greens and lavenders. As we have two young children as well, we adopted a playful mindset and designed the upper part like a tree house, with curves to create tension against straight lines.
Warner Music has been a client for years—we designed its offices in Hong Kong, Beijing and Singapore. For each location, we implemented new workplace strategies such as multifunctional spaces, semi-formal collaboration areas, and art-infused rooms for music sampling and demos.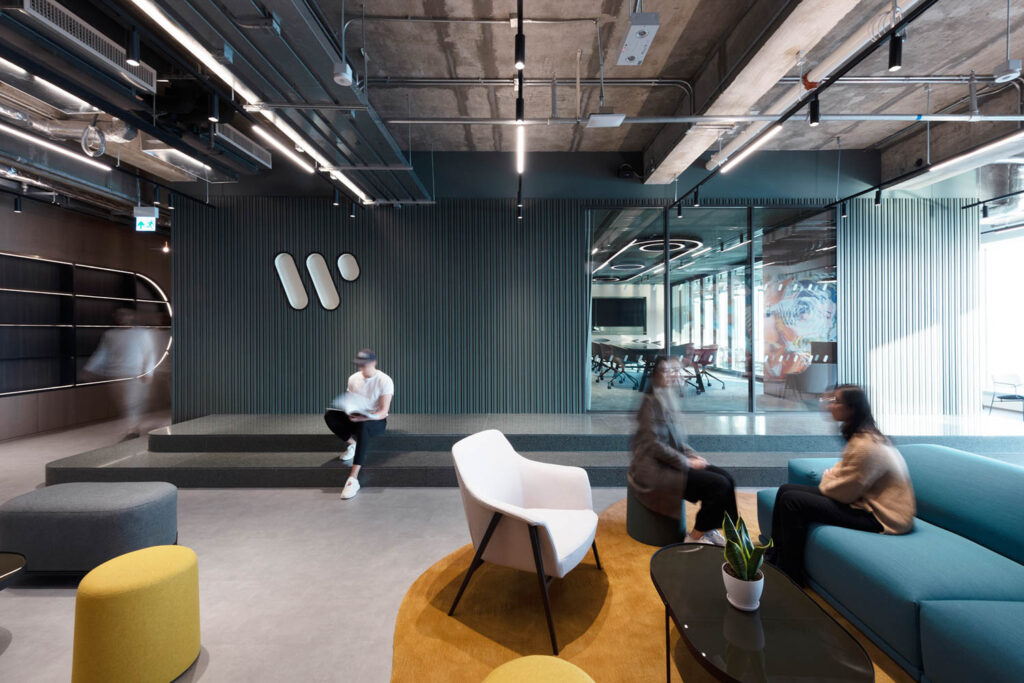 ID: What is the importance of materiality to your work?
LF: Although materiality is subjective to individual projects, we want our spaces to feel natural and comfortable. We like things to be simple. If we choose a nice stone, we want it to be a centerpiece. So much of well being is derived from the environment we are in. We select materials based more on health-conscious decisions. I must admit that it can be challenging in Hong Kong since there is a lot of imitation and replacement with cheaper alternatives. We always encourage our clients to go for the real material, explaining why it will benefit them in the long run. And we see more appreciation for that.
ID: How do you instill your design approach into workplaces?
KT: About half of the projects we work on are workplaces. We both sketch a lot; iPads makes it so easy to sketch in situ and share with clients. For the three-story office of Anglo-Eastern, a ship management company, we designed an internal staircase to bring staff members closer together. For Landmark South, its developer Sino Group was seeking a show office. Our design was about bringing the surrounding mountains in, with mirrors to extend the view. Visible millwork details were inspired by natural forms. The boardroom with its coffered ceilings is like a house within the space.
LF: L'Oréal was the first retail brand we worked with: we designed its Hong Kong office with a strong sense of identity. That led to our collaboration with Beautysaur Organics, and its flagship store in K11. We developed a distinct form and colour scheme for the beauty brand, and included a version of our Bean Table in the space.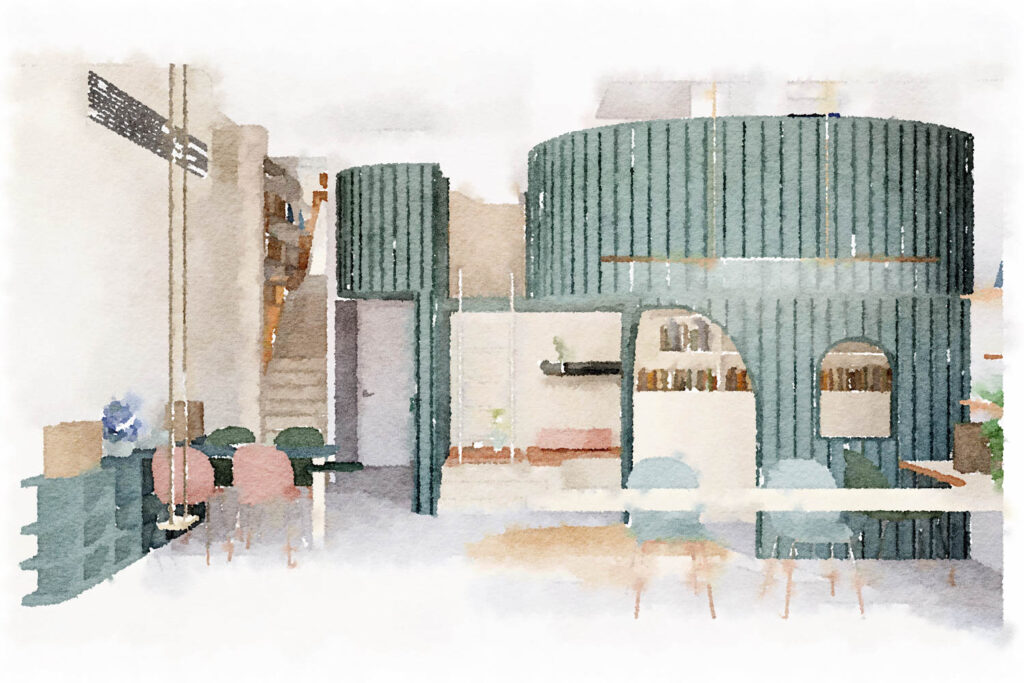 ID: What leads you to participate in design awards?
LF: Although we instinctively know whether we are proud of a project, awards are important for building trust among clients. Winning them helps us push an agenda: they are a tool. It's like seeing a doctor's diplomas hanging in a clinic. When we first started, clients were unsure about us. Awards helped get them on board.
KT: Internally, awards help motivate our team of 15 designers and architects. They give us energy. In recent years, we have been asked to judge, such as the recent A&D Awards. Judging gives us insight into trends and what's coming up next.
ID: You both spend quite a lot of time on Environmental, Social, Governance initiatives—why do these matter?
LF: We believe in going beyond a work life balance. How do we engage our team? It feels good when we all contribute to society. Music, parties, events—these all strengthen our community and have ripple effects.
KT: We go on outings with our team to museums such as M+ and Tai Kwun; this exposure to art feeds into our projects. But it could be a small thing, like beach clean up day where everyone can get involved. Or our previous fundraising efforts for Hong Kong Cancer fund, where everyone dressed in pink to raise awareness. These initiatives feel meaningful and have the side effect of team bonding.
ID: How do you separate work from home?
KT: I will admit, it isn't easy! We have to consciously shut down and not talk about work in front of our kids. I find family time a source of inspiration. Their school art is beautiful!
LF: We are not workaholics but we do work a lot. We are much more disciplined about our work hours since our kids came along. Of course, we sometimes have to put in late nights, but we try to go home early enough to put them to bed. And it is important to switch off and disconnect for our mental health. We love how our kids are 100% creative: we see boundaries while they cross them. They are constantly challenging our way of thinking.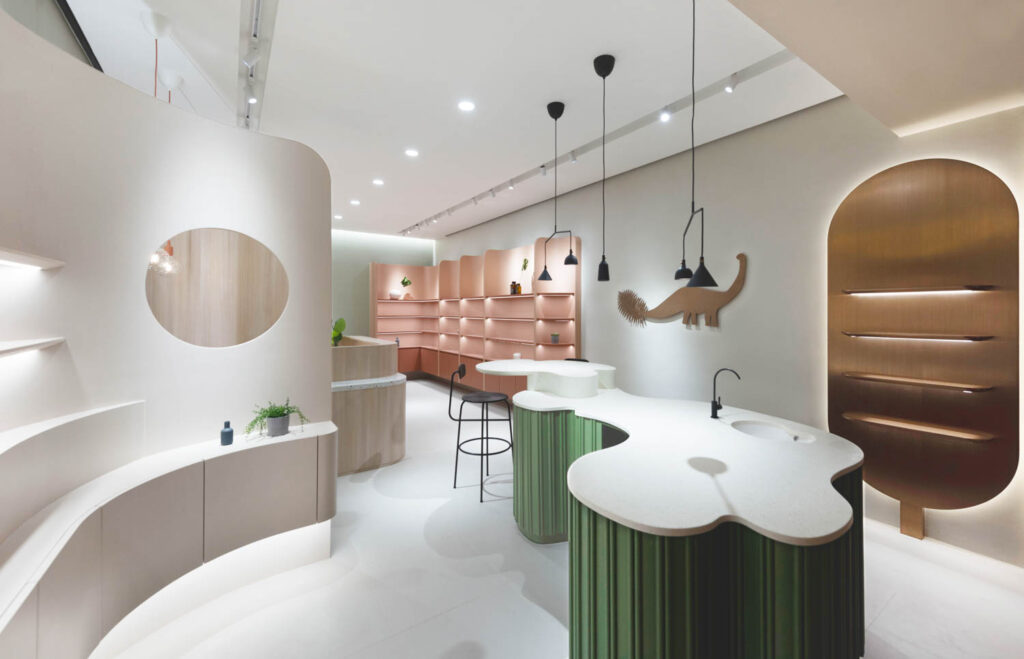 ID: What's next, now that Bean Buro is heading into its second decade?
LF: We are in discussions with manufacturers about our Bean Table. I see us continuing to refine and experiment with doing different things. I like the idea of expanding with satellite offices, but we don't want to expand too quickly and lose ourselves. We want to keep growth steady while our kids are still young.
KT: We naturally will expand across borders, with Zoom a normal thing now. In the past few years, we started working on projects in Singapore, Kuala Lumpur and Taiwan. Many of our clients have projects overseas. And we love to travel! I am confident that we will open an overseas studio in the coming years.
Explore More Design Projects by Bean Buro