10 Questions With… Daniel Arsham
Daniel Arsham is a master manipulator. The Miami-raised, New York–based artist masterminds large-scale installations that distort perceptions of space and architecture, a practice originating from his college years at Cooper Union, where he received the Gelman Trust Fellowship Award in 2003. There, he met architect Alex Mustonen who, as the story goes, initially helped him draw a staircase for an assignment. Five years later, Arsham enlisted Mustonen's architectural expertise for an excavated wall installation at a Dior Homme boutique in Los Angeles. Thus birthed Snarkitecture, an ongoing collaborative practice that experiments on the spectrum between art and architecture. Notable for their inflated scale and eye-catching use of monochrome, Snarkitecture's commissions include KITH boutiques in Brooklyn, Manhattan, and Miami, a Valextra flagship in Milan, and a COS outpost in Los Angeles.
When not directing Snarkitecture, Arsham maintains his own artistic practice characterized by simple yet paradoxical gestures toward preconceived notions of what architecture should be. Such structural experiments run the gamut from crumbling walls to decaying cultural artifacts. Take "3018," his solo exhibition at Galerie Perrotin in New York, opening on September 8. Two crumbling vehicles, each an easily recognizable icon of pop culture, occupy the gallery's ground level. Arsham rendered each in crystal, and volcanic ash, pyrite crystal, selenite, and quartz appear where mechanical components should be. Other works on display, he quips, "make architecture do things it isn't supposed to do."
This year may be Arsham's most action-packed. "3018" closely follows "Fun House," a Snarkitecture retrospective at the National Building Museum, and the release of the firm's monograph. This fall, he's launching his own book through Rizzoli and designing an exclusive sneaker for Adidas. Arsham sat down with Interior Design to discuss his fascination with materials and how a stint working for famed choreographer Merce Cunningham impacted his career trajectory.
Interior Design: How did growing up in Miami shape your artistic sensibilities?
Daniel Arsham: I was born in Cleveland but moved to Miami shortly after. Miami is an interesting place. Everything there, including the land, was created. The entire thing is a kind of fictional city built on top of a swamp. It also has notions of fantasy, both in places like Disneyworld and the idealistic beach which itself is fabricated—sand is pumped up onto the actual beach.
ID: "3018," your exhibition at Galerie Perrotin, examines your dystopian vision of a future where contemporary culture is eroded. Can you elaborate more on this vision and what it responds to?
DA: For the last decade, I've been working on this project of fictional archaeological works. These are contemporary objects that are degraded and decaying as if they've been in the ground for thousands of years. "3018" increases the scale of some works—two pieces are cars. I always look for multiple entrance points so viewers can recognize them, and these two happen to be props from films: the Delorean from Back to the Future and the Ferrari from Ferris Bueller's Day Off.
ID: The works on display incorporate a wide range of materials from synthetic to natural. What are your favorite materials to work with, and why?
DA: In my work, materials are always as important to the concept as the visuals they create. When you look at the car and it's made of crystal, it isn't as if I painted it to look degraded. Its material is something we associate with a geological time frame.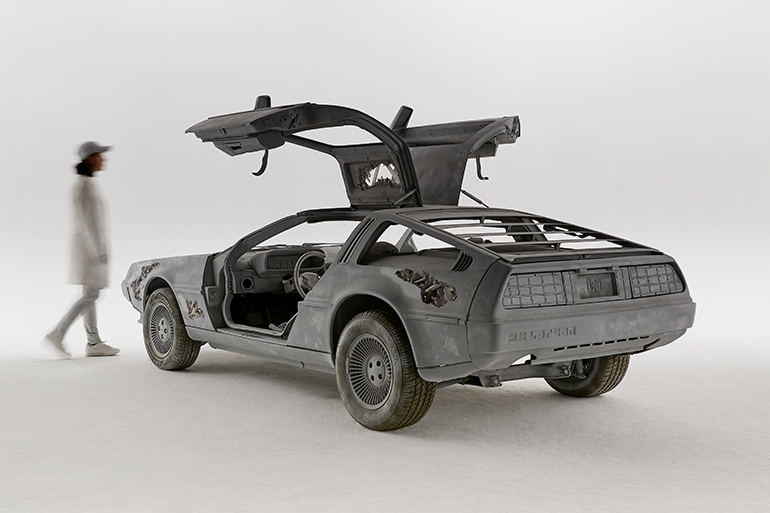 ID: You are also releasing a monograph through Rizzoli this fall, which closely follows Snarkitecture (Phaidon) and "Fun House," Snarkitecture's retrospective at the National Building Museum in Washington, D.C. Has 2018 been a year of reflection for you? Why or why not?
DA: This year has certainly seen me looking back at older works and finding familiar references and context to build on. My Rizzoli book reflects on the last 20 years of my work, all the way back to my thesis exhibition at Cooper Union. It's one of the earliest things I created using architecture as a medium to play with—manipulating and creating a disconcerting, uncanny architecture.
ID: What have been your most exciting and challenging artistic commissions, and why?
DA: Stage design. I worked for many years as a designer for the choreographer Merce Cunningham. I didn't study dance or theatre, and I had never even been on a stage before I worked with him. This was an amazing and frightening experience in translating methods from my sculptural practice to stage space, which has very different parameters. The audience is fixed and unmoving, and lighting, which is typically fixed in a gallery or a museum setting, plays a huge role. This experience influenced much of my practice afterward.
ID: Let's talk Snarkitecture. How did your partnership with Alex Mustonen come about?
DA: Snarkitecture started when I was making pieces in public space that manipulated architecture. In a museum or gallery, I usually have carte blanche but my gestures are temporary. Public space requires a different knowledge base, so I hired Alex to help realize my pieces on a larger scale. We discovered an area closer to architecture than my own practice, so Snarkitecture emerged from that. It ultimately became its own entity with its own language.
ID: His background is in architecture, and yours is in art. How do your approaches differ and what keeps the collaboration balanced?
DA: Snarkitecture and my studio share space. Mine is often chaotic and a place of experimentation and mess. Snarkitecture is often very ordered and clean. The influence of both of those ideas on each other has a lot to do with the ethos of architecture—precision and chaos, clean and new, straight and off-kilter. These elements are present in a lot of our work.
ID: What's the most important thing you've learned about running a business that you didn't know when you started?
DA: How important failure can be as both a motivating factor to not repeat but also to understand how and why many things don't work. It can be a tool.
ID: Is there a milestone in your history that has really influenced your career?
DA: It's August 24th, 2018. 24 years ago today, I was in Miami during Hurricane Andrew. It destroyed my house and much of the surrounding city and community. Seeing architecture in a state of flux and movement, and in a state of decay and rebuilding after the storm, has influenced much of my practice both in Snarkitecture and in my own work.
ID: What's the best thing about your job?
DA: I don't really have a job so that's probably the best thing.