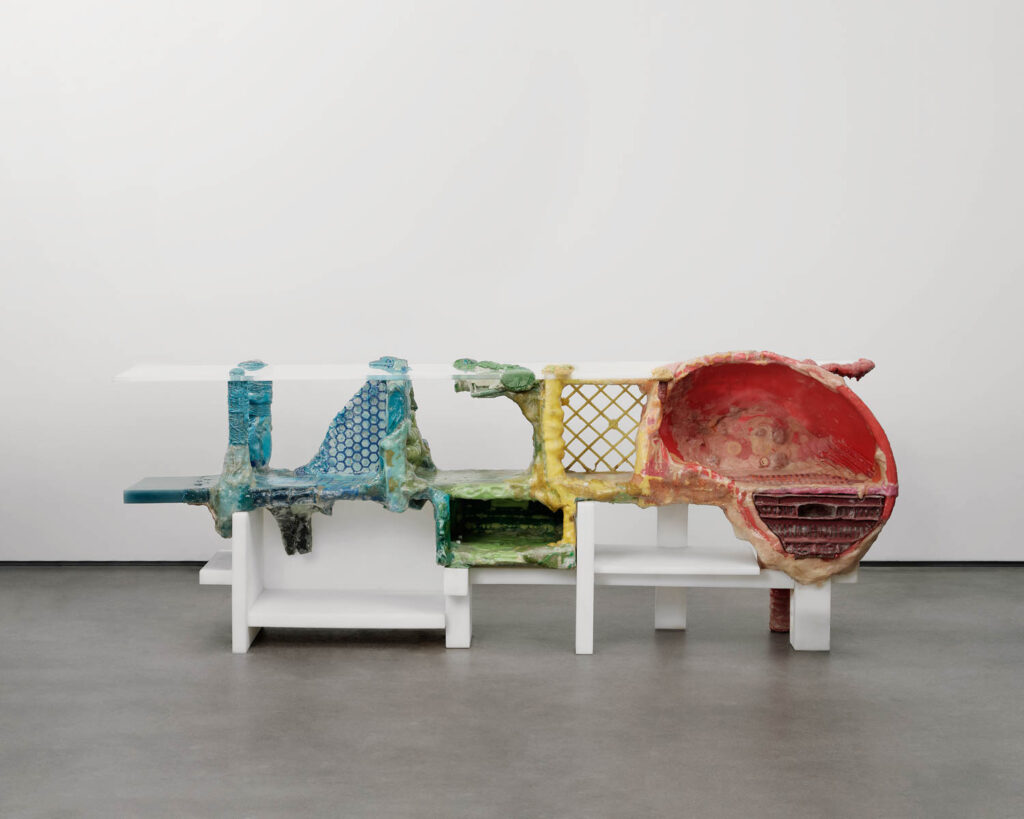 10 Questions With… Kostas Lambridis
At Kostas Lambridis's Athens, Greece, studio, there is a corner for everything: A wood corner takes up space, as does one for working on metal, in addition to others for plastic, electronics, ceramic, and glass. There is also what he an his team of six call "the dirty room," where they do sanding and painting. All these fragments of materials inhabit the Greek artist and designer's practice, which kicked off around five years ago after he graduated from the Contextual Design department at the Design Academy of Eindhoven.
After cooking up his talents at Nacho Carbonell's studio and debuting a solo show with Carpenter's Workshop Gallery in Paris in 2021, Lambridis has recently opened his solo U.S. debut, titled "Reverse Fireworks in Slow Motion," at the gallery's midtown location in Manhattan.
The nine works in the show assume witty approaches to furniture in the age of rapid technologies, environmental crisis, constantly evolving forms of self-fashioning, and visual data influx. The crux of the presentation is a singular playful focus on different materials such as plastic, metal, mineral, and wood, while stretching the narrative limits of usable art. All you need now is some oxygen is the show's tour-de-force, a flamboyant stage-like coffee table made out of concrete, glass, ceramic, marble, each interjected into the overall work with a commitment to elevate their characteristics. A wash of fungi and flora in ceramic blankets the bottom of the table, roofed by hefty cuts of glass and marble with concrete accents.
"My time at the Carbonell's studio is forever a part of my design DNA," Lambridis says. "Working there made it possible for me to even imagine that I could have a life built around this way of working, producing these weird, ugly furniture pieces for a very specific market." Today, the 35-year old works from a large second floor studio in a northern suburb of Athens, which was inhabited by Greeks who left Turkey in the early 1920s and turned the area into a commercial hub for carpet-making. "My dad grew up in this area so I immediately looked for a studio here when I moved back to Greece," he says, and just like the materials in his sought-after objects, his studio team is composed of artists and artisans from different backgrounds, all tasked with taking turns making meals inspired by their native cuisines.
Kostas Lambridis Talks Design, Found Objects, and More
Interior Design: What is your relationship to minerals?
Kostas Lambridis: I consider minerals to be the starting point of what I'm making. While I was producing my thesis piece, elemental cabinet, six or so years ago, I separated the materials I was using into five big families, which are minerals, metal, wood, plastic, and textile. Then I realized none of these was accurate because in textile, for example, I also include leather or printed surfaces. Today, by minerals, I refer to base materials, so I consider concrete to be a form of mineral, as well as clay or glass because their starting points come from the earth. For this show, I decided to stick to one family of materials for each piece instead of mixing all different types together. There is, for example, a low table which I made out of stones I found or bought from different places.
ID: In the chair, mix them together, several elements come together. How do you create balance in new objects using pieces with different histories?
KL: I'm not sure if balance is the word that describes fully what is happening there, but for sure, it is one of the words. On the other hand, if I could explain it with words, there wouldn't be any need to make the object. Because in a way, this is exactly what we're trying to do at the studio—we're trying to merge all these different elements into a single form of unity. In the beginning, there are always two pieces that go together, then a third piece comes in and it suggests a different direction. And then the fourth piece, and then maybe we are done. There is always this question: Does adding help to go towards the right direction? Sometimes this questioning opens room for a mental space, a space for new options. At the end, it's just a matter of a choice where to stop. There is no end.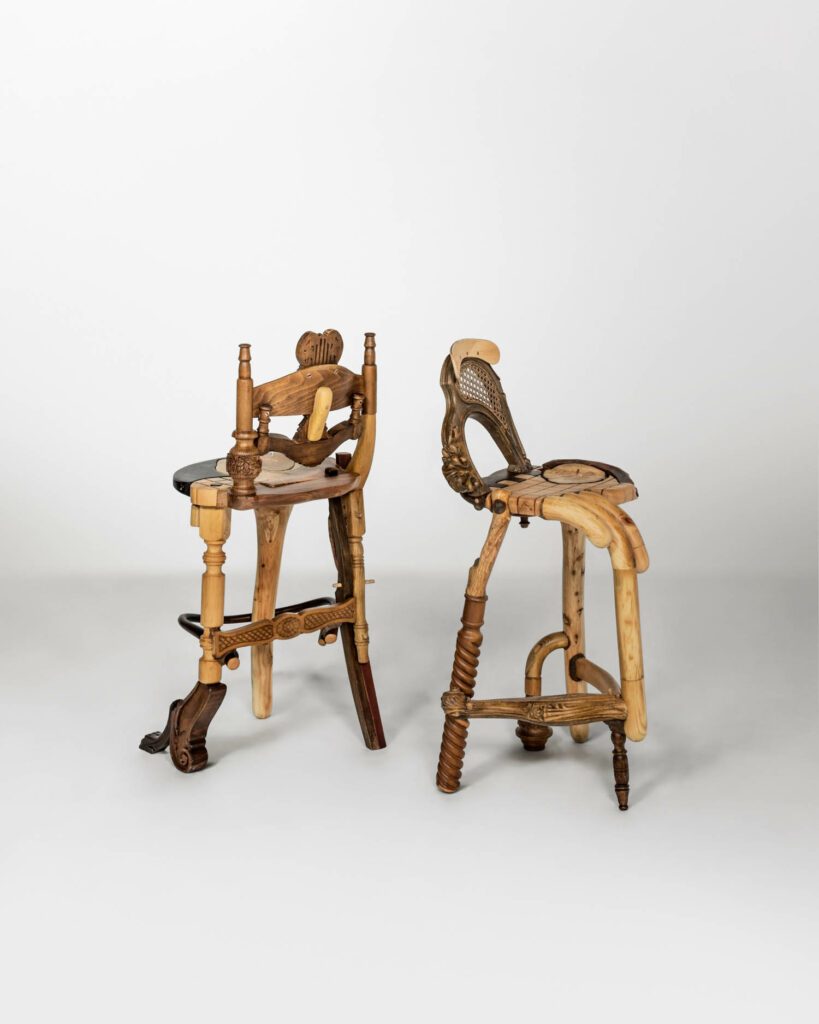 ID: Could you talk about construction and composition? As a designer, you're physically constructing an object but as an artist, there is a composition. 
KL: I would say sometimes composition comes first. Structurally, I am looking for the way to actually make the piece strong and hold it there. But sometimes there is the opposite happening. In other cases, I just let the structure that is hidden to speak up and come up on the surface to become the protagonist. It's a dialogue between composition and construction.
ID: How do you source and use objects you collect? 
KL: This is a natural part of the process. I drive around with my car, usually going from home to the studio, and I see all these things on the street. I always stop to see what people throw away, and if I can imagine some kind of use for that thing, I just put it in my car to bring it in the studio. That object might stay there for five years before it becomes useful, or it can be used the same day. All you need now is some oxygen, which is a wooden dining table for 10, for example, has many found objects, especially on the surface of the upper table. The things I found on the street in a way guided the form of this table. Found objects are always treated with the same way as all the other materials that I have in the studio. Maybe that is also why there is a balance between obsession and randomness.
ID: Are you interested in the histories of found materials? They come with some history through people touching and utilizing them—they carry the marks of those processes.
KL: For sure I am, but I don't necessarily pursue this information, although sometimes this information just comes to me. I might make up a story, or just fill in the gaps with my imagination. On top of the wooden dinner table, fused before charred, there is a space that is carved, which I split into different pieces, and we use them to different sides of the table that has the illustration of someone being on an elephant in the jungle. There are trees, and few rocks. This, for example, I interpret as a reference to the forest, the source of the material of the wood. I believe this part of the table was made somewhere in Indonesia, or Malaysia but I bought it from a secondhand shop in Athens. I think maybe a couple went on a honeymoon trip in that part of the world, and they came back with this souvenir, which sat in their house for years.
ID: This also makes me think about the element of humor, which comes with some curiosity and an invitation to think out-of-the-box about furniture.
KL: For sure. I like to do things that somehow will make people feel uncomfortable when they look at them or things that are just considered to be totally wrong. The dinner table, for example, has a bumpy surface which will be hard to clean after dining on it—I was actually laughing with my studio team while making this table. I like to approach making a work with practical questions like this that challenge its use.
ID: The idea of bringing different materials together also hints at a form of storytelling. All these details come together to unfold a tale, almost like pages of a novel.
KL: This narrative is very open-ended—everyone can project their own version because there is no specific narrative that I had in mind during the making. There can even be multiple and conflicting narratives. Maybe this is also something I use to justify my choices to myself although there are elements that I consciously use together because they have a kind of connection through a specific narrative if you will. But, I'm more interested in things that I unconsciously do. When I look at the result later, I realize something about myself, maybe something I was not even aware of in a metaphysical way.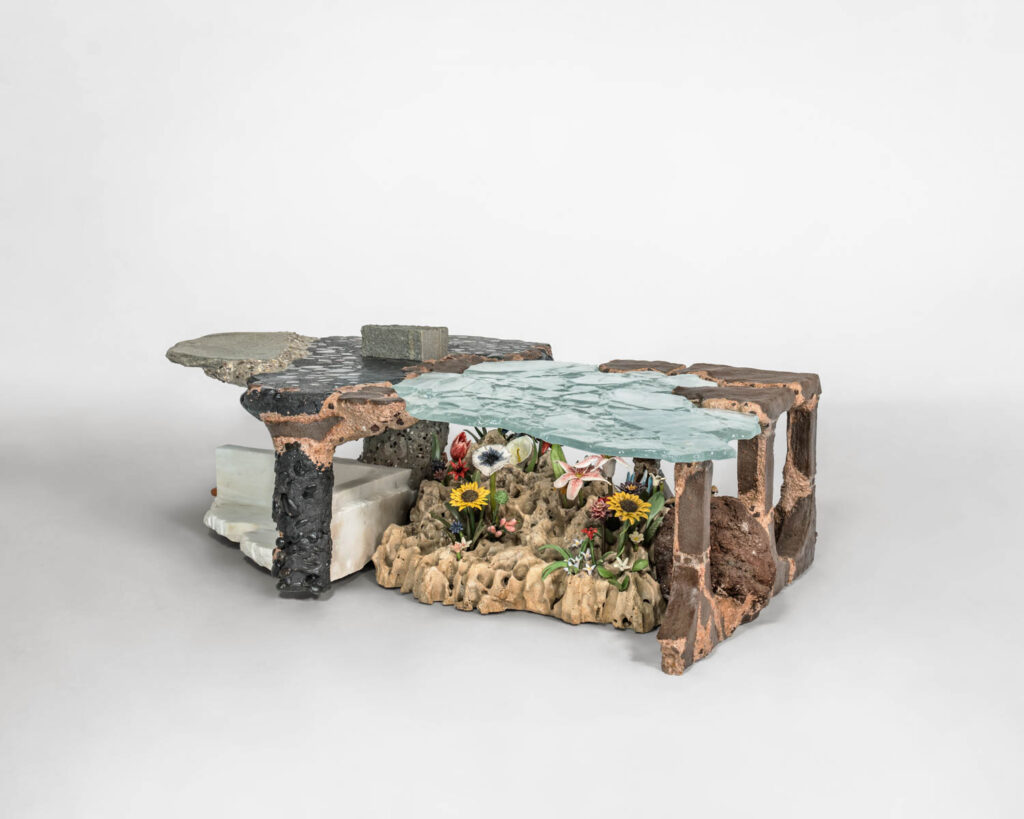 ID: I'm also curious about pace, not only due to the show's title but also because it looks like your process takes time, demanding some slowing down while focusing on a singular material.
KL: My practice, even more than the result, is about whatever is happening during the making of these works. It is a choice to spend my time making them at the studio with the people in my team. In the end, we, like everyone else, all pay attention to what we do with our time. I want to spend my time creating these objects, so this is the first choice above any aesthetic or artistic choice.
ID: There are nine works in the show, which can be considered a modest number for a solo debut in New York. Did you create the works knowing that they would be exhibited here?
KL: This was not a specific choice although I showed nine works in my previous show, too. There are nine works but actually there are 10 pieces because the bar stool work includes two seats. My process is open to change so I might start with an idea and end up somewhere completely different. There are pieces that I agreed with the gallery that I never produced or there are pieces that just came up along the way. But yes, generally speaking, they were made for this show with this space in mind.
ID: How was your experience in Eindhoven as a Greek person who grew up surrounded by the relics of antiquity and ancient history? We could say the Greek and Dutch aesthetics are quite different—maybe represented in the former through marble and brick in the latter.
KL: Yes, I grew up in Greece, in Athens, but not everything in Greece is made out of marble. Today, the culture is so mixed and global, and so is the market. In Eindhoven, there were things that were more difficult for me than stepping out of one material. Eindhoven was completely rebuilt after it was destroyed during World War II, and Athens on the other hand is, yes, full of ancient marvels but also surrounded by modern buildings made in contrast with humble materials.
There is something about the Dutch that I really appreciate, which is having everything in order, unlike Athens, which is where I choose to live and work. Ideal balance perhaps would be something between these two cities.