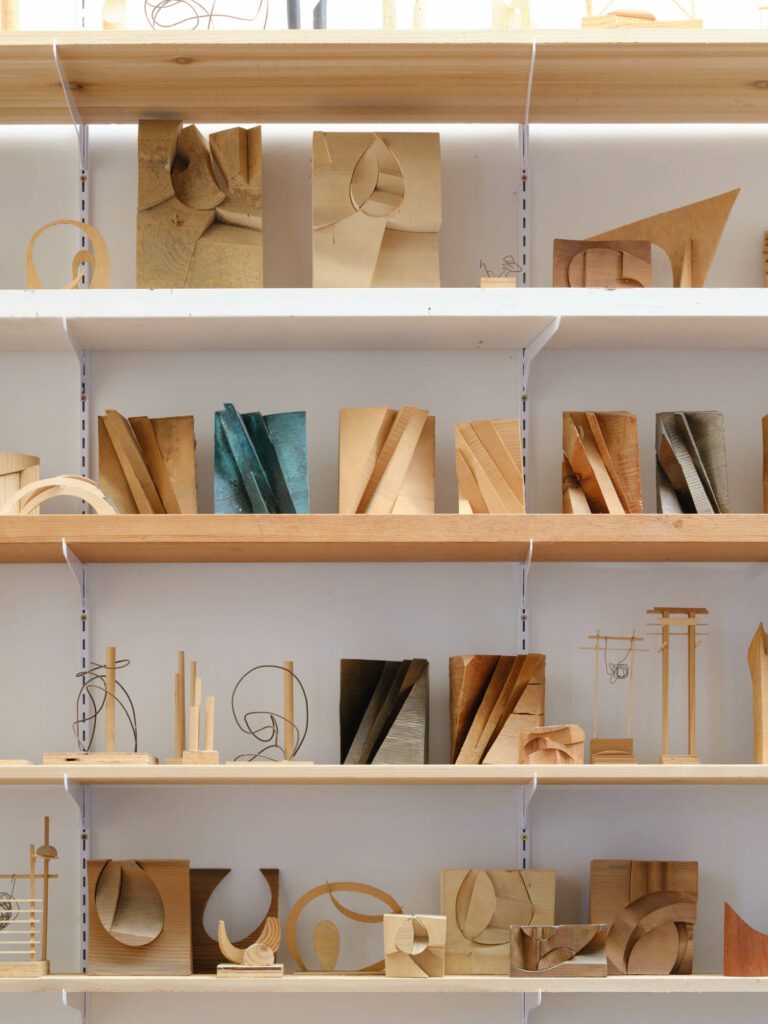 10 Questions With… Llisa Demetrios
Llisa Demetrios lives in the Northern California ranch that her mother Lucia Eames—the daughter of Ray and Charles Eames—purchased in 1992 to house the collection of her influential designer parents. Designed by William Turnbull, the ranch todays hosts the office of the recently-launched Eames Institute of Infinite Curiosity as well as a small portion of the family archive. While the property is still under renovation and yet to open for public access, Demetrios runs the institution as an online platform to engage the public with her grandparents' lofty legacy. "I am still archiving thousands of objects 20 years later," Demetrios tells Interior Design. "The joke is that we thought we would have around 20,000 items and the overall figure will be around 50,000."
Besides overseeing the arduous task of cataloging one of the largest design archives in the country, she maintains a sculptural practice. Demetrios commits to bronze as a material she trusts and feels confident about after decades of knowledge on its alchemy and visual promises. Mostly abstract, the artist's sculptures contain a natural ease and familiarity, as well as immediate references to architecture and interior design. Such inspirations are inevitable after growing up with grandparents who are considered definitive for American design. "Ray came to design from painting, and Charles from architecture, which, instead of a conflict, created a two-sided way to looking at things," Demetrios says. "My experiences with them always taught me about the importance of problem-solving and making a change rather than just complaining about something."
Between her time running the Eames estate and institute and working at her studio, Demetrios shared insights into her sculpture practice and overseeing the family legacy.
Interior Design: Let's start with the expression "infinite curiosity" in the title of Eames Institute of Infinite Curiosity. Could you talk about how this applies to the foundation's mission and your role?
Llisa Demetrios: I've always considered my grandparents' work as participatory. You sit on a chair, you watch a film, you go to an exhibit, you're always learning. For me, there are many portals that people come into the Eames's work, which is usually through furniture. But when they come here, or our website, we can share more of their approach to problem-solving. In this day and age, there are so many challenges that we all face, and it's wonderful to learn from Ray and Charles to apply their methods to one's own life.
I have always found my grandparents to be creative in finding ways to communicate their ideas, whether it was through architecture, furniture, film, or toy—whatever was best suited to communicate that idea. I was 12 when Charles passed away, and 22 when Ray did. I loved seeing their prototypes and how hands-on they were while building the pieces. They were very elliptical in their problem-solving. When they were designing a lounge chair or ottoman, they called that design seating, because if they called it a chair, they would have eliminated the idea of an ottoman before they even thought of it. I was always interested in the process of how they got to the finished piece. Before Ray passed, we already knew we were shipping 750,000 images to the Library of Congress. What my mom loved most about their work was their prototypes, their iterative process, and how they tried out ideas. That's what we have here in the institute, along with graphics, and also personal sides of them, such as their passports and letters from when they were traveling.
ID: What was your relationship with the Eames as creative minds and as your grandparents?
LD: As amazing and prolific as my grandparents were as designers, they were more amazing as grandparents—they shared whatever they were working on. I grew up wanting to make what they did. On the other side of my family, I am a third generation bronze sculptor, so it came very naturally for Charles to hear me say—at the age of 10—that I wanted to be a bronze sculptor. He told me I need to use every tool in my studio as well as, if not better than the person you hire or you won't know if they're doing a good job.
ID: Is there a moment you shared with them or a lesson you learned that prompted you to choose a sculptural path?
LD: Charles just wanted to make sure that I could use all the tools. He never told but just suggested to focus on one material, because then I could learn everything about that material. I was a child, but he was not talking down to me but rather give great advice. In the early '90s, I learned how to drive a forklift. I got steel toed boots for my birthday. I was not afraid of machines, because that's when you get hurt. It was very encouraging to see Ray and Charles at their office, which was actually smaller than you'd think with a smaller team than most people may or may not expect. But the point was, if someone was missing that day, Charles could fill in that position. They were not afraid of being small which is one reason they loved dining chairs. They saw them as architecture that you could do all yourself and hold in your hand. They could build the first 5,000. Scale was a good lesson for me. I worked at 10 feet or under while my parents made sculptures that were 80 feet tall, which would take years to finish. I rather work with sheets of bronze in ten-foot lengths. I can roll, scale up, and build them.
ID: What made you focus on bronze after Charles's advice on choosing one material?
LD: My father's father had worked in cast bronze, as well as my father who cast some work with my mother. Silicon bronze is the warmest of the bronzes, and it takes patinas very well. Availability is another factor. I buy sheets used for making handrails. When I weld, which took me three years to learn, the rod that I am welding with the sheets of bronze is an alloy because of the compound, meaning I don't have seams. In older cast sculptures, like those by Henry Moore, if something had to be corrected, the patina had to be dark to hide the knitting with different batches of color.
ID: How did you blend a formal education with your hands-on familial education? Have they clashed orcomplimented each other?
LD: I took a year off before I went to Yale. My parents would not let me major in the arts because they wanted me to have a plan B, so I majored in history. My parents felt that I could always learn by working at their studio. Ray would visit me in the campus and she was very excited that I could still take classes that I just didn't major in. I ended up doing something similar to a double major in history and art. Being a history major, it is fun today that there is always something about time in my sculpture series. The Bouncing Ball series have the arches that reflect the balls' bouncing in air. The Doorway series is about the moment you make a decision and everything changes.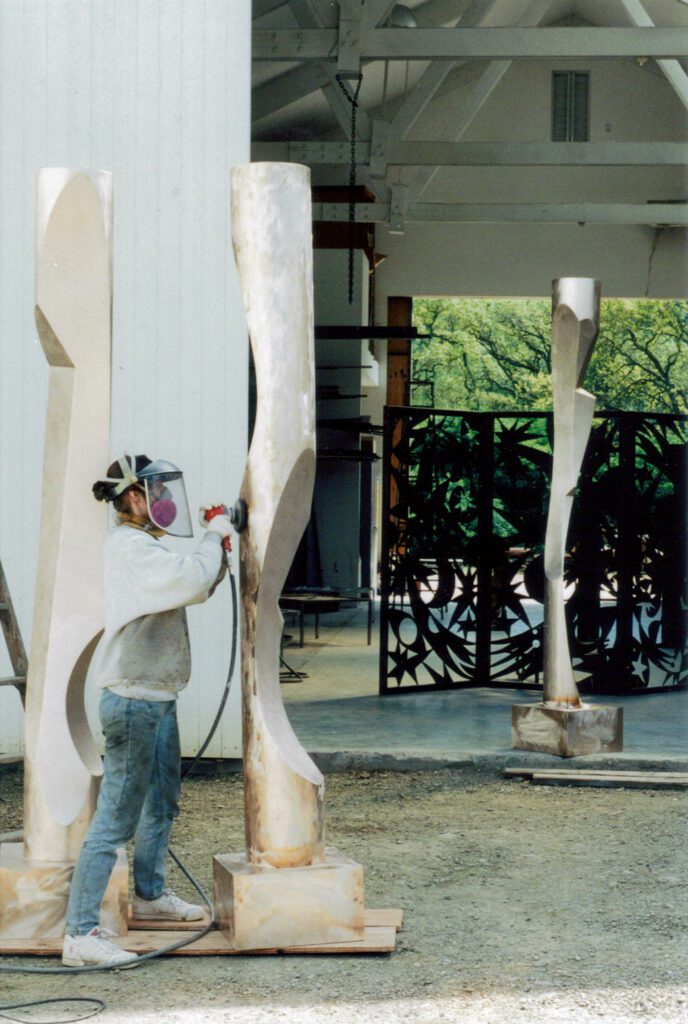 ID: Your sculptors always seem to allude to architecture with arches or doors, but they also veer away from a functional aspect. How do you see this interplay between utilitarian aspect of architecture and art?
LD: My grandparents were never making a chair once—they were creating systems to make 100,000 chairs. I felt that I was different because I was making more limited editions, such as one to nine of different things at different scales. But each one is slightly different because they are handmade. Ray and Charles always felt whatever they made, it was addressing a need—they called themselves tradespeople. When I build a sculpture, whether for an urban plaza or a private home, what I look for is three objectives that I try to accomplish with this work. I ask myself, "does it have to be a sculpture; can it be something else; would that do the job even better?" These are the the kinds of questions that I would hear my grandparents talk about, too. Silicon bronze is one of the warmest, inviting materials—children come up and hug my sculptures, which is a great compliment. For me, there's never enough beauty in the world, so my goal is to try to bring something beautiful to the best of my ability with what I can make.
ID: Do you envision your sculptures mostly for outside or indoors?
LD: Let me put it this way: I have often made a sculpture to go outdoors, but people like it so much, they move it indoors. There are issues to watch out about outside, for example, the landscape is going to dwarf the sculpture. I often make cardboard mock ups to show the client both in Adobe Photoshop and as a physical maquette. The work needs to go bigger if you want it to hold the space. My mother told about the importance of educating the client about what the work needs to be and what choices are to be made. Charles talked about a part of the job being able to anticipate the needs of your client before they think of it. A sculpture is to communicate what the size is, what the patinas could be, what the piece will evolve into with care outside.
ID: Nature is a definitive element in your sculptures. How do you see the role of nature both for your life on the ranch and at the studio?
LD: I love bringing in parts of nature into my work. Henry Moore said he could hold a pebble up and see that it was always better than whatever he was making. Nature is the OG of designers—it's always the most incredible artist. I've been working with bronze for decades but I also look at other sustainable materials, such as found objects recyclable materials, to work with.
ID: How does your job at the institute engage with your studio practice?
LD: Being the chief curator has occupied quite a bit of my time since we launched in addition to caretaking my family's legacy. At the same time, I'm always thinking of a few ideas in my off time, or on weekends I work on some concepts. I'm really intrigued by the whole notion of using more sustainable materials, so that's what I'm quite curious about today. Another large part of my time is spent to making my maquettes with wood that I cut on the bandsaw. Most people use 3D printing and digital mockups but what I learned with Ray and Charles is that you really need to see how something looks with the material. I really appreciate following my grandparents' path to solve those problems by being hands-on and try things in different materials.
ID: What are some of the forms you're inspired by in sculpture? Your titles are often elusive and personal, such as Inner Core, Lunar Asparagus, or Porcini, and they seem to reference to nature, the subconsciousness, or everyday life.
LD: With Porcini, I can say the reason is that I love to cook! The Fine Arts Museums of San Francisco has an amazing Rodin collection, including The Walking Man. If you look at the sculpture, you see that it's off because Rodin was trying to show the man's many movements in time, both the shoulder and the hip moving. I am captivated by that, because I am not trying to be accurate but show the nature's way. The Bouncing Ball series came out of this effort to capture motion as a static material.