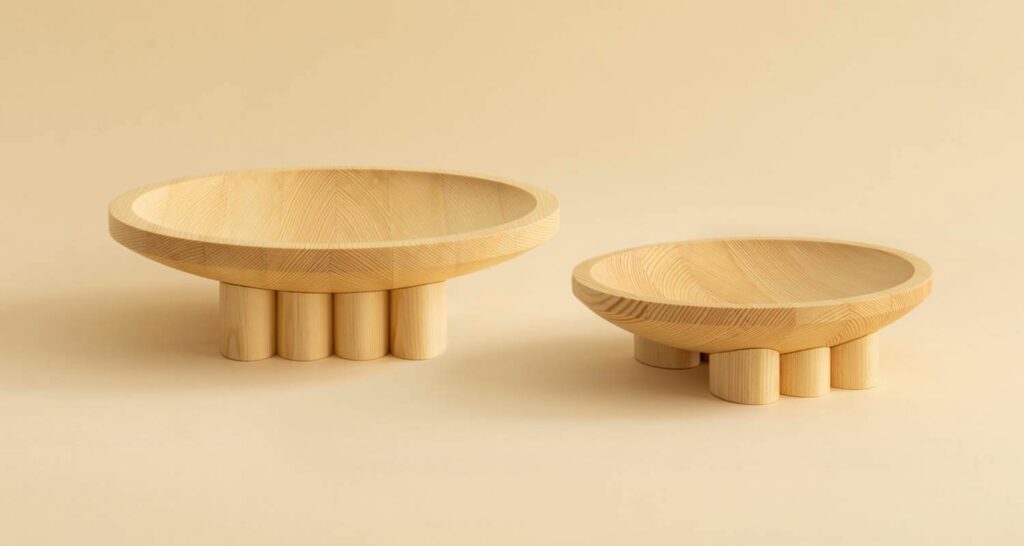 10 Questions With… Mac Collins
A designer and artist from Nottingham, U.K., Mac Collins is known for narrative-rich sculptural works that seduce with their tactility and richness. His graduation piece, the Iklwa chair, has been turned into a mini collection of two lounge chairs and a side table produced by Benchmark Furniture, a British furniture workshop co-founded by Terence Conran, which recently became available in the U.S. via Design Within Reach. Collins also is the winner of a new annual prize that celebrates emerging designers: the Ralph Saltzman Prize. The prize pays tribute to Saltzman's innovative approach to contemporary design practices as the founder of Designtex and a wallcovering pioneer. Created by his daughter, Lisa Saltzman, in collaboration with London's Design Museum, the award includes a £5,000 bursary and the opportunity for the winning recipient to exhibit their work at the museum. The inaugural exhibition opened February 2 and includes three of Collins' chairs—the Iklwa chair, Concur chair and Jupiter chair—as well as some of his smaller objects, process material, drawings, models, and tools. Next month, Collins will present an installation at the Harewood Biennial dedicated to craft and craftsmanship in Yorkshire, Northern England.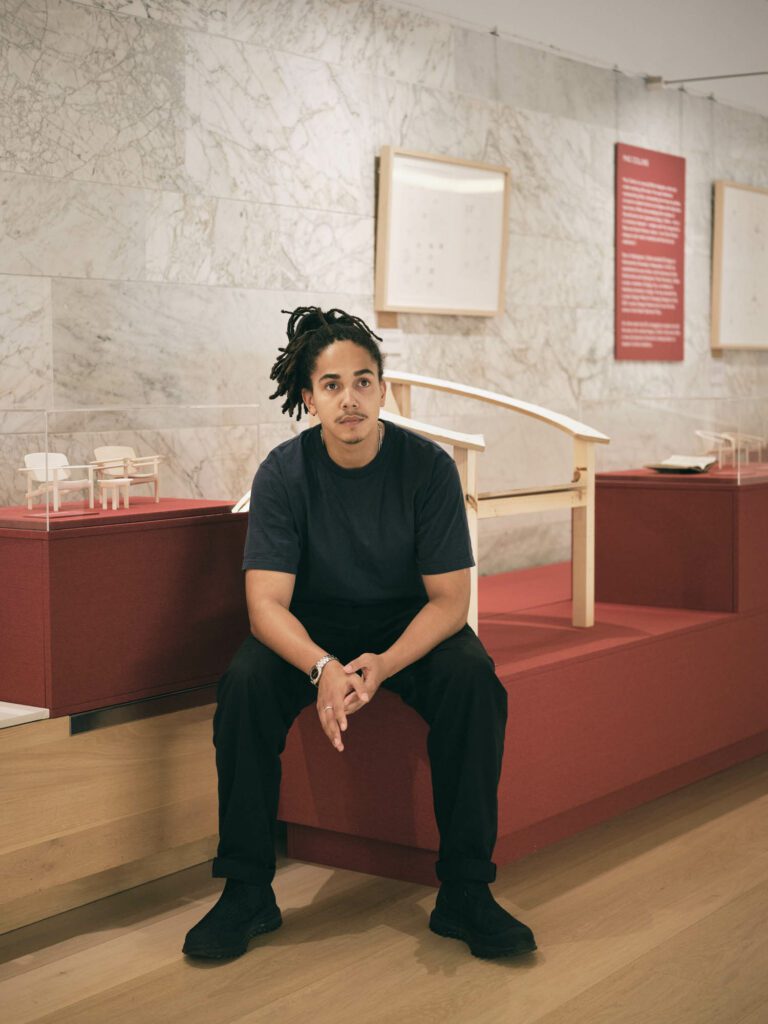 Interior Design: Did you have a passion and interest in making and designing as a child?
Mac Collins: When I was a kid I was known for making things. We had a lot of electrical stuff lying around the house and I would cannibalize it and take it apart. I was intrigued by the components. I've always had this thing for tactility, although I guess at the age of eight you don't know why you like certain things. But I was always a collector of objects and I liked to hold things and compare the weight of them. Going into school, I got really into illustration, which transitioned into graffiti and street art. It always seemed like an interest or something that people told me I was good at. It wasn't until college [editorial note: this refers to sixth form college, which is equivalent to to the last years of high school in the U.S.] when I was encouraged to do an art foundation course that I realized it was something I could pursue as a career.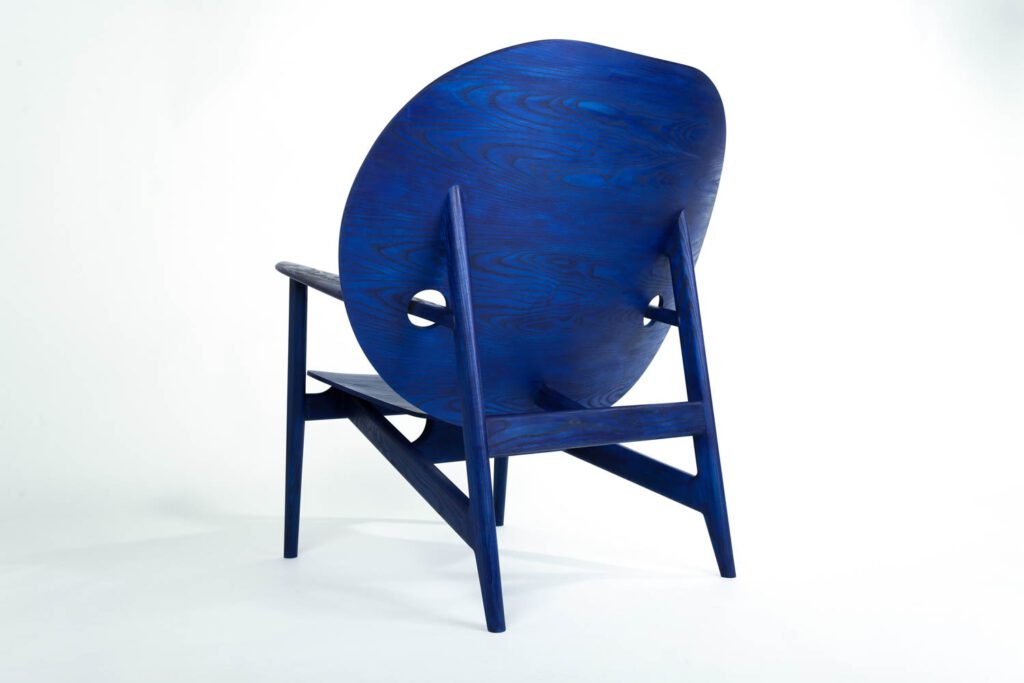 ID: After the art foundation course you applied to do Three-Dimensional design at Northumbria University in Newcastle, England. What was the course like?
MC: During the art foundation course, I transitioned from 2D sketching, drawing, kind of neural inspired stuff into creating in 3D forms. I was into the idea of sculpture and drawn to the idea of things that could communicate more complex ideas, but through 3D forms. But I worked equally well to briefs and thought in a way that was slightly more mathematical. So this 3D course was a perfect bridge between those two things. The scope of the course was particularly broad and I think that's what I appreciated. You could work on projects that ranged from highly functional and engineered to things that were more speculative, conceptual, and sculptural.
ID: Can you tell me a bit about Nottingham, the city you grew up in? What is it like in terms of a design scene and a place for creativity?
MC: I was involved in the creative scene in Nottingham from quite a young age. I was definitely the youngest when I was doing street art and live events at 15. Events that I probably shouldn't have been at! I think the scale, the intimacy of the communities, means you definitely feel that you can get to know people in a way that you might not be able to in bigger cities like London. There are some bigger substantial institutions and studios in Nottingham too but there is something about it that also feels quite underground.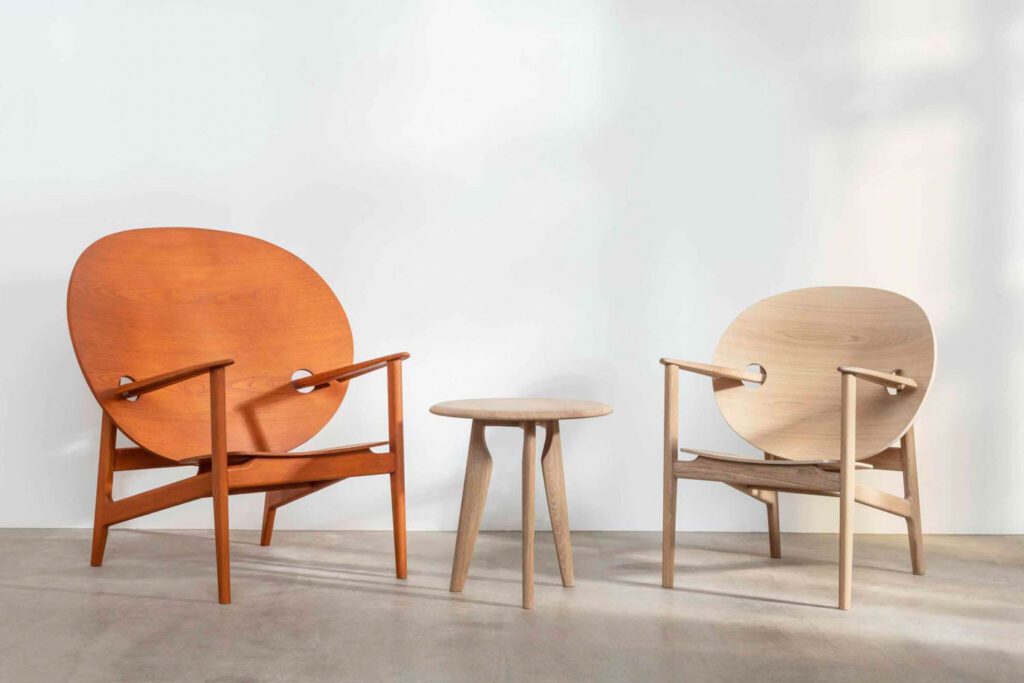 ID: You are currently teaching on the same course you took at Northumbria University. What is that like and how does that feed into your own work?
MC: I'm currently teaching the first years and running my own module with them, taking them through certain processes and introducing them to the idea of making and communicating through making. Throughout the year I will be taking them though three key projects, where each one is an introduction into a set of processes. It's exciting because they're at a point where you can foster creativity and an excitement for the subject. They're encouraged to experiment with materials as there's space and machinery and workshops. The teaching itself doesn't directly feed into my work as the narratives I'm exploring at the moment are quite specific to my own experiences and understanding of British society. But I enjoy engaging with different perspectives and encouraging discussion between students. And the days spent teaching also give some structure to my week.
ID: Can you elaborate on the focus of your work and how it relates to your experiences of British society?
MC: That's kind of been the crux of the self directed projects that I've worked on over the past couple of years, which have been more conceptual or speculative by nature. I've been exploring ideas of identity and culture and heritage. I'm of dual heritage, British Jamaican, and I feel I want to respond to those things through the work that I create. My upbringing has definitely had a bearing on how I view the world and the forms that I create visually are in turn informed by my perspective of the world around me. I think I am continually interested in that idea of being British Jamaican and trying to understand my position within contemporary British society.
ID: Can you talk a little bit about specific projects in terms of these interests and concerns. For instance your Iklwa chair?
MC: It started out as my graduation piece, my final project for university. Up until that point I'd always been heavily inspired by Japanese, European and American designers but I hadn't ever really considered my own heritage or identity as a starting point for my work or brought my own story into what I do. For my dissertation at university I wrote about the roles and responsibilities of Black artists during the civil rights movement and I came to the conclusion that perhaps I also had a responsibility to discuss my own lineage in my work. So this was a bit of a turning point in how I saw my practice. And that project became an opportunity to explore my heritage, to try to understand how my family as Jamaicans now live in Britain, to trace their migration during the Windrush era to Britain and then trace back even further to the transatlantic slave trade that had led to my ancestors being moved from West Africa to the Caribbean. I responded to the powerlessness these people must have felt with a project that I felt instead would empower, elevate and enhance whoever was to sit in that chair.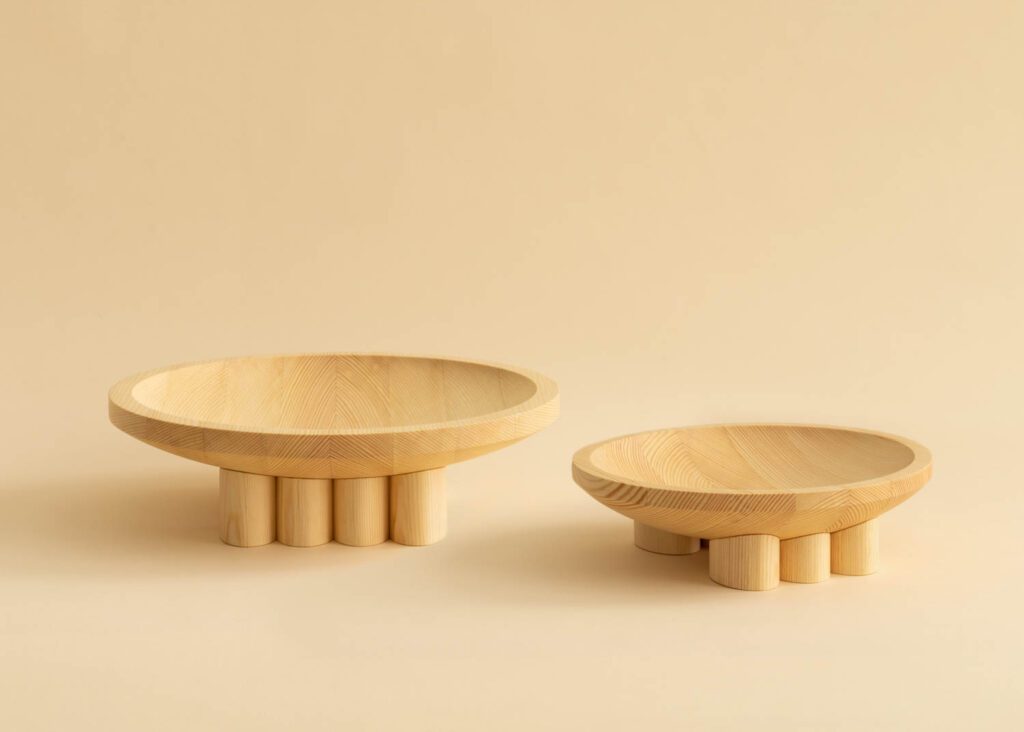 ID: How does the chair specifically reference these ideas in terms of shape and forms?
MC: Pretty much everything played into how I wanted to communicate these ideas. So the backrest is oversized and abnormally large for what you'd expect in a lounge chair. The idea was that you'd be able to feel the presence of this thing in your peripheral vision, that you'd feel it over your shoulders and almost feel that presence and protection from behind. I had observed and looked at a lot of artists working right now. There's a British-Liberian painter called Lina Iris Viktor and it feels to me as though she is working to elevate and enhance the person at the centre of her paintings. So that's how I started to see this this chair. It also had these spear-like forms—the chair is named after the short spear used in colonial wars in South Africa. The idea is they are protecting the person sat within this object.
ID: What about the brilliant blue colour of the chair you made for your graduation?
MC: There were kind of quite a few things that linked to the blue. It is quite a celestial blue, which tuned into some of the things I was reading at the time around Afrocentrism and Afrofuturism, and some of the research I had done for my dissertation about the Black Arts Movement in the 60s and 70s. There was this idea of seeing African identity or the identity of the wider African diaspora in a way that hadn't happened before and in a way that elevated them and celebrated the future of black identity. So Afrofuturism as a movement developed as a way of celebrating an identity that wasn't present in mainstream media music, film and TV before then. I also got this blue from stories that my grandma told me about when my granddad first moved to the U.K. People expected new arrivals to be scruffy or roughly dressed when actually they arrived and were really sharp. My granddad was wearing this blue suit, which was really sharp and smart. And that has come to symbolize something for me. Just this idea of people expecting less and yet you arrive with more and how—in the face of the racism they experienced—having this ultra marine bright blue suit was an act of resilience. That to me was so significant.
ID: What materials do you most like to work with and why?
MC: Up to now, I have mostly used timber, particularly on all of my bigger projects. And it's a material that I'm continually impressed by and that has a significance in the human story. It is also particularly tactile and warm to the touch. I think as a material it is also kind of understated but yet can still have such an impact when it's manipulated. For a lot of the narratives that I want to communicate, timber has just been the right choice for me but I intend to explore new materials. I want to learn new processes and the processes needed to work those materials. I want to get into the metals. So for a project at the moment, I'm sand casting aluminium.
ID: Do you plan to focus on furniture in the future or also venture into other areas of design?
MC: Furniture has worked for me to communicate the ideas I wanted to communicate. But I don't see my practice as being defined by that and I think I'm ready to allow it to evolve. I'm interested in exploring ideas through maybe more substantial installations of objects. Currently a lot of the stuff I do is standalone objects. But I'd like to investigate how people might experience and interact with a number of components within an installation. I think that'd be really exciting.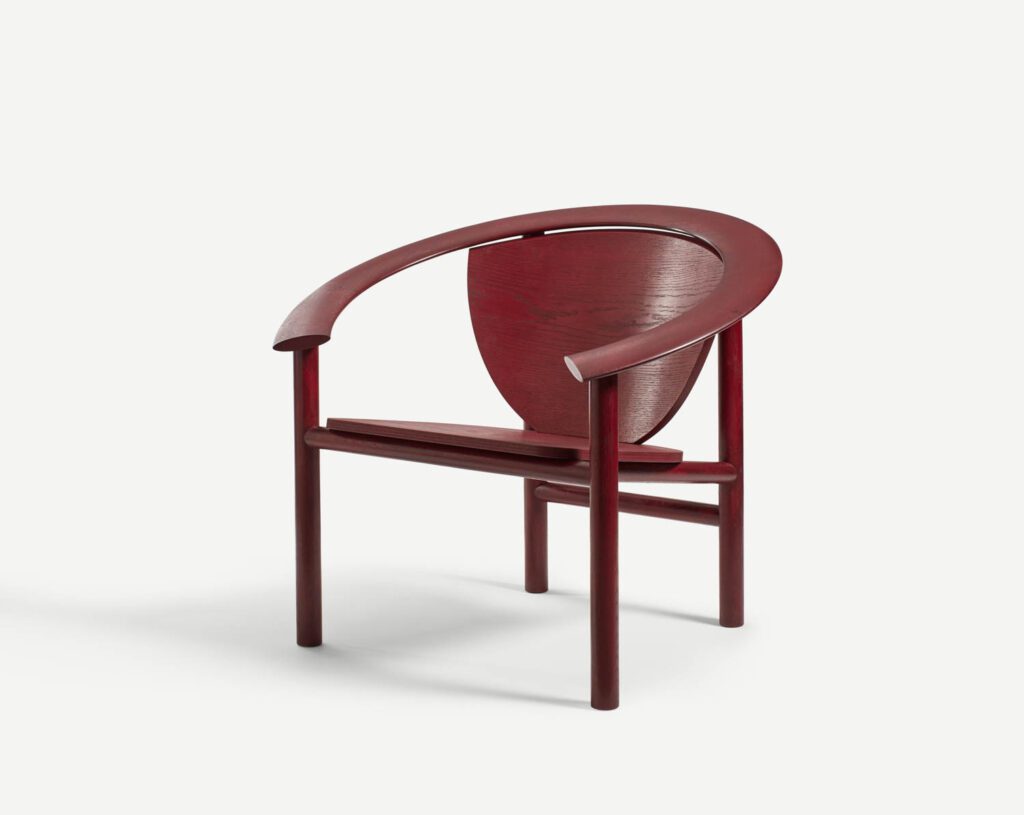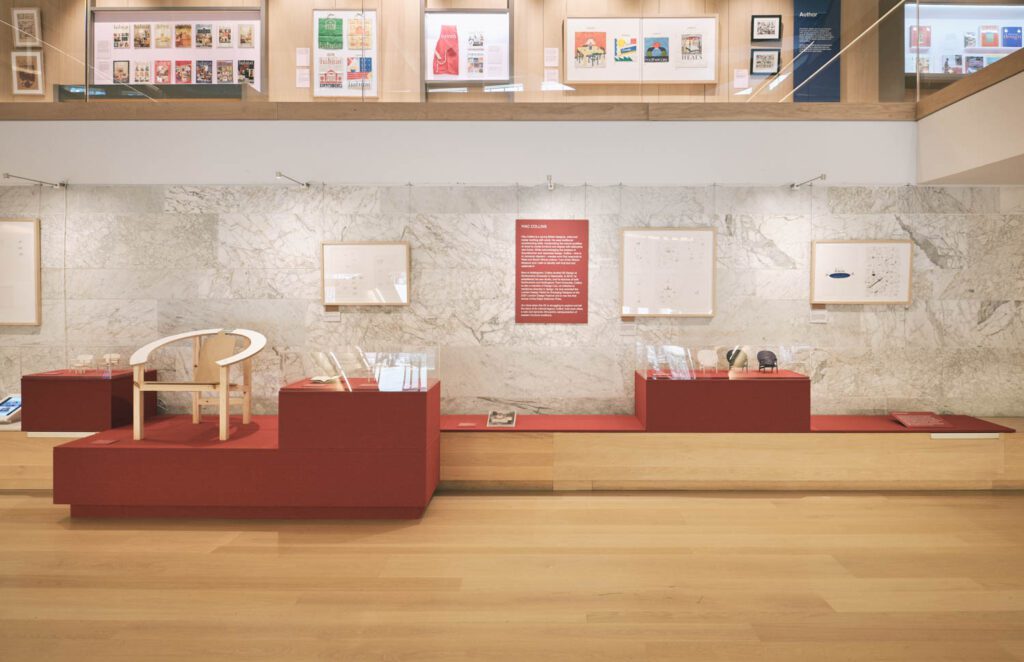 more
DesignWire

Honoring Black History Month

In honor of Black History Month, the Interior Design team is spotlighting the narratives, works, and craft traditions of Black architects, designers, and creatives. See our full coverage here, including interviews with…

DesignWire

10 Questions With… Nina Cooke John

In an interview with Interior Design, Nina Cooke John speaks candidly about juggling responsibilities, realizing her first built public artwork, and the importance of active participation in civic life.