10 Questions With… Mia Lehrer
Mia Lehrer, founder of the 45-person Studio-MLA and a fellow of the American Society of Landscape Architects, has been quietly ripping out concrete and inserting lush landscapes in Los Angeles for over four decades. Her electric rise to fame has been driven by recent work for the expansive parks and plazas surrounding SoFi Stadium, widely celebrated as creating a new public-serving paradigm for stadium design. But Lehrer's talent for resurfacing nature and adding community amenities began much earlier, with decades of work currently re-envisioning the Los Angeles River, then landscapes for Vista Hermosa Natural Park, the Natural History Museum, Dodger Stadium, Banc of California Stadium, the Annenberg Community Beach House, and Beverly Gardens Park, and much more. Recently, she won the Cooper Hewitt, Smithsonian Design Museum's National Design Award for landscape architecture, and she serves on the first all-woman Board of Commissioners for the Los Angeles Department of Water and Power. Here, she speaks about her early reverence for environmentalism, advocacy as a foundation of her practice, and the necessity and value of women supporting other women.
Interior Design: You grew up in El Salvador, and your parents were activists, particularly interested in environmentalism and preserving natural resources. How has that informed the perspective of your work today?
Mia Lehrer: My parents were incredibly full of life. They were young when they left Europe—my father was 16 or 17. The tropics are such an intense environment where beauty and nature are all around you all the time. The trees are enormous and the flora and the fauna are beautiful. There's incredible lava rock lakes and ways to just explore, explore, explore. My father was in awe of the nature there and in the end, my parents created, with a group of other people, an organization for nature preservation. They also created a low-income housing fund, where they did loans for people who were living in poorer communities, and micro loans for women who were investing in business. They were definitely ahead of their time.
It was also a small country, which was not very populated. The frogs during a big rain were really raucous. One morning, I put my shoes on to go to school and a tarantula was at the bottom of my shoe! There was just nature everywhere around you. There's a term used in Jewish writings, Tikkun Olam, which has to do with protecting the Earth, and which is a very powerful term. I would say that in general I was very sensitive to the beauty of nature and what it gave back.
ID: How did you first get started in landscape architecture?
ML: I went to university on the East Coast, at a time when there was a bit of a civil war in El Salvador… So I went to Tufts University. I took a geology course that blew my mind. The professor would tell you millions of years of geology with so much passion. I really started understanding the volcanic nature of the tropics that I had lived in, where we would live through 7.0 earthquakes and just move on like it was nothing. That geology class, and then my classes with a professor called Hermann Field, led me to a program that Harvard and MIT and Tufts were doing called environmental design. In the 60s everybody was really asking, how do we deal with the environment? How do we protect the environment? People were waking up.
I started waking up because I worked for a few summers for an architect and he had me draw parking lots, which I did not enjoy. They were parking lots around the housing projects he was doing for the government. Kevin Lynch was speaking for our class at one of the Harvard Graduate School of Design lecture halls. In the lobby were these long, eight-foot drawings with trees and roads. One was of the competition drawings for Central Park. I looked at that, and I'm thinking, what the hell! In El Salvador, there weren't very many parks because everybody there had a garden or other outdoor spaces. So I'm looking at these drawings and thinking, what profession is that? I eventually went to study landscape architecture at Harvard after learning more about it. I met my husband there, and eventually moved to California where he is from.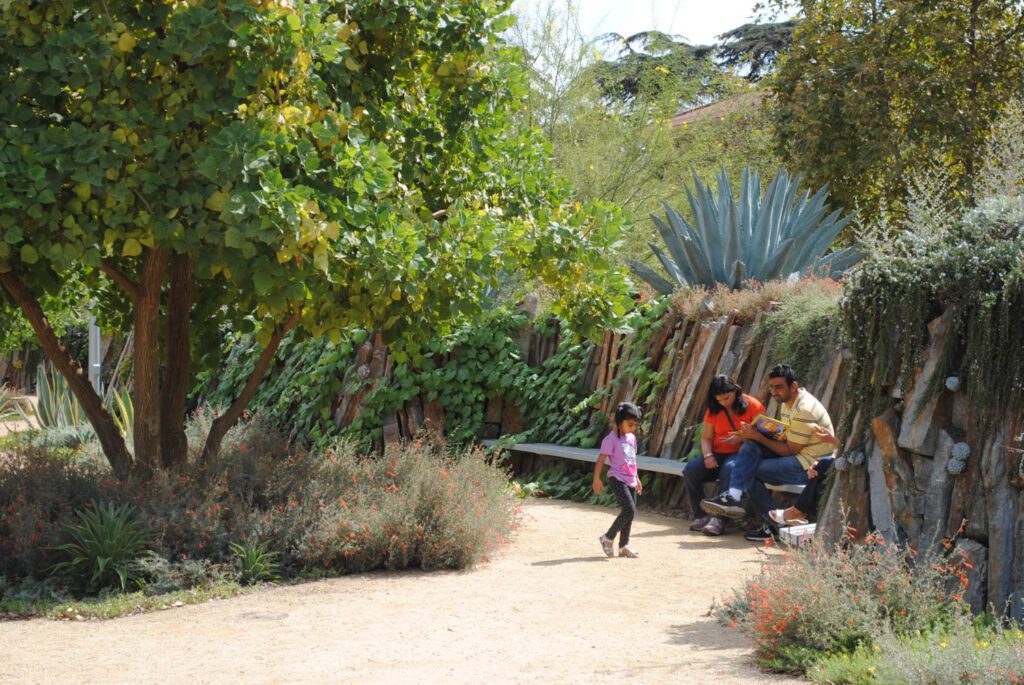 Interior Design: When you established your own firm in 1982, what was the impetus? And how long had you been practicing until that moment?
ML: I had worked for a few years for a firm with other Harvard grads who were from California. But, basically, I had two little kids. And it was just really tough to manage home life, right? Motherhood. Those park fellows are really nice people but they were clueless about this sort of thing. I said, I'm going. We had some friends in the film industry here, and we started doing projects for creative directors and producers and actors. I was mostly doing homes during the first few years, but they were typically really exciting projects to work on with people who knew how to think big, and they cared a lot about aesthetics. I developed a really nice practice working with people like Robert Zemeckis, Jamie Lee Curtis, and Dustin Hoffman.
ID: How did you move away from residential projects, and begin working on schools and institutions?
ML: When my kids were going to school, I started doing schools. The school district in Los Angeles had a program to fund the de-asphalting of schools, which they did only for a while (many of them are still asphalted). But that led me to work on some community colleges and universities, and eventually to the work on the Los Angeles River. With a group of grad classmates from Harvard, we got the first planning effort for the Los Angeles River, and we had been trained in environmental thinking so we were really prepped for that kind of work. From then on, I still do residences as that's part of my DNA, but for special cases.
ID: You recently completed 25 acres of parks and gardens as the first phase of Inglewood's Hollywood Park, a mixed-use community with housing, parks, trails, and green infrastructure, including SoFi Stadium and Lake Park. How did you begin working on landscape design for stadiums?
ML: I had met the developers that had originally purchased Hollywood Park, the racetrack, which was going to go offline because racetracks just didn't make any more sense. At the same time that they were wanting a planning recommendation, I was being approached by the Dodgers and Janet Marie Smith. They were looking to do some work at Dodger Stadium around the perimeter of the stadium in order to make it more friendly to visitors so that you would enter the stadium, not directly from the parking, but from plazas all around the perimeter. And that's what we did over a 10-year period. We started with really fun conversations with a group of architects and about how to make this paradigm shift so that a stadium could have public plazas.
I realized at that point as we got involved, our value was that we knew how to design—it was advocacy by design. Even at a government level we can say, look, you know that cities are going to be warmer in the next 30 years, and that we plan to plant a lot of trees. Then we could draw a school that had not just a tree here and there, but large groups of trees, or trees on the streets that brought you to your home. We started doing free workshops to help some of the poorer schools and, for example, for the Los Angeles River. There were certainly dozens of us working together, just active in the community and sharing the potential. That's how I actually got into stadiums.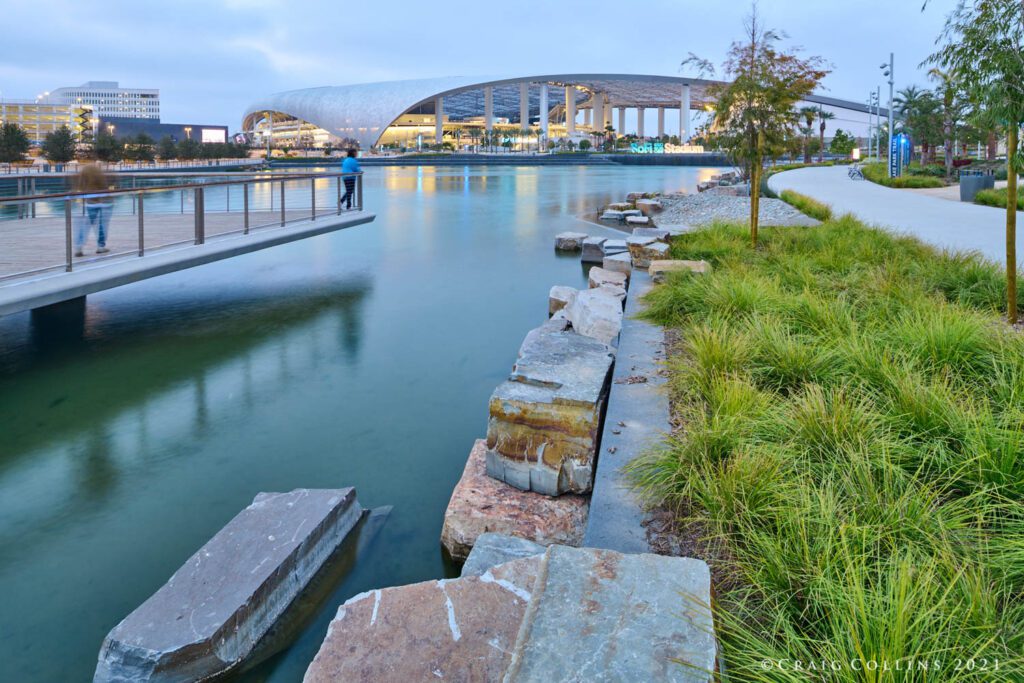 ID: What do you find satisfying about working on stadium projects like SoFi?
ML: You know, it was a weird transition for me. But I realized quickly how important it is to Angelenos. I realized that people were coming as families, and it was a melting pot in many ways for Latinos and the many people from different cultures that play the game. There's an incredible ambition to the project set forward by political leadership and ownership. We wanted this to be a cultural, social, economic, and environmental destination—a place that makes a difference. It was not just the Kroenke organization and Kroenke himself who really care about the place, but also Mayor Butts and his group, and Wilson Meany. There was an amazing team of consultants. California indoor-outdoor living also provided the opportunity for a stadium with no walls, essentially. That really informed a lot of the work that we did at the stadium, to really ground the building and the gardens and the plazas and make it feel that it was really part of the place.
ID: What are some other career highlights for you?
ML: We're also working on the Lucas Museum of Narrative Art, which is a really important project for us. It's designed by MAD Architects and sits elegantly on a large parcel at Exposition Park in Los Angeles across from USC. It has planted roofs and it's a very exotic, geologic expression of California. It's a beautiful gift to the city. It's going to be a garden and a place for learning about filmmaking and writing, in a community of South Central Los Angeles that will benefit people tremendously.
The other project that's kind of significant for me is with Herzog & de Meuron; we're doing the Berggruen Institute up in the Santa Monica mountains. It's an institute for governance in the environment. Right now, if it existed, we would be having a conversation about what's going on in Europe, which is so terrible. It has fellows who come and spend quality time from around the world, and they're already operating out of a couple office buildings downtown. But this would be a place with some housing for them and a complex think tank so to speak.
ID: You're also a Commissioner of the Los Angeles Department of Water and Power. Why is this role important to you?
ML: BP is the largest utility in the country. It's an incredible honor to be named to the board by Mayor Garcetti, and on a board with five women. Most of them have a lot more experience being on large boards, and they're all very strong and incredibly capable, smart women. I was kind of humbled and just hoping that I could live up to expectations. As a professional, I was trying to think about conservation, resiliency, water management, alternative power sources, and new technologies… I think I had the right training beyond landscape architecture to listen and to opine. Not only are the commissioners an amazing group, but the leadership is very committed to the cause, and they address the future of our place in this world and the opportunities that exist in it.
ID: Do you think your career path has been more challenging as a woman in architecture? What qualities helped you get where you are?
ML: I'm probably eight to 10 years behind some of my male peers. I mean, between these three projects that I mentioned, things are going to level out. Basically, I've been hardened by it. The best way to deal with it for me is to help other younger women succeed. Whether by supporting them if they want to go to graduate school, or referrals, or just conversations to let people vent. At ULI, I'm participating in a small group of about six women, and we're going to present on exactly the question you're asking: how did you do it? When did you do it? What do you suggest?
ID: What is keeping you inspired right now?
ML: I'm inspired by our staff, the people that I work with, who are very passionate about what we do, and not just our profession. We always get these unusual sorts of assignments, like a woman called from the school district to say that she's creating career pathways for high school students to learn about architecture, engineering, and math.
And I have grandchildren now. I did Rosa Park downtown, years ago. Now when I go with them they can use the snake and the turtle and all the all the creatures that we created. It's really fun. That's something that I'd like to be able to do more of. But Lucas is in the middle of construction, so there's fun things to solve every week. And then Berggruen Institute should hopefully go into construction next year, and it's going to make a big difference as a place to have the conversations we all want to have right now about equity and inclusion and governance. Finally, we're getting engaged in a series of projects in Central America where, like I told you, there weren't many parks or public parks, so we're creating access to some other beautiful and interesting environmental destinations.