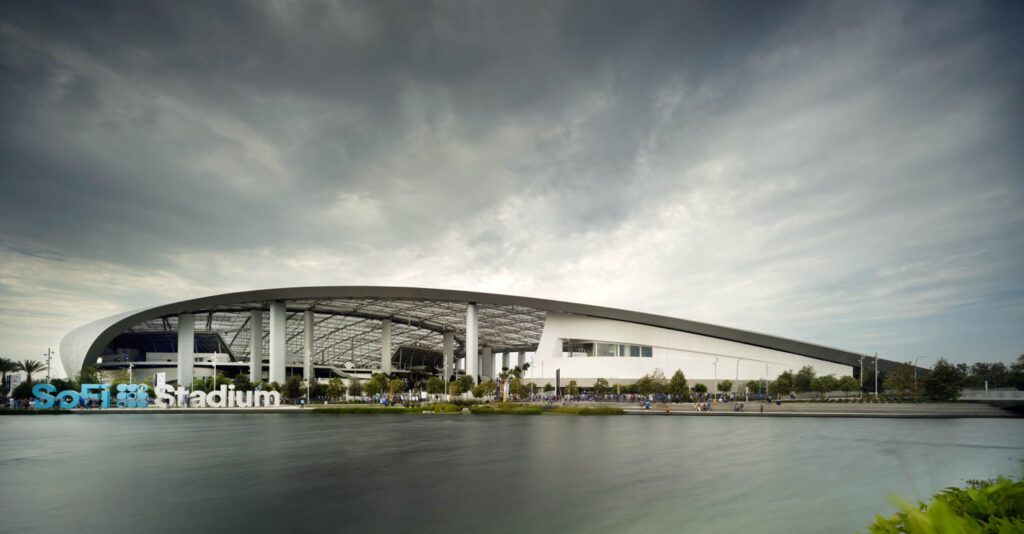 Super Bowl LVI Will Kick Off in the Super SoFi Stadium in Los Angeles by HKS
It's Super Bowl time, that annual celebration of excellence by athletes and performers at the top of their game. This year's face-off between the Los Angeles Rams and Cincinnati Bengals, with Dr. Dre, Snoop Dogg, Eminem, Mary J. Blige, and Kendrick Lamar taking center field at half-time, brings a slew of superlatives tied to the Inglewood, Los Angeles, site. Debuting September 2020 following six years of design and construction, SoFi stadium stands as the centerpiece of a massive 300-acre mixed-use parcel for sports, entertainment, retail, commercial, and residential developed by Rams owner E. Stanley Kroenke. The site, incidentally twice the size of Vatican City, occupies the former Hollywood Park racetrack. Ergo the project's aptly shortened name, Hollywood Park. Phase one completion encompasses not only the 70,000-seat stadium, but two additional venues, all under one swooping roof. The YouTube Theater has 6,000 seats; the American Airlines Plaza stands between them. Surrounding it all are 25 acres of public parks and open space, a draw for locals and visitors alike. HKS is taking charge of the entire project, Studio-MLA the landscaping.
"Two themes drove the design concept," begins Mark Williams, HKS global director and principal, who led the project with Lance Evans, principal and director of sports. "One, it would be a living room for the city of Inglewood. Two, it be a global stage to host mega events visible to the world." Another design driver, he adds, "was creating an authentic Los Angeles, a mega indoor-outdoor experience amidst the entertainment capital of the world." Ergo, the open-air solution for the NFL's largest stadium, clocking in at 3.1 million square feet.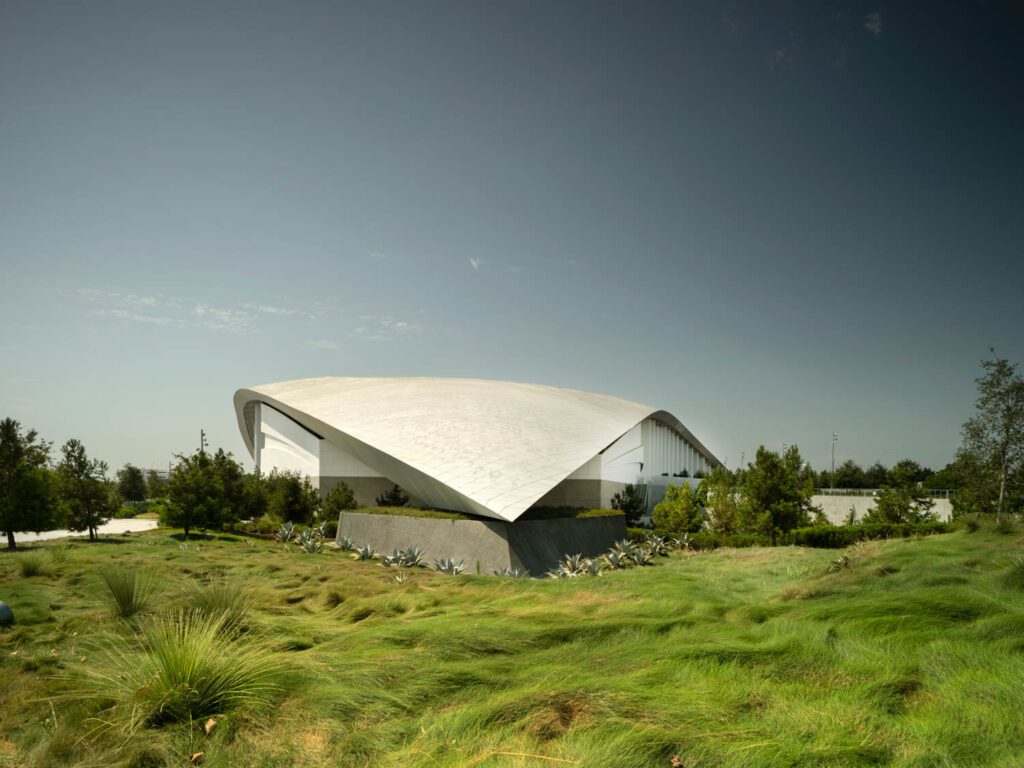 Proximity to Los Angeles International Airport mandates seating to be 100 feet below grade, a factor translating to some 7 million cubic yards of dirt excavated, according to HKS. Thus, notes Evans, "procession is a set of meandering paths" showcasing plant ecologies indicative of southern California. Actual ingress points, called "canyon entries," slope down to provide immediate visuals straight to the field and its 70,000-square-foot, double-sided Samsung video board, allegedly the largest in sports. Inside, the 8-level stadium is awash with daylight, while evenings hold other potential attributes of their own. Which brings us to that roof canopy.
Its structural steel shell, compression ring, and cable net system are capped by a roof of ETFE, a lightweight translucent plastic formed in triangular panels over a perforated aluminum shell. They number 309, 46 of them operable to release hot air for optimal ventilation. Additionally, a complex feat of lighting and engineering allows content, think games and nighttime concerts like the Rolling Stones, to be projected skyward on the roof. Could there be a more spectacular introduction to the City of Angels as seen from the runway approach to LAX?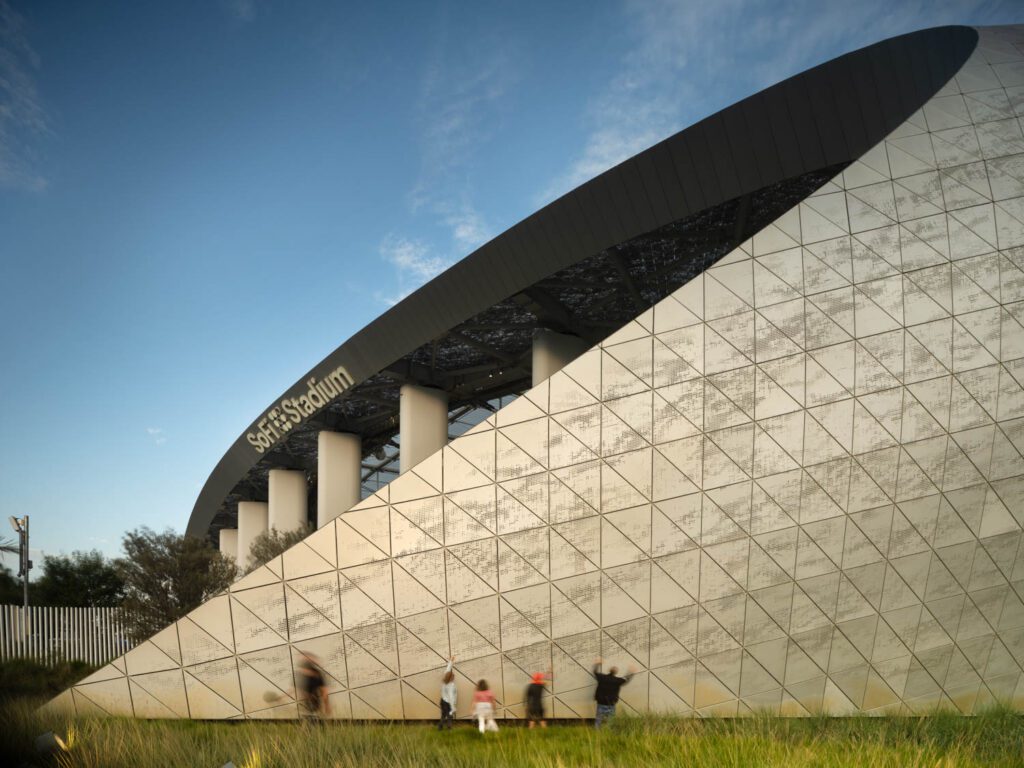 What's a high caliber game or music experience without its food and beverage component plus a sense of luxury? SoFi takes cues from hospitality "with amenities unique to stadium design," notes Amanda Trimble, HKS vice president of sports and entertainment. "We designed every concession, distributed throughout, differently," adds senior designer Katy Cagle: That includes working with local chefs. Meanwhile, the stadium boasts 12 clubs; Champagne, whiskey, and tequila bars; and premier seating in seven suite types, in turn divisible through cascading draperies.
So, SoFi kicks off a welcome its home team. Come 2028, it will welcome the Olympics, too.