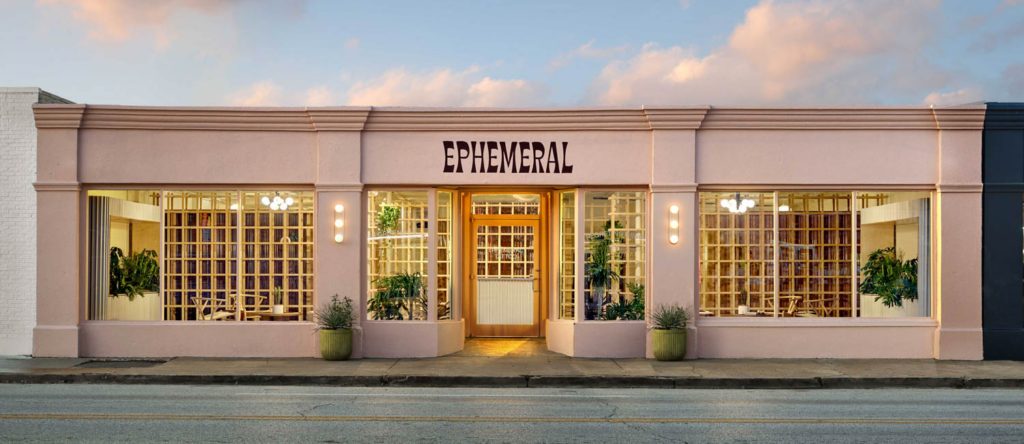 10 Questions With… Pete Trentacoste of Ephemeral Tattoo
Have you always wanted a tattoo but are afraid of commitment? Ephemeral Tattoo is for you—but its site-specific locations by designer Pete Trentacoste are meant for everyone. The first and only tattoo that's made-to-fade in about 9 to 15 months, Ephemeral features tattoo artists working in the same way as traditional parlors but with ink made of medical grade, bioabsorbable, and biocompatible polymers with pigments that are routinely used in foods, cosmetics, and other products.
The ink, which becomes small enough overtime to be removed by the body, was developed by Ephemeral co-founders Dr. Vandan Shah and Dr. Brennal Pierre over the past six years. The team has, sometimes personally, tested over 50 ink formulations. Additionally, Ephemeral has initiated an IRB approved clinical trial to scientifically validate the safety and efficacy of the ink backed by a team of chemical engineer PhDs.
The temporary tattoo innovator now counts five locations where its whimsical raison d'être is belied by the underlying seriousness of its design program. Trentacoste, Ephemeral's head of studio design and experience, began translating the founders' vision with the Brooklyn studio followed by locations in San Francisco, Los Angeles, Atlanta, and Houston. Each time, Trentacoste was challenged to create spaces that introduce an entirely new concept to consumers, putting those both familiar with tattooing and completely new to body art at ease.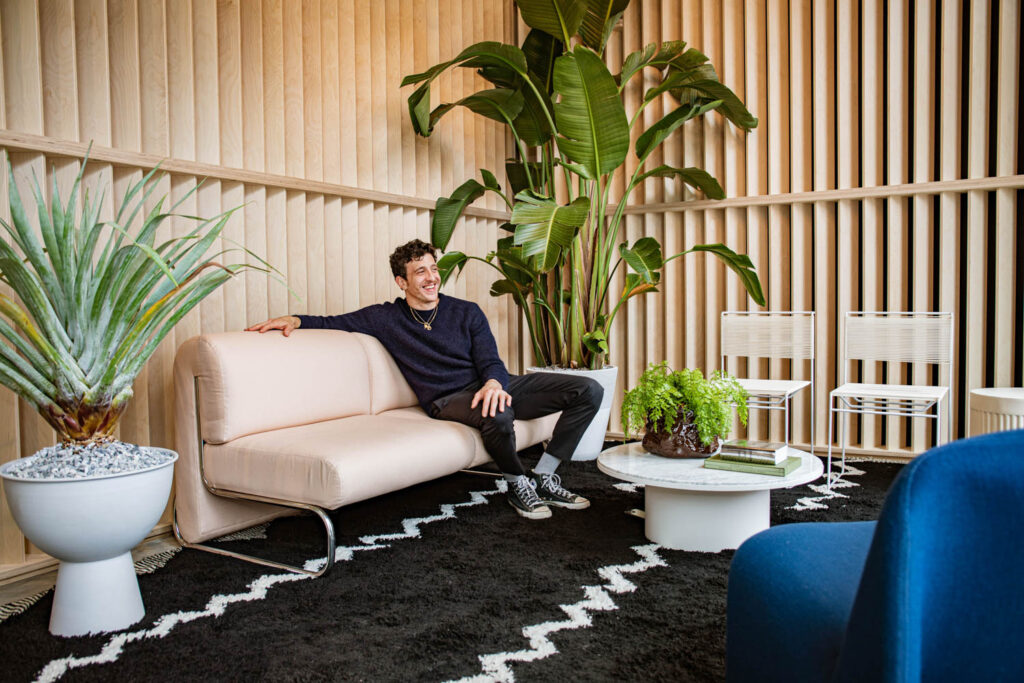 The team also challenged themselves to give each studio its own look and feel that fits in with the community around it, often paying homage to the location's original purpose. In Brooklyn, this meant creating a studio with calming, monochromatic designs and soft colors as customers met the brand and concept for the very first time. In Los Angeles, the team took over an old auto body shop. There, brightly colored plastic screens, taken from a car wash, offer privacy between tattooing stations whereas semi-transparent walls serve the same function in the Brooklyn locale. In San Francisco, the team took inspiration from the Bay Area's creative wave of the 1960s and '70s by pairing hand-drawn imagery with locally sourced wood. Most recently, in Atlanta, the team referenced the city's storied nightclub scene with dark walls and contrasting red and blue elements.
Here, Trentacoste talks broadly about the permanence of design for a passing fancy, the giant disco ball custom-made for the brand's Los Angeles studio, and the just-opened Houston space.
Interior Design: What's your background?
Pete Trentacoste: I grew up on Long Island to Sicilian Immigrant parents. I escaped to the city as often as possible and moved to Chelsea in 2001.
ID: What's your design background?
PT: Before I joined the Ephemeral team in June 2021, I was the environment design director at Casper, where I oversaw the design and development of the customer experience at their stores and third-party retailers like Target. My focus here was bringing the brand to life through activations that created joyful customer experiences and 'made bedtime cool again.' Outside of Ephemeral, I run a small design firm called All Day Breakfast that I launched in April 2015. The firm works on residential and commercial interior projects for clients such as Sies Marjan and Alexis Bittar. I've also worked in visual merchandising for major brands including Jack Spade and Diesel.
ID: Tell us about Ephemeral as a business, what's its proposition?
PT: Launched in 2021, Ephemeral offers the same artistry and self-expression as traditional tattoos without the lifelong commitment. It opens the art of tattooing to the 60 million American adults who have considered a tattoo but are ultimately held back by the idea of its permanence—as well as those with permanent ink looking to try a new means of playing with body art.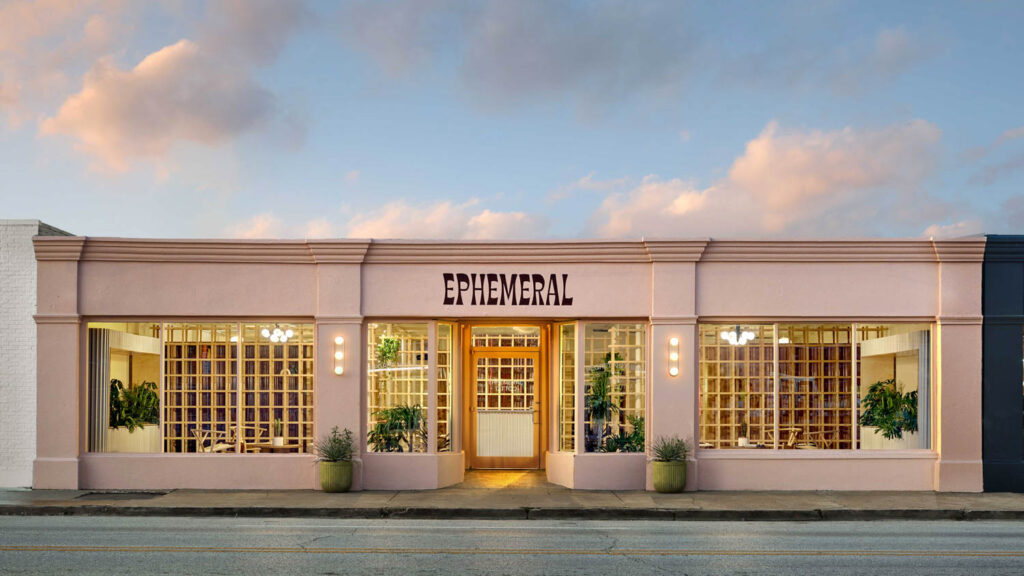 ID: How does design tie into its business purpose?
PT: Before opening our first studio in Brooklyn, we spent a lot of time talking to people about their tattoo experiences. We spoke to artists, studio employees, people who have tattoos, and people who don't. We wanted to understand what the traditional tattoo shop experience looked like and design something that would create the best experience for both the artists and our guests. An Ephemeral tattoo is the first tattoo for many of our guests, which is a significant consideration in how we designed the studios. We want the customers to feel at ease as soon as they walk in, which may be by using certain calming color palettes or seeing a massive see-saw at the entrance. We want them to come in, look around, and feel at ease.
ID: How is the design same or different for each location?
PT: It's important to us that each studio is unique. Our company is about self-expression and individuality, and the idea of having all our studios look the same just didn't feel right. We want the studio to be a part of the neighborhood, so I often spend some time in each location before developing the design. I want to get a feel for the people that make up the community, what do they like to do, where do they eat, where do they hang out? It helps me create a concept that will feel right in that city. I also like to look at the history of the buildings we're in. The Los Angeles studio was an old auto body shop, so there are a lot of references to that in the design.
ID: What have been some of your favorite tattoo designs for other people?
PT: I think what's so cool about our product is that you can have fun and tattoo things that you wouldn't want to have on your body for your whole life. That's why I like it when I see people get really creative or silly. I personally like tattoos that feel a bit cartoony, or hand drawn with thicker lines and rounded edges.
ID: How about tattoos for yourself?
PT: I have a few now and, since working here, have been collecting more. Two of mine are illustrations from Sicilian playing cards. And the rest are more geometric patterns.
ID: What next for Ephemeral?
PT: Ephemeral is on a mission to unleash the fearless creator in all of us. To do that, we as a company must expand into as many cities as we can. Our next shop opens in Miami in the next couple of months, and we hope to touch down in several new cities over the next year. We have tens of thousands of clients who have signed up for our newsletter from all over the U.S. and we use that data as well as bookings to help us prioritize where we should go next. Colored ink is also in the works! We hope to make that available in our studios soon.
ID: What's next for you?
PT: Well, we plan to open a bunch more studios, so I'll be busy designing those. I'm not sure what will be next, but I love working on designs that force me to think about the guest journey, the pain points, and the opportunities for improvement. At Casper, it was about rethinking the mattress buying experience; at Ephemeral, it's about the tattoo experience, so maybe next, it's the DMV or the post office?