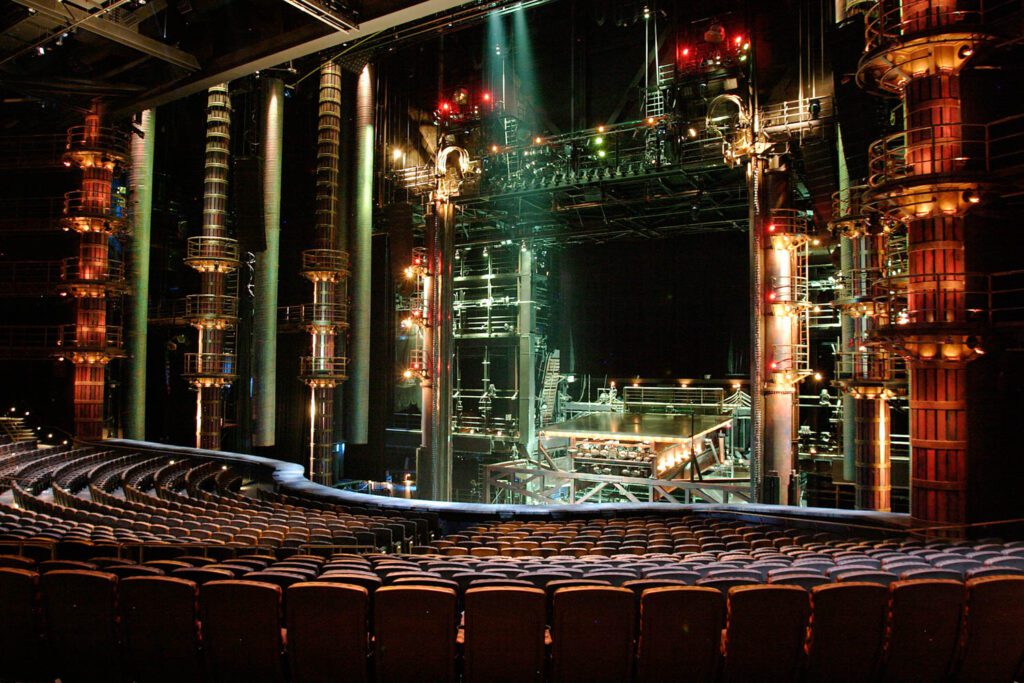 10 Questions With… Ray Forton, Cirque du Soleil's Senior Director of Theater Design
Managing design and construction projects for new Cirque du Soleil productions across the globe is no small task, but Ray Forton knows what it takes to put on a good show. With more than 37 years of experience in large-scale entertainment production management, he has amassed an impressive portfolio. Since starting with Cirque du Soleil in 1998, Forton has established operations for the production of La Nouba at Walt Disney World in Orlando, Florida as well as successfully completing the construction of nine custom theaters.
Perhaps his greatest design accomplishment is the colossal KÀ theater inside MGM Grand Hotel & Casino in Las Vegas. The magnificent theatrical landscape is filled with pyrotechnics and a gravity-defying 360-degree stage. Featuring post-and-beam scenery, the theater houses thousands of speakers to create a fully immersive experience the landscape shifts throughout the show as artists weave through rows of seats. The star of the show, however, is the ever-changing stage that moves throughout the performance from a sandy beach to a 90-degree vertical wall as the story follows a pair of royal twins who journey through the world of KÀ to restore peace in their kingdom. The biggest theatrical production by the Canada-based global entertainment juggernaut features invigorating special effects complete with 119 pyrotechnic devices, 13,000 gallons of liquid nitrogen, and approximately 120 fireballs discharged every show. Forton tells Interior Design how he makes the show go on week after week.
Interior Design: Tell us about your career and how you got started?
Ray Forton: I enjoyed art and architecture classes in college and discovered theater set design and construction, which combined both interests for me. After college, I moved to New York where I worked on off-Broadway productions and got a job building Macy's Thanksgiving Day Parade floats. I wanted to develop my skills further and decided to pursue an MFA in technical design and production management at the Yale School of Drama. After I received my degree, I worked at the Guthrie Theater in Minneapolis.
ID: How did you get involved with Cirque du Soleil?
RF: I attended an industry convention in Las Vegas, and I saw Mystere while I was there. I loved the combination of artistry, physical performance, and technology of the show. I hadn't heard of Cirque before that, but I was determined to join Cirque after that. A year later, I joined Cirque and moved to Orlando to oversee the construction of the La Nouba Theater and the installation of the production at Walt Disney World.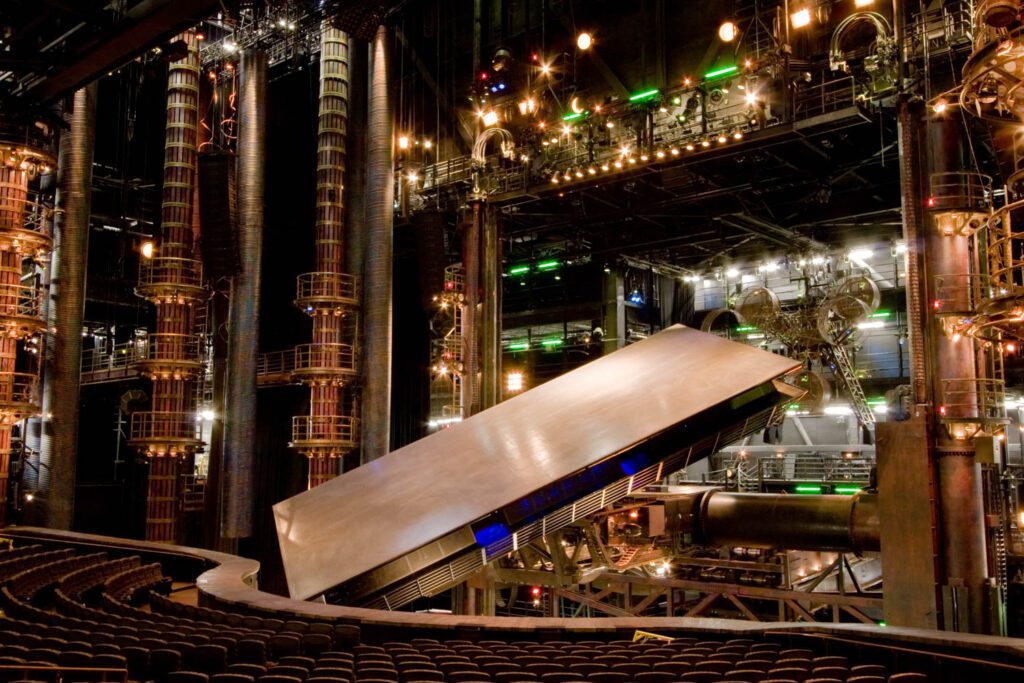 ID: What makes Cirque du Soleil unique from a design perspective?
RF: Cirque is uniquely positioned to explore human performance and create connections with the audience that evoke their senses and inspire creativity in so many ways. The design opportunities, combined with the technologies we have available to us, create exciting and limitless ways to engage our audiences of all ages and cultures around the world.
ID: What makes KÀ specifically unique from a design perspective?
RF: KÀ is unique because it truly broke the barrier of the stage from the audience. From the moment you enter the lobby, you are immersed in a different world. With no fixed stage, KÀ was only possible because of a once-in-a-lifetime combination of creativity and engineering accomplishments that blends industrial technology with human performance for a show that is like no other in the world.
ID: What are the challenges of creating a theater inside a casino, especially in Las Vegas?
RF: The biggest challenges in creating a theater or any other type of entertainment venue in Las Vegas are finding a concept that can stand out in the sheer number of entertainment options available here and will stand the test of time as entertainment and audiences' tastes evolve. Las Vegas has a rich history of modernist design that is culturally connected to people's images of the city. It's exciting that Las Vegas is constantly reinventing and redefining itself.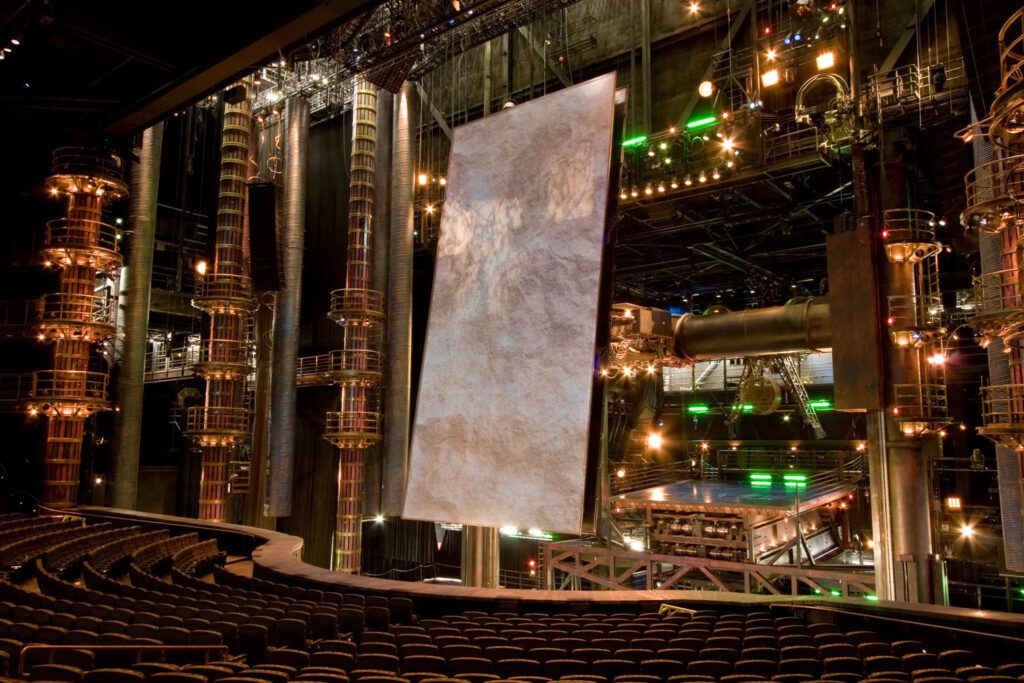 ID: What are the challenges of creating a theater with live performers and audience members as opposed to say a hotel or office?
RF: Cirque theaters are a challenge to design and build anywhere in the world because of the technological, performance, and custom design requirements. Designing and building a theater is not something that consultants and contractors are typically familiar with, so a big part of my work is communicating and guiding the process while respecting the skills and cultural perspectives of our partners and collaborators on the project. The design and construction process are different in other areas of the world, so we must adapt our processes to align with the local culture and norms.
ID: What's next for Cirque from a design perspective?
RF: The exciting thing about working for Cirque is that each project is so unique and will typically evolve from the early concept designs to the opening performance, so there is no one answer to what's next. We are always exploring cutting edge technologies with new and different production concepts, but the one consistent guiding aspect is the connection between the artist on stage and the audience.
ID: What's next for you career-wise?
RF: The exciting aspects of the projects that I work on are that we are not just designing and building a theater, we are envisioning an entertainment experience that people will want to attend, creating a Cirque Production, and setting up a business with our partners. For a project to be successful, it takes an incredible amount of collaboration and creativity from everyone involved throughout the project. I've found that I most enjoy collaborating and learning from the people I'm working with on a project and how different that experience can be in each culture. I hope to continue working on projects like this as long as I can.
ID: What's the most fun, design-y thing in Las Vegas that's not's Cirque du Soleil?
RF: There are so many exciting things happening in Las Vegas now. On one end of the spectrum is the MSG Sphere that will be an iconic addition to the skyline and will push headliner concerts to a whole new level. And then we have Area 15 and Meow Wolf that have developed from a home-grown, Burning Man culture that pushes entertainment experiences in a new direction.