10 Questions With… Siyanda Mazibuko
Siyanda Mazibuko views design through the lens of logic, which enables him to seek inspiration from people around the globe. As we speak, he begins to name role models from American-Israeli designer Neri Oxman to South African ceramicist Andile Dyalvane. For nearly a decade, the Johannesburg, South Africa-based designer has been making furniture pieces that wield unique connectivity with his IsiZulu background. His design ethos, which he calls the cultural and natural instinct, continues to shape his sculptural and functional Afrofuturistic designs in unexpected ways.
An interesting aspect of his designs is their striking lines and patterns, which reference the indlamu, an IsiZulu dance regulated by rhythmic body movements. "The lines are an expression of movement" Mazibuko says. "They are extremely intentional and significant. I can't complete a design if there are no lines, I need them in my designs to make it feel complete." Mazibuko's designs also are complex, showcasing his enthused way of providing details to indicate the origin of his inspiration as well as cultural references—an ideology also reflected in his brand, Kumusuka.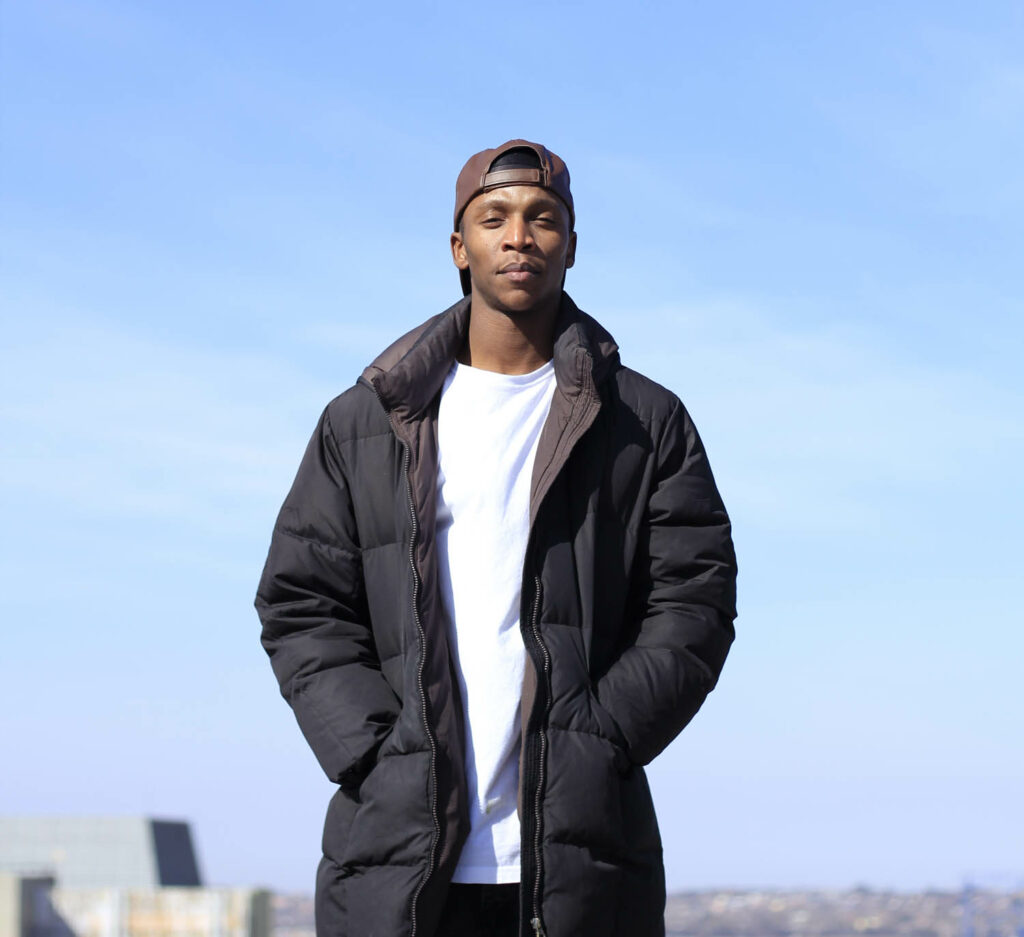 Interior Design spoke with the designer about his design journey, recent works, and latest collaboration with the American Hardwood Export Council (AHEC).
A Closer Look at Siyanda Mazibuko's Afrofuturistic Designs
Interior Design: Could you talk about your career path as a designer?
Siyanda Mazibuko: My journey in the furniture industry started in 2015. I did a training course with a company based in three cities within Johannesburg. After that training, you can start your business. Back in 2015, I was extremely fond of doing a woodwork course without knowing what exactly I would be doing. Fast forward to 2017, I was among the class of 2016 Design Indaba Conference creatives, there were 40 of us in the whole country and I was recognized as one. In 2018, I joined the design talent scouted by design South Africa, it's a program for artists and creatives to come together to share perspectives so we can put ourselves in better positions in the creative industry. In 2019, I was sort of like a graduate of the program in design South Africa hosted. I've done shows in Cape Town and in Italy for a focus Africa exhibition. Recently, I collaborated with the American hardwood export council to showcase the Isicholo bench. So that's my journey in a nutshell.
ID: How does your background shape your designs?
SM: My upbringing was the best of both worlds. I was born in Johannesburg but shortly after that, I was moved to an area called KwaZulu-Natal, it is a rural area, far less developed than Johannesburg. I started to have an eye for raw materials. Now I'm more drawn to raw designing using natural timber. Growing up, there was a lot of nature around me so my upbringing on the farm drew me to a natural approach to designing. I have two models to my design philosophy—the first is nature, the second is culture.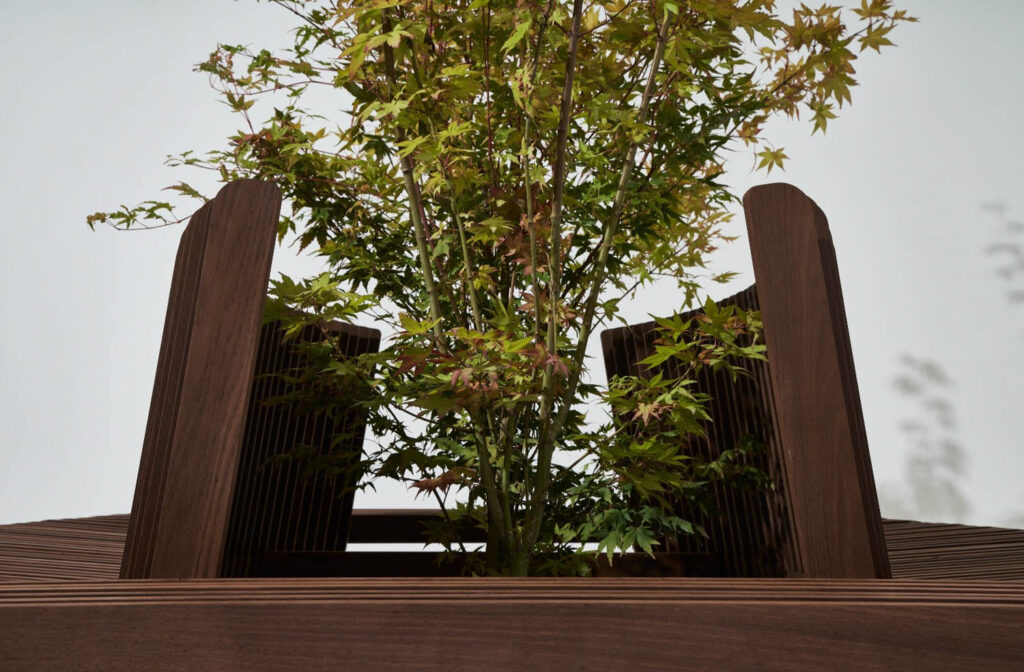 ID: Could you describe the cultural aspect of your design philosophy?
SM: I loved that you asked me about my background, it made me excited that I would be able to connect the dot. When we speak of philosophy, you have to ask yourself, "What is philosophy?" Is it a backbone of sorts? Is it a sequence of instilled beliefs? Or is it a way of living or something that you genuinely stand for? My answer is really all but importantly something I naturally genuinely stand for. As a designer, I'm very much moved by two models: nature and culture. A lot of influences come from the natural world. You look at the colors; we use a lot of earthy colors, we gather a lot with the whites and the blacks. There are lots of ideas that aid in a philosophical growth.
In a cultural sense, I look at the aesthetics, the finishing. Primarily, in my culture there is something called IsiZulu and a dance called indlamu. The dance is a way to connect to the very earth we walk on and deeply respect. If you look at my style of designing, you will see the lines that sort of come from the aesthetics and the look and the feel of any design I would put out there for people. The indlamu is a very fundamental way for me to express a design. My work is heavily influenced by cultural objects, sort of bringing their forms to design but in a reinvented way. If you look at the Isicholo bench, which was inspired by a hat worn by Zulu married women, you will witness the pattern and the influences there. So my style of design is primarily inspired by dance, which is energy in motion, trying to show movement through design.
ID: How would you describe your collaboration with AHEC?
SM: I will be honest, this is the most meaningful work I have ever created and I'm saying that because, for the first time, the design process felt more engaged with its inspiration. In other words, how the shape of the table looks exactly like Ukhamba. Ukhamba is a cultural object in IsiZulu which we use to carry Umqombothi, African beer. So the Ukhamba is a Zulu beer vessel and it's been used for centuries. The reason why I aimed to connect the concept of using Ukhamba as an inspiration project for AHEC future heirloom was because it was a way of saying how we are able to pass down an object from generation to generation and Ukhamba itself suited the brief. I was more fond of its shape and I wanted to translate it into a functional furniture piece. Would it be a table? Would it be a chair? Frankly, everything found its way into the Ukhamba. In the end, I'm delighted to create a piece that meant so much, not just only for the shape or color or the hand-cut pattern on the surface. I'm happy that people are able to see the experience and patterns of Ukhamba from every angle. The Kumusuka experience with the AHEC was quite phenomenal and I'm really happy that the design grows on me each time I see it.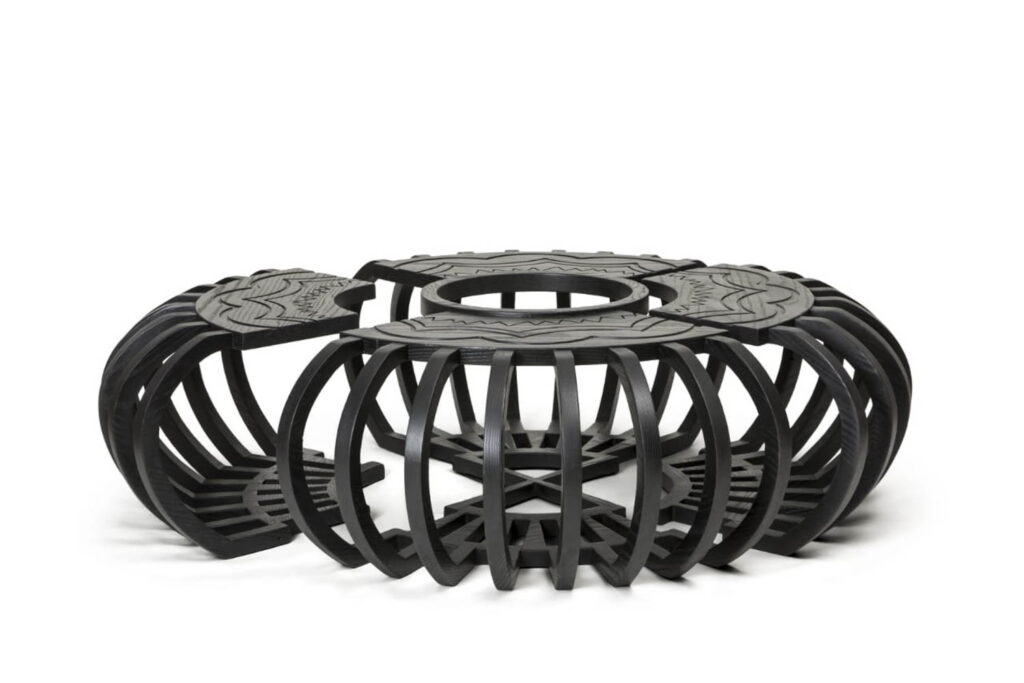 ID: What's the success story behind your brand Kumsuka?
SM: In IsiZulu, Kumusuka means "from origin" it's like the name itself is as theatrical as our design philosophy, it's a matter of being able to grow into the name—how we are able to grow designs from a place of originality and not in a cliche way. We tend to throw the word original around often too loosely. I believe nothing is original but everything comes from somewhere so how do we give it a sense of origin? Initially, the brand name was pate, which means the mind. It was more about having fun with it and exploring different ideas so as a team as we grew. We were like: "How do we narrow ourselves down so there would be a sort of clarity and reference?" So we had to redefine ourselves and give everyone a sense of experience authentically.
SM: There is so much design in South Africa. In its very nature, we South Africans have a competitive spirit but we also have a collaborative spirit, we know how to work with each other and I think South African design has grown tremendously in the past 5-10 years. It's quite amazing seeing other works of art and being inspired by different designers and artists. But generally I think South African design is an upward sparrow in unimaginable ways. Just last week, I came from Cape Town and I got to have conversations with people I've never met. I visited different stores and I was having a different discussion than the one in Johannesburg, and it was so mind blowing because, at that moment, I realized I have so much to learn and so many people to meet out there. I think South Africa, in a nutshell, is just vast.
ID: What do you love most about design?
SM: I adore the process; it's the most uplifting part from start to finish. It's always about everything else in between. It's like I cannot understand design if I don't take it like a journey or how can I take something and really bring it to life without attaching myself to the process. I get a brief and I'm instantly excited. I'm always open to challenges, which is why I'm far more enthused by the brief itself and then from there, the excitement just rolls in.
ID: Your work is so unexpected, I feel like during your creative process, you always keep an open mind.
SM: It's really crazy that you say that because that's exactly how it is. I'm always like, how do I create works that keeps the subject open? How do I create work that is not just provocative but also evocative? How do I say something as a designer? And it means something because design is also a means to pass messages.
ID: Do you subconsciously create sculptural Afrofuturistic pieces?
SM: I like the idea of having a piece that can stand the test of time but that's not where my fixation is. I am more fixated on how I create a piece of furniture but get my angles so strong and well made. I think it's something that happens subconsciously to me because I'm like: How do I as a designer create something that would mean something to my children and children's children?
ID: I love that your work is also functional, is that intentional?
SM: It's very intentional. It's having a grasp of ethos and challenging it into a design but I can get too lost in the philosophy, in the inspiration. Absolutely, it is extremely intentional to say: How do you have a piece of furniture in your home or in your corporate space that would always say something or draw your eye to it?