10 Questions With… Zizipho Poswa
Balance, determination, and drift coalesce in Zizipho Poswa's sculptures on display at Galerie56 in Manhattan. Founded by SheltonMindel principal Lee F. Mindel, the gallery, which sits adjacent to the new "bean" sculpture by Anish Kapoor in Tribeca, showcases seven bronze sculptures by the South African artist, which are both bodily and abstract.
Titled "iiNtsika zeSizwe (Pillars of the Nation)," the exhibition's approximately 5-foot tall sculptures pay homage to African women carrying utilitarian tools, goods, and domestic objects over their heads. Poswa honors women's commonly overlooked roles in the daily economy and social life, particularly from her Xhosa heritage, while capturing their graceful balancing and intricate piling of the materials. The artist's first solo U.S. exhibition, which the gallery presents in collaboration with Cape Town-based art and design gallery Southern Guild, honors women's contributions to society and their ritualistic determination with elegant juxtapositions of seemingly abstract silhouettes. In closer inspection, Poswa's conduction of elliptical forms paired with various blossoming and oozing silhouettes lends itself to bust-like figures.
Another first for the 43-year old artist is her material path: after working in clay and ceramics for two decades, currently from her 1,615-square foot Cape Town studio, Poswa exhibits a show with works exclusively made in bronze. "Bronze is a beautiful material—I love its relationship to clay and how it responds to different textures with its patina," Poswa tells Interior Design. "Bronze also helps me enhance the stories about how powerful these women are because it is a material of permanence." The show's sculptures over pedestals are accompanied by a group of photographs that show the artist immersed with the communities of women celebrated across the show. Poswa's journey in the U.S. also is expanding to the west coast—she recently started a residency at the Centre for Contemporary Ceramics at California State University in Long Beach.
Zizipho Poswa Takes Us Behind The Design of Her Sculptural Works
Interior Design: What do you think about the vernacular design aspects of your inspiration? A core element of vernacular design is need and you depict women who have created their own solutions for function.
Zizipho Poswa: This is something I'm drawn to without being intentional about it. I see something special, something that speaks to me, which I can translate into work. I name each piece after a woman, perhaps partially for this reason—each woman is unique and represents another form. The women all come from my community but at the same time, I also honor women from different parts of Africa. These may be women I never met but I find them from books or the internet. I can see their power and they deserve to be celebrated.
ID: There's a portraiture element in each work—each sculpture is a bust. How do you integrate the monumental aspect of portraiture into your process?
ZP: Telling stories about where the source of inspiration comes from is important. Portraiture helps me connect concept with intention.
ID: How about abstraction? You reference figuration but a viewer looking at your work may think this is an abstract form.
ZP: I like that people can experience the work in their own ways. Once they see the visuals and make the connection, I see so much excitement and acknowledgement. I think the viewers love seeing this duality, the portraiture and abstraction working together.
ID: Bronze is a material that gives a sense of timelessness as well as weight. What prompted you to create a show entirely made out of bronze for the first time?
ZP: I'm on a journey of growing and learning more about different materials, especially materials that I feel close to. I love working with clay, and it was natural for me to progress to entirely bronze. I wanted to be able to explore intuitions and also explore the possibility of outdoor sculpture. Some forms, such as the headpiece in Mam'uNoSayini (2023), are hard or even physically impossible to achieve with clay but bronze makes them possible. These are powerful women, each carrying a load of 50 kgs. The material speaks to this strength.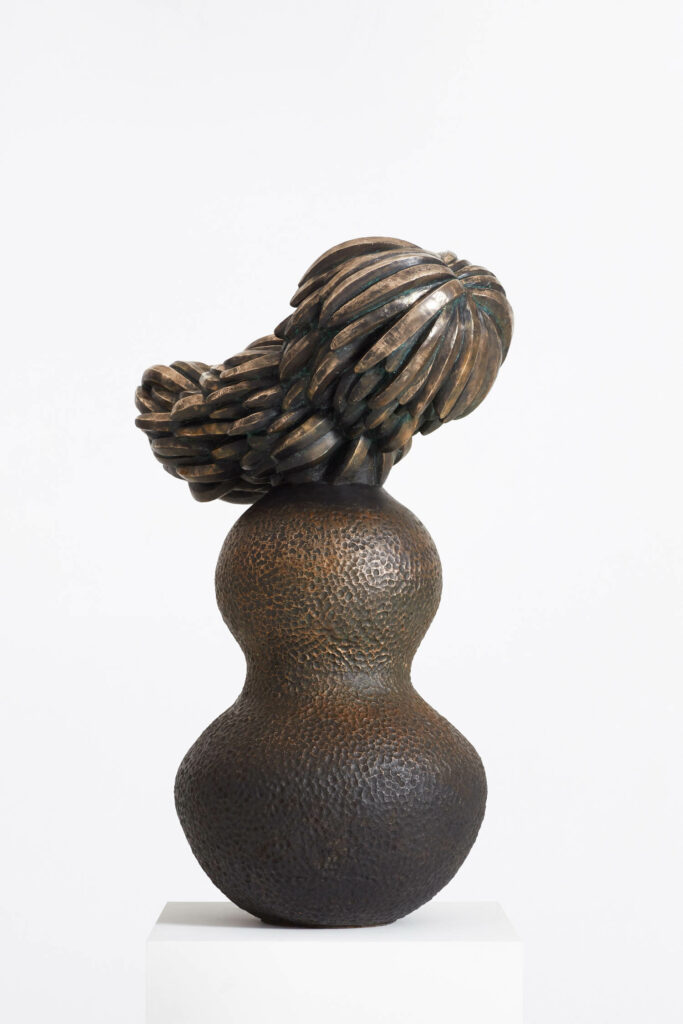 ID: You previously created works on the subject of hair and beautification. While your inspiration in this series is female labor, beauty is an important thread as well. You capture women carrying heavy materials but each juxtaposition is also about beauty and the strength.
ZP: I think that is where my love for bronze comes from, too. The fact that when you combine it with clay you get that element of accessory and jewelry. These inspirations come naturally when I look around in West Africa.
ID: How about balance? Each work conveys a sense of weight and heft with a determined balancing, just like your subjects. Could you talk about balancing a sense of precariousness and safety in sculpture?
ZP: Again bronze does this beautifully. It just has to be worked well in terms of the balance that I try to achieve over the pedestal. With clay, this may not be possible. During firing, it may collapse which of course recalls what these women have to deal with everyday with buckets and bundles.
ID: Could you speak to the element of photography in show? 
ZP: They do tell their stories on their own. They are separate from the sculptures but of course they work great together. You can better understand what I'm talking about with the sculptures. I grew up doing these chores, helping my mother carry water. I am glad having done them from a young age because they led to this body of work.
ID: What kind of connection do you see between the labor you depict in the series and the labor of working at a studio, creating work with demanding materials, like bronze?
ZP: Each one is a beautiful process. There's no guarantee for the final product, which I've learned to accept. Part of the process is that some will survive and sometimes they won't. Similarly in the society, the women put effort to different things, they raise children, and work everyday but the outcomes are hard to predict.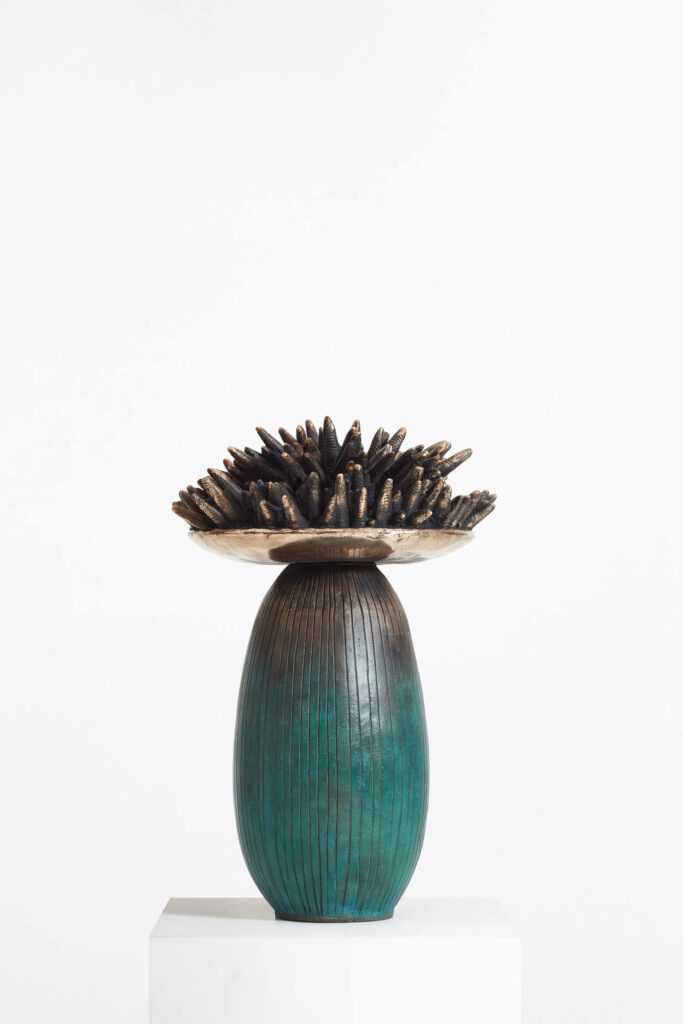 ID: What do you think about stillness and mobility? Constant movement is a part of the labor you depict while sculpture is a still and monumental statement. Could you talk about capturing a kinetic power with works that embody a static impact?
ZP: I try to preserve the culture for the next generation and capture this moment, in a way similar to photography. That is why naming each piece after a woman in the community is important.
ID: How does your studio life inspire your work?
ZP: I have a large kiln which is around a meter high but we are able achieve work that reaches three meters high. I work with eight assistants and my business partner with whom I've been working for 20 years ago. With demand for larger work, we expanded the studio which now includes a residency area where we host artists.