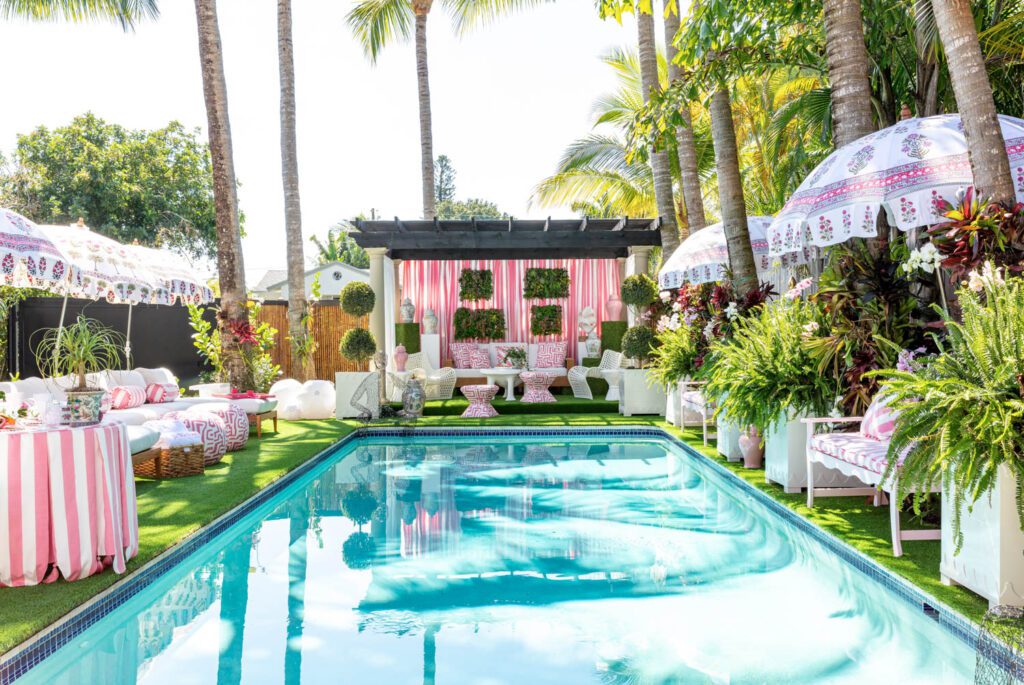 12 Highlights of the 2022 Kips Bay Decorator Show House Palm Beach
Bursting with color and ebullient patterns, the freshly designed rooms in the 2022 Kips Bay Decorator Show House Palm Beach stand as a welcome prelude to the optimism that invariably fills this coastal community in spring. The event just opened for its fifth annual iteration in a 5,600-square-foot property originally built in 1923. The historic space, built by Orrin Randolph as part of his development of the Northwood neighborhood of West Palm Beach, showcases works by 24 architects, designers, and artists. Each brought their A-game, adding whimsy to the two-story main house, adjacent guest house, and landscape. Design lovers will be able tour the show house virtually and in person through April 3, with event highlights below. Tickets benefiting the Kips Bay Boys & Girls Club and Boys & Girls Clubs of Palm Beach County can be purchased here.
Catherine M Austin Interior Design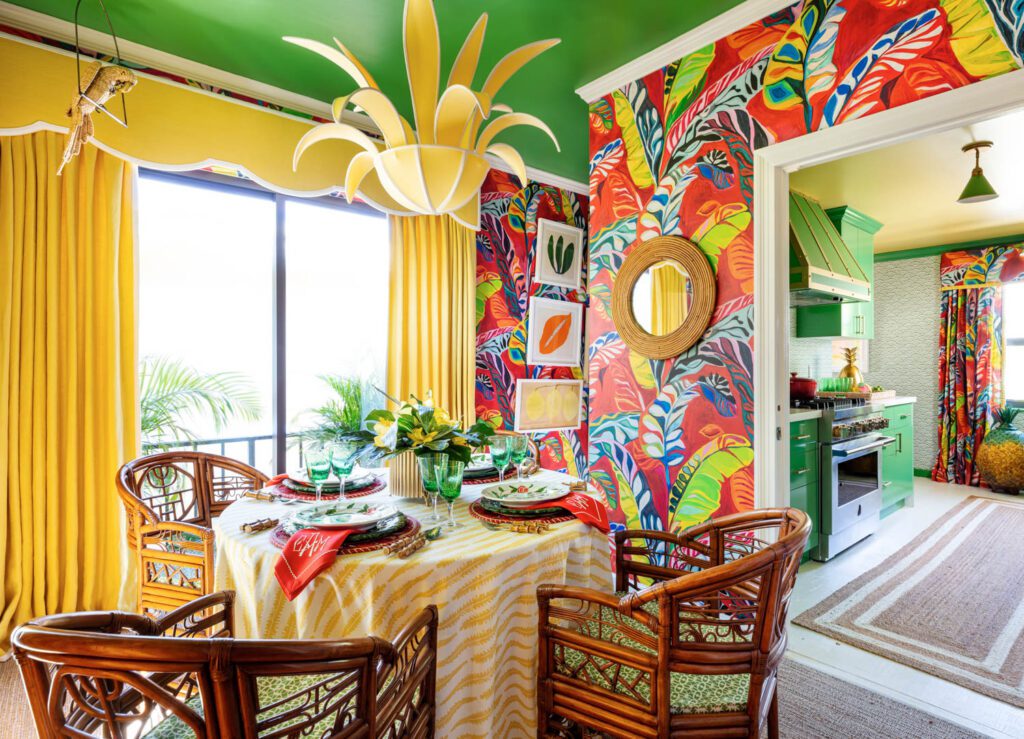 In a series of spaces she calls "Jewel of the Jungle," designer Catherine Austin merged intonations of Marrakesh, the Côte d'Azur, and Palm Beach. Here, she wraps the staircase and dining area in the guest casita with a Matisse-inspired recoloration of CW Stockwell's jubilant banana-leaf patterned 1940s wallpaper Martinique® Celebration! and tops the table with Italian vintage pottery and glassware. "If there's one lesson we learned during the pandemic, it's that we can look to our homes as a source of joy," says Austin, who reversed the palette in the adjoining kitchen and breakfast nook.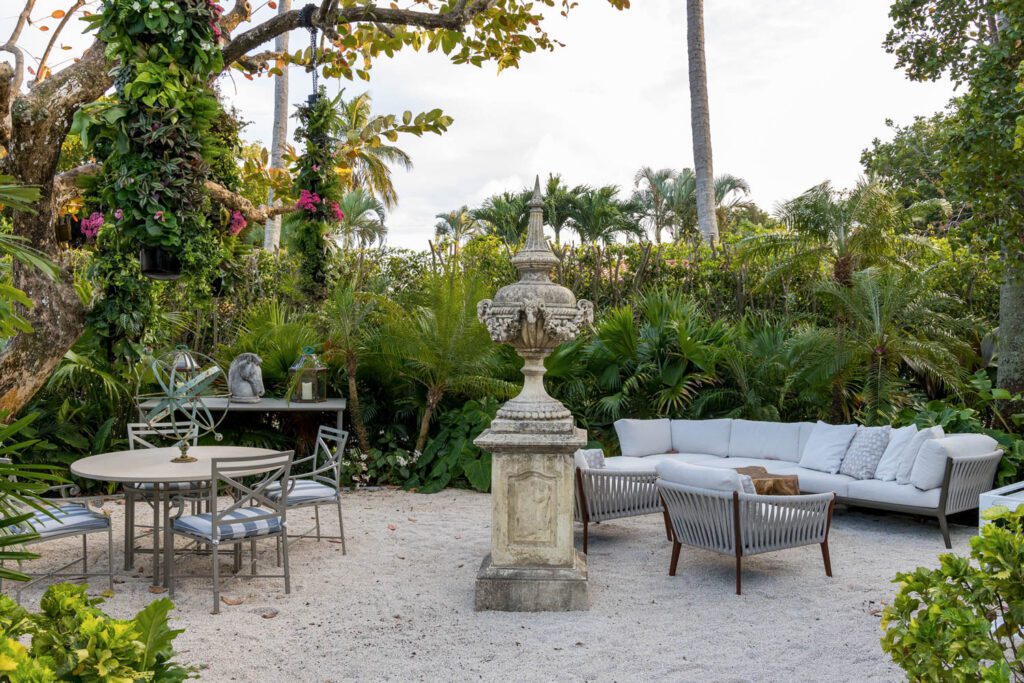 Inspired by the 1920s theater set designs of Joseph Urban as well as the scenic wallpapers by Zuber & Co installed by Jacqueline Kennedy in the White House and the oil paintings of Palm Beach artist Orville Bulman depicting animals and people cavorting in fantastical Haitian-inspired jungles, Bell Design transformed the grounds into a Deco-eclectic fantasy. In one section of the lawn, a Chippendale-style pavilion features hints of Victorian rattan and Moorish fretwork, while a medley of jungle creature topiaries mingle with Chinese fan palms, bonsai crotons, parasol leaf trees, and elephant ears among other tropical plants.
Ashley Gilbreath Interior Design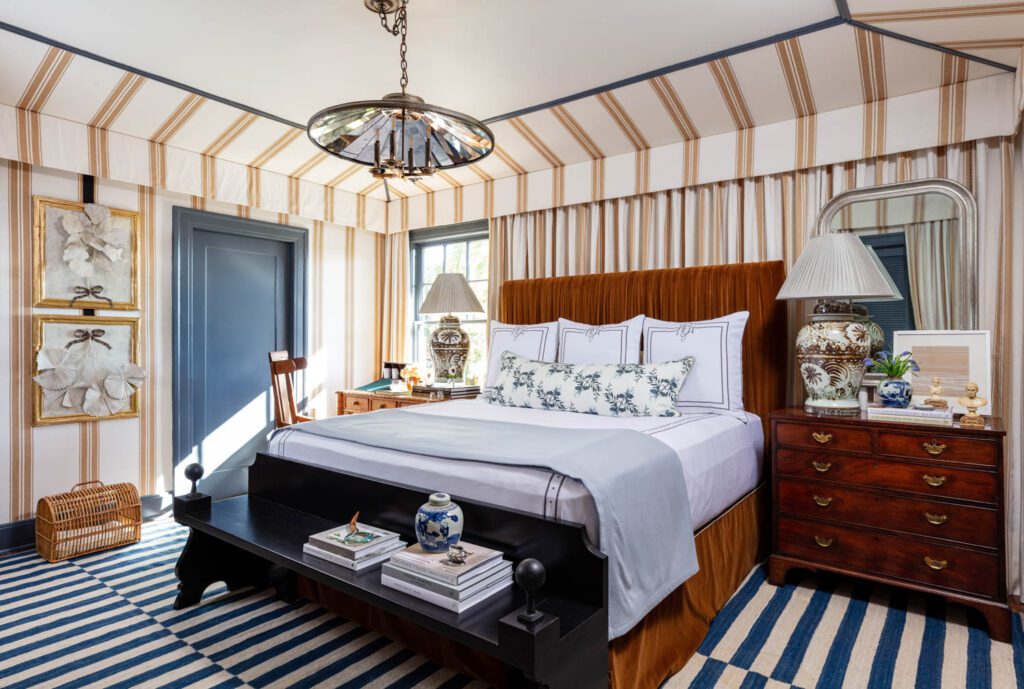 Drawing inspiration from the designs of Veere Grenney for her "Tented Retreat," designer Ashley Gilbreath says she "wanted to created a [main] bedroom that felt like home, that wasn't too masculine or too feminine." Classic stripes, touches of florals, monogrammed linens, tailored details, and the romance of a tented room evoke a luxe yet laid-back spirit.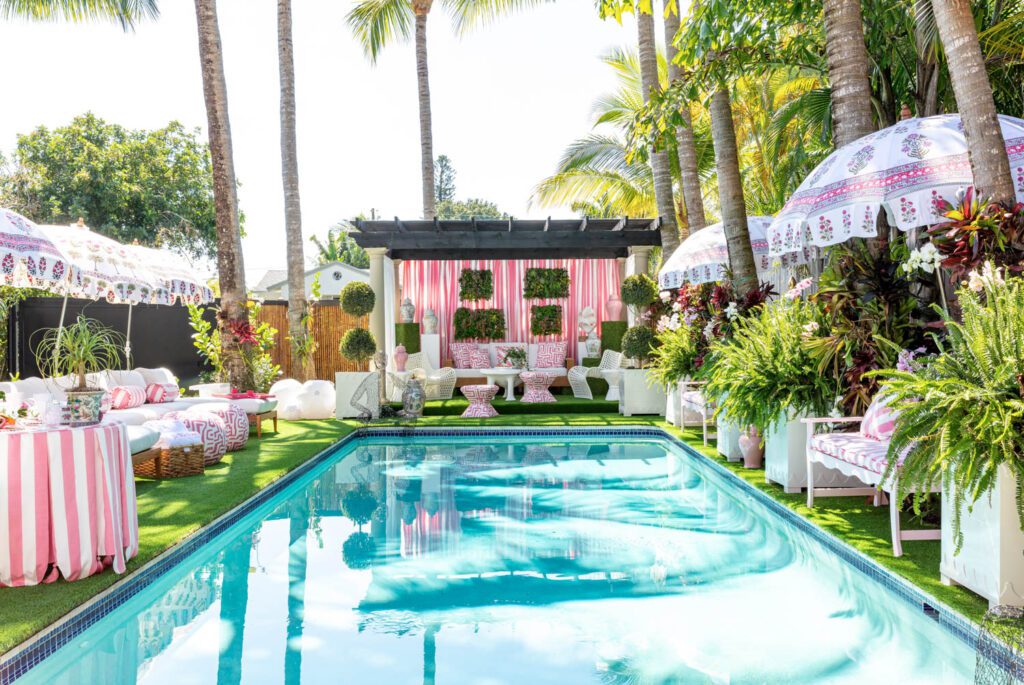 "I wanted to channel a cheerful Palm Beach vibe with the Lily Pulitzer palette, old world ginger jars, and modern silhouettes," says designer Janie Molster of the three-part scene she created around the pool, which is anchored by the pool house at one end, a covered bar station at the other, and pink and white lounge seating beneath fluffy umbrellas in between. "The green turf is a game changer—against it everything pops like eye candy."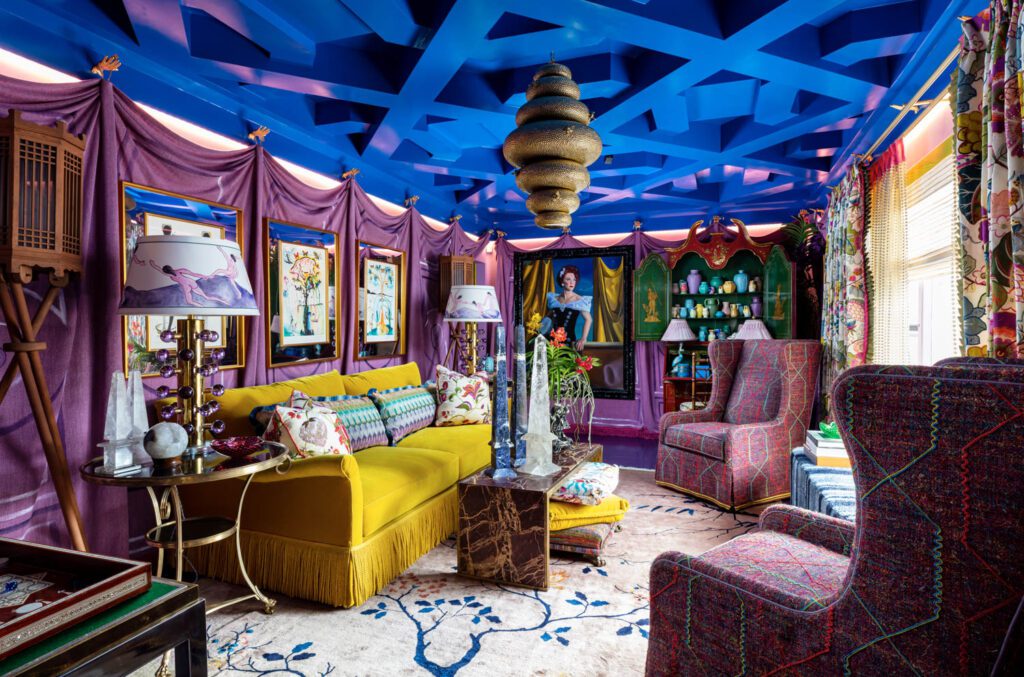 "I like rooms that include elements that keep people guessing and start conversations," says interior designer Chris Goddard, who applied that thought to his design of "Salon 23," a living room space in the guest house, which he envisioned as a gathering place and escape. "I was inspired by the idea of a French salon and covered the walls in hand-painted linen panels to add an unexpected layer of detail," he says, "while the lacquered Yves Klein Blue paint on the coffered ceiling offers a modern twist and the mix of eclectic furnishings and accents, like a 1970s portrait of a drag queen and the 17th-century secretary housing 1950s pottery, come together to tell a crazy, creative story about the imaginary owner who collected them over time."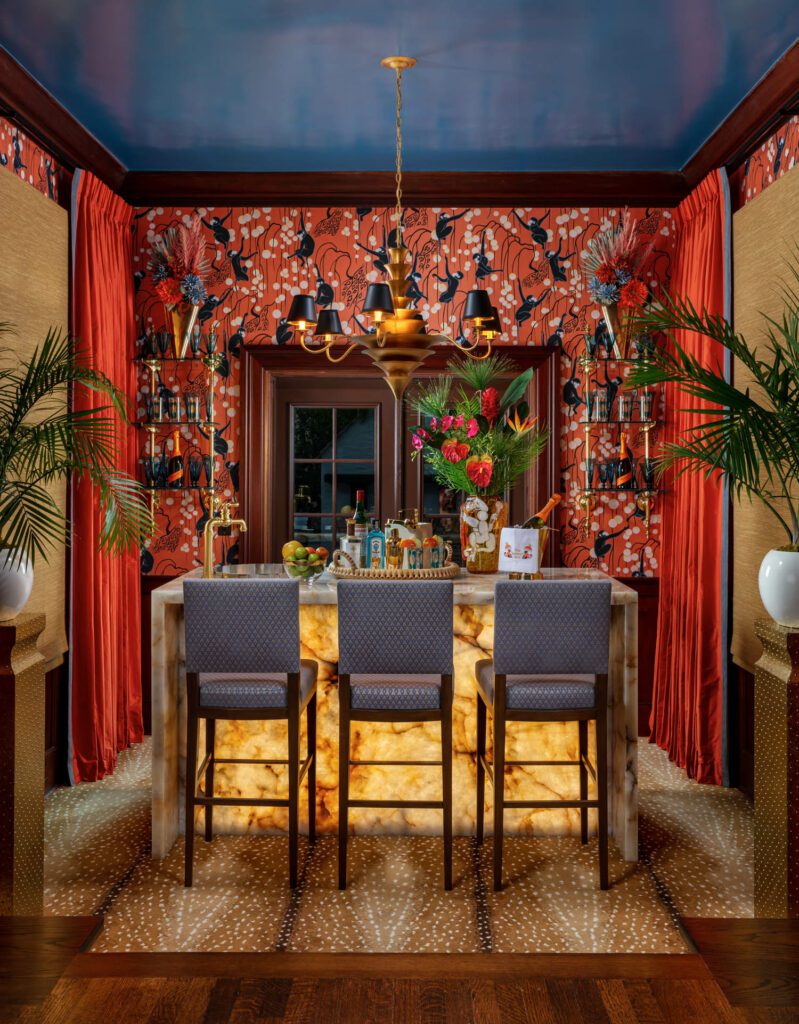 De Gournay's playful "Deco Monkeys" wallpaper sets the tone in a swank space in the main house, which kitchen, bath, and bar designer Jim Dove envisioned as a jewel-box of a setting for pre-dinner cocktails or a night cap. "It's a tribute to New York's renowned and much-missed Monkey Bar, which opened in the mid 1930s in the Hotel Elysée and was revitalized in the 1950s with hand-painted murals by caricaturist Charlie Wala," he says. "The room-hugging organza curtains lend a sense of theater and call to mind the color of a Mai Tai."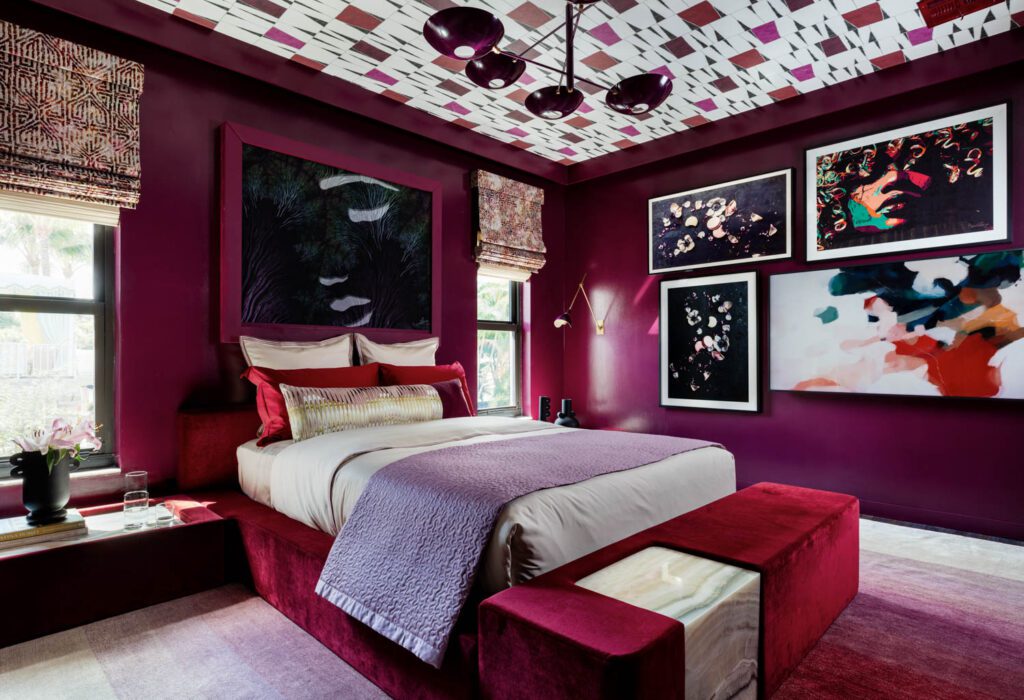 In a guest suite she calls "In Real Life," designer Kelly Finley of Joy Street Design, merged creature comforts and technology in ways that allow its occupants "to disconnect and engage at the same time." A custom bed covered in deep red velvet, digital art, including an NFT by an artist from Melanated Studios, and smart home technology combine to make the future-forward respite both soothing and energizing at the same time.
Designer Tish Mills converted a small bedroom tucked in the back of the guest house into a zenlike oasis for private work and reflection. "It's a retreat where the sun-washed palette and textures, like sand and water on the beach, makes you want to exhale," says the designer, who points to the textural wallpaper called Ripples by Phillip Jeffries as the tone-setting the backdrop for the spirited art and a glamorous vintage Jacques Garcia desk.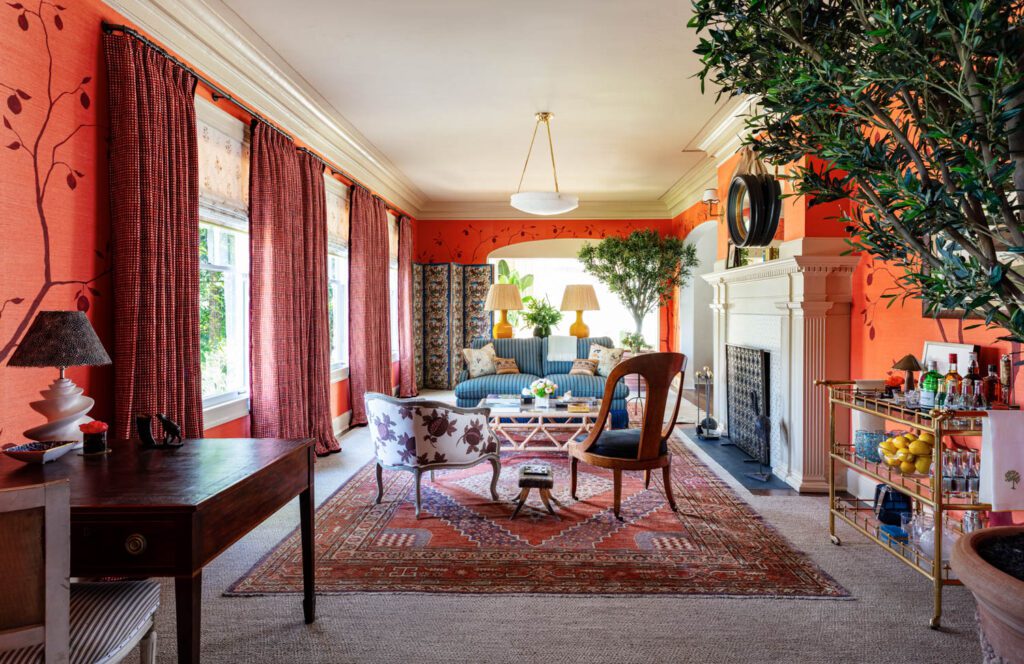 In their design of the drawing room, interior designers from Peter Pennoyer Architects turned to a Florida of old as a reference for the patterns and palette, which, says design director Alice Engel, "were inspired by the mango and citrus crops that were commonly grown here a century or more ago." An Uzbeki rug grounds the room, where new custom furnishings are paired with old world antiques.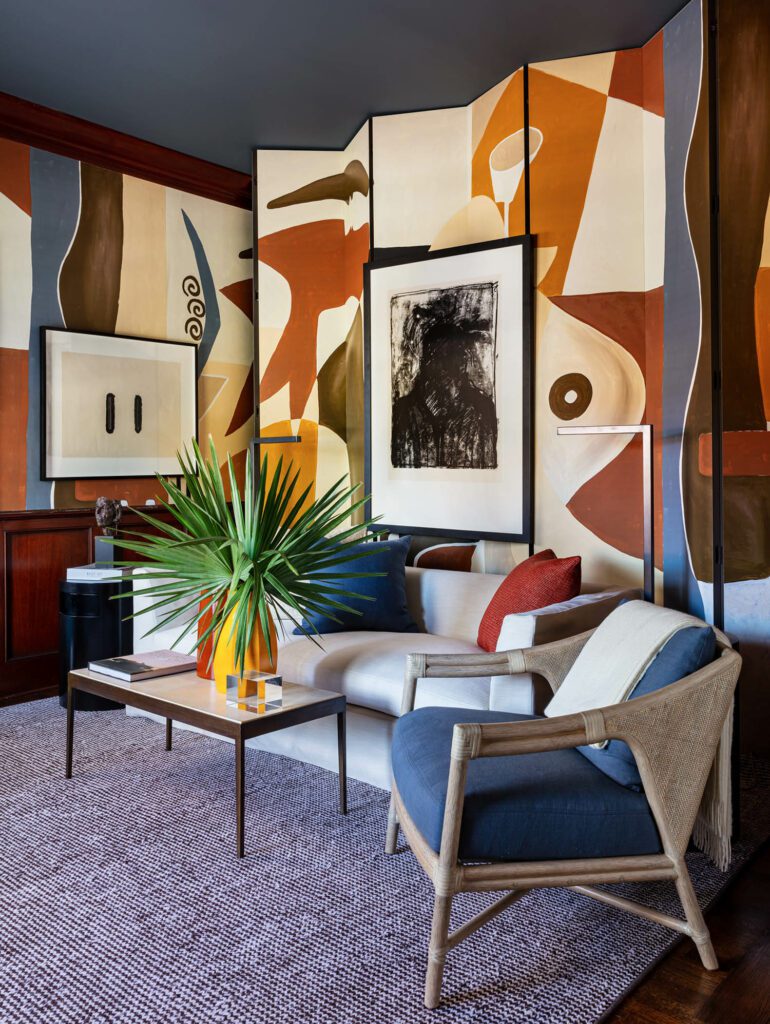 Enveloped by a Dadaesque avante-garde mural by French artist Garance Vallèe, interior designer Robert Brown's timeless, inviting "Petit Salon" is a contemporary tribute to Le Corbusier, Charlotte Perriand, Jean Arp and other pioneers of an organic approach to modernism.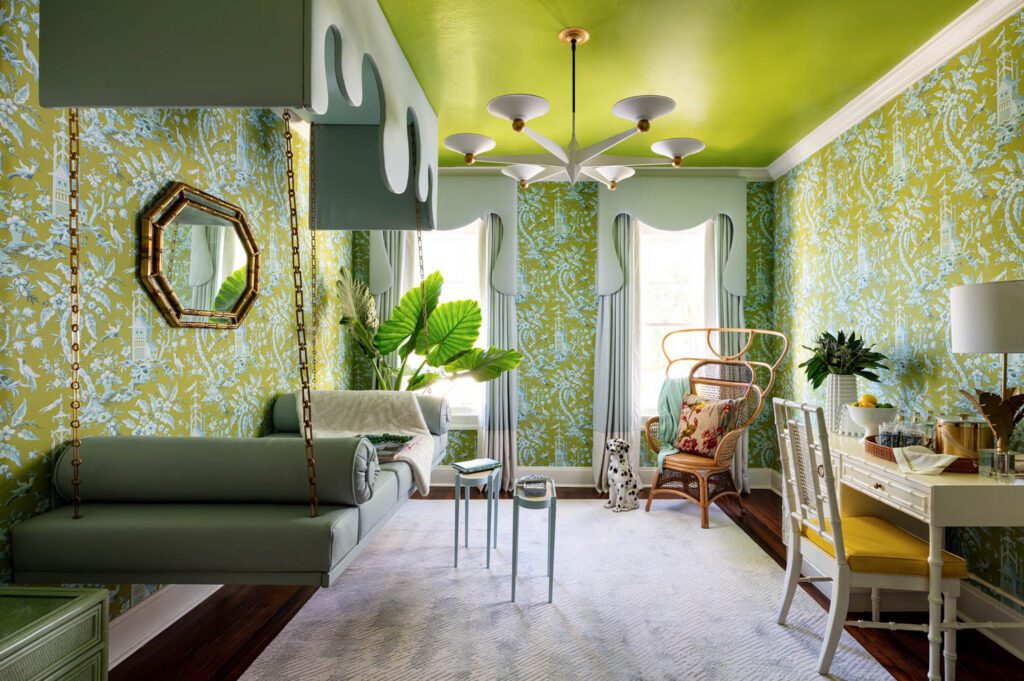 In what she calls the "Bloom Lounge," designer Tiffany Brooks turned a tiny guest room into an immersive escape for the artist, writer, or dreamer of the home. "Suspended from the ceiling, the leather and brass chaise takes your sense of leisure to another level," Brooks says. "The soul and spirit of Palm Beach nostalgia envelopes you, while whimsical valances and vintage rattan and bamboo touches leave you with the feeling of delight."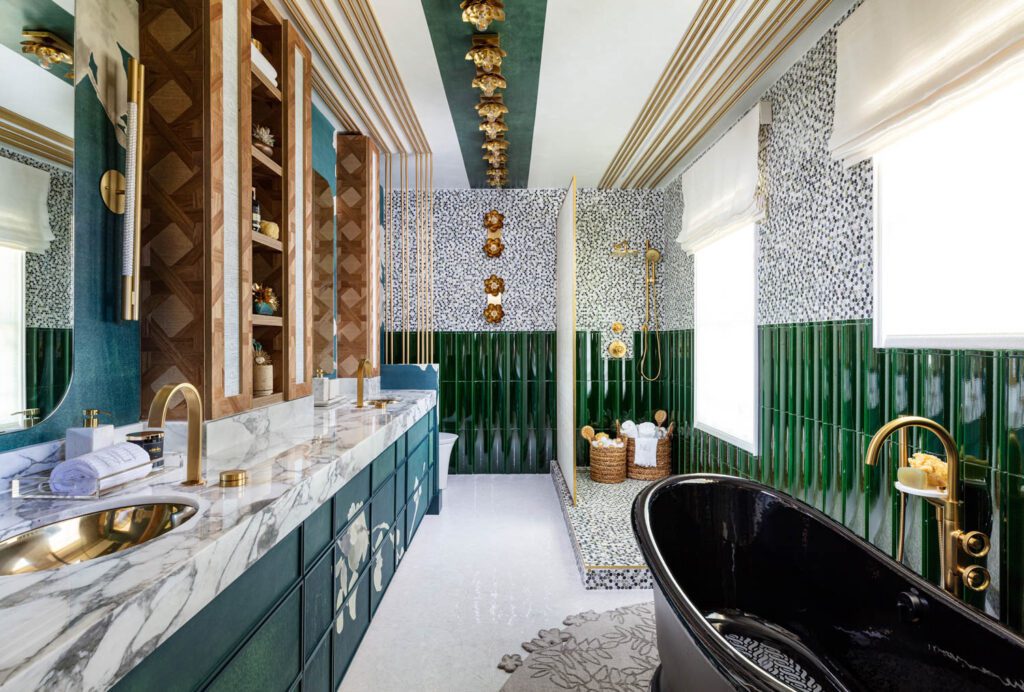 In the primary bathroom she refers to as "Petal to the Metal," designer Nikki Levy relied on contrasts—hard and soft, light and dark, curvy and linear—to evoke a sense luxury and eye-catching beauty at every turn. A play between the diminutive Penny Lane mosaic from Artistic Tile and grand scale of Phillip Jefferies' Haiku floral wallpaper exemplifies her penchant for unexpected juxtaposition, while the her use of material, such as the stunning Primestones marble counter, is a nod, she says, to trailblazers like Dorothy Draper, Elsie de Wolfe, and Billy Baldwin.