Aidlin Darling Studio Exhibits at Sonoma Valley Museum



Wexler's Restaurant Canopy Detail. Image courtesy of Aidlin Darling Studio.



San Francisco's robust scene for innovative design and architecture technology is interestingly represented in the edgy, solo exhibition "Site & Senses: The Architecture of

Aidlin Darling Design

," on view at the

Sonoma Valley Museum of Art

through March 2, 2014.

Joshua Aidlin and David Darling, founders of this forward-thinking, experimental firm, adhere to a simple principle: architecture is shaped by full sensorial experiences affecting our relationship to the built environment. Intrigued by their philosophy, SVMA invited the partners to fill the museum's entire 5,000-square-foot exhibition space with the multi-sensory explorations their team and network of professionals apply to the design process. The designers created a series of imaginative settings featuring material palettes, models, sketches, renderings, full-scale mock-ups, and photographs. Visitors can look, listen, smell, touch, test, or imagine—an experience similar to a workshop laboratory.

"There's an ethos in our studio to truly nurture an exploration of a wide range of materials and methods from the very high to the very low tech," says Joshua Aidlin. He might have been referencing

C-Chassis

, a site-specific 55-foot-long installation sited at the museum entrance. Made of charred cedar wood nine to 12' in height, the installation breaks into a vertical, slatted wall allowing light to filter through the ceiling as the visitor moves forward inside the space. Included in the exhibition is a ductile concrete assemblage showing the duo's architecture pulled apart exposing the process in which they achieve the end result.

Aidlin Darling Design is multidisciplinary design firm with a broad focus ranging from institutional, commercial and residential architecture, as well as furniture, landscape and interior design. Their work has been recognized through numerous awards including most recently the 2013 Smithsonian Cooper Hewitt National Design Award.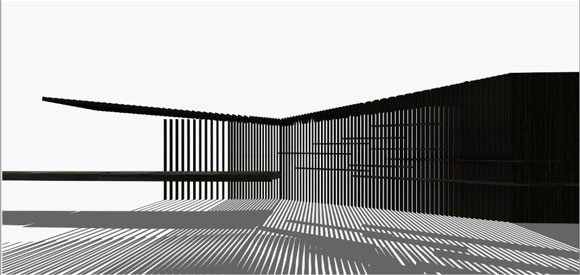 A rendering of C-Chassis, a 55-foot-long charred construct for the exhibition. Image courtesy of Aidlin Darling Studio.