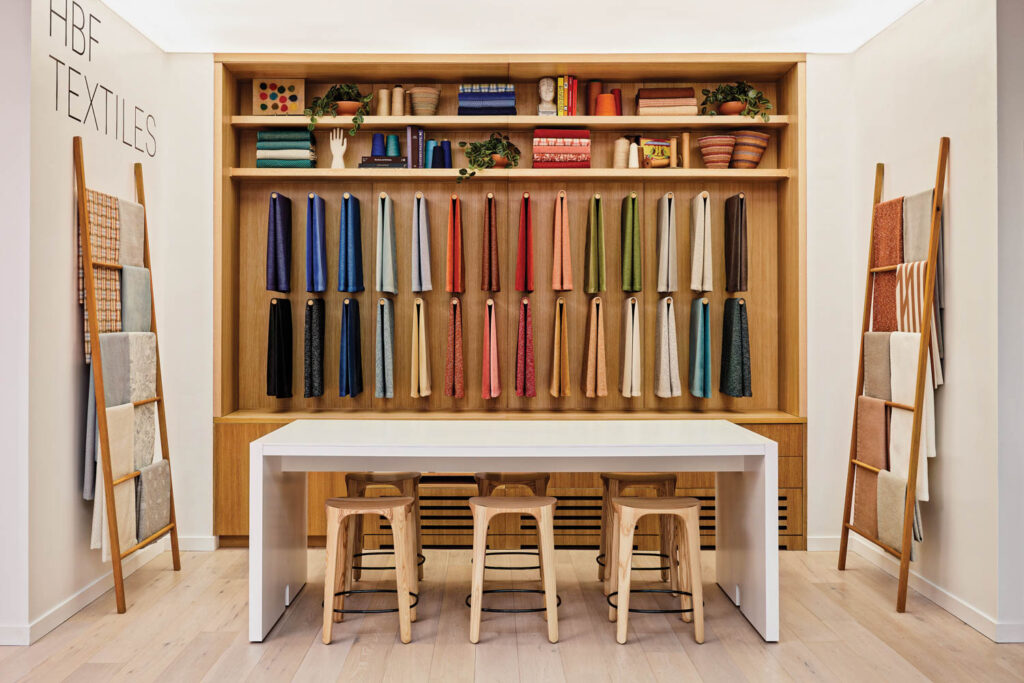 Behind Alda Ly Architecture's New Furniture Design Venture
The Wing chain of women's coworking clubs may have closed last year, but the influence of its highly Instagrammable interiors—Gen Y pinks and blues, velvety jewel tones, brass and terrazzo embellishments—lives on, not least in the work of architect Alda Ly, who founded her eponymous firm in 2017 when tapped to conceive those memorable spaces. But it's as much the seminal project's humanistic ethos as its jaunty aesthetic that the New Zealand-born, California-raised Ly and her majority-women team continues to practice and develop, one that puts emphasis on deep listening and hands-on collaboration with clients throughout the design process.
Parsley Health, a concierge-style medical practice, was another important pre-pandemic client. "The team there loved what we'd done with the Wing and sought the same feeling, comfort, and ease for the centers," Ly reports. "Looking for fresh ideas, Parsley came to us precisely because we had no healthcare experience. The founder said she wanted the space to heal you, which we really latched onto." Alda Ly Architecture did intensive research on biophilic design—"A very trendy word," Ly admits, "but for us it meant more than bringing in plants"—and began investigating all the physiological effects that an interior can have on its occupants. The results were warm and welcoming Parsley locations in New York and Los Angeles that felt more like homes than medical offices. By using natural materials, soft lighting, and thoughtful layouts, the ALA team was able to create environments that put patients at ease and help reduce anxiety.
Women's healthcare and wellness projects have become something of a firm specialty, but enterprises as disparate as media giant Bloomberg, Korean dessert parlor Lazy Sundaes Café, and women's personal products brand Athena Club have all been clients. Recently, ALA designed its first furniture collection and showroom—both for textiles and furnishings company HBF. We spoke to Ly and directors Tania Chau and Marissa Feddema about that and other ALA projects.
Alda Ly Architecture Delves Into Furnishings and More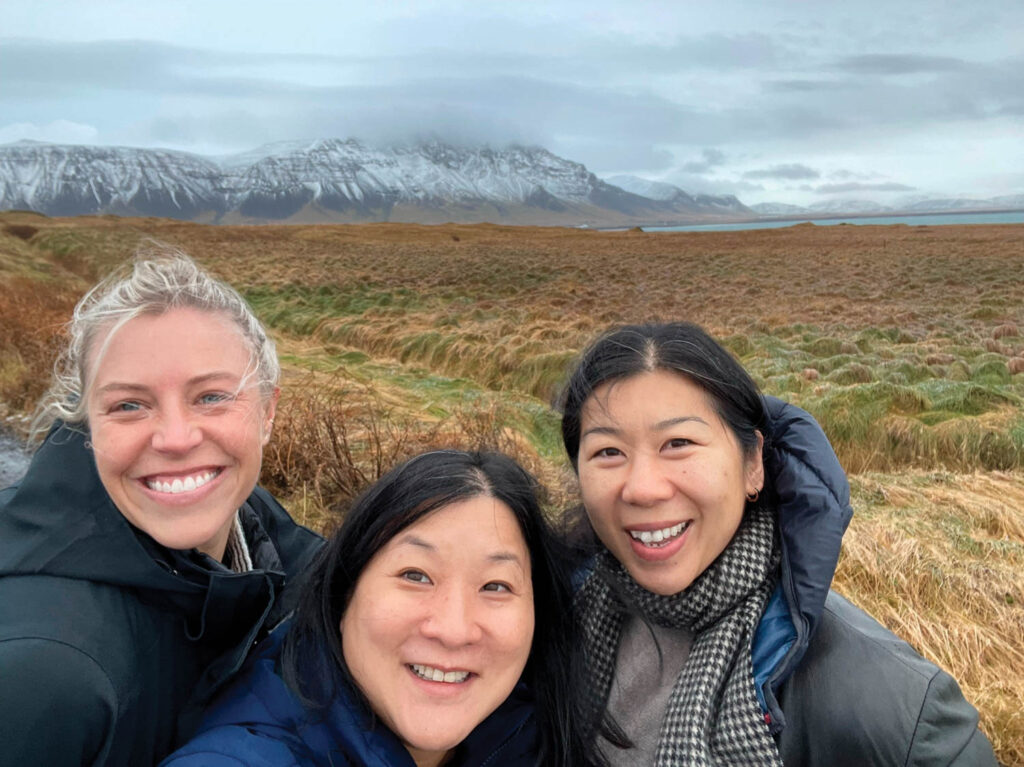 Interior Design: The Bao ottoman collection for HBF is your first production furniture. How did you get the commission?
Tania Chau: We think a lot about how to give workspaces a sense of welcome and hospitality along with comfort and flexibility. HBF was interested in having those qualities in its furniture, so it was a good match to bring our philosophy to the pieces. The brief was specific, but we had many conversations and worked collaboratively with HBF to determine the form. As specifiers, we see what clients are looking for, so we brought that perspective—as well as what we think we could use in our own projects—to the development process.
ID: What about the design itself?
TC: We care about materiality and tactility. Because HBF has a long tradition of craftsmanship, we wanted to feature wood, really showcase its natural beauty and other advantages. The oak bentwood-loop handle on some of the pieces achieves that, but it also provides function and flexibility, doing double duty as a chair back, for instance. We also thought there should be detail and interest, so a contrast signature stitch is available as well as quilting for the top of the seat.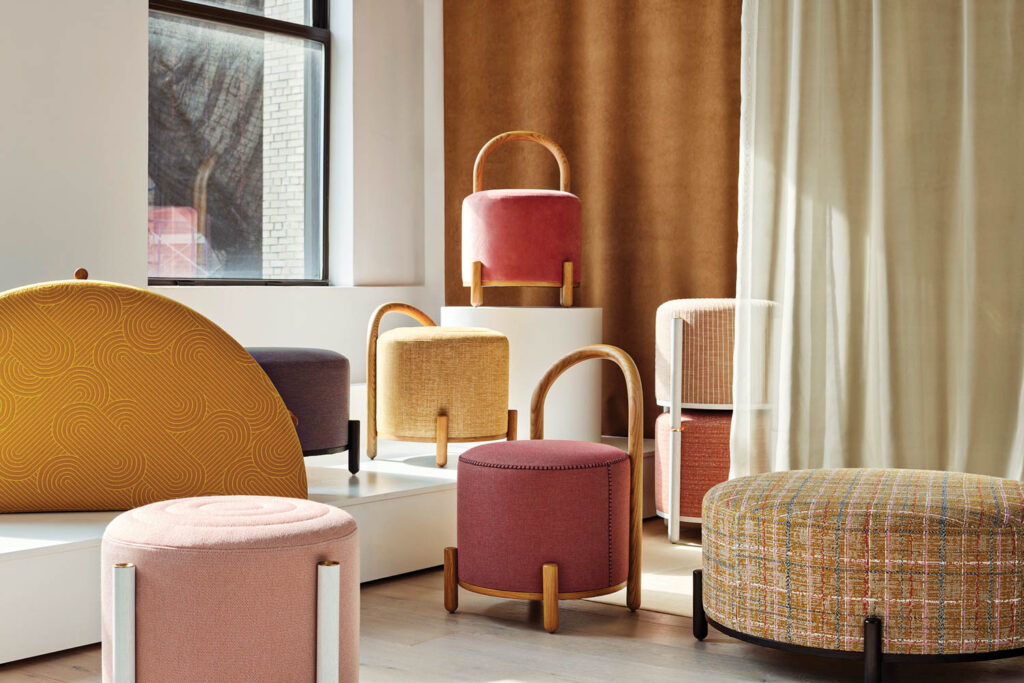 ID: HBF then asked you to design its New York showroom?
Alda Ly: Yes, the relationship was really comfortable, so it made sense to continue developing it. The space, which used to be a fashion showroom, had an open area under a huge skylight but was otherwise very closed in. We opened it up so that every point has access to the skylight, and you feel the full expansiveness of the amazing space, like an oasis in the city. Since the displays change over time, there had to be flexibility with a conversation zone in the middle featuring a lot of the lounge furniture. But some things needed a permanent home, like textiles, which have their own niche. Because it's a challenge deciding what a fabric will look like in a given setting, we put in an overhead light fixture that allows designers to adjust the color temperature to their particular project.
ID: You've recently completed two New York facilities for Tia, the women's healthcare provider, after completing Los Angeles and Phoenix spaces. What difference did the East Coast location make?
AL: It's exciting to have projects in our own backyard—Williamsburg and SoHo, neighborhoods we live in—because we not only get to work on them from start to finish but also understand the demographic and know what it feels like to live in this city.
Marissa Feddema: Tia SoHo is on the second floor of a classic cast-iron building; it was fun to work on a truly historic space, which we hadn't done before. The Williamsburg clinic is in a two-level storefront, an unusually exposed location for a medical facility where people may be in robes. Because Tia has strong community and educational components, we created a ground-floor waiting and lounge area for those activities and put what we call the wellness suite downstairs in a quieter, more intimate area that feels separate from the street.
ID: Did the clinics' materials and color palette change from West Coast to East?
MF: One advantage of working with a partner over time is that we get to evolve as the brand evolves. Tia's earlier locations were focused more toward millennials, so the palette was bright—citrusy, with whites and bold, punchy colors. On the East Coast, they're speaking to a larger audience, so the tones are a little more neutral, warmer—clays, mauves, and creamy shades.
AL: Tia's branding also changed a little because the services they offered in the East were expanding—for instance, meno­pause became a focus—and as the branding transitioned, we transitioned the look of the spaces.
ID: What's next?
MF: It's kind of a dream project. We have a client who cold-called us in the middle of the pandemic, asking us to design a café and theater in Reykjavik, Iceland. It's coming soon, so stay tuned!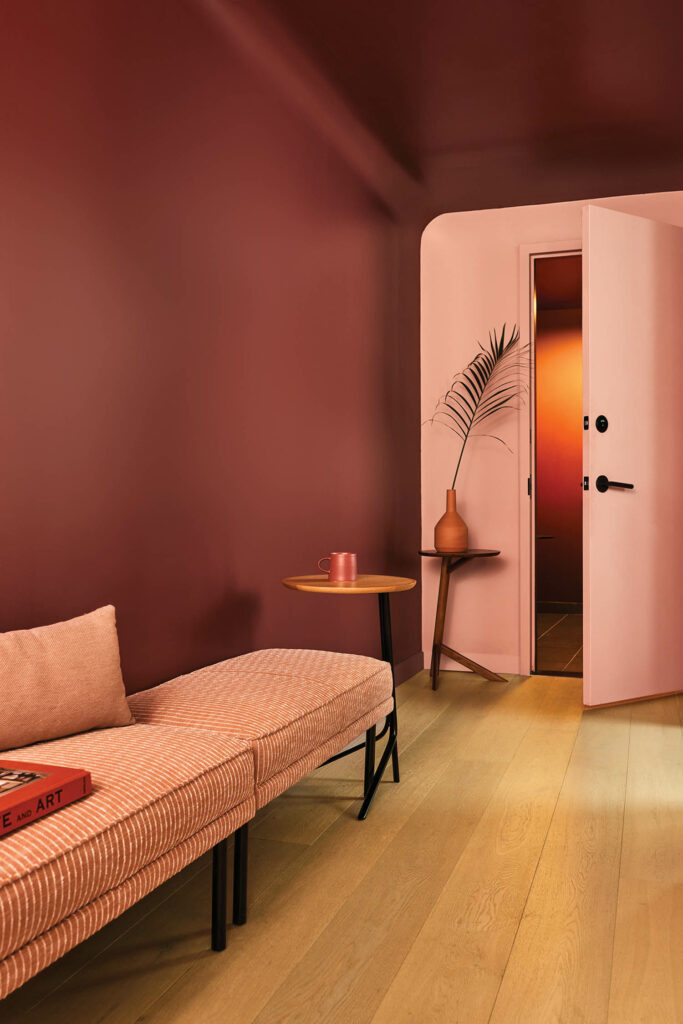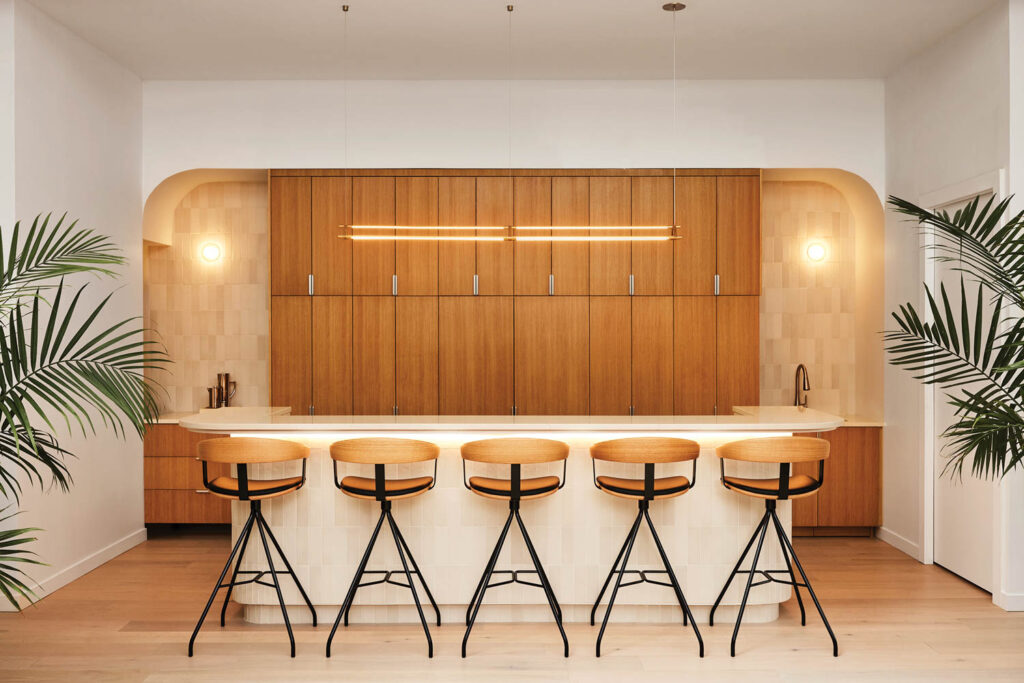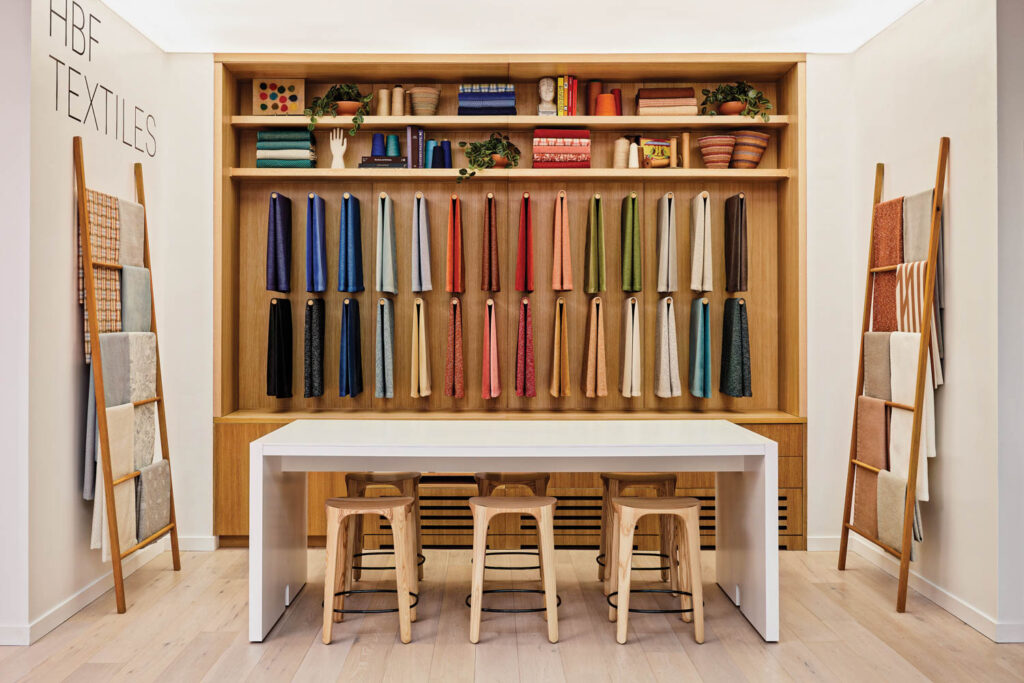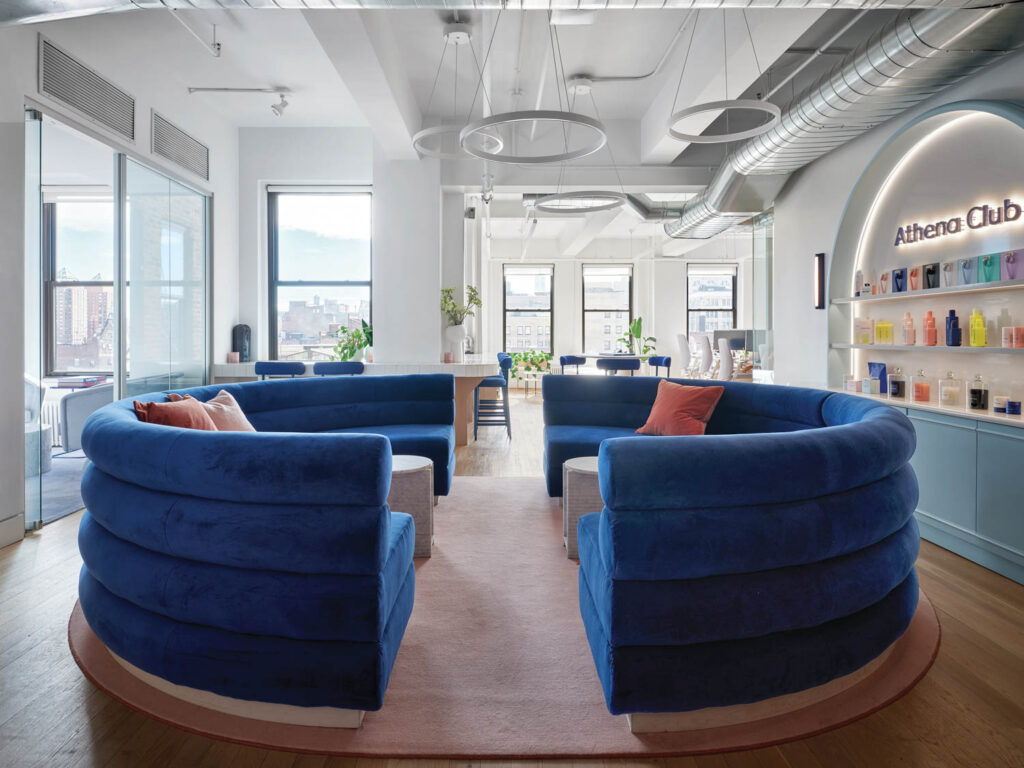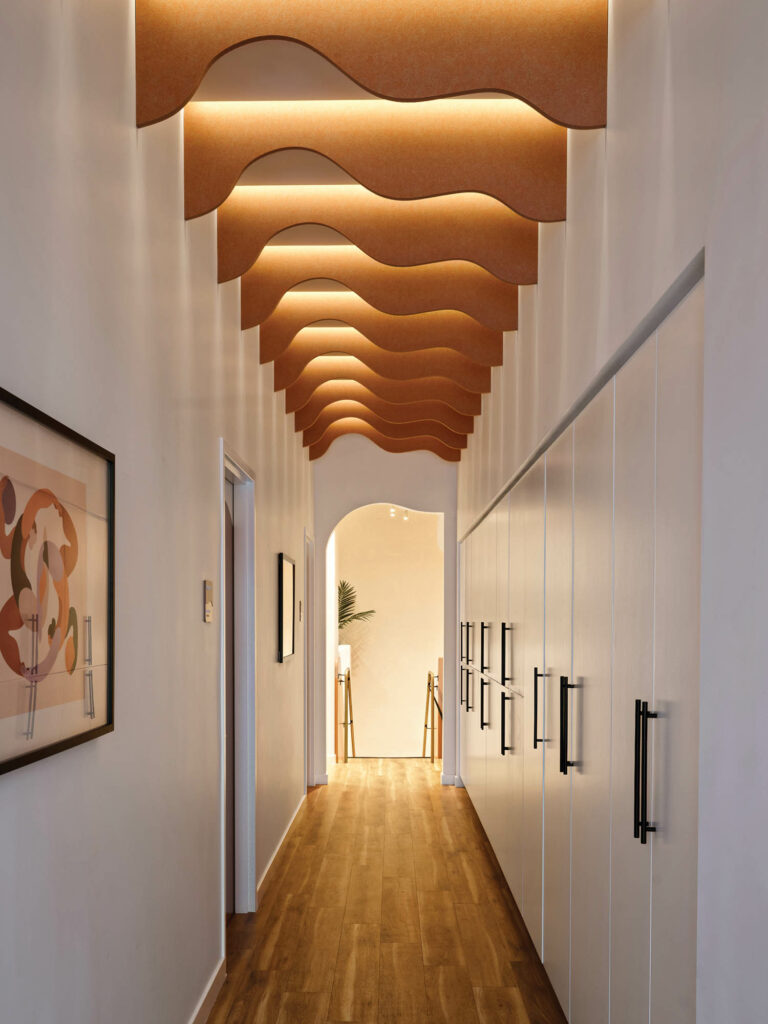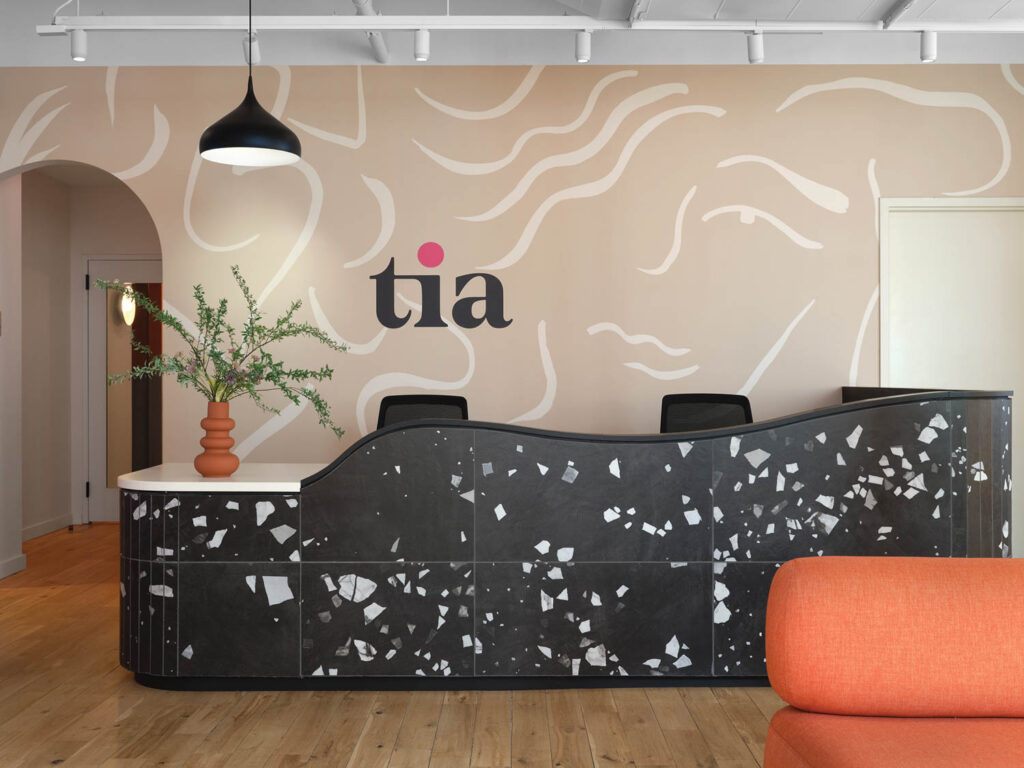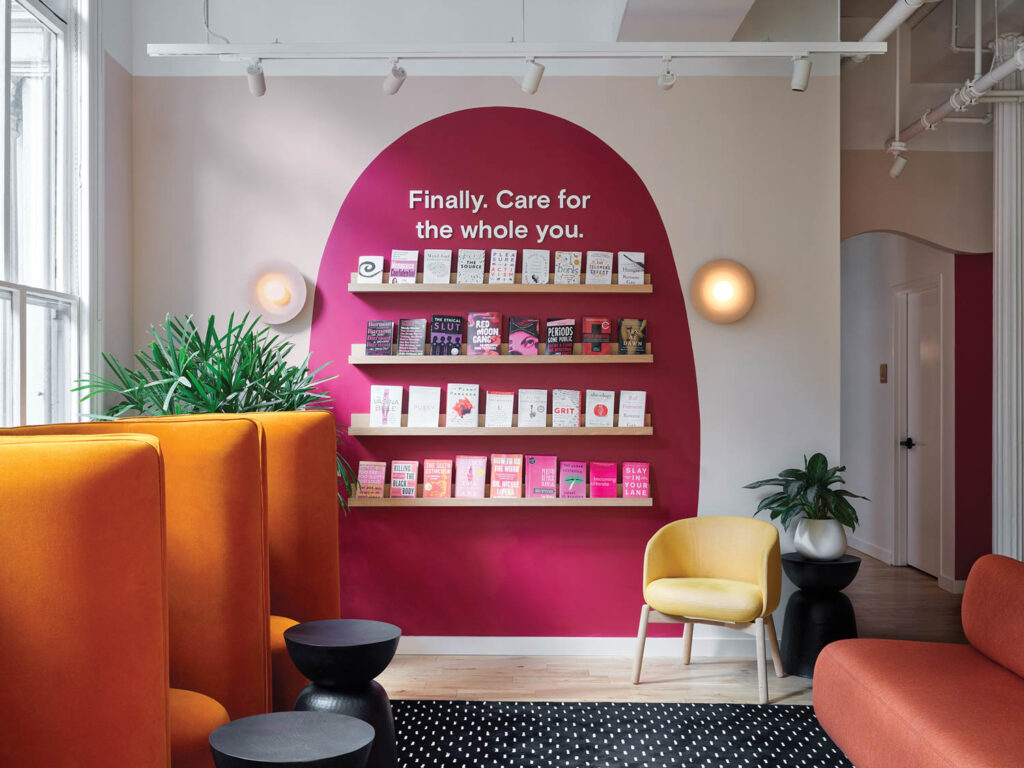 read more
NYCxDESIGN Awards 2023 Entries

HBF for Bao Collection

HBF is a 2023 NYCxDESIGN Awards winner for Bao Collection.

DesignWire

10 Questions With… Alda Ly

Alda Ly has made a career out of building the change she wants to see in the world. Born in New Zealand and raised in southern California, Ly studied architecture at UC Berkeley and at Harvard University Graduate School …

DesignWire

8 Must-See Trends From NeoCon 2023

From tables designed with Zoom calls in mind to insights from industry insiders, Interior Design editors round up highlights from this year's NeoCon.