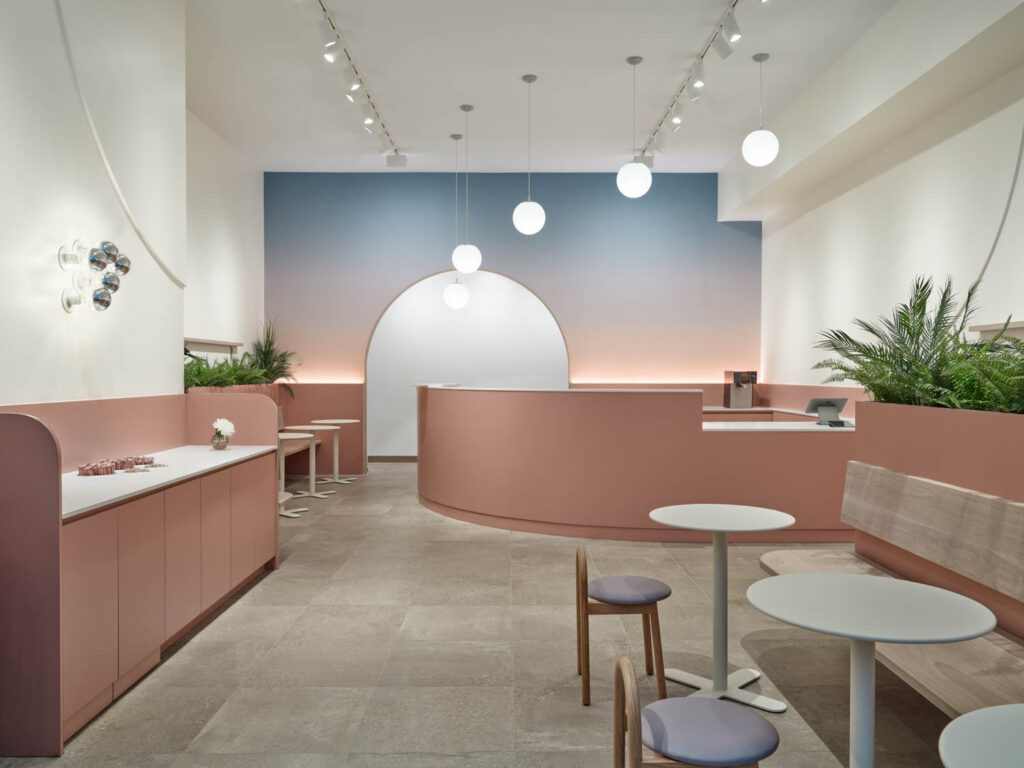 This Cafe in Brooklyn Serves Up Sweet Treats in a Setting Inspired by the Setting Sun
Ombre hues of pink, orange, and yellow paint the sky as the sun dips below the horizon—for those fortunate enough to catch a glimpse, that is. But at the Brooklyn flagship of Lazy Sundaes, a cafe that offers Korean bingsoo sundaes, a shaved ice treat, and bubble tea, it's always golden hour. Alda Ly Architecture designed the brand's fourth locale, transforming the interior into a soothing oasis with ample seating, soft shades, and curved forms.
"We were inspired by Lazy Sundaes's ice cold drinks and desserts and also the adorable napping cat mascot. We thought about the feeling and mood of a 'lazy sunset,' which conjured memories of spending summer days lounging at a park with ice cold drinks, under the shade of trees, and watching the sun slowly set over the city view," says founder and principal Alda Ly. "We wanted to capture that feeling through a large-scale setting sun on the wall immediately in front as one enters. Even from the sidewalk, the 'sun' beckons people into the cozy cafe."
A sunken entrance one foot below ground level furthers the idea of a cocoon-like space, enabling visitors to seek refuge from the busy streets above. While a series of soft curves, from custom serpentine benches to the sinuous serving counter, create playful moments for socialization and double as wayfinding tools. Self-service kiosks are integrated discreetly into planters, though ordering from the service bar also is an option.
"To me, the most surprising element of the space is the interplay between the representation of the sun setting against the evening sky through an arched opening and twilight wallpaper, and the placement of the lighting pendants over the bar as the sun path," shares Ly. The team's lighting design partner, Sighte Studio, brought to life the sun path using fixtures that curve and gradually drop toward the horizon line along the back wall, adding what Ly calls "a thoughtful layer of meaning, in a simple, singular move." We predict the sun won't set on this sweet spot anytime soon.