Beverly Willis, Influential Architect and Women's Advocate, Dies at 95
Champion of women and pioneering architect Beverly Willis died recently in Branford, Connecticut. An influential American architect, she played a major role in developing concepts and practices that have shaped urban planning and city design across the country. Recipient of the American Institute of Architect's Lifetime Achievement Award among other accolades, her legacy lives on through the Beverly Willis Architecture Foundation (BWAF) and its initiatives that aim to create a more equitable future for women in the design industry.
The foundation, which she founded in 2002 as a non-profit, continues to further Willis's mission to empower, educate, and support women in the field, changing the culture of architecture and design. According to a statement from BWAF, before her passing, Willis said: "I founded the Beverly Willis Architecture Foundation to fight to ensure that women in architecture have the same opportunities as men to realize their dreams and to be remembered." Throughout her career, Willis worked to bring to life this vision, even turning to film as an outlet.
She led the creation of several films related to the roles of women in architecture, writing and directing "100 Women Architects in the Studio of Frank Lloyd Wright – 'A Girl is a Fellow Here'" (2009), produced by BWAF, as well as the documentary film "Unknown New York: The City that Women Built" (2018), highlighting the many female architects, engineers, and builders behind over 200 projects in Manhattan.
In 2016, BWAF recognized an especially familiar face, INTERIOR DESIGN editor in chief Cindy Allen. Allen was honored with the Scroll Award, conferred to an individual or media organization demonstrating excellence in the coverage and advancement of women in design, in recognition of her contributions as a mentor to female talent, expertise as a trusted voice in the industry, and consistent dedication to showcasing the works of women architects and interior designers.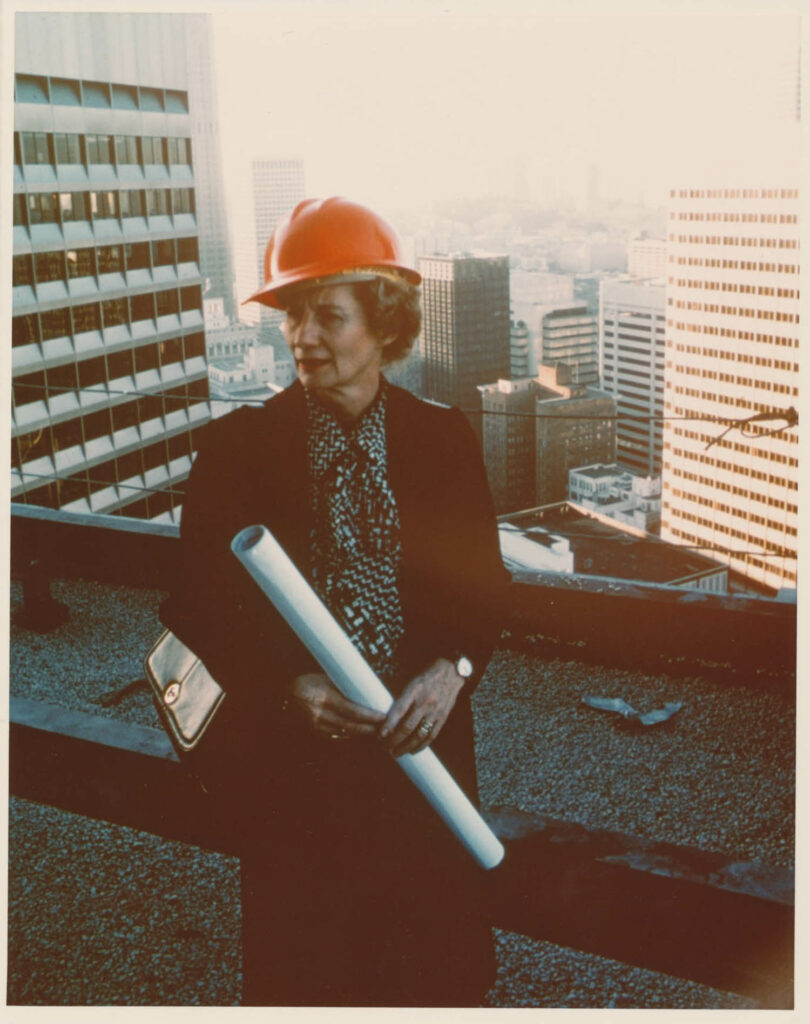 Beverly Willis, An Advocate for Women in Architecture and Design
On February 17, 1928, Willis was born to a country that would soon begin grappling with the pain of the Great Depression. After her parents' divorce and their subsequent inability to care for her, Willis spent her formative years in an orphanage. From playing semi-pro softball to participating in civilian air patrol as a teenager in World War II, her adventurous spirit and propensity for hard work lent itself to her later achievements as one of the most recognized architects of the 20th century.
Willis began her career in 1954 as an independent artist and earned an art degree from the University of Hawaii in 1955. Roughly a decade later, she established her own architectural firm, Willis and Associates Architects. Ever forward-thinking, Willis, together with William Wurster and Lawrence Halprin, pioneered the concept of adaptive reuse. Her 1960s reconstruction of the internationally recognized Victorian Union Street Shops in San Francisco was one of the first demonstrations of successfully reusing residential buildings in urban revitalization efforts.
Having worked on many notable projects, Willis is perhaps best known for the design of the San Francisco Ballet Building, the first U.S. structure envisioned exclusively for a ballet company. Additionally, she cofounded the National Building Museum in Washington, D.C. in 1980, a non-profit institution that offers interactive activities surrounding the fields of architecture, design, engineering, construction, and urban planning.
Always willing to embrace new technologies, Willis and her firm developed and pioneered a software program called Computerized Approach to Residential Land Analysis (CARLA), introducing the first computerized programming for large-scale land planning and design, which catalyzed change in the field. Her work in that area currently is being celebrated in an ongoing exhibition, "Emerging Ecologies," at the Museum of Modern Art in New York City.
The impact of Willis's illustrious career is evident in the legacy she left behind and the continued work of BWAF, cultivating a more equitable architecture and design industry for all. Willis is survived by her spouse, Wanda Bubriski.