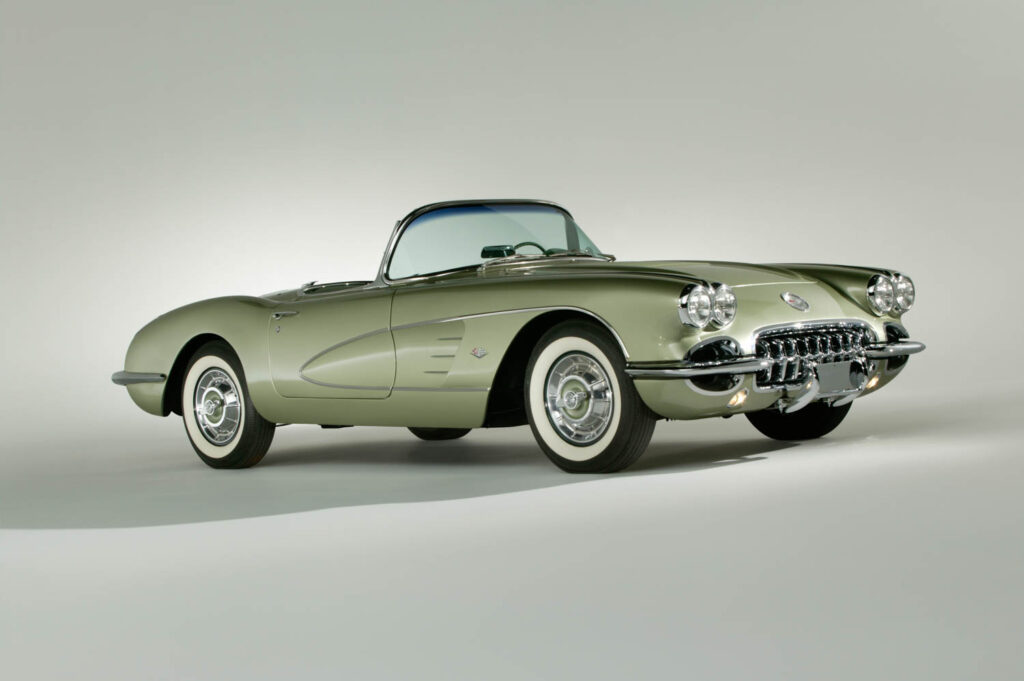 The Montreal Museum of Fine Arts Spotlights Women in Design
What is the history of women in design? While illustrating a broad landscape of women-made pieces, an ongoing exhibition at the Montreal Museum of Fine Arts "Parall(elles): A History of Women in Design" aims to answer that question. The show's nearly 200 creators demonstrate resilience—from limited material access to expectations for commitment to housework—proving the many ways creativity has shaped their design lexicons and offered a means of claiming access and visibility in male-dominated genres of design. "One of our points in this show is to underline practices that were not even considered design due to the fact that women were allowed to practice them in the confines of home, such as jewelry-making or needlework," the museum's chief curator Mary-Dailey Desmarais says. "Besides larger mass-produced examples of industrial design by women, especially when they were not expected to have careers, we've tried to complicate traditional hierarchies of design by including works of craft and domestic work."
Organized by Jennifer Laurent, the museum's curator of decorative arts and design, the exhibition is an ambitious look at the trajectory of women-led design in North America. Lucia DeRespinis, Ray Eames, Jeannette Meunier Biéler, Denise Scott Brown, Eva Zeisel, and Lani Adeoye are only a handful names represented with around 250 pieces that span the mid-19th century to the present.
The idea to trace the overlooked ambition of women designers, in addition to globally celebrated icons, was seeded in early 2021 when the museum was approached by the Montreal-based Stewart Program for Modern Design, which fosters the design collection of Liliane and David M. Stewart. Around two decades ago, the collectors had launched an initiative called "Designed by Women" to put forward works of female designers from their holdings of 500 objects which they had donated to the MMFA. "We soon realized we needed a bigger presentation to offer a substantive look at women design, and we had the capacity to undertake the challenge as one of the strongest collections of decorative arts and design in North America," Desmarais added. "We needed a new perspective and a parallel history of design." The show, which kicks off with a Maria Longworth Nichols Storer porcelain vase from 1879 and tracks women's achievements in design until today, features names such as Katie Stout and Amber Cowan. The presentation also includes artworks that flirt with design by the likes of fine art pillars, such as Judy Chicago, Faith Ringgold, Sonya Clark, Simone Leigh, and Cindy Sherman. 
9 Historical Works by Women in Design 
Wendy Maruyama, Cabinet, 1987
Maruyama's floral-inspired cabinet is revolutionary for its subtle subversion of its simple material—wood. One of the first women to graduate from the Rochester University's furniture design program, the Colorado-born designer's 75-foot tall cabinet combines wood with neon, a then unconventional rather industrial material, incorporating accents of beauty and gentleness into wood-making, once a male-dominated craft. "Maruyama feminizes wood by her floral forms and takes ownership of her femininity in wood production's male-dominated history," Desmarais says.
Clara Driscoll for Tiffany Studio, Peacock Table Lamp, circa 1905
Driscoll was a part of a group known as the "Tiffany Girls" within the landmark glass manufacturer's business in the early 20th century when women would work at the company until marriage. The Ohio-born designer was at the head of the glass cutting department until marriage yet made a comeback to the company after the passing of her first husband ("luckily she had the a skill to support herself as a widow back then," Desmarais notes). She helmed the design of various significant pieces, such as this leaded glass and bronze table piece. Another material similar to wood, metal was limited to men's handling at the time when Driscoll received support from a few members of the opposite sex, including Louis Comfort Tiffany who insisted women should contribute to his workforce and championed for their equal pay. 
Greta Magnusson-Grossman, Desk, circa 1952
In the 20th century, World War I and II impacted women's career paths, including industrial design. In the absence of their husbands, many claimed job positions and achieved access to industrial training programs from which they had otherwise been denied access. After proving success in various fields, including design, women faced challenges and scrutiny by men who returned from war. The aftermath of World War II, which coincided with the second wave feminism, allowed more women designers visibility, including Magnusson-Grossman. The Swedish designer rarely received the recognition her male counterparts did as figures of the wood-centric Scandinavian design but she produced some stark examples of the mid-century sleek aesthetic that the region is still celebrated for. The influences of Magnusson-Grossman's life in California is felt in this desk's effortless silhouette while her mastery in combining wood with an iron base underscores function and minimalism.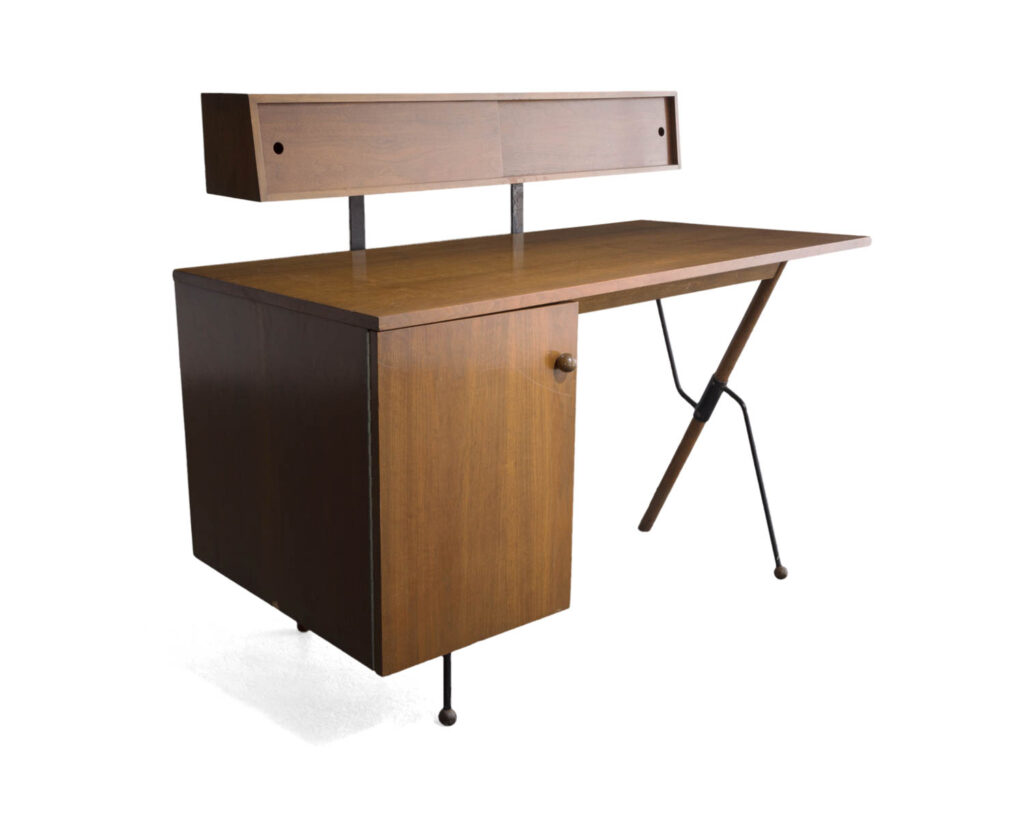 Ray and Charles Eames, LCW (Low-chair-wood), 1945-46
Ray Eames is perhaps the most clear example of many women designers whose credit in conception and production has been overshadowed by their male partners, in work and life. While the Eameses envisioned and produced most of their work together, Ray's contribution in the couple's legacy has been under-recognized. "Both physical and conceptual aspects of furniture-making at the time could hardly be credited to women," Desmarais says. This laminated ash, ash-faced plywood, and rubber chair was produced by Herman Miller in Detroit and coincides with the era when the couple was working for the American firm while also building a recognition for their philosophical approach to elegantly utilitarian furniture which eventually led to a MoMA retrospective in which the majority of the works were attributed to the Charles Eames.
Ruth Glennie for General Motors, Fancy Free Corvette, 1958
Women's claim of position in the work space after World War II also influenced their profile as targets of consumerism. Manufacturers soon realized women were also potential buyers of products, including cars. General Motors responded to potential female clients by setting up a team casually known as "damsels of design" to helm aesthetics of cars that would please feminine "needs," including a glove compartment and interchangeable seats. Glennie was among the team of designers to drive interest among women in vehicles catered for their everyday use. The designer's vision included an early prototype of a now-common higher heads-up display on the car's dashboard. In order to attract female customers, automobile fairs at the time exhibited targeted booths decorated with canary-filled cages and pots of chrysanthemums.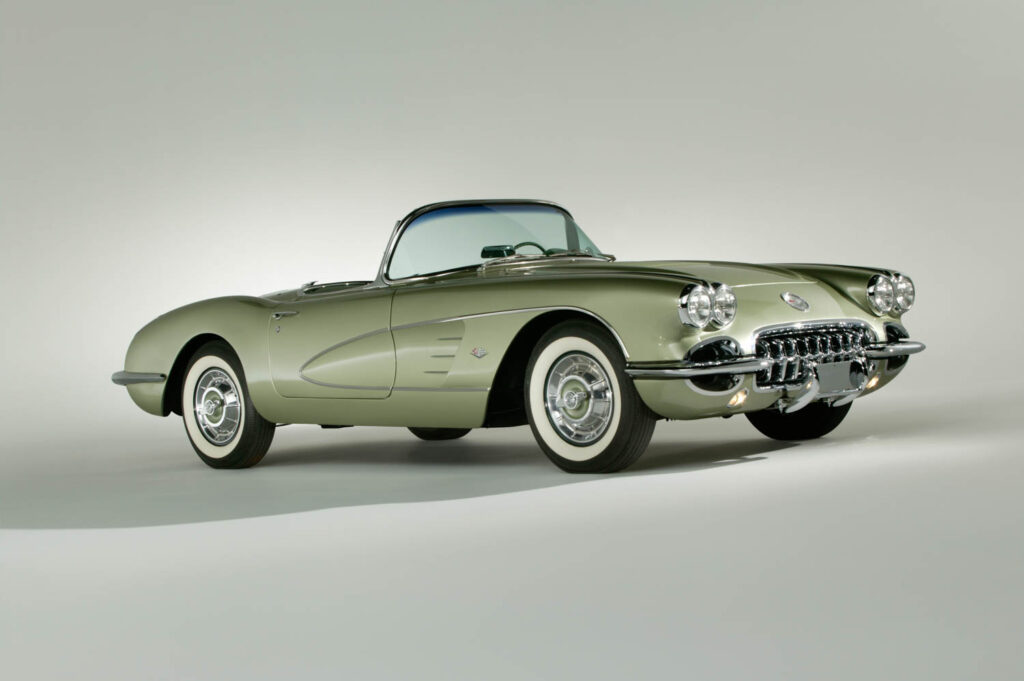 Maria Longworth Nichols Storer, Vase, 1879-80
Among the show's oldest objects, this glazed stoneware vessel was made by Nicholas at her own pottery studio in Cincinnati. While most women were confined to the borders of the kitchen in creativity, she was able to establish Rookwood Pottery partially thanks to her financial means and family name, employing other women as well to create ceramic with influences from their surroundings and abroad. The dragon that surrounds the vase's body references cultural motifs seen in Asia at a time when travel overseas was heavily limited. 
Taisha Carrington, Bun Halo headpiece, 2018
While identity has always been embedded in the efforts of women designers, the show's contemporary creators put larger emphasis on the self and social experience, and material choice is among the main conveyors of in their statements. Carrington's own hair is the main element in her headpiece in addition to brass, citrines, quarts, peridot, pearls, and silk. Deeply—even genetically—personal, the piece captures the design world's complex relationship with race, which has drawn back the visibility of many women and men makers, while also alluding to ways beauty and intimacy can operate in a head ornament.
Jay Sae Jung Oh, Savage Chair, 2011
Sustainability is a common thread among the show's contemporary designers who incorporate discarded materials to create objects of use anew. Korean designer Jung Oh has in recent years made herself a name with regal 3-D-produced furniture items that rely on the simplicity of plastic objects and jute while playing with notions of beauty, maximalism, and touch. The Cranbrook Academy of Art-graduate's flamboyant chair carries biomorphic accents that seem both inviting and alarming at once, materializing the urgency of environmental consciousness through the experience of finding comfort in a seat.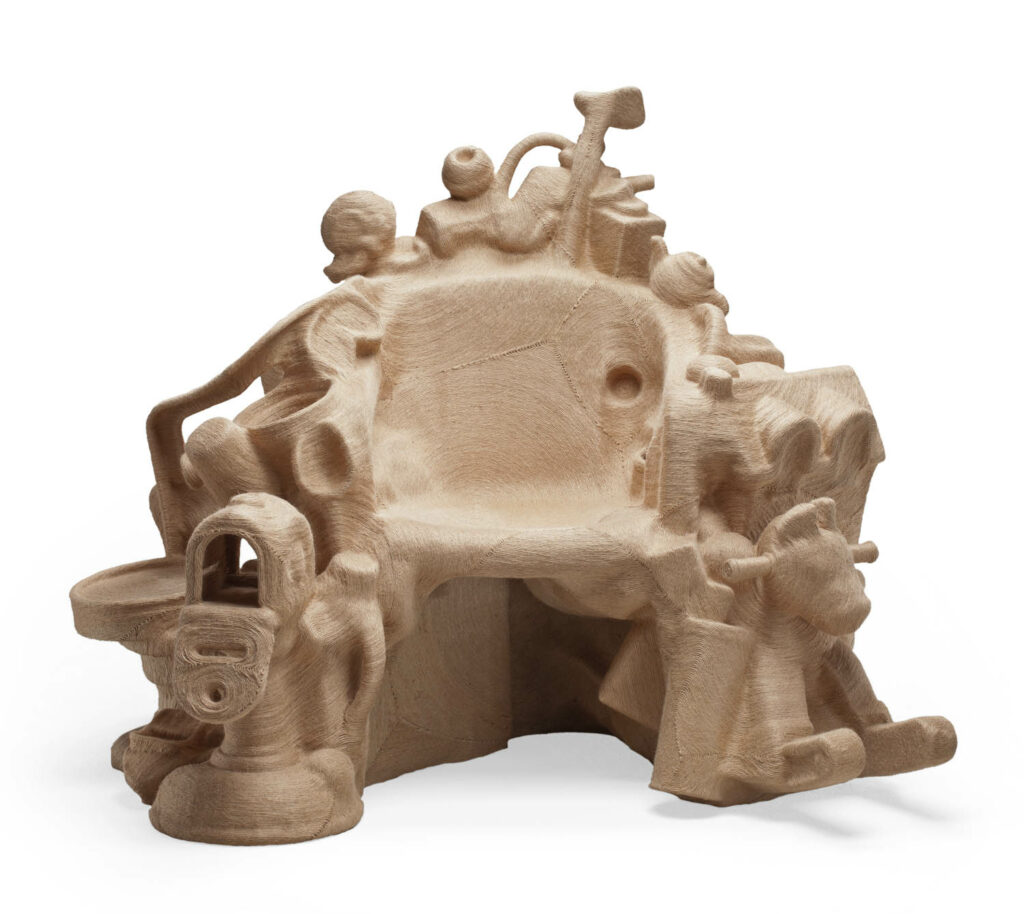 Simone Leigh, Untitled, 2001
Long before Leigh won the international art world's most prestigious award, the Golden Lion, at the Venice Biennial last year, she was already committed to making stoneware vessels. The first Black woman artist to represent United States in La Serenissima with her larger-than-life bronze sculptures, she mediated on the intimacy of salt-firing practice to also discover how corporal accents, such as breasts on this vessel, can convey broader ideas about identity and femininity. Given the scope of Leigh's career today, the work from two decades ago is particular for signaling the artist's ongoing artistic explorations around the body.